Wisler uses relief appearance to find form
Braves rookie throws two scoreless innings against Nationals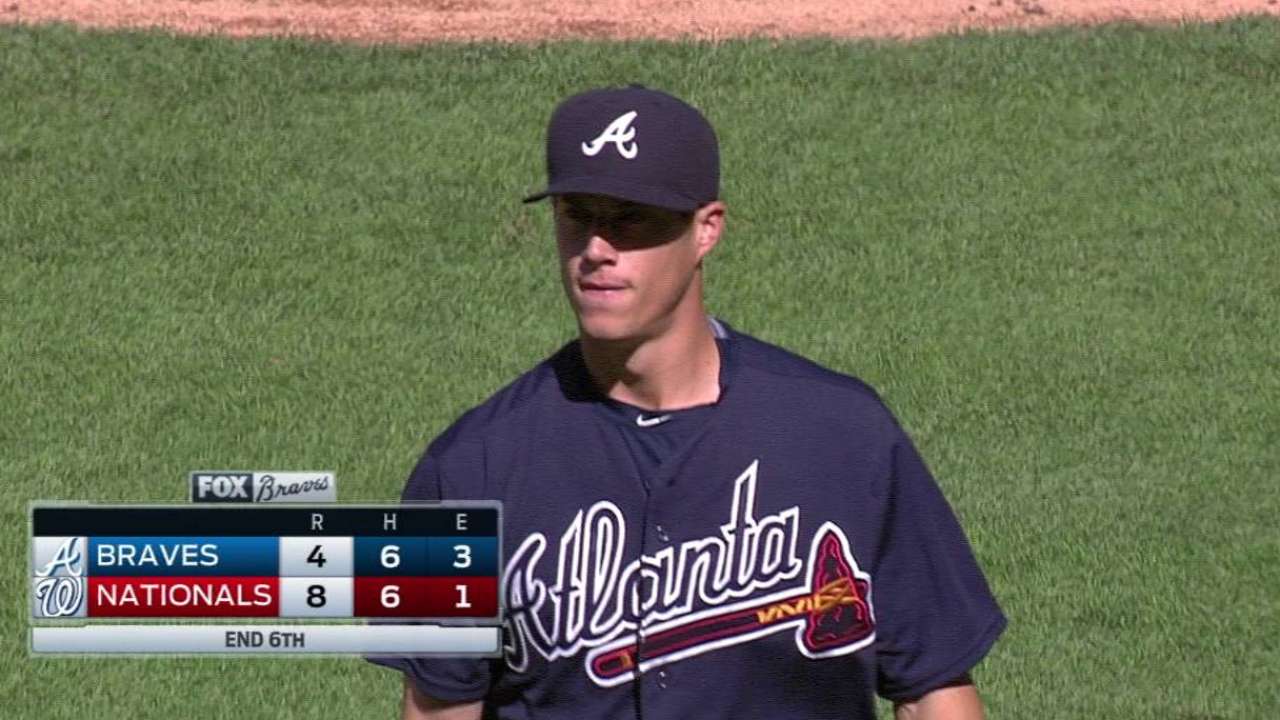 WASHINGTON -- Instead of keeping their fingers crossed and simply hoping Matt Wisler would eventually halt his struggles, the Braves took a proactive approach on Sunday afternoon when they gave him a chance to relocate his aggression and regain some confidence in a relief role.
Wisler's two scoreless innings were not enough to prevent the Braves from suffering an 8-4 loss to the Nationals. But the appearance seemed to be therapeutic for the talented young hurler, whose start in Thursday night's series opener at Nationals Park had lasted just 1 2/3 innings (48 pitches).
"I really like the way he responded," Braves manager Fredi Gonzalez said. "He looked totally different in those two innings. He pounded the strike zone and got some ground balls. I like the character that man showed after just [three] short days ago, he doesn't even get out of the second [inning]. Then to run him back out against the same team, I liked what I saw today."
Wisler will obviously not be ready to make his scheduled start on Tuesday in Philadelphia. But the Braves will likely soon work him back into the rotation with the hope that he will generate some positive momentum that he can carry into the offseason.
"Two scoreless innings is nice, we needed it," Braves catcher A.J. Pierzynski said. "But if he's going to start, we need him to pitch the way he did today, aggressively."
As Wisler produced a 3.43 ERA through the first seven starts of his career, he limited opponents to a .237 batting average and a .310 on-base percentage with runners in scoring position. But as he has posted a 9.49 ERA in the seven starts that have followed, opponents have hit .370 and compiled a .450 on-base percentage against him with runners in scoring position.
"I've had a lot of guys on base and I think I'm just folding in those situations," Wisler said. "I'm not being aggressive and coming right after guys. This was a situation, where they put me out there to work on that mentality that when stuff goes wrong, I have to be able to get out of it. I haven't been, so that's why they put me down there [in the bullpen].
"It's fun to have a scoreless day. I haven't had a scoreless day in like two months. So, it was nice to go out there and have a little bit of success. I can build on that. I have a long way to go still, but it's a step in the right direction."
Mark Bowman is a reporter for MLB.com. This story was not subject to the approval of Major League Baseball or its clubs.