Vogt expected to miss time after being hit by foul
Catcher taken to hospital following Sunday's loss to the Mariners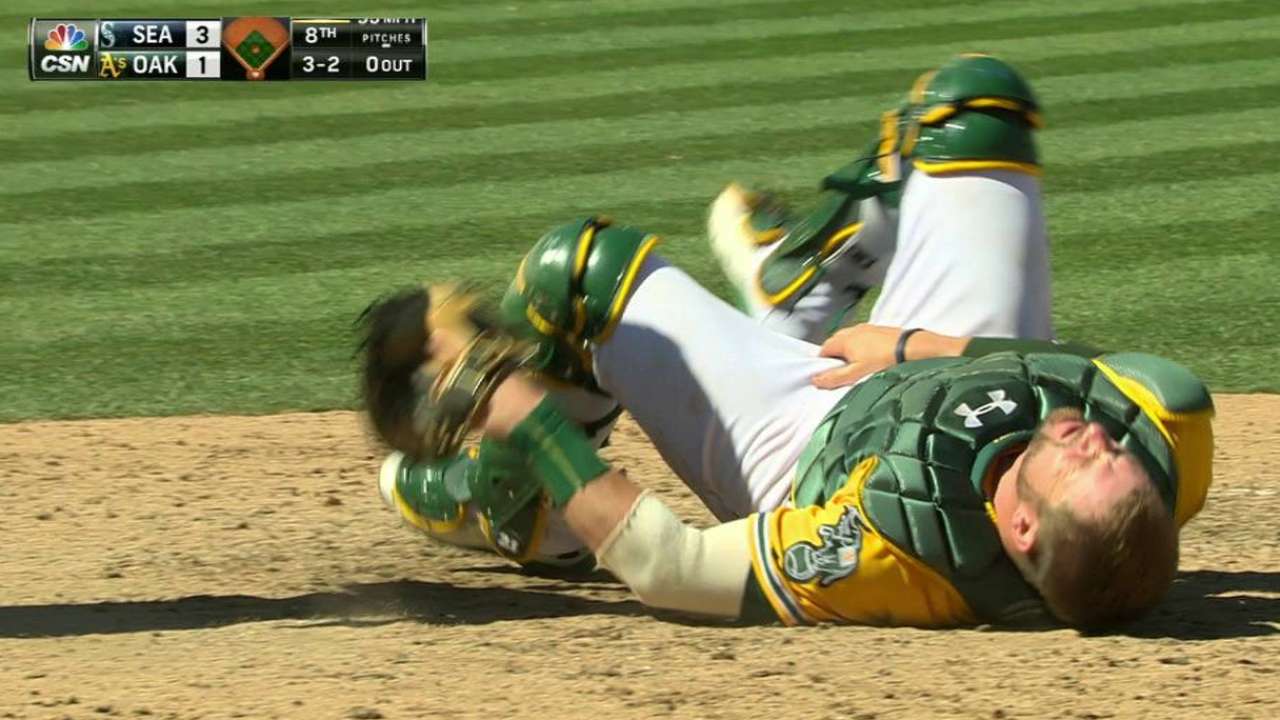 OAKLAND -- A's catcher Stephen Vogt went down in a heap after taking a foul tip to the groin area Sunday afternoon and has been taken to a local hospital to undergo a series of tests.
Vogt, who was replaced behind the plate by Carson Blair -- making his big league debut -- in the eighth inning of the club's 3-2 loss to Seattle, is expected to be sidelined at least a few days, manager Bob Melvin said.
"If anything's fractured, it could be longer," Melvin said, "but we're hoping for the best. He was in pain, a lot of pain."
"It's terrible," Blair said. "I just saw his reaction. It hurts to see that."
Vogt's departure made for a somewhat subdued debut for Blair, who later received a hearty applause from the Coliseum crowd when he stepped to the plate in the bottom half of the frame for his first career plate appearance.
Blair appeared unfazed, drawing a six-pitch walk from Mariners right-hander Logan Kensing.
"I was trying to slow it down, not have everything speeding it up on me," said Blair, who had several family members in the stands, including stepfather Fred Stanley, former Yankees infielder and current Giants Director of Player Development. "Slow everything down, his delivery, the fastball, get something to hit, then he threw me five sliders or something, I think he was probably playing off my aggression."
It's been a long time coming for Blair, a 35th-round Draft pick by the Red Sox in 2008 who inked a Minor League deal with the A's in November. Before this season, which he split between Double-A Midland and Triple-A Nashville ahead of his Sept. 1 callup, Blair had played in just 17 games above the Class-A level.
"It's been a pretty cool journey," said the 25-year-old, who noted, "I've always done well when I've been ambushed in a game."
"That was probably helpful," he said. "I wasn't thinking going in too much. It's terrible the way it had to happen, you never want to see an important part of your team go down like that."
"Usually you're a little jumpy and antsy wanting to hit, and to be able to draw a walk off a guy who can be pretty tough on righties means he was processing everything," Melvin said. "There's a lot going on that can speed up your first big league game, and I thought he handled himself really well."
Jane Lee is a reporter for MLB.com. This story was not subject to the approval of Major League Baseball or its clubs.