Mets-Nationals showdown one of 11 day games today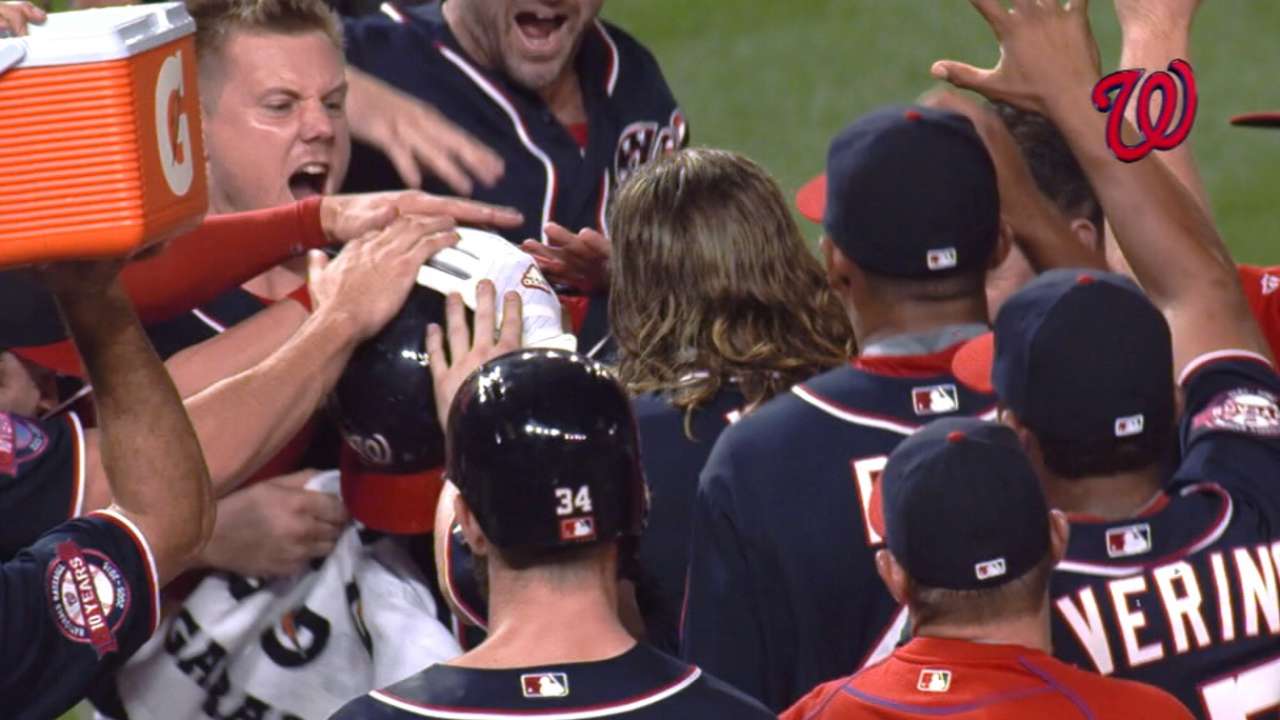 The race for the National League East enters a crucial stage on Monday, when the Mets arrive in Washington holding a shrinking division lead.
With the regular season waning, this three-game set between the Mets and Nationals carries huge implications. Washington raised the stakes by gaining 2 1/2 games on New York over the past four days, sweeping the Braves in dominant fashion at home while the Mets suffered a pair of walk-off losses over a three-day span in Miami.
The Nats, now facing a more manageable four-game deficit, come into the series riding high on their first five-game winning streak since June.
"Look, they've circled this on their calendar. We've circled it on our calendar," said Nats right-hander Max Scherzer, who will oppose Mets lefty Jon Niese in the Labor Day afternoon opener. "They're going to come ready to play. We're going to give them everything we've got. This is playoff baseball."
After a blazing start to the season, Scherzer has slowed down since early July, going 2-5 with a 4.82 ERA and 14 home runs allowed over his past 11 outings. That includes the righty's quality start at St. Louis on Wednesday, when he struck out 10 and held the Cardinals to two runs over six innings, despite giving up a season-high 11 hits.
But Scherzer will have the support of a resurgent offense that finally has Anthony Rendon, Jayson Werth and Ryan Zimmerman healthy and productive, to go along with MVP candidate Bryce Harper. The Nats have averaged more than six runs scored over their past 19 games, going 13-6.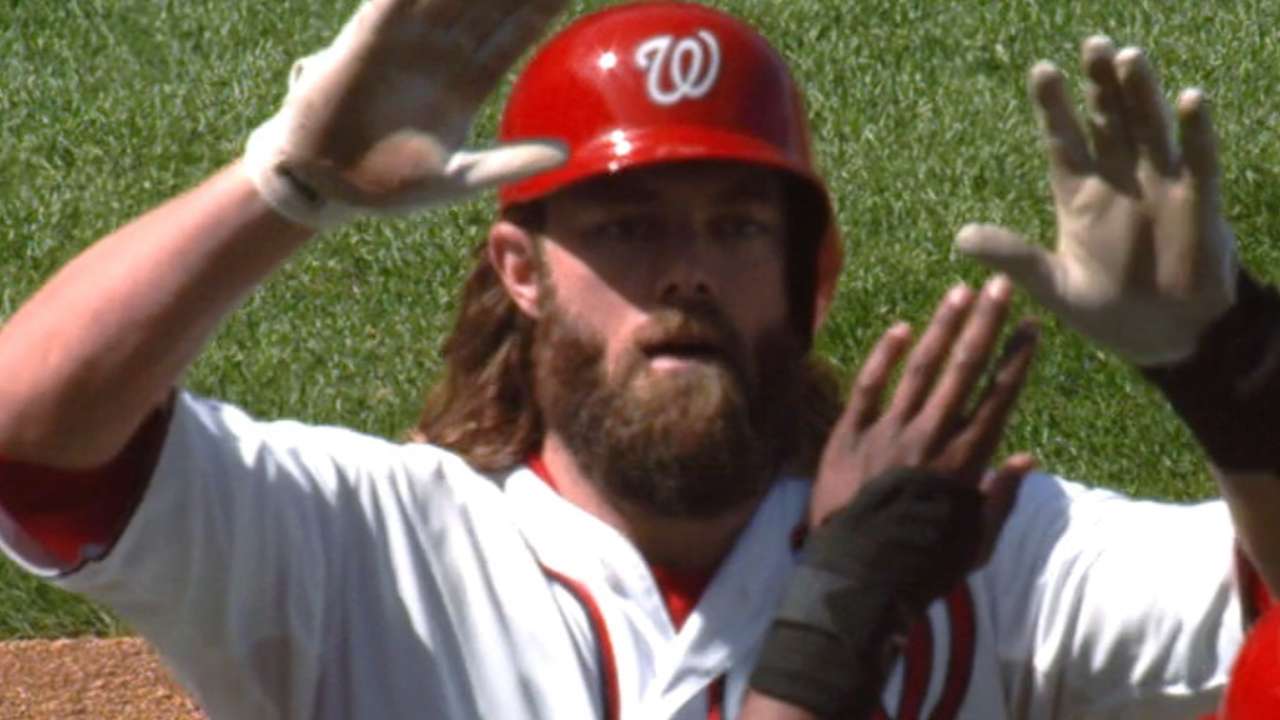 Niese, who has surrendered at least five runs in three consecutive starts, can expect reinforcements as well. Lucas Duda, on the disabled list since Aug. 22, will reportedly be activated on Monday. That would be the second major addition in two weeks for the Mets, who recently saw David Wright return from a nearly season-long DL stint.
If Duda starts on Monday, he could join Wright and Trade Deadline acquisition Yoenis Cespedes in the Mets lineup for the first time as the team tries to hold off the surging Nats.
"We lost a couple tough ones [in Miami], but there's no reason to have this affect us moving forward," Wright said after Sunday's loss. "We knew that this was gonna be a series... It's gonna be a big series -- two really good teams going at it. They're playing good baseball, and we could have very easily came out of here with three wins. But we have to turn the page and get ready for D.C."
Monday's opener will set the stage for a key series highlighted by big-time pitching. On Tuesday, the Nats' Jordan Zimmermann is slated to battle the Mets' Matt Harvey amidst headlines about Harvey's potentially approaching innings limit.
The finale features a contest between New York's Jacob deGrom (2.40 ERA) and Washington's Stephen Strasburg, who will try to continue his recent run of success after missing a start due to back tightness.
As for Monday, here is a look at some other intriguing matchups on a Labor Day packed with 11 afternoon games.
Division Duel: CHC @ STL, 2:15 p.m. ET
The Cubs begin a lengthy 11-game road trip in St. Louis against the Cardinals, who sit atop the NL Central. Right-hander Dan Haren gets the nod for the Cubs, while right-hander Lance Lynn gets the call for the Red Birds.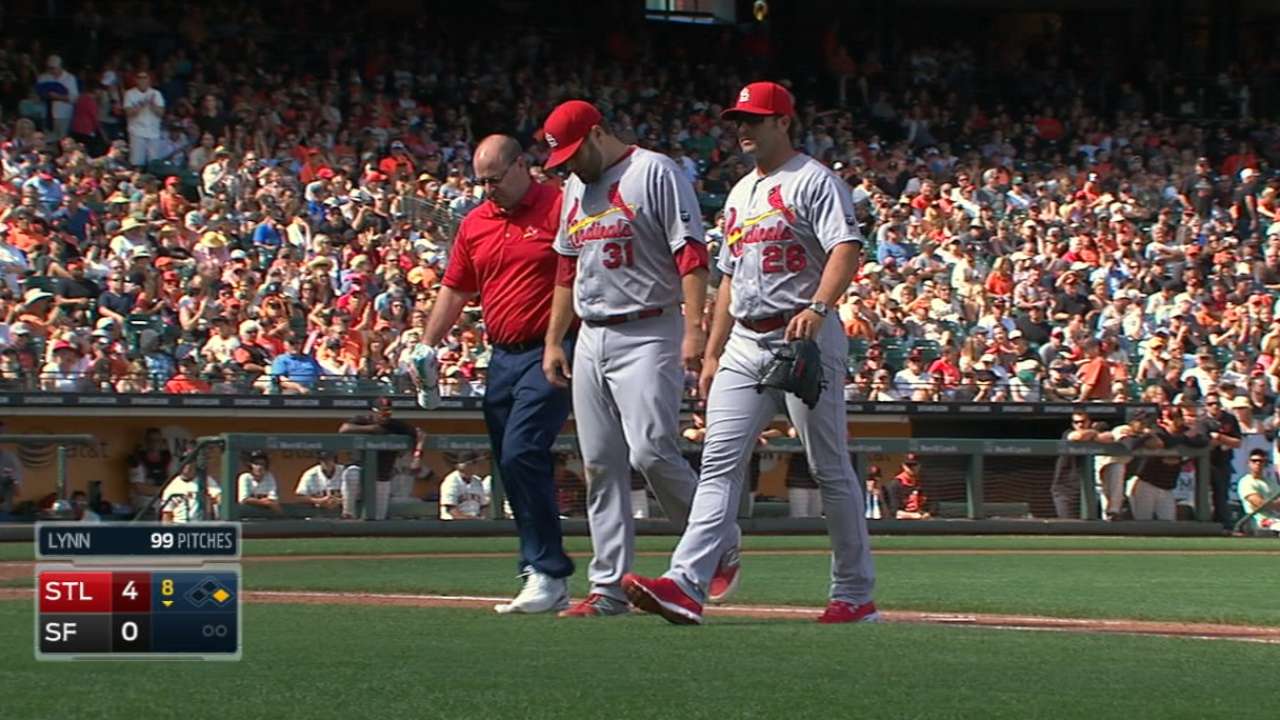 Haren allowed two runs on four hits in five innings for the no-decision on Tuesday against the Reds. He served up at least one home run for the ninth straight game, and he ranks among NL leaders in home runs (30).
Lynn's had a few extra days of rest after rolling his right ankle during his last start on Aug. 29 against the Giants. In that game, he allowed six hits over seven innings for the win.
Jays atop AL East: TOR @ BOS, 1:35 p.m. ET; BAL @ NYY, 1:05 p.m. ET
In a tug-of-war with the Yankees for the top spot in the American League East, the Blue Jays begin a three-game series against the Red Sox at Fenway Park with a 1 1/2 game lead.
Toronto left-hander Mark Buehrle takes the hill on extended rest after tossing a team-best 18th quality start last Sunday against the Tigers. He allowed two runs (one earned) on five hits in six innings for the win. Buehrle's allowed two earned runs or fewer in 11 of his past 15 starts.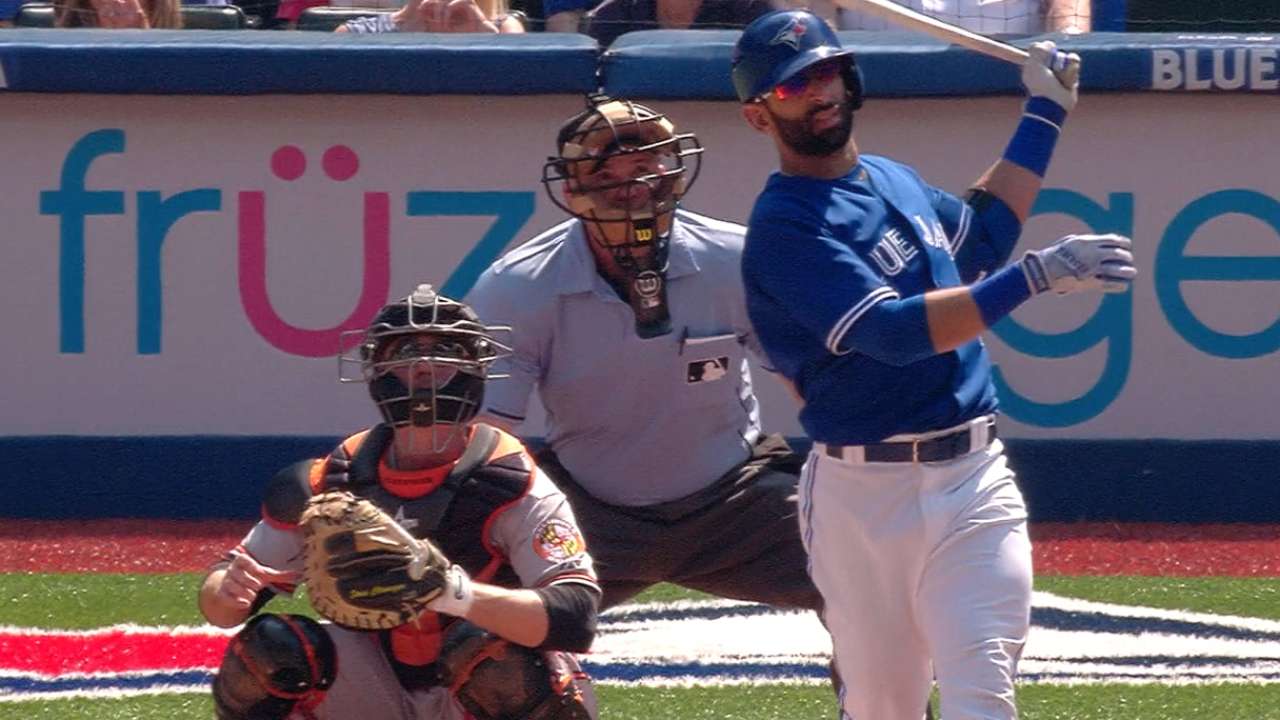 Meanwhile, Red Sox right-hander Rick Porcello has been on a roll since coming off the disabled list, allowing one earned run over 15 innings. He was a tough-luck loser on Tuesday against the Yankees, giving up three runs (one earned) on five hits over eight innings. He also struck out a career-high 13 batters.
The Yankees have been doing their best to keep pace with Toronto, winning seven of their past nine. In the opener of a three-game set against the Orioles in the Bronx, New York will turn to right-hander Michael Pineda, who bounced back from three rough starts in a row to hold Boston to one run over six innings last Tuesday, striking out seven.
Wei-Yin Chen starts for the foundering Orioles, who have lost 15 of 19. The left-hander easily leads the Baltimore rotation with a 3.36 ERA, but he has surrendered eight runs on 19 hits in 11 1/3 innings over his past two outings.
AL West clashes: HOU @ OAK, 4:05 p.m. ET; TEX @ STL, 6:40 p.m. ET
The Astros, coming off a dramatic come-from-behind win over the Twins on Sunday, head into the week with a three-game advantage over the Rangers, who sit 1 1/2 in front of Minnesota for the second Wild Card spot.
Houston now begins a 10-game division trip with a three-game set in Oakland, looking to turn around its 27-38 road record. Right-hander Mike Fiers gets the start on nine days' rest, two outings removed from his no-hitter against the Dodgers. His last time out, on Aug. 29, he held the Twins to one run on three hits over six innings.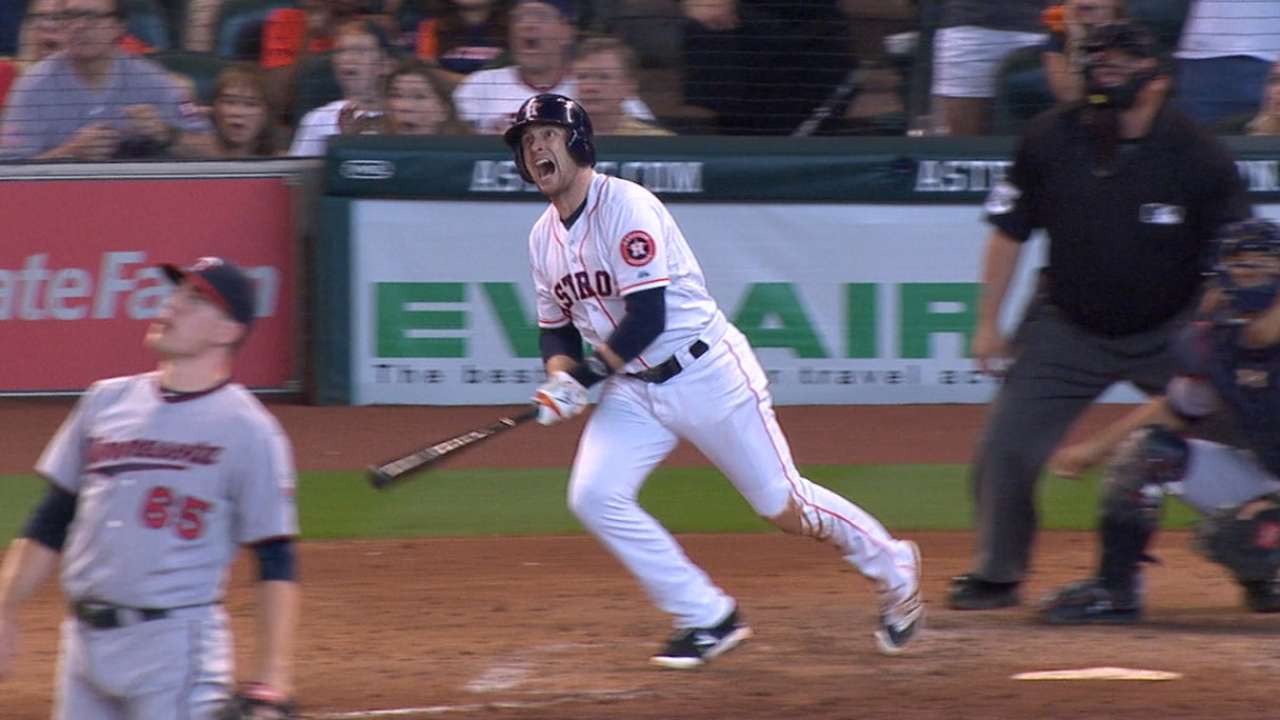 Fiers will oppose lefty Felix Doubront, who owns a 2.57 ERA in his three starts for the last-place A's.
The surging Rangers, 24-12 since July 29, have gone 3-3 to open their road trip, which concludes with a four-game set in Seattle. Texas, which is a mere 4-8 in the season series against the Mariners, hands the ball to veteran righty Yovani Gallardo.
Though he owns a 3.27 ERA for the season, Gallardo has posted a 4.86 mark over his last nine starts, completing six innings only twice in that span. He will pitch opposite lefty Roenis Elias, who has a 5.25 ERA in two outings since being recalled from Triple-A.
Freeway Series: LAD @ LAA, 9:05 p.m. ET
The Dodgers make a short trek down the I-5 Freeway to face the Angels in the series opener at Angel Stadium. Zack Greinke gets the nod for the Dodgers, while Nick Tropeano takes the hill for the Angels.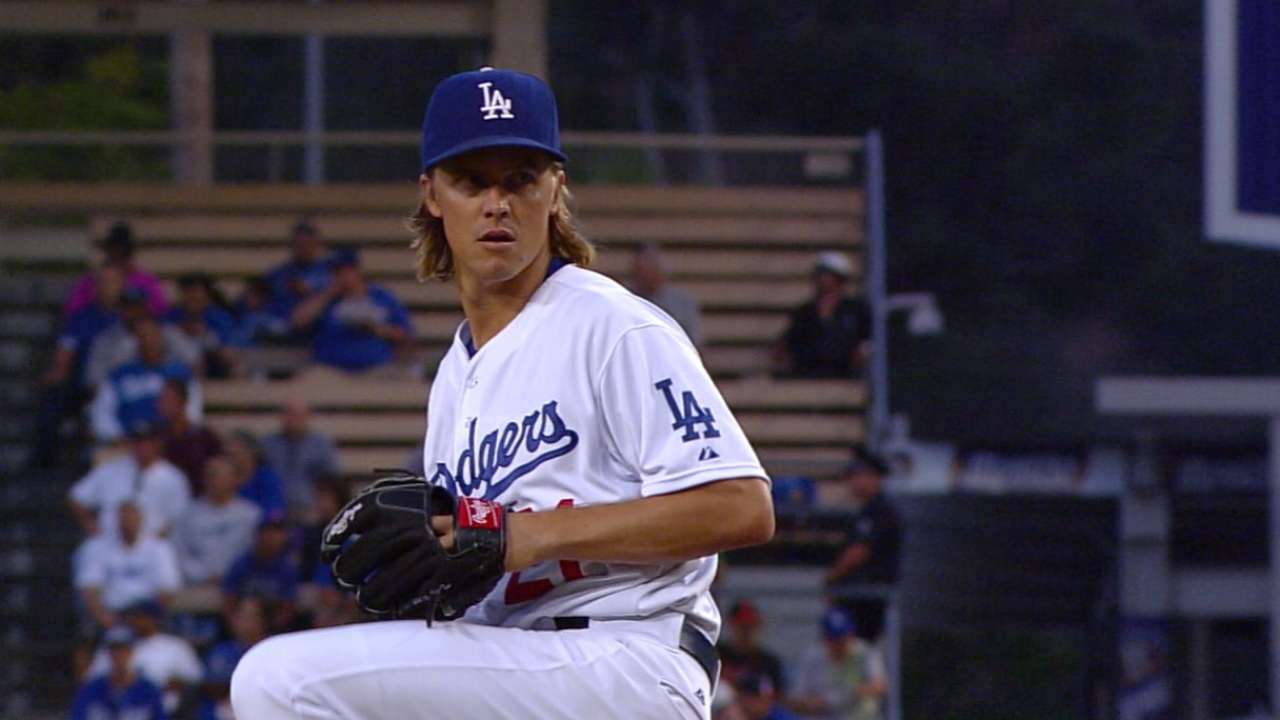 Greinke continues to dominate. He's allowed a total of five runs over his last five starts, and he continues to lead the Majors with a 1.59 ERA and an 0.85 WHIP. He faced the Angels earlier this season, allowing two runs over eight innings for the win.
Tropeano is getting the start in place of Matt Shoemaker, who is dealing with a right forearm strain. The right-hander's last start came on Aug. 20 against the White Sox. Tropeano allowed six runs on eight hits in 4 1/3 innings for the loss.
Quinn Roberts is a reporter for MLB.com. Andrew Simon is a reporter for MLB.com. Follow him on Twitter @AndrewSimonMLB. This story was not subject to the approval of Major League Baseball or its clubs.