Posey hits 100th home run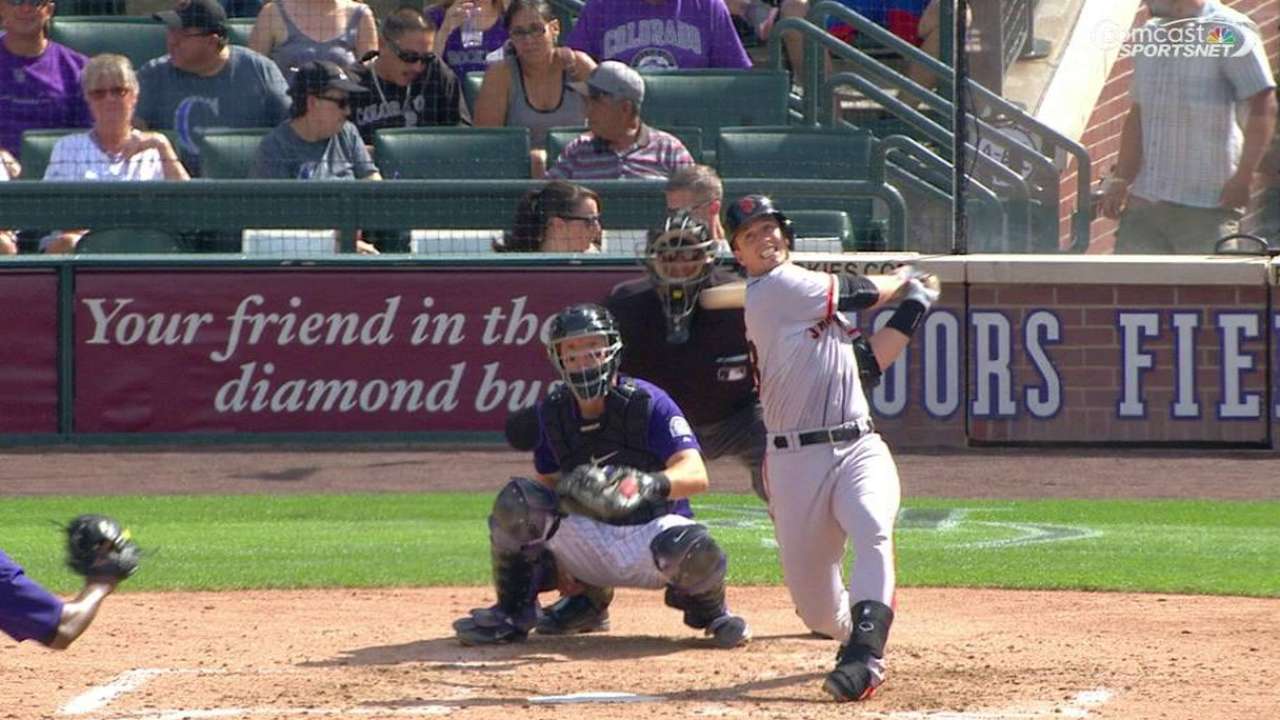 DENVER -- In the moment, it was more about the score -- a game-tying RBI in the fourth inning. By the end of the Giants' 7-4 win over the Rockies, however, Buster Posey's 100th home run registered with the catcher as a milestone to remember.
"It's special," Posey said. "If you had told me when I was a kid that I'd have 100 home runs in the Major Leagues one day, it'd probably put a pretty good smile on my face."
It put a good smile on the 28-year-old's face. It was Posey's 17th homer of the season, and though his second-inning double extended his hitting streak to eight games, the homer was his first in 30 games.
Congrats Buster Posey! career home runs. #SFGiants pic.twitter.com/HURmYlwpql

— San Francisco Giants (@SFGiants) September 6, 2015
"He found out he could hit a home run again," manager Bruce Bochy said. "It's been a while. He's got to be dragging. We worked him pretty hard. He was supposed to have a day off yesterday. Then he comes out today and has a big game. That's nice to see him start to get going again, because we have worked him."
Posey got only the first three innings off Saturday before an injury took catcher Hector Sanchez out of the game and likely out for the season. Posey singled and walked in run-scoring rallies for his first two at-bats on Saturday and didn't let up on Sunday. Following his landmark homer, he was intentionally walked and scored as part of the Giants' decisive five-run fifth inning.
"Any time you go through a stretch where you don't hit a homer for a while, it's just natural to start to think about it," Posey said. "I felt like today I had a good approach. I was just trying to hit line drives. I thought about my last at bat last night, where I flew out to the wall. I barreled that ball, it just went straight up rather than the good trajectory. So try to keep that focus and that mindset up there. Try to hit line drives all over the field."
In the 32 days since Posey's 99th career homer on Aug. 3, Sunday's starter Madison Bumgarner launched his 10th and 11th career homers, but the Giants' ace laughed off the notion that Posey was watching his prowess at the plate with envy.
"I don't think he needs to be jealous about anything to do with my hitting," Bumgarner said.
Posey is the 17th catcher to reach the 100-homer plateau in his first seven big league seasons. He joins Tom Haller (107) as the only Giants catchers to hit at least 100 home runs.
Owen Perkins is a contributor to MLB.com. This story was not subject to the approval of Major League Baseball or its clubs.