Lindor rethinks bunt, delivers clutch triple
Rookie drives in two during key sixth-inning rally in win over Tigers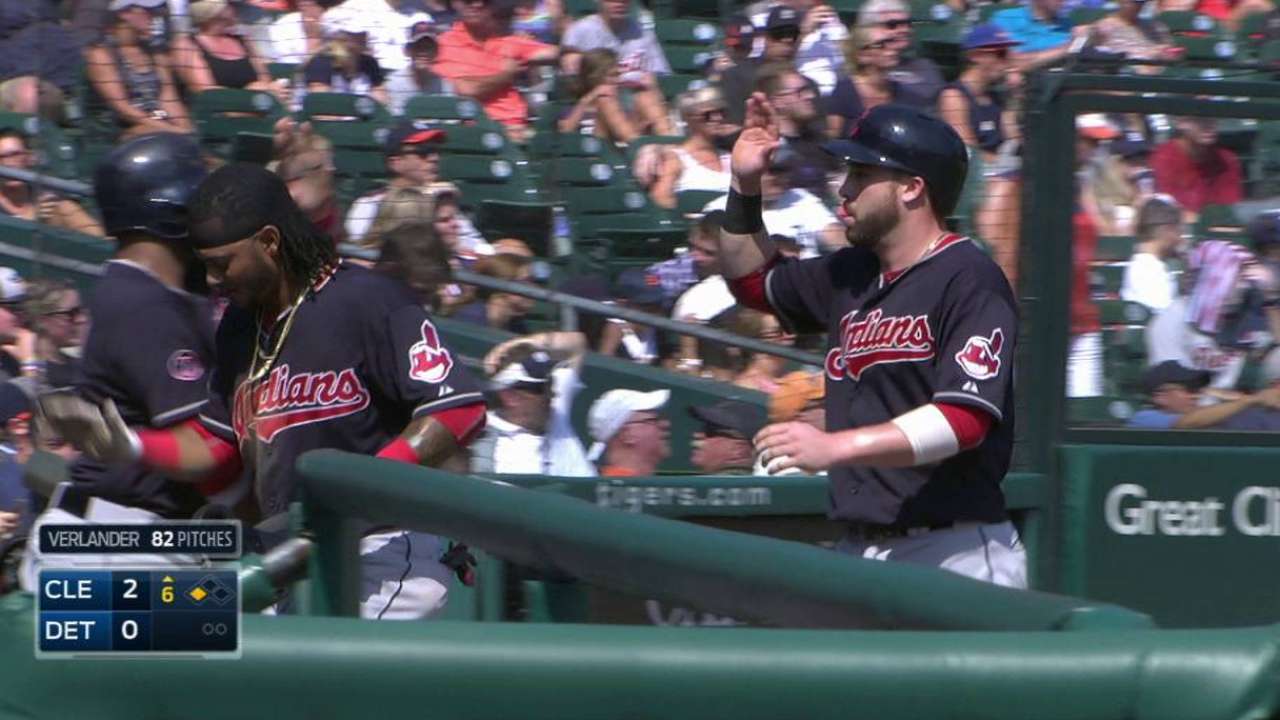 DETROIT -- A break in the action helped the Indians catch a break on Sunday afternoon. When Tigers manager Brad Ausmus headed to the mound in the sixth inning to discuss Detroit's defensive alignment, Indians manager Terry Francona hollered at rookie Francisco Lindor.
Standing in the batter's box, Lindor was planning on bunting.
"I just yelled at him," Francona said after the Indians' 4-0 victory over the Tigers at Comerica Park. "He turned around and I yelled at him to go ahead and hit."
Lindor did more than just hit. With runners on first and second base and no outs, Lindor drilled a 92-mph fastball from Tigers starter Justin Verlander to deep center for a game-changing triple. Two runs scored, igniting a three-run inning that was sufficient in supporting a solid seven-inning outing from Indians rookie right-hander Cody Anderson.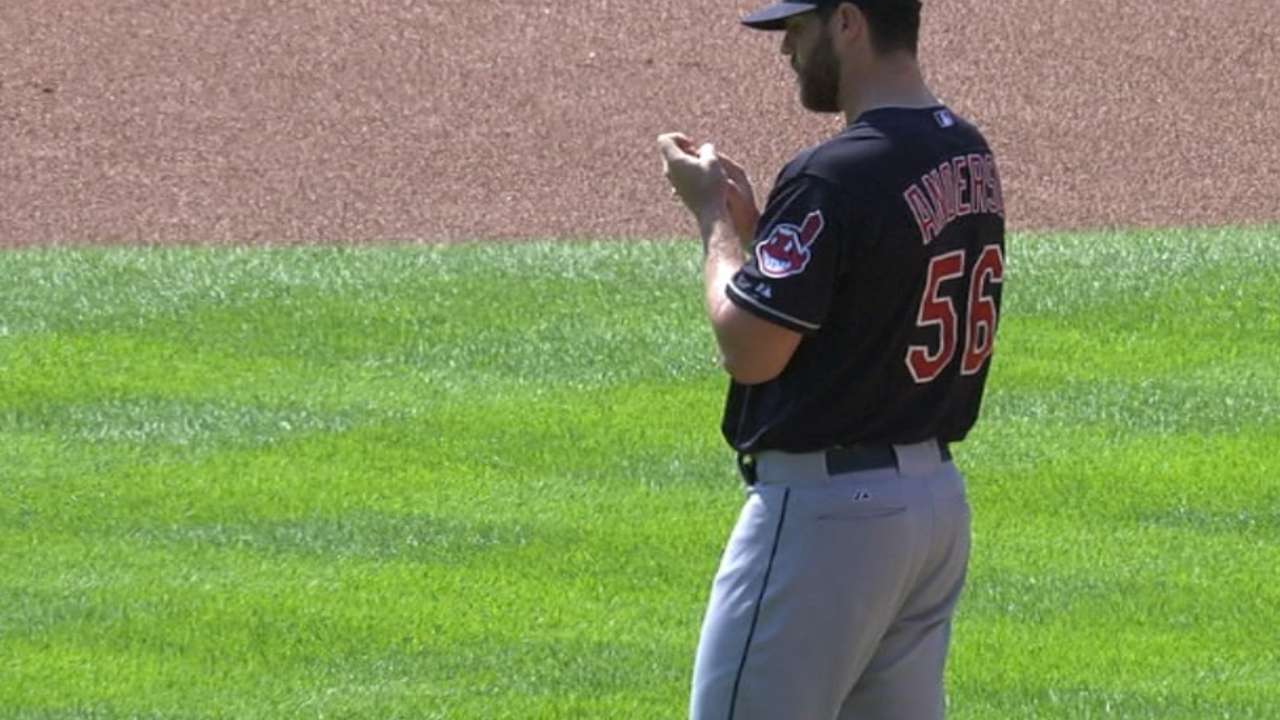 The bunt has become a staple of Lindor's style. In only 73 Major League games, the 21-year-old switch-hitter has climbed to the top of the American League leaderboard with 11 sacrifice bunts this season. At times, Lindor has taken it upon himself to move runners over in that manner. On other occasions, it has been Francona calling the shots.
Lindor pays no attention to fans or critics who want him to swing away every single time.
"I'm playing my game," said Lindor, who is batting .351 in the second half. "I'm playing for the Indians to win. I'm not playing because the fans tell me to go and hit. I don't play for that. I play to help this team win."
While Lindor did not bunt in the sixth, the threat of bunting helped lead to his hit.
After five one-hit innings from Verlander, the sixth began with a hit from Michael Martinez and continued with an infield single by Jason Kipnis. The Tigers attempted to turn a double play on Kipnis' hit, but came up short at both bases. Martinez slid in just ahead of a flip from second baseman Andrew Romine to shortstop Dixon Machado, and Kipnis beat the relay to first base.
Kipnis was initially ruled out, but a managerial challenge by Francona led to an overturned call, setting up Lindor's critical meeting with Verlander.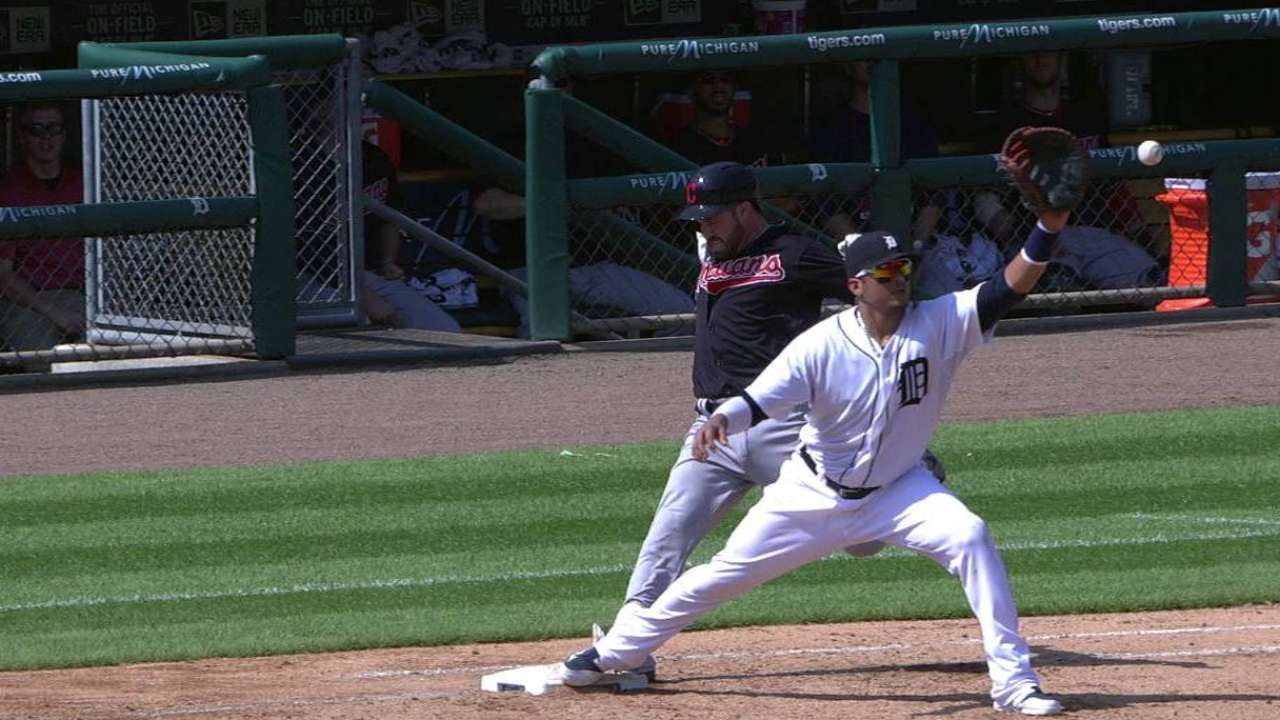 "That was a big one," Francona said of the challenge. "Kip hustles down the line every time, and it got him a hit."
Verlander started Lindor off with a 91-mph fastball, which the rookie bunted foul.
"I was trying to bunt it hard to the shortstop," Lindor said. "Everybody was moving. The shortstop was going to third base, the third baseman was coming in, the pitcher was coming in, the first baseman was coming out. That's why I missed the first bunt. I was trying to bunt it hard."
Verlander thought Lindor might swing on the second pitch and fired another fastball, which the shortstop squared around on, but took for a ball.
"I was cognizant of him swinging," said the pitcher. "That's why I threw in on him the second pitch, just thinking, 'Maybe if he's swinging, he'll look for something out over the plate.' Maybe jam him, get a double play."
At that juncture, Ausmus saw that Detroit's infielders had run two different bunt-defense plays, so the manager headed to the mound to straighten things out with his players.
"I'm actually glad he came out," Verlander said. "Two different pitches and there were two different things, three different things going on. We needed to get everybody on the same page. Obviously, it's a big part of the game."
That is when Francona got Lindor's attention.
"We actually took the bunt off after the first pitch," Francona said. "But, Frankie, a lot of times, will continue to bunt. He's done that before. ... I think a lot of times with young players, they want to do the right thing, which is good. But, right there, with the infield crashing and them trying to straighten out their bunt plays, to let him swing seemed to make sense."
Lindor changed his approach and delivered his triple to center field.
"He gave me some freedom for me to go hit," Lindor said. "And that's what I did."
Verlander was expecting another bunt attempt.
"You have to tip your cap to Lindor there, and to Tito," Verlander said. "Tito gave him the green light, and he executed it, when the whole world thought he was bunting."
Had it not been for Detroit's mound visit, Lindor might have squared around again.
"We actually kind of probably caught a break," Francona said.
Jordan Bastian is a reporter for MLB.com. Read his blog, Major League Bastian, follow him on Twitter @MLBastian and listen to his podcast. This story was not subject to the approval of Major League Baseball or its clubs.