Prado's epic 9th-inning AB leads to walk-off win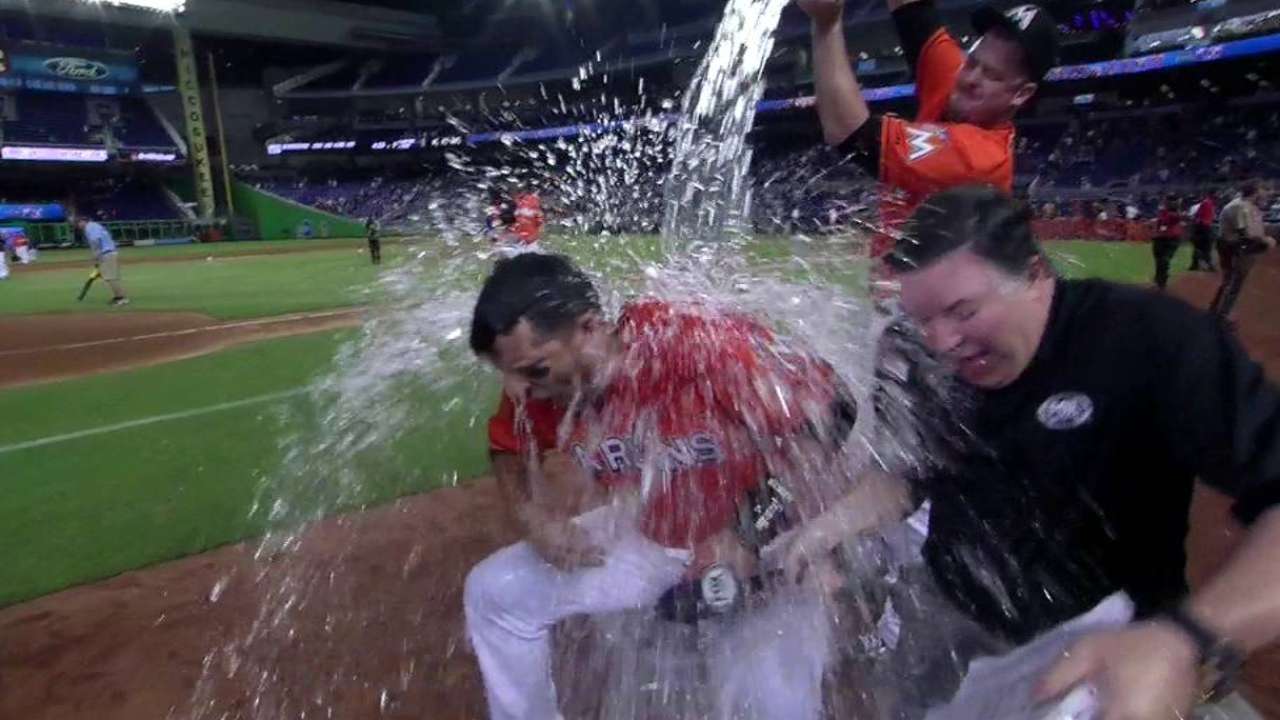 MIAMI -- Underneath the calm, collected demeanor, Martin Prado indeed does have a pulse. Outwardly, sometimes it's tough to tell, but inwardly, the 31-year-old's heart was pounding during his 12-pitch showdown with Tyler Clippard in the ninth inning.
After fouling off six straight full-count pitches, Prado lifted a sacrifice fly to left that rallied the Marlins to a 4-3 walk-off win over the Mets in front of 26,780 at Marlins Park.
Prado has been around long enough to stay focused in even the toughest spots. Good or bad, his body language remains the same.
"I'm a human, man," Prado said. "Of course, my heart is like a race car. But you've got to make sure you treat those moments like a normal at-bat. When you see a pitch you can hit, you just swing at it."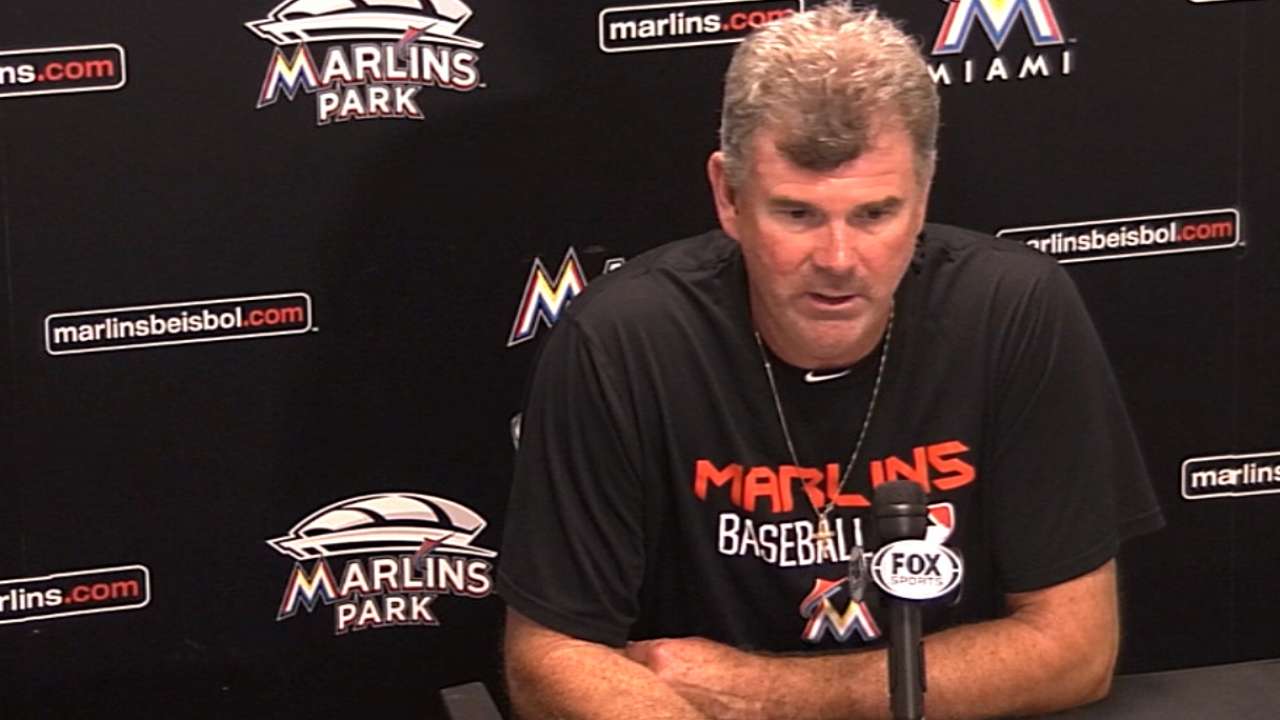 So often in the past Clippard has gotten the best of Prado, who was 2-for-22 with a homer and six strikeouts before Sunday.
"We've faced each other a lot in the past, and he's got a good idea of what I'm bringing to the table," Clippard said. "I'm trying to speed him up, slow him down as much as I could in that count with being aggressive in the zone. He did a good job of battling a lot of tough pitches off and got one out there in the outfield deep enough."
The Mets intentionally walked Christian Yelich to load the bases for Prado.
"You want to get the double play," Mets manager Terry Collins said. "Yelich can run and is a lot faster than Prado. I was thinking if we can get this guy to hit a groundball, we're going to get a double play. I don't think that's the same feeling with Yelich."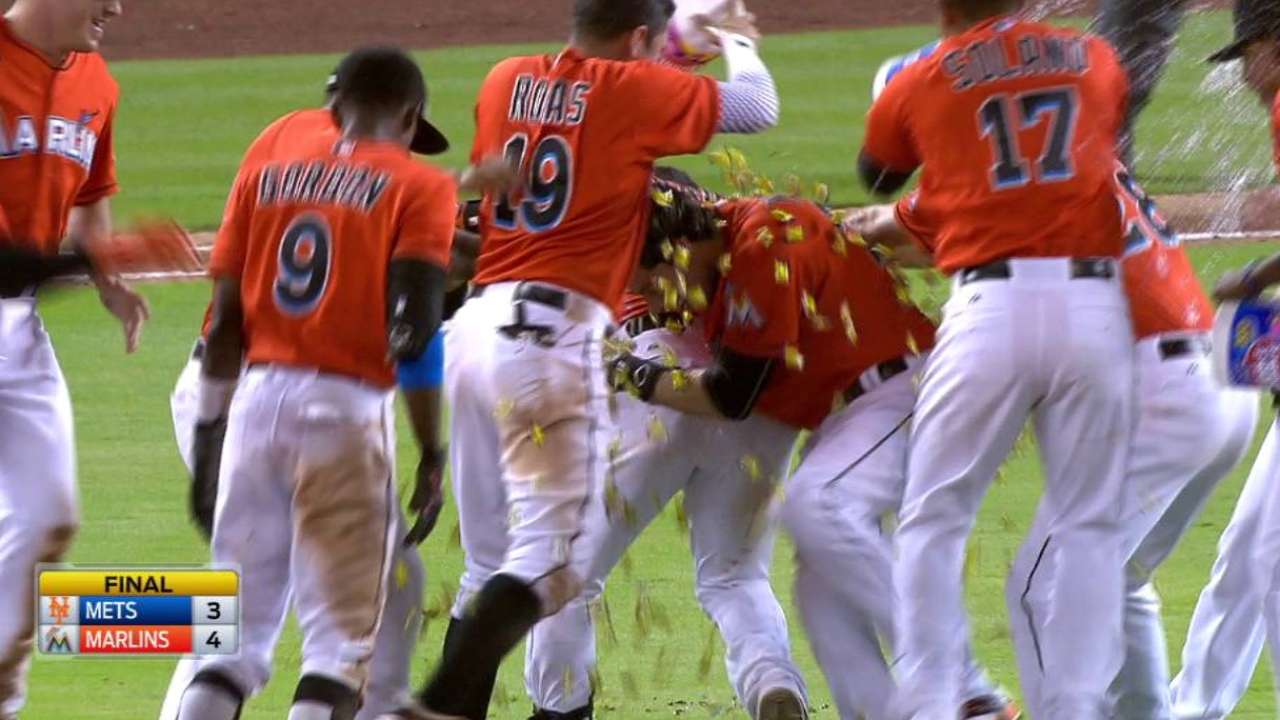 Clippard got ahead, 1-2, in the count before throwing two straight balls. With the count full, Prado fouled off six straight pitches.
"Everybody was screaming, but I didn't hear anybody," Prado said.
On the 12th pitch, Prado stayed on a 79-mph changeup and drove the ball to left field. Yoenis Cespedes, playing in, made a leaping catch. J.T. Realmuto tagged from third and raced home.
Cespedes made a strong throw, but Realmuto scored.
Lost in the hysteria was Dee Gordon at second base, who nearly made a blunder. On contact, Gordon raced towards third, anticipating the ball falling. But once it was caught, Gordon scrambled back to second.
• Gordon avoids baserunning gaffe on final play
If the throw hadn't gone home, the Mets actually could have cut Cespedes' throw and doubled Gordon at second.
It didn't get to that point, as the Marlins mobbed Prado.
"You've got to be around the game a long time to see a better at-bat than that," Miami manager Dan Jennings said. "Just tremendous. His focus. His concentration. To come through to have that type of finish is tremendous. He's a professional hitter. What can you say?"
Joe Frisaro is a reporter for MLB.com. He writes a blog, called The Fish Pond. Follow him on Twitter @JoeFrisaro and listen to his podcast. This story was not subject to the approval of Major League Baseball or its clubs.