Yankees rally to take rubber game from Rays
"I think this is a big win for us," Yankees manager Joe Girardi said. "We're facing their ace, who's been really tough on us for a couple years now. To be able to pull this one out after a frustrating loss yesterday, I think it shows you the character in that room."
The Yanks were trailing, 3-0, entering the sixth, with just one hit off Rays starter Chris Archer, who had never lost to them and looked to be on his way to another dominant effort. But one frame changed everything, and Archer was tagged with the loss. He was pulled after 6 1/3 innings, giving up six hits, three walks and five runs (four earned). He struck out five.
"It just stinks that on a day I feel so great, and I'm commanding the ball so well that we couldn't get a 'W,'" Archer said. "And it was mostly on me not executing. We scored four runs, and with the way we're built, that's usually enough."
Bailed out by his offense, Ivan Nova picked up his sixth win of the season after six innings of six-hit, three-run ball.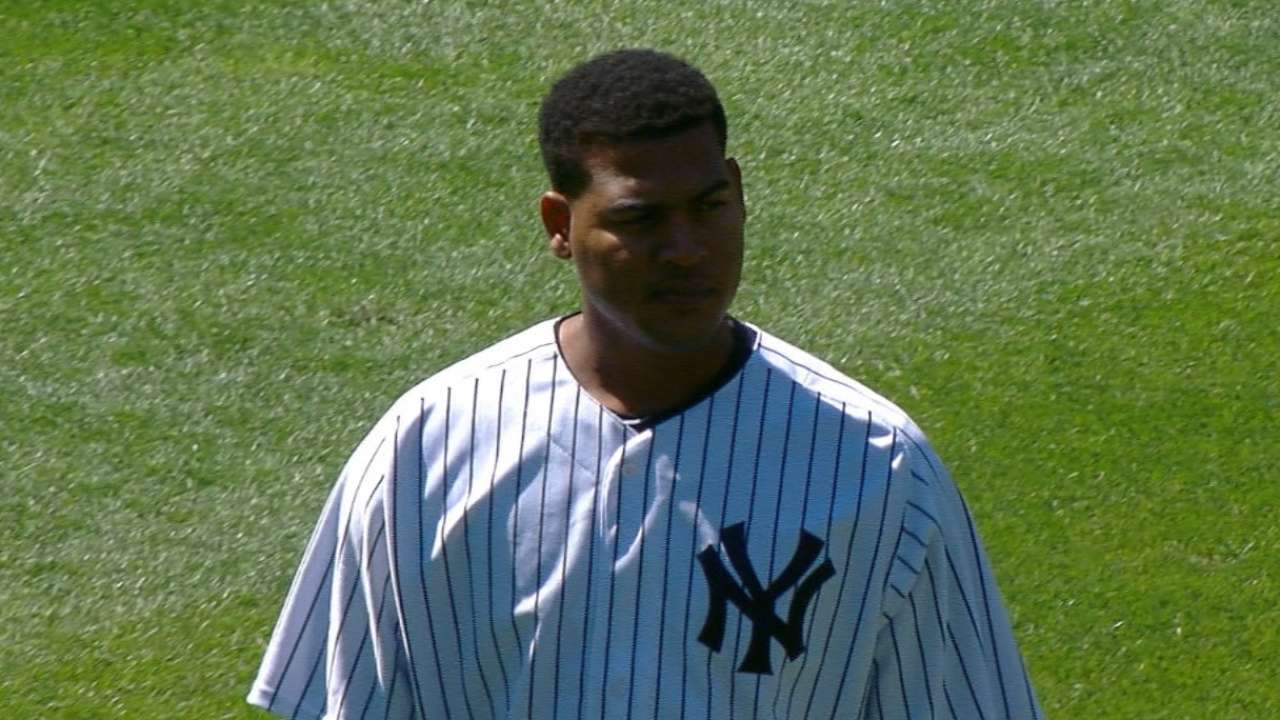 MOMENTS THAT MATTERED
Perfect timing: With McCann and Rodriguez's back-to-back homers, the Yankees have hit back-to-back long balls four times this season, and twice in the last four days. On Wednesday, Greg Bird and John Ryan Murphy hit consecutive home runs in Boston. The offensive burst in the sixth came at a crucial time for the Yankees, who were stymied for the first five innings and had gone 0-for-5 with runners in scoring position in Saturday's loss. Rodriguez, who had several days off when the Yankees played in Atlanta, said the time away helped refresh him in what is now the most important part of the season.
"I thought those four days, I took full advantage of them. I had an opportunity to catch my breath a little bit, and like I told you guys, August has always been tough -- whether you're 20 or 30," he said. "We're down the stretch now. Full sprint."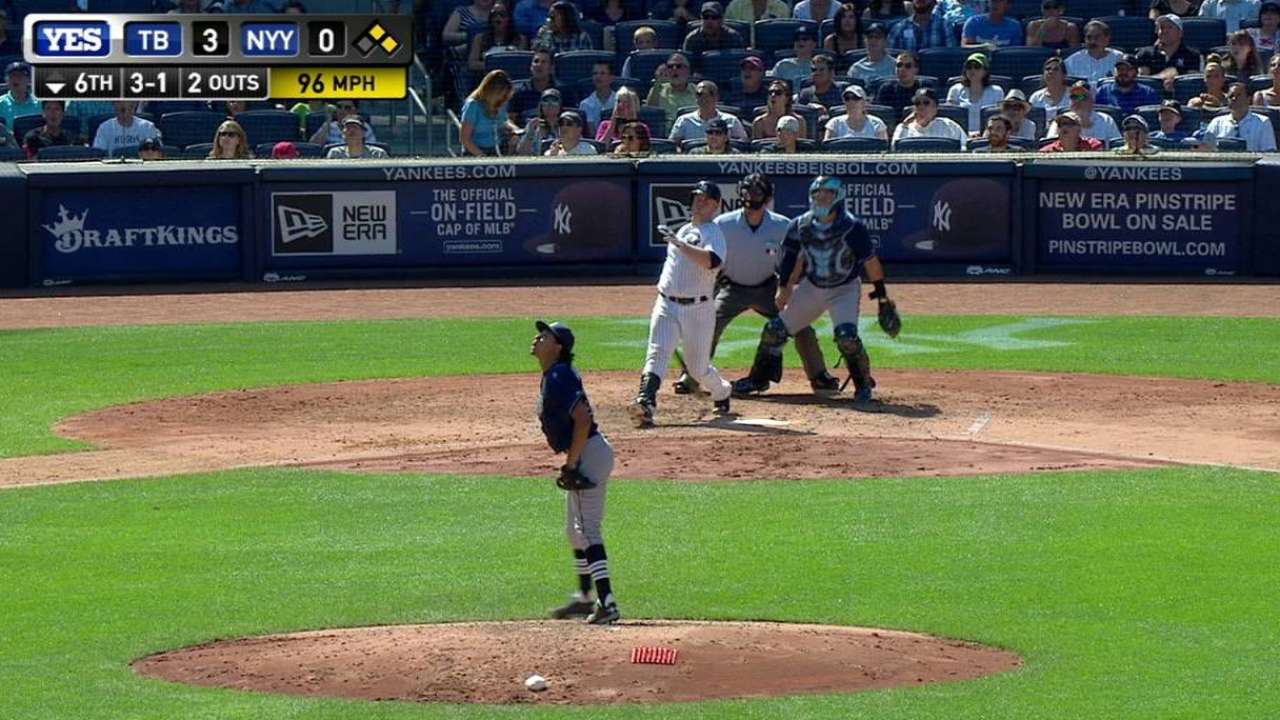 K.K. power: Kiermaier reached the right-field stands for a two-run homer in the second to stake the Rays to a 2-0 lead. The center fielder now has eight home runs on the season, and three in his last seven games. Gold Glove defense plus power is a pretty nice combination. He is batting .369 in his last 19 games.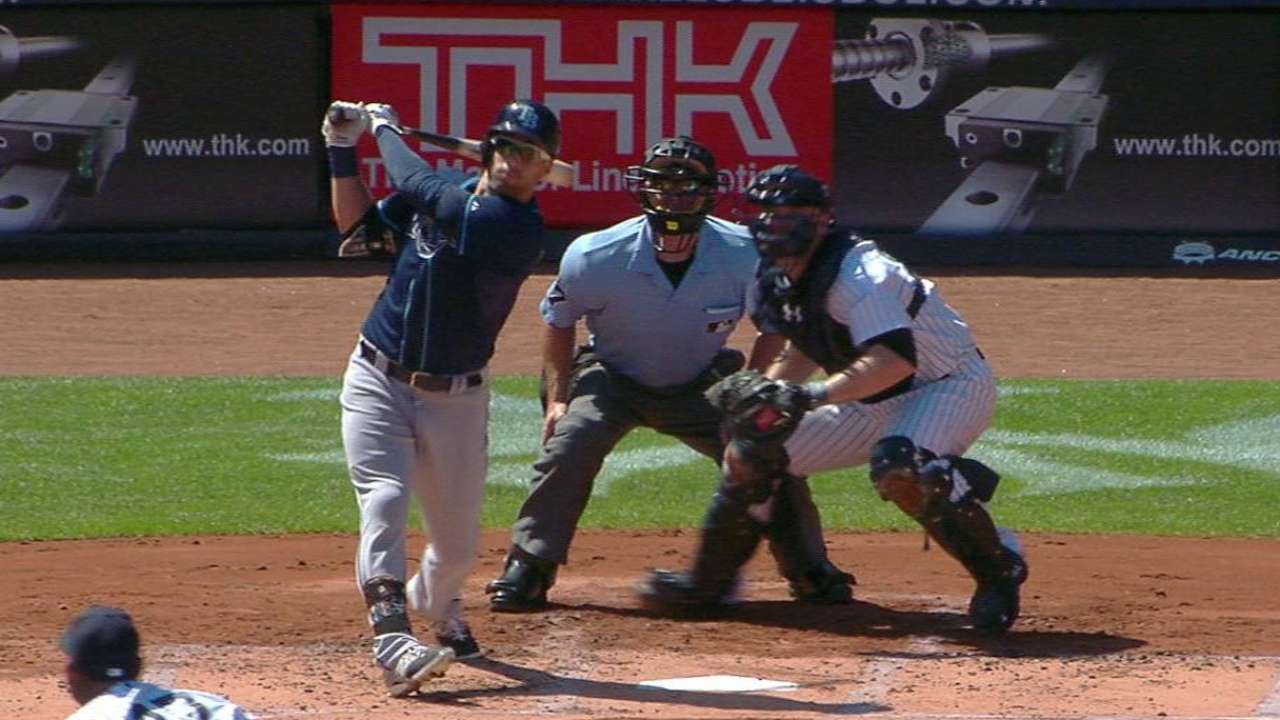 Heating up: On Saturday, Yankees manager Joe Girardi said that center fielder Ellsbury was due to get hot at the plate and break out of a slump. On Sunday, Ellsbury snapped an 0-for-17 slump with a single in the third inning. He finished the day 2-for-4.
Archer ambushed: Archer entered the game with a clear affinity for pitching against the Yankees, bringing in a 5-0 mark with a 1.78 ERA in eight career appearances. In addition, he was attempting to become the first starting pitcher to win his first six decisions against the Yankees since Greg Hibbard did it over 11 starts with the White Sox and Mariners from 1990-94. But after logging five scoreless innings, the Yankees scored four against the Rays' ace in the fifth and added an unearned run in the sixth to send Archer to his first loss against the Rays' division rival. More >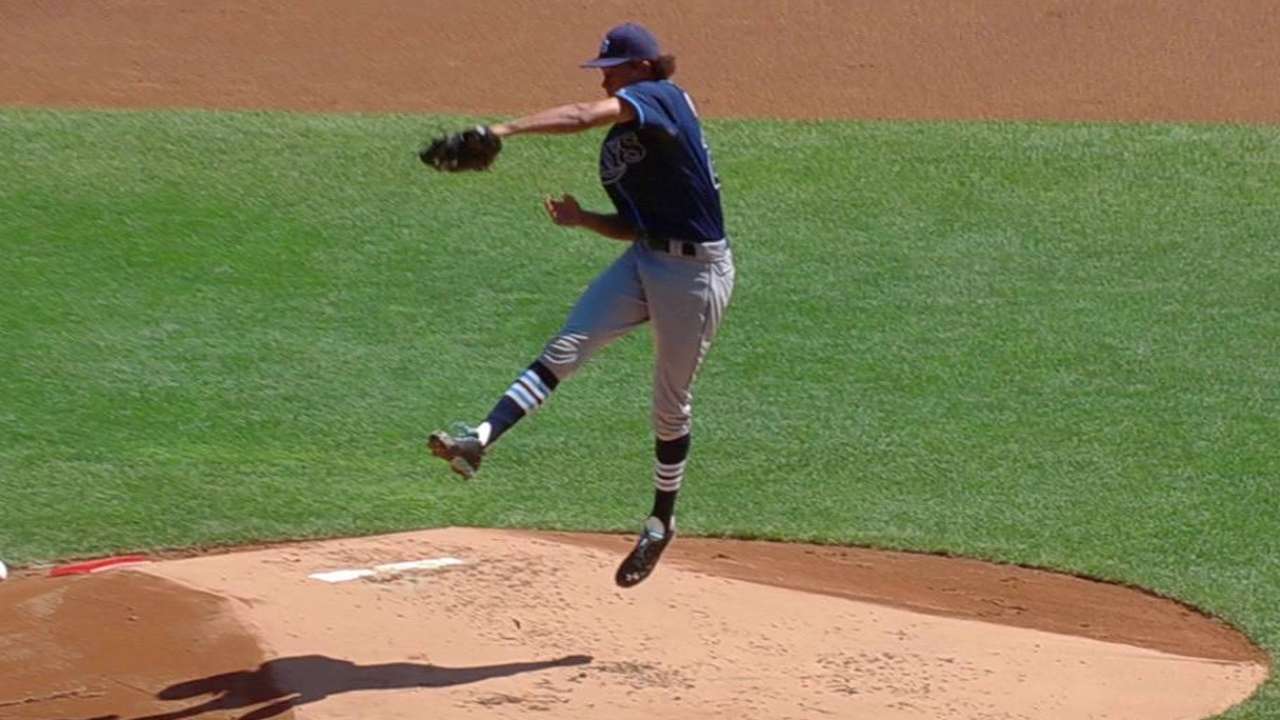 QUOTABLE
"We don't even have to look. We know what's going to happen up there."
-- A-Rod, on keeping tabs on the first-place Jays
"I would have said, 'Wow.' Not ever underestimating what he could do, but, like I said, he hadn't really played for two years, coming off two hip surgeries. I also would have said if he has 28 home runs, we're probably going to be fighting for something.
-- Girardi, on what his reaction would have been if someone told him Rodriguez would have 28 homers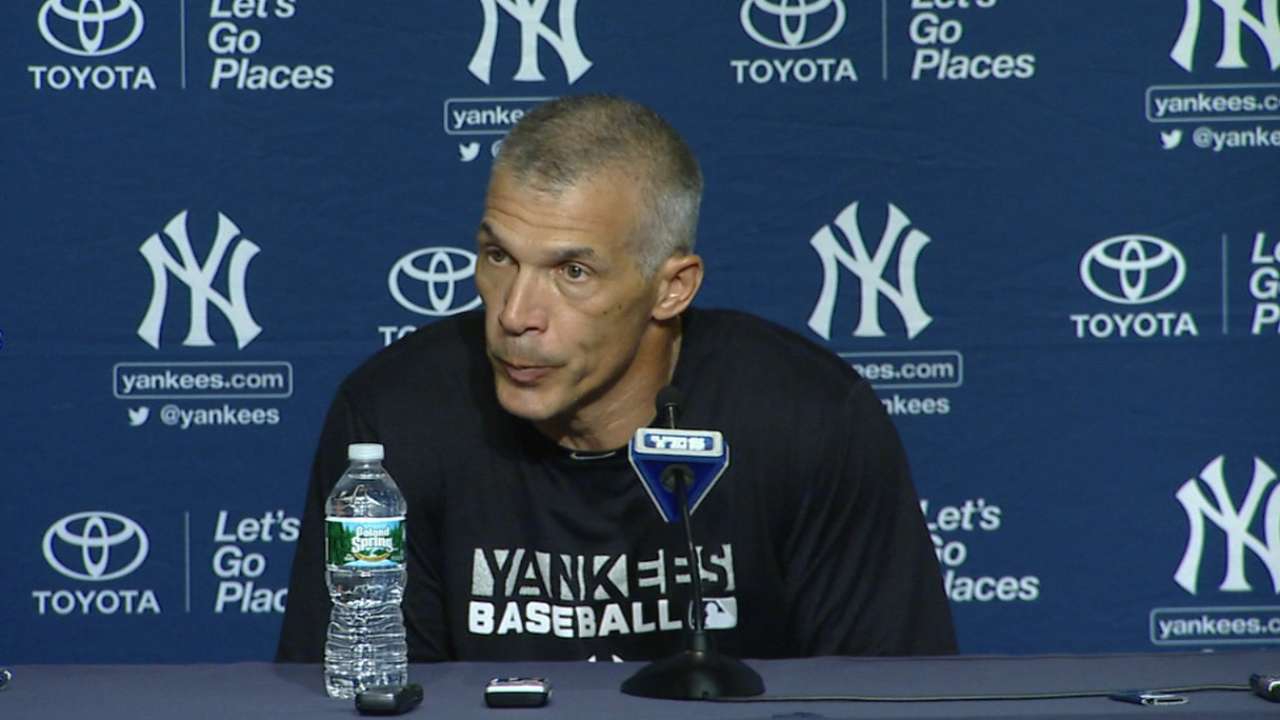 SOUND SMART WITH YOUR FRIENDS
With a single in the eighth inning, Rodriguez registered his 3,053rd career hit. He is now tied with Rod Carew for 22nd place on baseball's all-time hit list.
"Rod is someone who I have a lot of respect for," Rodriguez said. "Rod was very good to me early in my career when he was a hitting coach with the Angels and I was a young lad with the Mariners, so I really have a lot of appreciation and respect for Mr. Carew."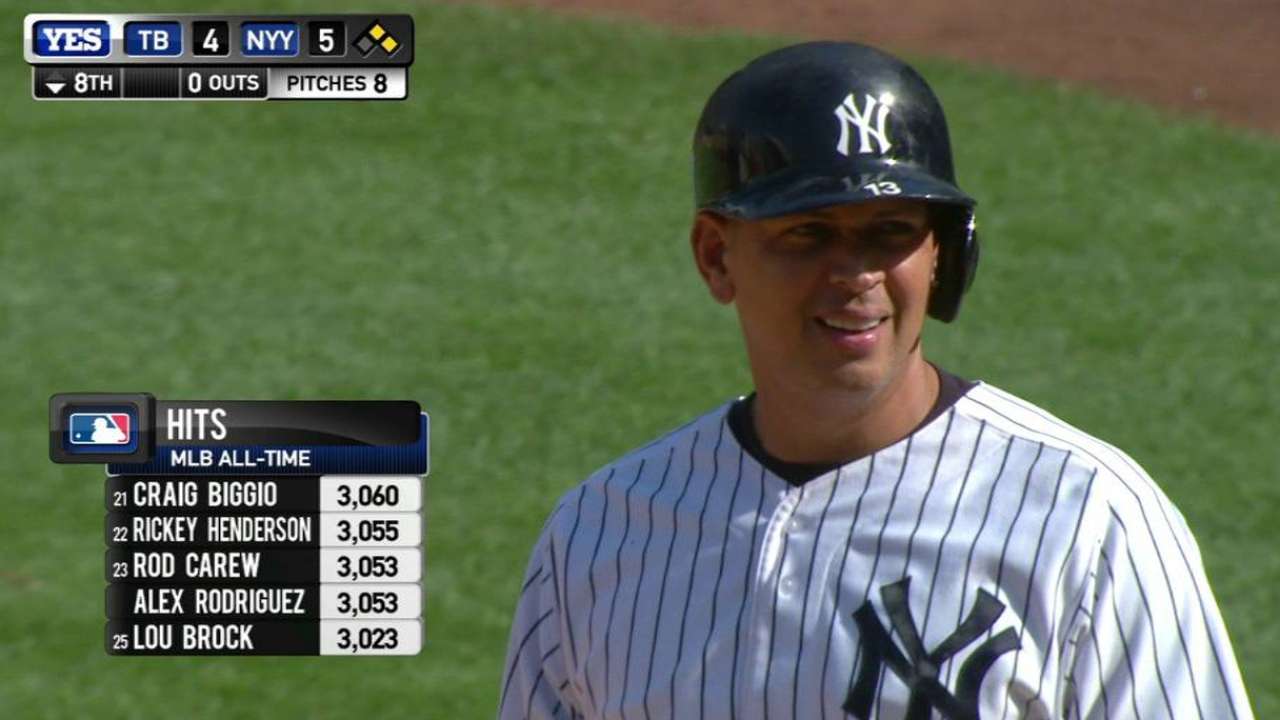 The Rays are 6-10 against the Yankees this season, losing the season series for the first time since 2009.
WHAT'S NEXT
Rays: The Rays travel to Detroit to begin a three-game series against the Tigers with a Labor Day matinee at 1:08 p.m. ET. Drew Smyly (2-2, 3.11 ERA) will make his fifth start since returning from the disabled list (shoulder). This will be his first start against his former team. He last pitched at Comerica Park on the day he was traded to the Rays, July 14, 2014.
Yankees: The Yankees will send Michael Pineda to the mound Monday for the first of a three-game set with the Orioles, with first pitch set for 1:05 ET at Yankee Stadium. Pineda is looking for his 11th win of the season and his fourth career win against the Orioles. On May 10, in a career-best performance, Pineda racked up 16 strikeouts against the O's. In his last outing in Boston, Pineda got the win after allowing one run with seven strikeouts over seven innings.
Watch every out-of-market regular season game live on MLB.TV.
Bill Chastain is a reporter for MLB.com. Grace Raynor is an associate reporter for MLB.com. This story was not subject to the approval of Major League Baseball or its clubs.