Giants ride five-run fifth to second straight win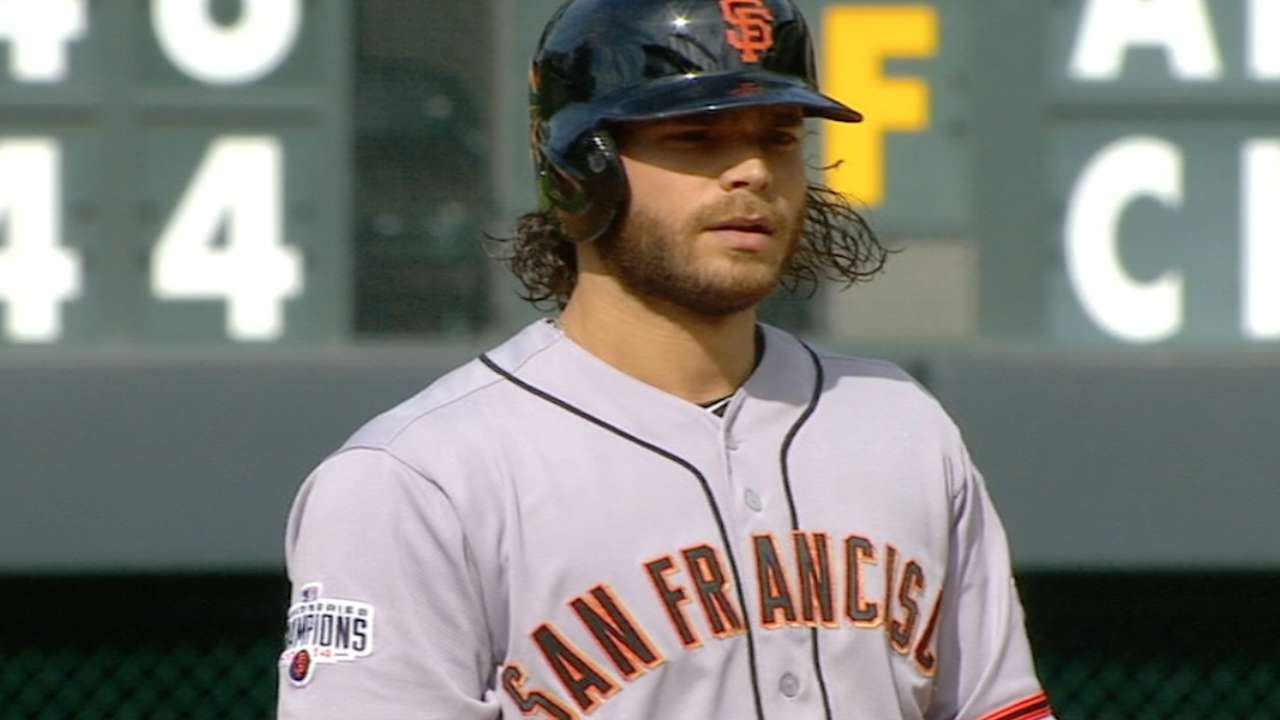 DENVER -- The Giants sent nine men to the plate in a five-run fifth, and Buster Posey hit his 100th career homer, propelling San Francisco to a 7-4 win over the Rockies on Sunday at Coors Field.
With the win, the Giants remained eight games behind the Cubs in the National League Wild Card race and 7 1/2 games behind the Dodgers in the NL West race. Chicago beat Arizona, 6-3, and Los Angeles beat San Diego, 5-1.
Colorado put up two in the first, but Posey's homer in the fourth off Yohan Flande (3-2) knotted things, 2-2. The Giants then stormed ahead in the ensuing frame, when seven straight batters reached safely. The monumental blows came on Matt Duffy's two-run triple, Marlon Byrd's RBI single and Brandon Crawford's two-run double, which gave the Giants a 7-2 lead.
That provided enough support for Madison Bumgarner (17-7), who yielded nine hits and four runs over six innings.
"Gutty, gutty effort," Giants manager Bruce Bochy said of Bumgarner's game. "They placed some seeing-eye hits against him. He worked pretty hard out there. His pitch count got up there, but he really bowed his neck when we needed him. They got early runs off him, but he's such a tough competitor, he doesn't stop coming at you. He gave us what we needed."
Flande, meanwhile, lasted just 4 1/3 innings, giving up six runs on eight hits.
MOMENTS THAT MATTERED
The heart of the order: The middle of the Giants' lineup came back with a vengeance. Posey hit his milestone homer in the fourth inning, and in the second knocked a leadoff double, moved to third on the first of four Byrd hits, and scored on Brandon Belt's grounder to first. All three had been out of the starting lineup in Saturday's win.
"Any time you go through a stretch where you don't hit a homer for a while, it's just natural to start to think about it," said Posey, who hadn't homered since Aug. 3. "I felt like today I had a good approach. I was just trying to hit line drives. I thought about my last at-bat last night, where I flew out to the wall. I barreled that ball, but it just went straight up rather than the good trajectory. So try to keep that focus and that mindset up there. Try to hit line drives all over the field." More >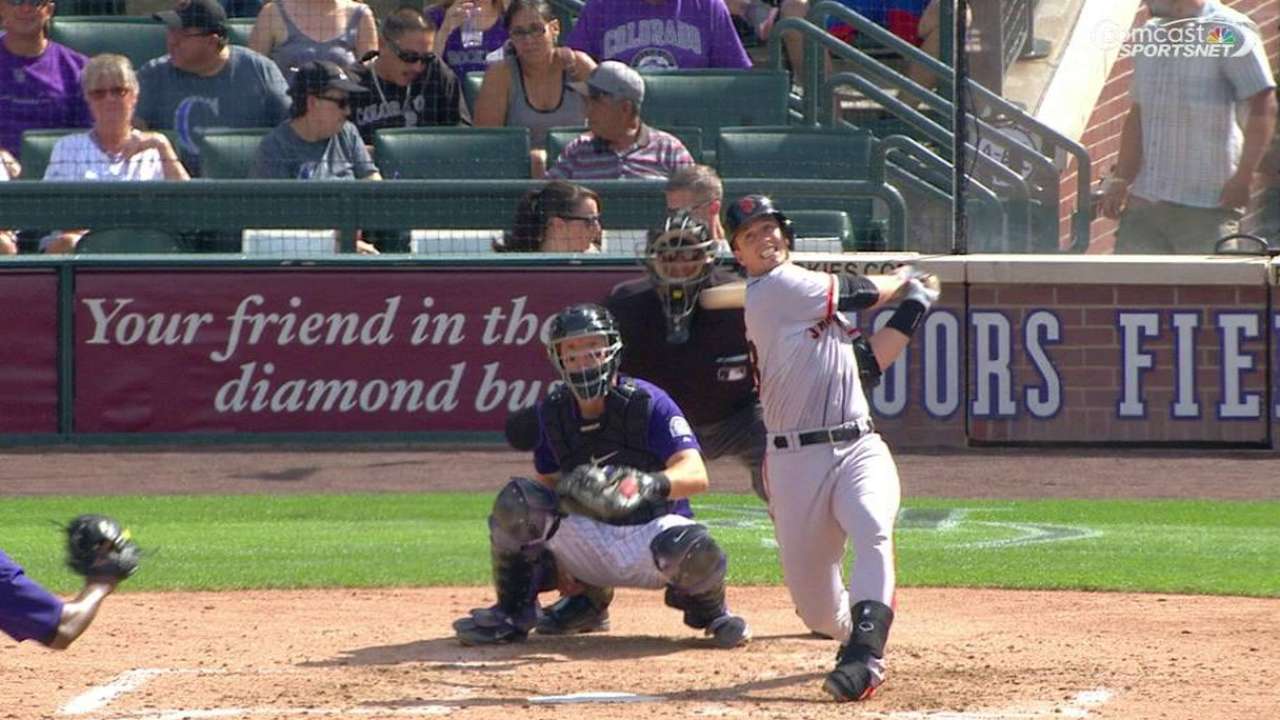 A busy bullpen: With a 14-man 'pen, the Rockies made three pitching changes in the fifth inning, but they didn't keep the Giants off the scoreboard. After Flande was pulled with one out, Brooks Brown faced face one batter and gave up an RBI single. Left-hander Rex Brothers faced two batters and surrendered a walk and a two-run double in which Belt was thrown out at home. Right-hander David Hale replaced Brothers and got Juan Perez to roll into an inning-ending groundout to short. In total, Colorado used eight pitchers, which tied a season-high.
"We wanted to keep the score close, so we were trying to match up there in the fifth," Rockies manager Walt Weiss said. "But it didn't work out. We've got a bunch of guys out there, so I've been using them. It gives you the opportunity to match up in certain times in the game where you typically wouldn't. With the numbers we have, it's a bit of a luxury."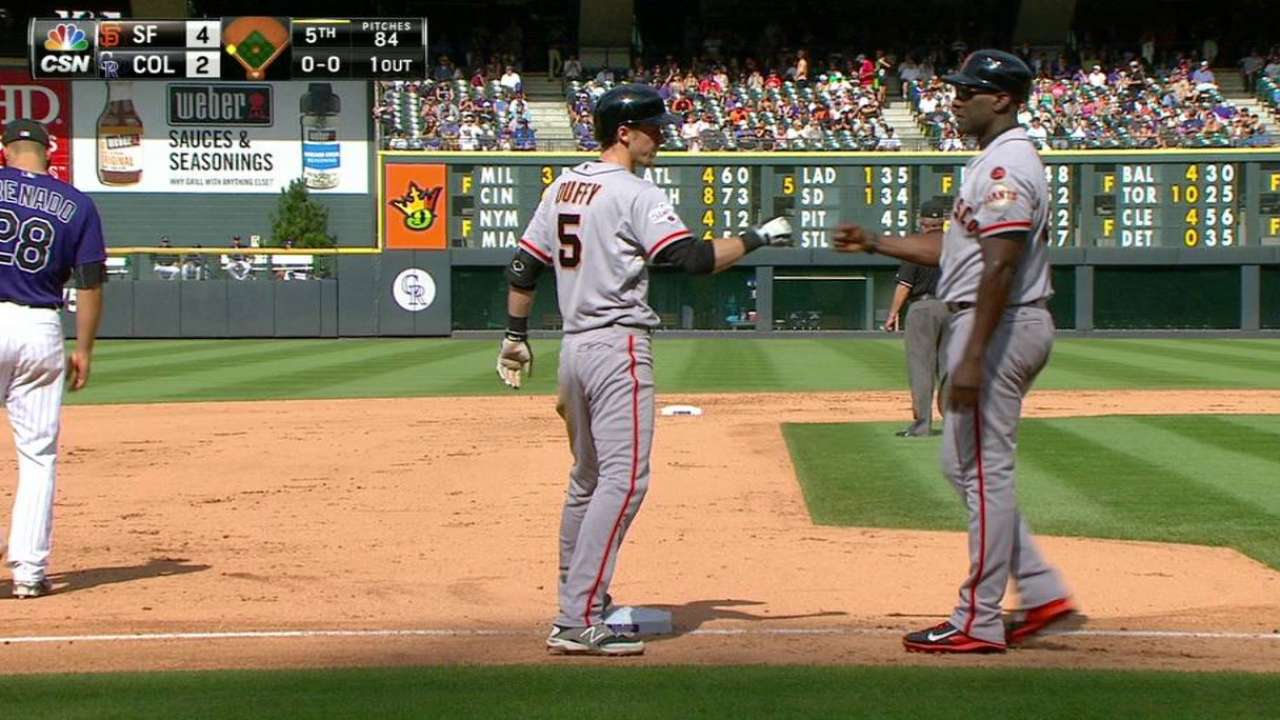 Five-for-five: The Giants staked out a 7-2 lead with a five-run fifth frame, facing four Rockies pitchers in the process. Gregor Blanco and Kelby Tomlinson set the table with a pair of singles and Duffy brought them home with a triple to center. After Posey was intentionally walked, Byrd plated Duffy with a single to center. Belt walked to load the bases, and Crawford brought two home with a double to center.
"We kept the line moving well there," Bochy said. "That's what you're trying to do here, have a big inning, and you try to add on. A couple times we should have had productive outs and we didn't get guys over, but we got away with it today. Duffy got a huge hit. That's a good piece of two-strike hitting."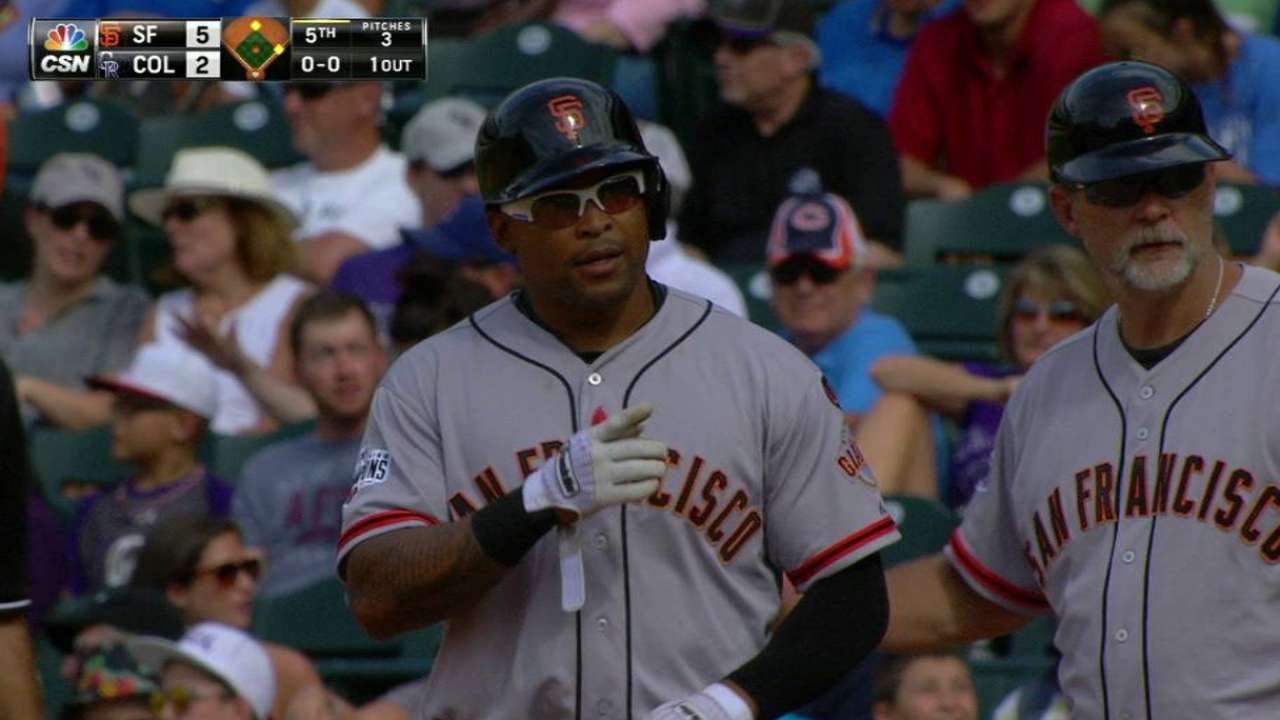 Staying in it: The Rockies came right back in the bottom of the fifth. Brandon Barnes, Rafael Ynoa and Jose Reyes started the frame with three straight hits to load the bases for Cristhian Adames, who delivered a two-run single for his first career RBIs. The red-hot Nolan Arenado, however, grounded into a double play, and Carlos Gonzalez lined out to end the frame. Arenado entered the game having homered in six straight games.
"Whenever there are guys on base, I take a lot of pride in trying to drive them in," Arenado said. "When you're facing a guy like Bumgarner, it's going to be tough. He threw me a first-pitch curveball for a ball, and then I missed one. If I was going to hit any pitch, it would've been that one."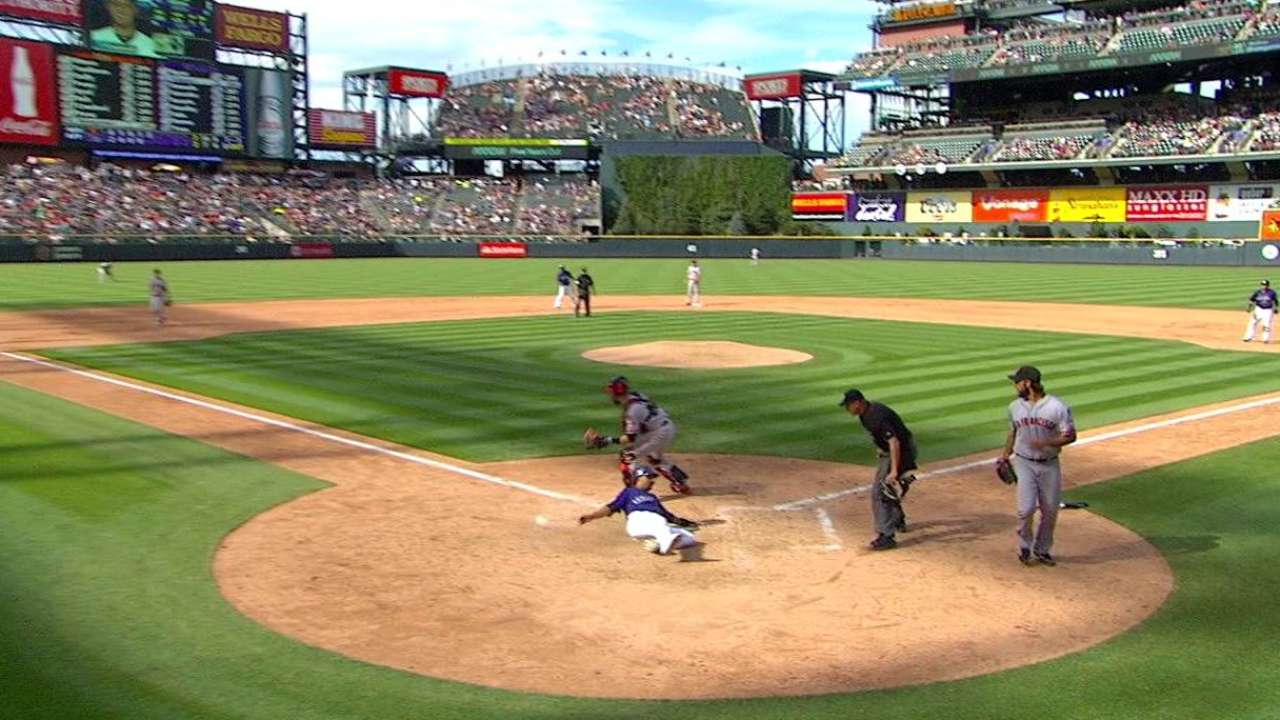 QUOTABLE
"We're going to finish out the season playing as hard as we can every day and not have any regrets. Whatever happens at the end of the year, we'll be at peace with it, because we'll know we did everything we can do." -- Bumgarner, on a team meeting the Giants held after they lost their seventh straight on Friday
"It was a pretty cool streak. It's hard to think about it because I never thought about it at the plate. I always just thought about hitting the ball hard. I think today in the ninth inning, I was like, 'I didn't hit a homer today. The streak's going to be broken now.' I knew about it, but I never thought about it for the whole time. When I was hitting the homers, it never crossed my mind." -- Arenado, on his homer streak ending
UPON FURTHER REVIEW
The Rockies lost a challenge in the fourth inning, when video evidence confirmed that Wilin Rosario was out at first on his sacrifice bunt.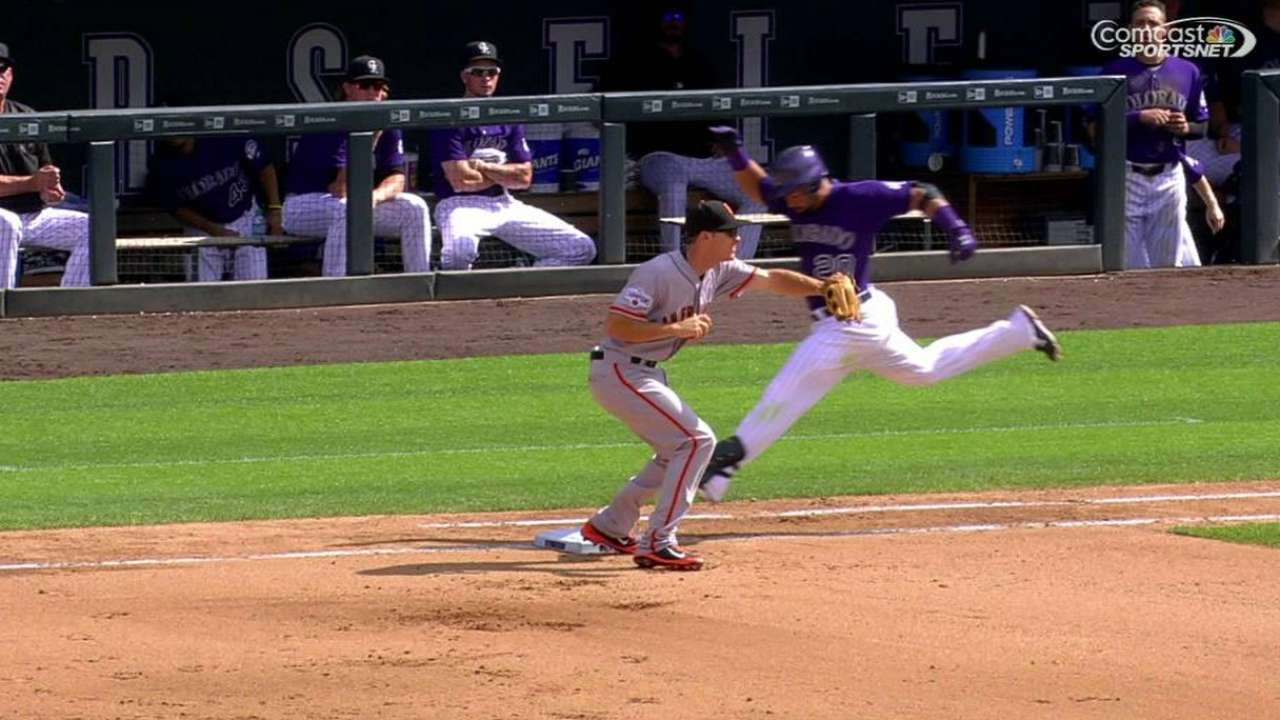 WHAT'S NEXT
Giants: The Giants will welcome second baseman Joe Panik back on Monday, and he is likely to be in the lineup for their 7:10 p.m. PT series opener against the D-backs. Panik has missed 34 games with lower back inflammation, and is hitting .309 with seven homers and 35 RBIs. Mike Leake (9-7, 3.49 ERA) will start on the mound for San Francisco.
Rockies: Colorado will open up a four-game series with the Padres on Monday, beginning at 2:10 p.m. MT. The Rockies will give the ball to right-hander Kyle Kendrick, who is 4-3 with a 4.94 ERA in nine career games (eight starts) against San Diego.
Watch every out-of-market regular-season game live on MLB.TV.
Dargan Southard is an associate reporter for MLB.com. Owen Perkins is a contributor to MLB.com. This story was not subject to the approval of Major League Baseball or its clubs.