Wilhelmsen finds home in closer's role
Veteran right-hander has given Mariners a needed anchor at back of bullpen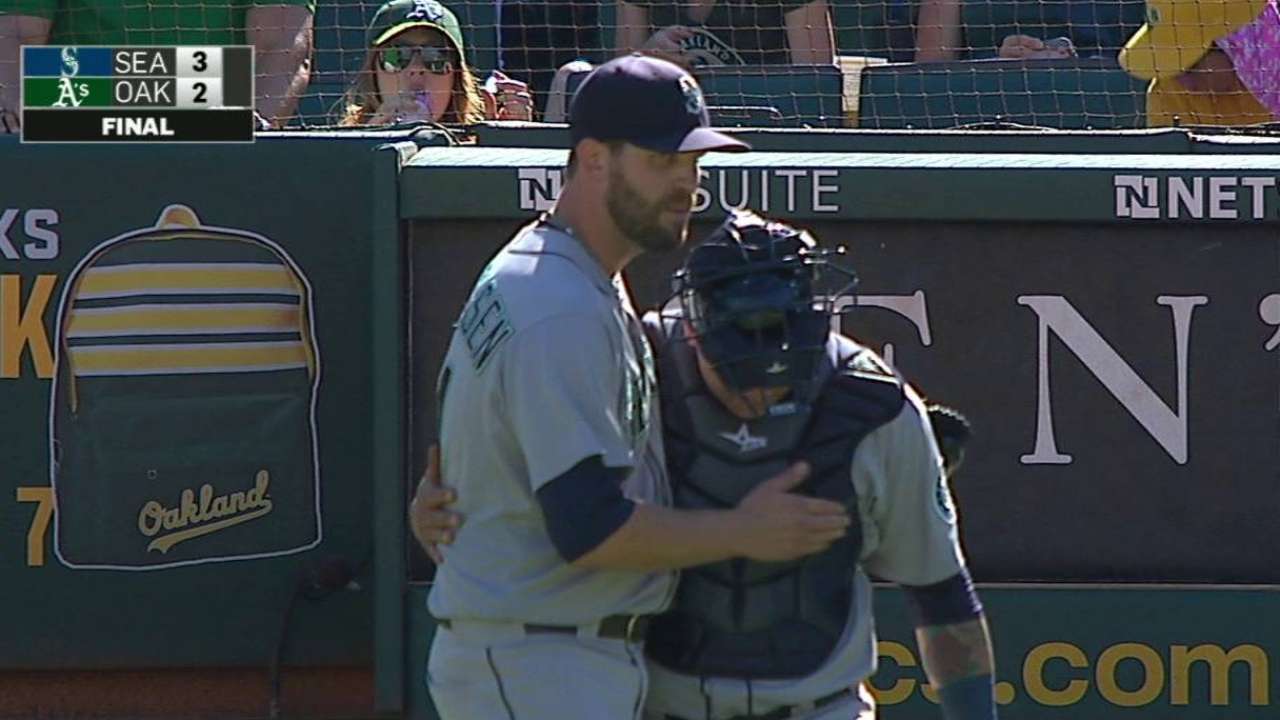 OAKLAND -- For much of the season, figuring out who is closing games for the Mariners' bullpen has been a point of considerable drama. But in the last two weeks, Tom Wilhelmsen has slid into that role with little fanfare and excellent results and he slammed the door again with a five-out save in Sunday's 3-2 victory over the A's.
Since replacing rookie Carson Smith on Aug. 23, Wilhelmsen is 8-for-8 in save situations with 9 2/3 scoreless innings in which he's allowed just six hits with two walks and nine strikeouts.
Manager Lloyd McClendon initially hesitated to place any permanency on the move to Wilhelmsen after Fernando Rodney's release, but now acknowledges the Wilhelmsen is his unquestioned closer. And he came away impressed again after the 31-year-old entered with the tying run on second and one out in the eighth and got out of that jam, as well as a tight spot in the ninth after surrendering a pair of two-out singles.
"Tom was as gutsy as I've seen him in the two years I've been here," McClendon said. "That was not an easy save for a guy that needs rest desperately. He did a tremendous job for us."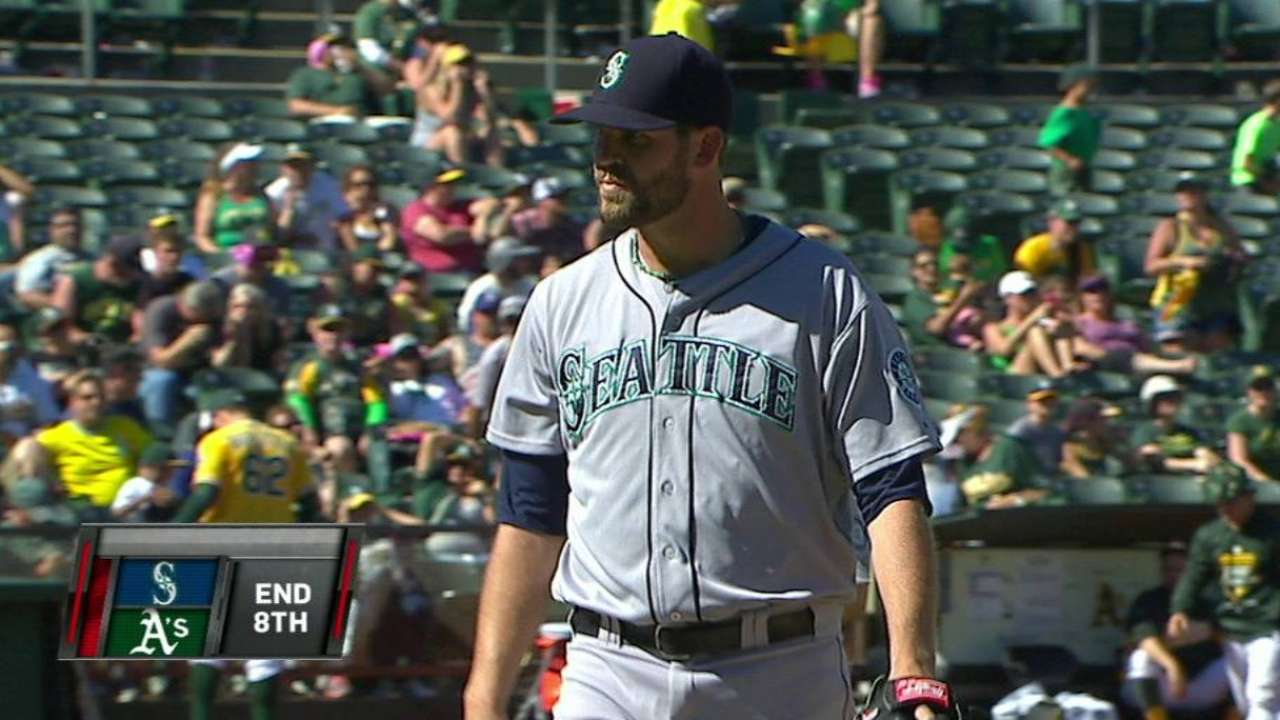 Wilhelmsen, who lost the closer's role after saving 53 games in 2012-13, has no issue with the heavy load as the Mariners have won five straight and are finally gaining some late-season momentum.
"My body feels great," he said. "My mind feels better. I enjoy the workload."
It's been an interesting journey for Wilhelmsen, one of the better baseball stories in recent years, as he left the game for five years from 2004-09 and worked as a bartender in Tucson, Ariz., before signing with the Mariners. In the ensuing years, he's filled every role from spot starter to middle reliever to setup man to closer.
And through it all, he hasn't forgotten to step back and appreciate the journey and remind himself not to take for granted the opportunity he's been given to play Major League baseball.
"Yeah, all the time," he said. "At home, after the game with my wife, I'll look out the window and say, 'What are we doing here?' It's pretty cool. It's still cool," he said. "I think a lot of the other guys feel the same way, too. They should, anyway."
That mature approach is part of what Wilhelmsen brings to the closer role, which he says can be a different animal.
"Sure, it's a little bit different," he said. "It's the last three outs of the game and expectations are there for all the staff, no matter what their role is. So you still have to get three outs. That's the only thing that matters when you're in the bullpen, keep the game where it is.
"There's more pressure if you allow it to get to you being the ninth-inning guy. But that's only if you allow it to get to you. You have to focus on strike one. Focus on what you have to do. You have to get strike one, you have to get outs."
McClendon says Wilhelmsen appears to have learned from his previous experiences at closer, his ensuing time in various roles and has handled the pressure of being the ninth-inning guy with aplomb.
"I see a very calm guy," McClendon said. "His breathing is good, his tempo is great and he's commanding the zone. He's done a great job for us."
Wilhelmsen says he watched how veteran closer Rodney and others handled the stress of the closer role.
"People forget how good Rodney was last year," he said. "Obviously, up close, a big part is how he handles it. That's what I took from him. Obviously, I didn't take everything he does, but that was one thing."
And he's learned from his own experiences as well.
"You're always trying to figure it out and adjust," he said. "Just getting ahead of guys helps an awful lot."
Greg Johns is a reporter for MLB.com. Follow him on Twitter @GregJohnsMLB, read his Mariners Musings blog, and listen to his podcast. This story was not subject to the approval of Major League Baseball or its clubs.