Norris increasing chances of returning this season
Left-hander recovering from strained right oblique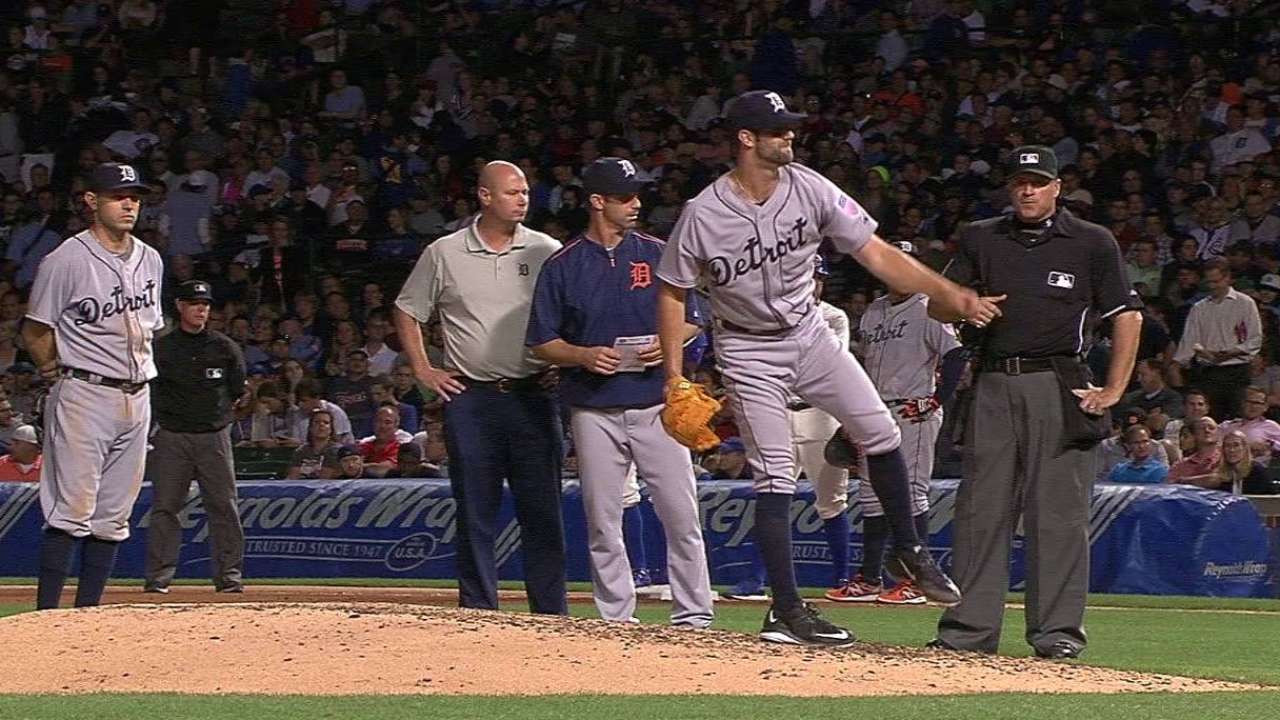 DETROIT -- Don't tell Daniel Norris the season is winding down. The Tigers left-hander is pushing his way back like he still has plans to pitch in it.
After nearly 30 pitches in a morning bullpen session before Sunday's 4-0 loss to the Indians, his first mound work since straining his right oblique 2 1/2 weeks ago, he's looking closer to game action expected.
"I was feeling pretty good," said Norris, who was originally expected to throw far fewer pitches. "It was good, really encouraging. Toward the end, I was letting it go, trying to simulate a couple hitters."
Norris also threw his curveball, which was the pitch when he felt the oblique strain last month during his start against the Cubs at Wrigley Field. Norris was testing his oblique to see how close he could get to game-level pitching.
It was a significant step for Norris, who has been ahead of schedule for several days in his rehab work. While the Tigers have avoided a set timetable, what has been an iffy proposition for Norris pitching this season is now looking like a better chance.
"I didn't know what to expect," Norris said Sunday. "They told me it was going to be a while. Credit the training staff."
Norris expects he'll throw at least one more bullpen session, followed by perhaps a simulated game. With Minor League seasons wrapping up, there's no place to send him on a rehab assignment unless the Tigers wanted to pitch him at Class A West Michigan for the Midwest League playoffs.
That seems unlikely, as the Whitecaps' postseason series starts this coming week. If Norris only needs to face hitters, however, a simulated game should be fine.
"I'm still thinking that way, that I can get back out there again this season," Norris said Saturday. "I want to get out there. There's still some fight left in the dog. I just want to get out there and compete. It's one of those things that you can't harness. It's just in there, and you want to get out there."
The Tigers should get a better idea on Anibal Sanchez's chances of returning on Monday, when he's scheduled to throw a light bullpen session. Sanchez has missed the last 2 1/2 weeks with a rotator cuff strain.
Jason Beck is a reporter for MLB.com. Read Beck's Blog, follow him on Twitter @beckjason and listen to his podcast. This story was not subject to the approval of Major League Baseball or its clubs.