Francoeur relishing role of elder statesman
Phillies vet passing on knowledge to young players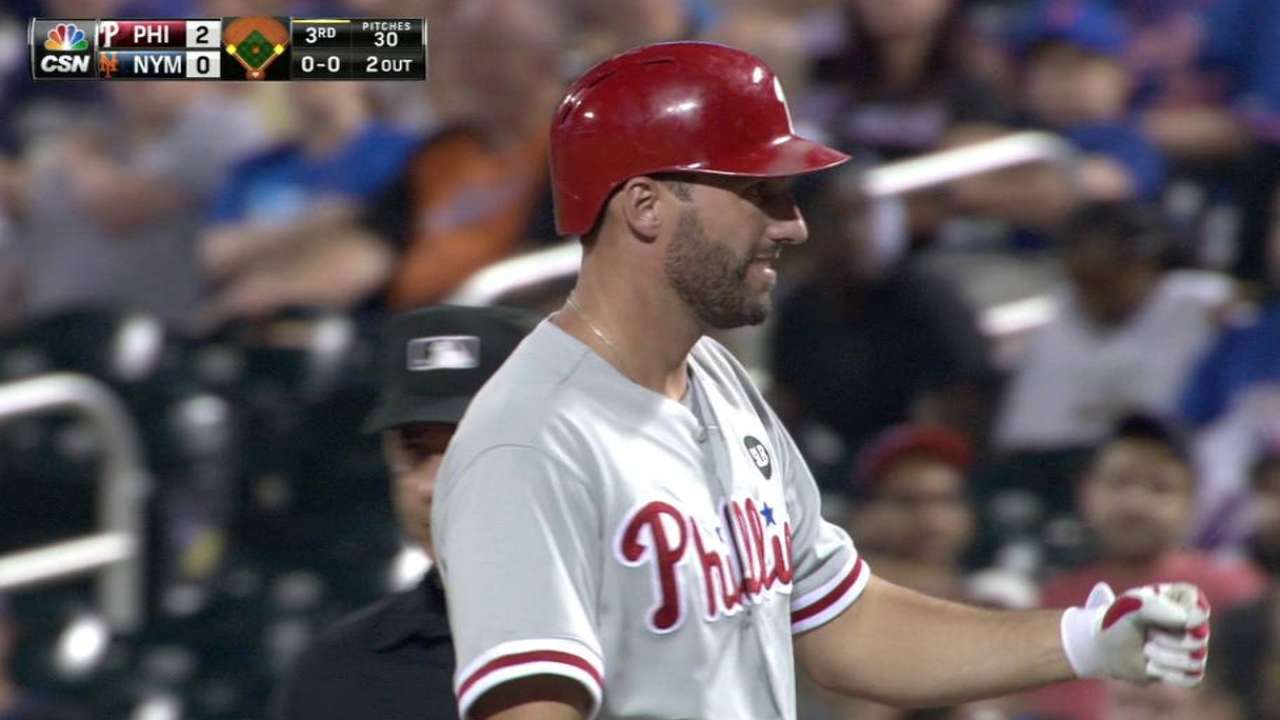 BOSTON -- As Jeff Francoeur scanned the Phillies' lineup card Sunday morning and found his name, he joked that interim manager Pete Mackanin had made him the designated hitter by default. Francoeur's reason? Most of his teammates are too young to DH.
"It's kind of new," Francoeur said. "A lot of teams I'd always played on -- Chipper [Jones], [Carlos] Beltran and those guys -- whenever we played, they would DH. I guess now I'm the old guy on the team to DH."
Following the midseason departures of Cole Hamels, Chase Utley and Jonathan Papelbon, the 31-year-old Francoeur suddenly finds himself in an unfamiliar role as one of the club's elder statesmen. Sunday's lineup featured six players under the age of 26 and rookie starter Jerad Eickhoff on the mound.
"It's definitely been weird. But I enjoy the grind of it," Francoeur said. "I enjoy helping some of these younger guys. Odubel [Herrera], Aaron Altherr, and just teaching them the game the best I can."
Sitting around in between at-bats is also a fairly fresh experience for Francoeur, who played just his fifth career game as the DH.
"Honestly for me, it's just stay in the game, stay focused before each at-bat," Francoeur said. "It can get tough sometimes. It's more just trying to lock in and concentrate the best you can. It's almost like pinch-hitting a little bit. You kind of sit around and relax. I'll come up [in the clubhouse] and stretch, swing a little bit."
Now on his seventh team in 11 seasons, Francoeur's up-and-downs leave him well-equipped to assist a clubhouse as young as Philadelphia's. He counts this season in particular as a personal triumph after playing almost all of 2014 with Triple-A El Paso, a Padres affiliate.
"It's a humbling thing. I think you ask any guy, growing up, you never would have thought you would play for 11 seasons," Francoeur said. "But at the same time, it shows how hard you work. Especially for me after last year. Spending some of the year at Triple-A, then getting to come back and put a good year together was something that meant a lot to me."
Alec Shirkey is an associate reporter for MLB.com. This story was not subject to the approval of Major League Baseball or its clubs.