Trout joins Mays with elite feat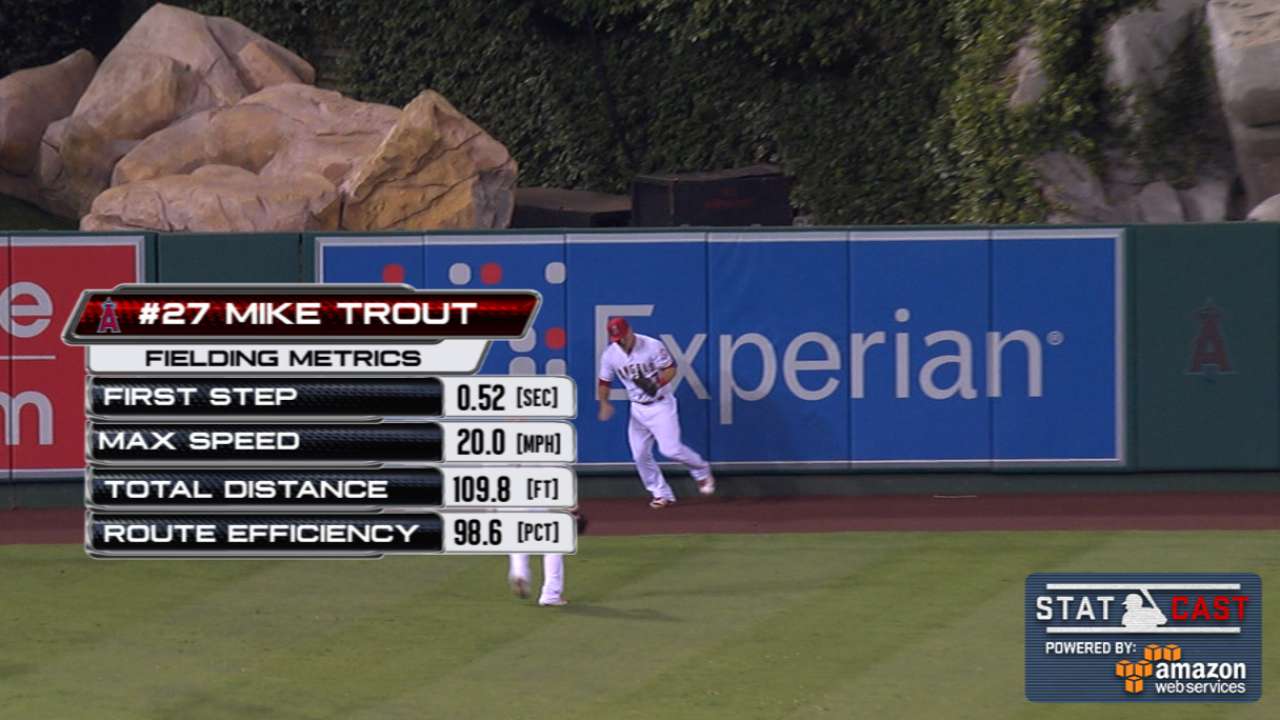 ANAHEIM -- A stand-up triple, a highlight-reel catch and a controversial caught-looking strikeout. The Angels' eventual 2-1 loss to the division-rival Rangers on Saturday proved to be an eventful night for Mike Trout, who joined Willie Mays in some impressive company and -- just barely -- extended the longest homer-less drought of his career.
Below is a categorical look through it all.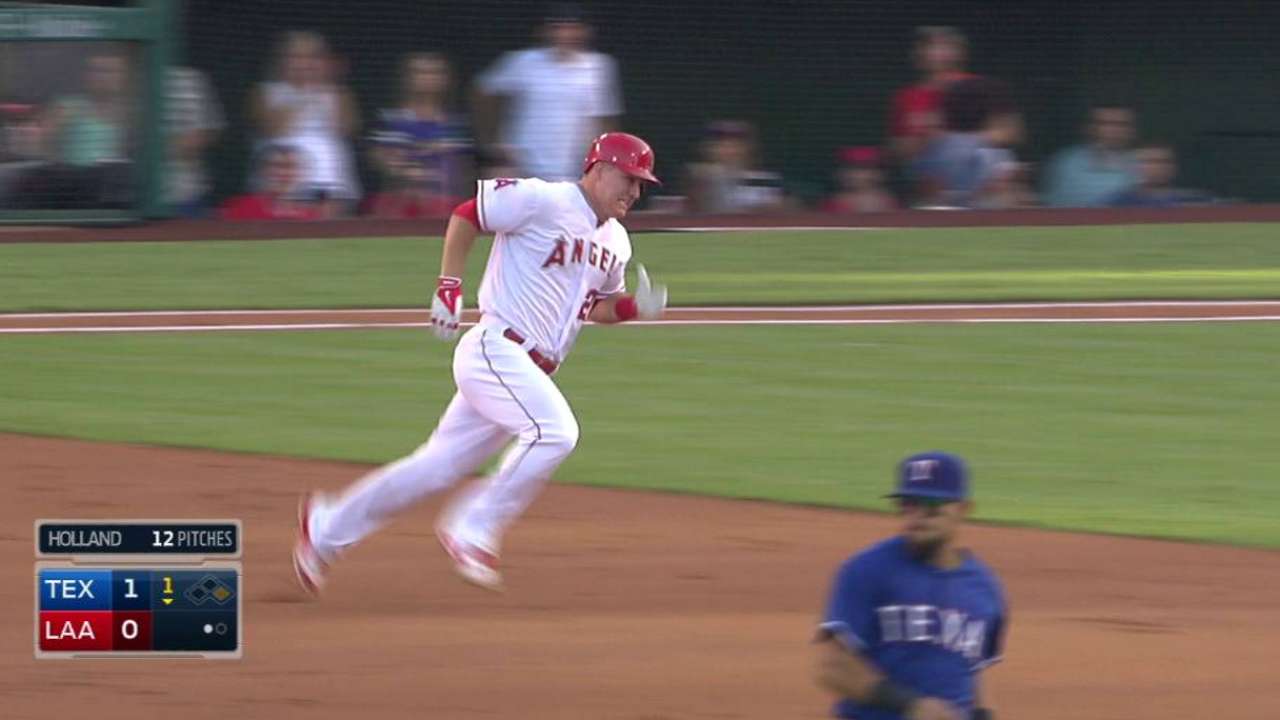 Three the easy way
Trout saw five consecutive sinkers from Rangers starter Derek Holland in the first inning. He pounced on the fifth, scorching a line-drive triple that nearly went over the tall fence near center field. With that, Trout joined Mays as the only players with four straight seasons of at least 25 homers, five triples and 10 stolen bases.
The ball carried an exit velocity of 106 mph and Trout reached a top speed of 19.9 mph while rounding the bases, per Statcast™. But Trout is still searching for his 34th home run. He's been stuck on 33 since Aug. 7, going 27 games and 96 at-bats without one. It's Trout's longest homerless streak by far, the closest one within a single season being only 19 games in 2013.
It's not like he hasn't hit balls far enough, though.
In Cleveland last Sunday, Trout hit a first-inning triple off the very top of the tall fence in left-center field, a ball skied 96 feet in the air and one Statcast™ projected to land a whopping 424 feet away from home plate. Saturday's triple traveled 404 feet.
"I'm just trying to barrel up balls," Trout said when asked if he finds himself searching for the home run lately. "I barreled up a couple that hit off the wall, but I'm not going up there trying to hit home runs. You get in trouble doing that."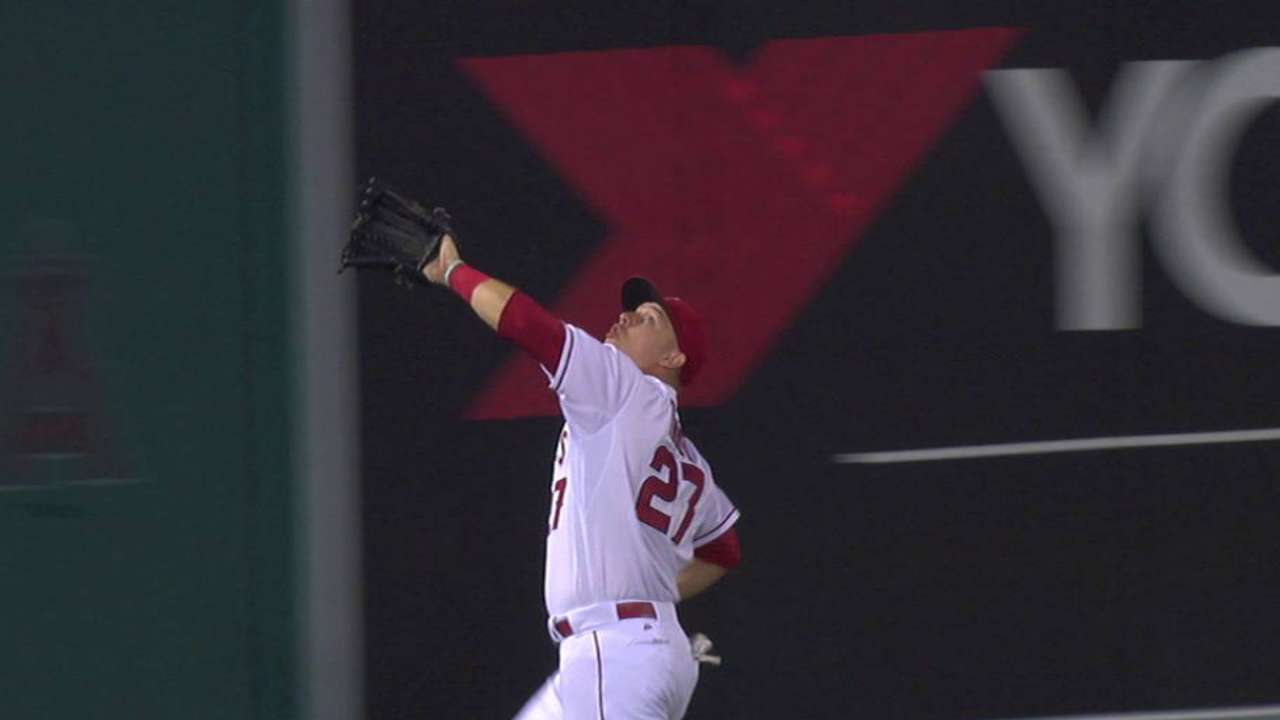 Covering major ground
With one out in the top of the sixth -- a product of an impressive catch by Kole Calhoun in right-field foul territory -- Trout showed what he can do when he reads the ball precisely off the bat. He was playing the left-handed-hitting Rougned Odor to pull, then broke towards deep left center and made a running catch just before crashing into the fence.
Odor's ball carried a projected distance of 383 feet and Trout covered 110 feet to go get it, according to Statcast™, by far the most ground he's covered to catch a fly ball this season. His route efficiency was 98.6 percent, nearly perfect. And his top speed was 20 mph.
"Mike went a long way for that," Angels manager Mike Scioscia said. "I'm not going to say I'm surprised [that he caught it]."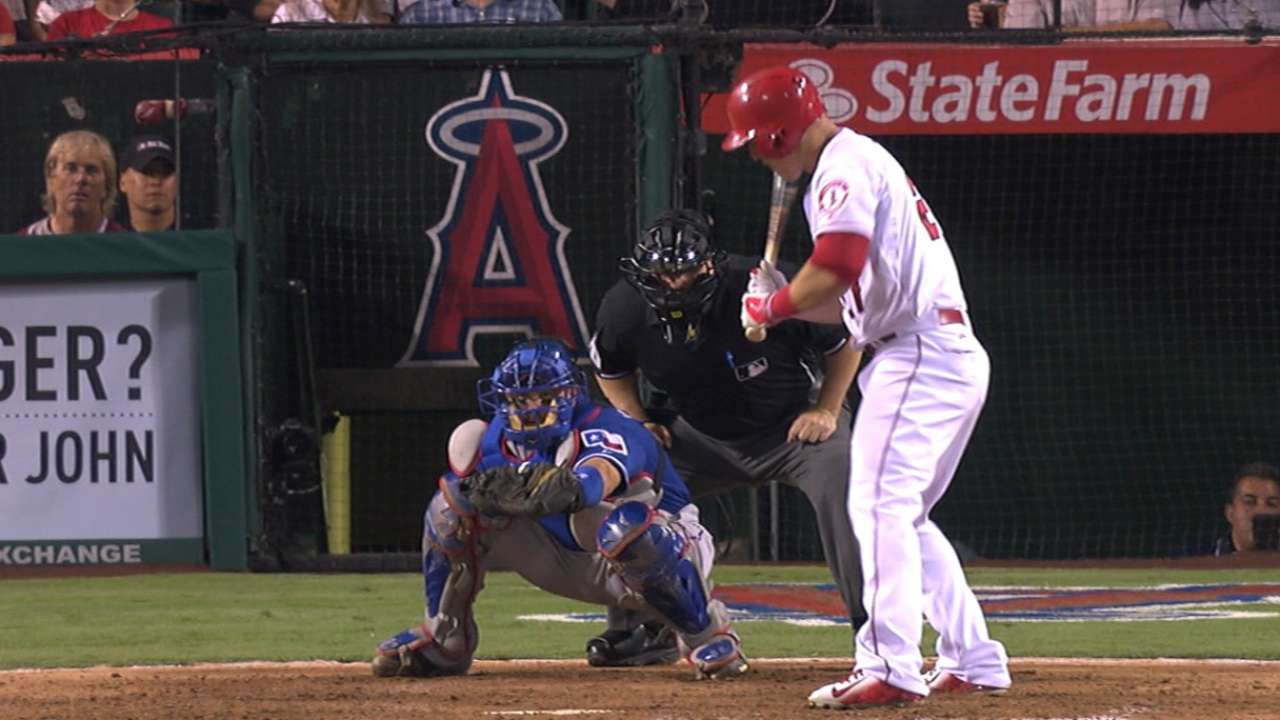 Caught looking
Leading off the bottom of the ninth with the Angels trailing by only a run, Trout ran the count to 3-1 against Rangers closer Shawn Tolleson and then looked at back-to-back strikes on 94-mph fastballs. They were close. "Fox Track" had the 3-1 pitch right on the line in the lower part of the strike zone and the 3-2 pitch just off the outside corner. But home-plate umpire Marty Foster rung Trout up, just as he was about to flip his bat to jog to first base.
Angels manager Mike Scioscia felt the 3-1 pitch "was borderline," but didn't have a chance to look at the full-count pitch that followed.
Trout hadn't looked at the replay of his at-bat before speaking to the media.
"I didn't think they were strikes, obviously," Trout said after a three-strikeout game. "But they're too close to take with two strikes. Just have to turn the page."
Alden Gonzalez is a reporter for MLB.com. Follow him on Twitter @Alden_Gonzalez and listen to his podcast. This story was not subject to the approval of Major League Baseball or its clubs.