More Jekyll than Hyde from Simon vs. Indians
Tigers righty improves to 4-0 vs. Cleveland in 2015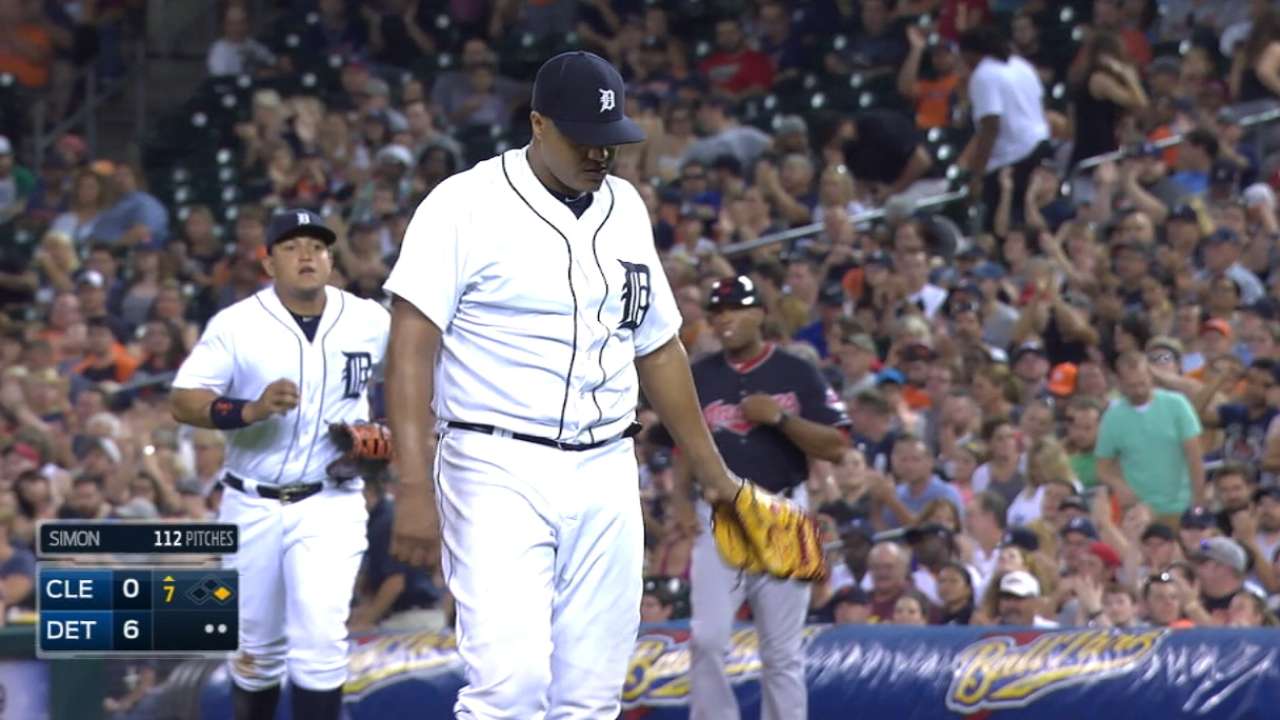 DETROIT -- Leave it to Tigers manager Brad Ausmus to find a literary reference to the ups and downs of pitcher Alfredo Simon.
"Simon's been a kind of Dr. Jekyll and Mr. Hyde in the last month," Ausmus said after Saturday's 6-0 win, in a nod to Robert Louis Stevenson. "And really, I like the Dr. Jekyll a lot better than I like Mr. Hyde."
With seven shutout innings on two hits, Simon became the first Tigers starter other than Justin Verlander with a victory since Aug. 20, the night Simon tossed a complete-game one-hitter against Texas. In the two turns in between, Simon allowed 14 runs on 15 hits over 9 1/3 innings.
Put another way, Simon allowed half as many hits Saturday as he allowed home runs in his previous start last Sunday at Toronto. And before the one-hitter last month, he had an 8.19 ERA in his previous 10 starts, yielding 75 hits over 51 2/3 innings.
He has two quality starts in his last seven outings, and both were low-hit scoreless performances. Simon has some ugly numbers in nearly every other outing since mid-June.
"I can usually tell by the fifth or sixth inning," Ausmus said sarcastically when asked how quickly he can figure out on a given night if he has Jekyll or Hyde going for him. "I don't know ahead of time."
The best explanation Simon can come up for it is his stuff.
"When I throw the ball down, everything goes well," he said.
Though Simon walked three batters through his first four innings, he didn't give up a base hit until he fell behind on Michael Brantley, who ripped a splitter into the right-field corner for a two-out double in the sixth.
Not only has Simon won all four of his starts against the Indians this year, he has dominated, holding them to four runs on 18 hits over 24 innings. If the season ended now, he'd be the third pitcher in the last 30 years to post four wins and a 1.50 ERA or lower in 20 or more innings against Cleveland in a season, joining Verlander from 2009 and Roger Clemens from 1987.
Verlander and Clemens shut down a lot of teams. Simon owns a 5.48 ERA against all other opponents, even with the one-hitter against the Rangers.
"He's done very well against us," Indians manager Terry Francona said. "And I'm sure confidence plays a part in it. While we certainly follow how guys are doing, but guys with that kind of stuff, if they're commanding on that night, it doesn't matter what he did last week."
Asked what makes Simon so tough against them, Indians second baseman Jason Kipnis had to shrug.
"I'm not really sure," he said. "He's got that good split-change that he's had success with on us. He gets you to chase his pitch. Other than that, I don't know. I don't have an answer. It seems like a guy we should hit. But, you tip your cap to him in that respect and you move on."
Simon cited familiarity.
"I've faced Cleveland a lot and I know the hitters really well," he said. "Like [Carlos] Santana, he's a fastball hitter. When I get behind in the count, I throw a split for a strike and he swings and misses. Today my breaking ball and my split were down in the zone."
The Indians will get one more chance at Simon next Thursday at Progressive Field. If they can't hit him, it'll be Dr. Jekyll haunting Cleveland, not Mr. Hyde.
Jason Beck is a reporter for MLB.com. Read Beck's Blog, follow him on Twitter @beckjason and listen to his podcast. This story was not subject to the approval of Major League Baseball or its clubs.