Davis shows off legs in outfield, on base
Speedster makes two impressive catches, notches ninth triple of season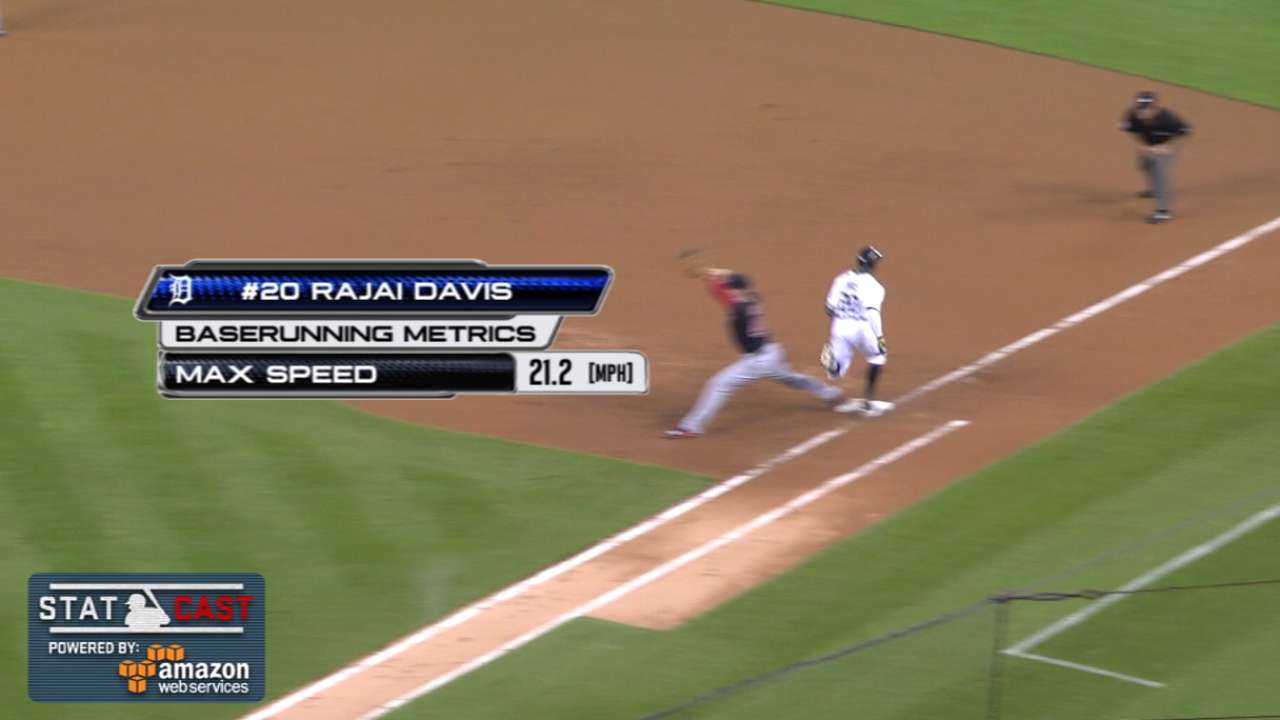 DETROIT -- There were a few minutes Saturday night when Tigers center fielder Rajai Davis wondered if, despite an elevated pitch count, Alfredo Simon might make a serious bid for a no-hitter.
A two-out double in the sixth inning from Michael Brantley ended the drama before it ever really began, but Simon had Davis to thank for his success anyway. The center fielder made a pair of dazzling catches to preserve the potential no-no, and he added a run-scoring triple to help the Tigers to a 6-0 victory over the Indians.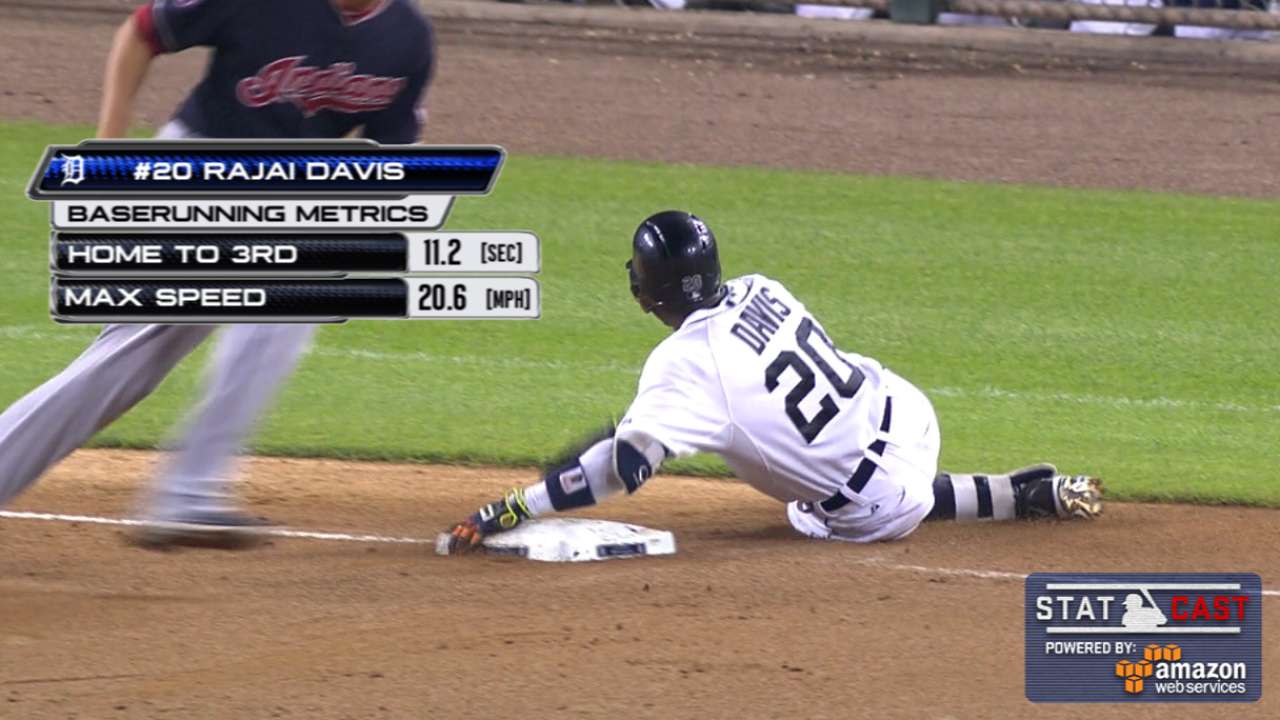 "That's really good," Simon said of Davis. "I just tried to attack the hitter, and Rajai got a good play -- two plays -- really good tonight. That helped out to win the game."
The first one, which ended the fourth inning, was the more spectacular of the two. Cleveland first baseman Jerry Sands laced a line drive toward the left-center-field gap, but Davis took a near-perfect route to cover the distance and laid out for the catch.
The grab prevented Carlos Santana, who had walked, from scoring, and it earned a gesture of appreciation from Simon.
"I was trying to catch everything that's hit out there, and that ball happened to be hit out there," Davis said. "I think he squared it up a little better than I thought. He got a good part of the bat on the ball, and it kept carrying. I just had to run it down."
He kept the Indians off the hit column again an inning later when Giovanny Urshela launched a fly ball to the warning track in center field. While sprinting toward the wall, Davis measured the trajectory over his shoulder to complete the play and end the fifth.
"In center field, that's as clean a game as I've seen Raj play in quite a while," said Tigers manager Brad Ausmus.
Davis entered Saturday batting just .167 over 33 games (19 starts) since the All-Star break, but the leadoff hitter contributed offensively with his ninth triple of the season. In the fourth, he sent a 92-mph fastball from righty Danny Salazar into left-center, plating Andrew Romine from first. Davis scored moments later by sprinting home on a slow ground ball down the third-base line off the bat of Ian Kinsler.
That capped a three-run inning, giving Detroit its final margin of victory. And, while Simon eventually did allow a pair of hits over his seven frames, Davis' contributions allowed the Tigers to enjoy a relatively stress-free win.
"It's nice to not have too many pressure situations in a game -- kind of take it easy on the mind," Davis said. "Pitching, defense keeps us in ballgames, and, with our offense, a lot of times we're going to win those games."
Alejandro Zúñiga is an associate reporter for MLB.com. Follow him on Twitter @ByAZuniga. This story was not subject to the approval of Major League Baseball or its clubs.