Springer recounts key missed grab in loss
Outfielder believes triple off glove is a play he normally makes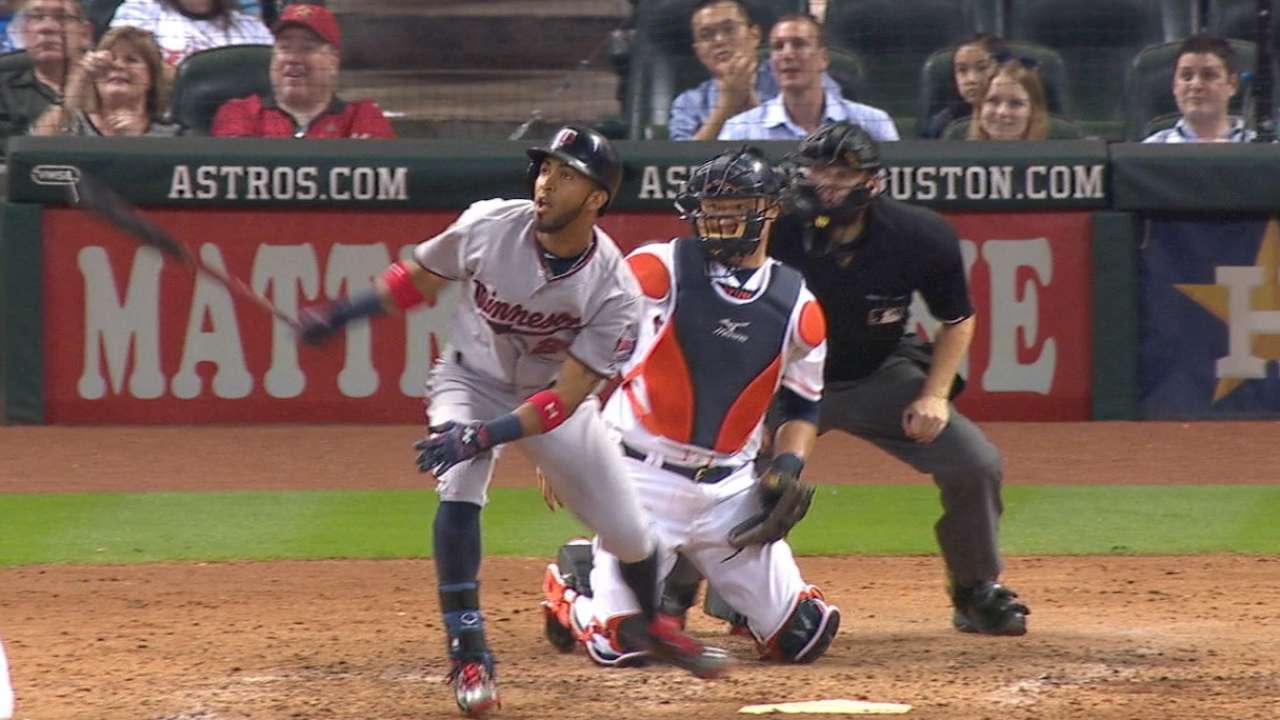 HOUSTON -- Ask Twins manager Paul Molitor and he'll tell you it was a lucky break. Ask Astros right fielder George Springer and he'll tell you three different times it's a play he has to make.
The two are speaking of Eddie Rosario's go-ahead, two-out triple in the ninth inning of Houston's 3-2 loss that hit off Springer's glove in a diving attempt that nearly caused him to go crashing into the wall along the first-base line.
"Just a play I got to make," Springer said. "There's really no secrets, it's just a play I got to make."
Did he overrun it, perhaps?
"No," Springer said. "It's just a play I got to make."
It was an 0-2 slider from Luke Gregerson, one he said would have bounced in front of the plate had Rosario not gotten his bat around. How did Springer read the ball once Rosario's bat made contact?
"Go get it," Springer said. "Obviously, I didn't and it cost us the game. It's a play I have to make and I will."
Springer's return from the disabled list on Friday has given the Astros what manager A.J. Hinch calls one of the speediest outfields in baseball. Springer and Carlos Gomez are staples in right and center field, respectively, but Hinch can insert either Jake Marisnick, Colby Rasmus or Preston Tucker in left field depending on the matchups.
The outfield's so stout that Hinch and his players expect just about any ball out there to be snared.
"[Rosario] just found a way to find the ball and pop it out there," Gregerson said. "But 99.999 percent of the time, Springer makes that catch and he knows it. We all know it. A little bit of a misplay, a little bit of good hitting and it just got away."
Hinch lauded Springer's effort, especially in the second game back from his right wrist fracture.
"He had to go a long way. It's a big dive," Hinch said. "The effort was exceptional. He just came up a little short. He was a little off-balance. It's not an easy play. It's a well-placed triple and unfortunately it was well-timed for them and not for us."
Molitor debuted a stunning outfield of his own on Saturday, placing speedy Byron Buxton in center with recently resinstated Aaron Hicks in right and Rosario in left, creating perhaps the only outfield that can rival the Astros' in speed. Buxton's speedy grab of Jose Altuve's sinking liner to end the game in the ninth showed its flashes.
Cognizant of the dueling outfields, Molitor maintained the Twins were the beneficiaries of the slightest of breaks.
"[Rosario] stayed with the at-bat," Molitor said. "Springer is a heck of an outfielder, but I think he got fooled with the speed and maybe didn't time his dive right, so we got a little bit of a break there."
Chandler Rome is an associate reporter for MLB.com. This story was not subject to the approval of Major League Baseball or its clubs.