Labor Day an important MLB benchmark
Leaders traditionally have leg up in divisional, Wild Card races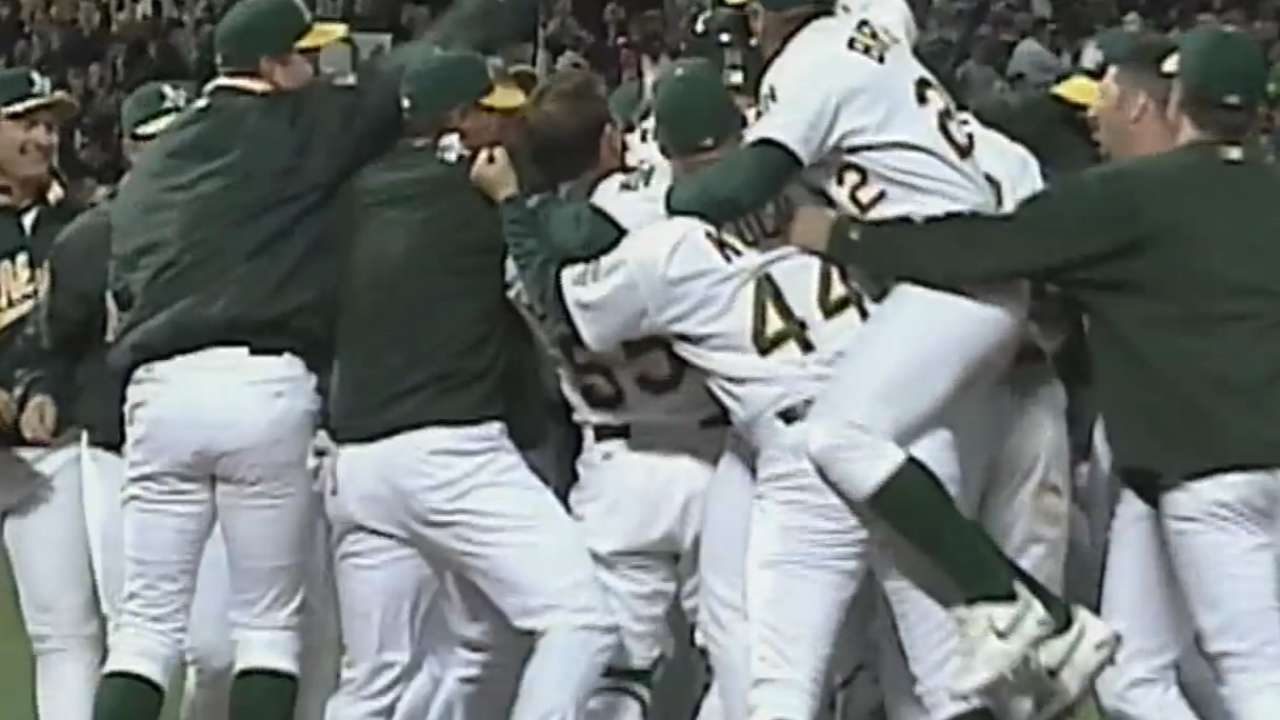 Labor Day means family gatherings, a last dip in the pool, a back-to-school checklist for many and a trip to the ballpark amid a full slate of 15 Major League Baseball games. And today, the Mets-Nationals showdown highlights a Labor Day slate full of important games.
It also means your team is (1) a virtual lock to win its division if it leads by at least six games after today, and (2) in serious jeopardy of no 2015 postseason if it trails by more than 3 1/2 games in the Wild Card standings.
MLB.com researched the first 20 years of the Wild Card era, starting circa 1995, to see how division and Wild Card standings at the end of each Labor Day correlated to regular season finishes.
Bobby Cox and Joe Torre had it made
There have been 120 division winners -- 20 years times six divisions -- and 97 of those teams that led divisions at the end of Labor Day went on to win their divisions. Of the other 23 that failed to hold a division lead, eight still went to the postseason. So that means that 105 of 120 division leaders through Labor Day since 1995 have clinched a playoff berth.
A big chunk of that success can be attributed to the Braves and Yankees clubs during the first half of this era. Cox's Braves led through Labor Day from 1995-2005, winning their division each time. Torre's Yankees won the AL East in 1996 and then from '98-'06, and the only time during those 10 seasons that they failed to lead after Labor Day was in 2005, when Boston blew its three-game Labor Day division lead and went on as the Wild Card.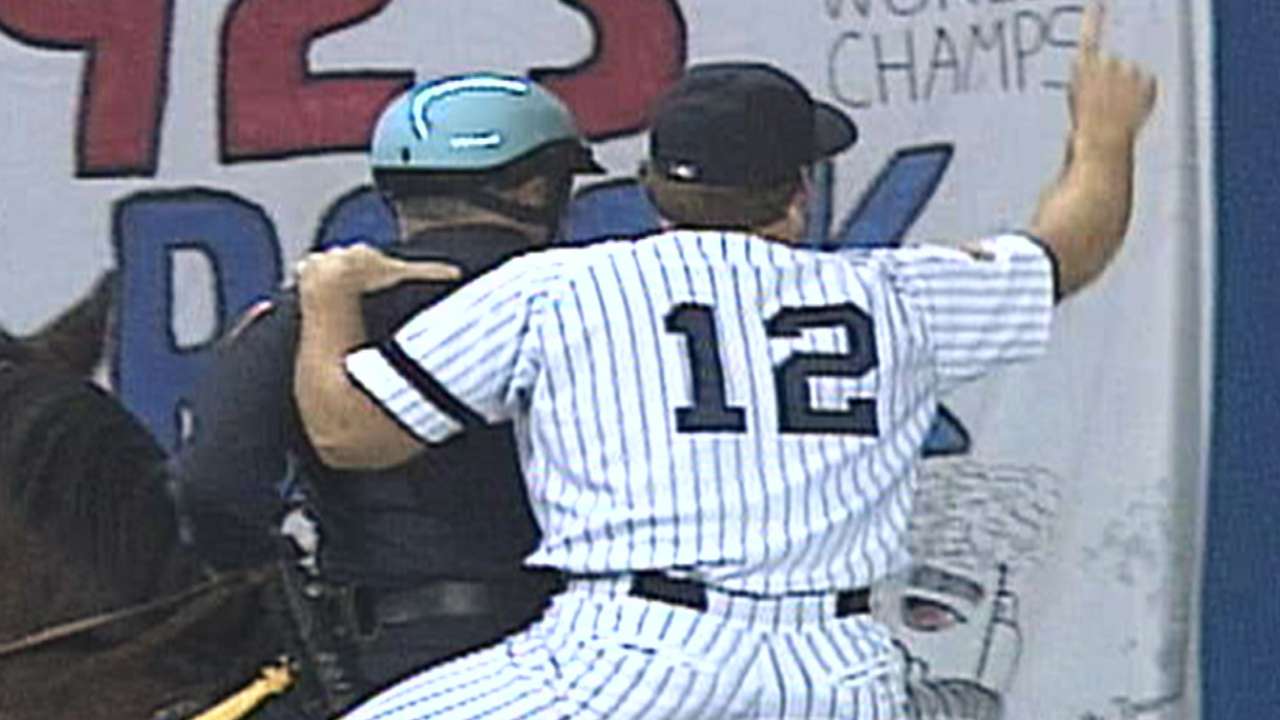 Of those 23 exceptions, 15 have come in the last 10 years, essentially after those Braves and Yankee runs. And it has happened four times in the last three years, with the addition of the second Wild Card. Last year, Kansas City led the AL Central by a half-game over Detroit after Labor Day, and the Tigers went on to win the Central while the Royals were the No. 1 Wild Card en route to their pennant.
Celebrate six like it's a touchdown
Teams with at least a six-game division lead after Labor Day are 60-for-62 in winning the division since 1995.
Percentages of winning a division based on Labor Day lead
| Lead | Instances | Clinches | Pct |
| --- | --- | --- | --- |
| 7+ | 45 | 45 | 100 |
| 6-6.5 | 17 | 15 | 88.2 |
| 5-5.5 | 8 | 6 | 75 |
| 4-4.5 | 8 | 7 | 87.5 |
| 3-3.5 | 6 | 4 | 66.7 |
| 2.5 | 9 | 7 | 77.8 |
| 2 | 9 | 4 | 44.4 |
| 1.5 | 4 | 2 | 50 |
| 1 | 8 | 4 | 50 |
| 0.5 | 4 | 1 | 25 |
| Tie | 2 | 2 | 100 |
The Wild Card tipping point
If you revisit the 2011 Wild Card standings after Labor Day, you'll note that Tampa Bay was seven games behind Boston in the AL Wild Card standings, and St. Louis was 8 1/2 behind Atlanta in the NL race. "Wild Wednesday," the final day of the 2011 regular season, will go down as one of the most mind-blowing days in Major League history, as the Rays and the Cardinals each stamped their tickets to that postseason.
After the Cardinals did even more of the unthinkable, in winning their 11th World Series title, the second Wild Card was instituted, and no team has won a Wild Card after being more than 3 1/2 games out in the Wild Card standings after Labor Day.
In 2012, Texas led the AL West, and Oakland and Baltimore were atop the AL Wild Card standings. Those three teams went to the playoffs, with Oakland as the division champ. Atlanta and St. Louis were 1-2 in the NL Wild Card standings after Labor Day, and they clinched Wild Card berths in that order before meeting in the Wild Card Game presented by Budweiser, which sparked an infield-fly rule discussion for the ages.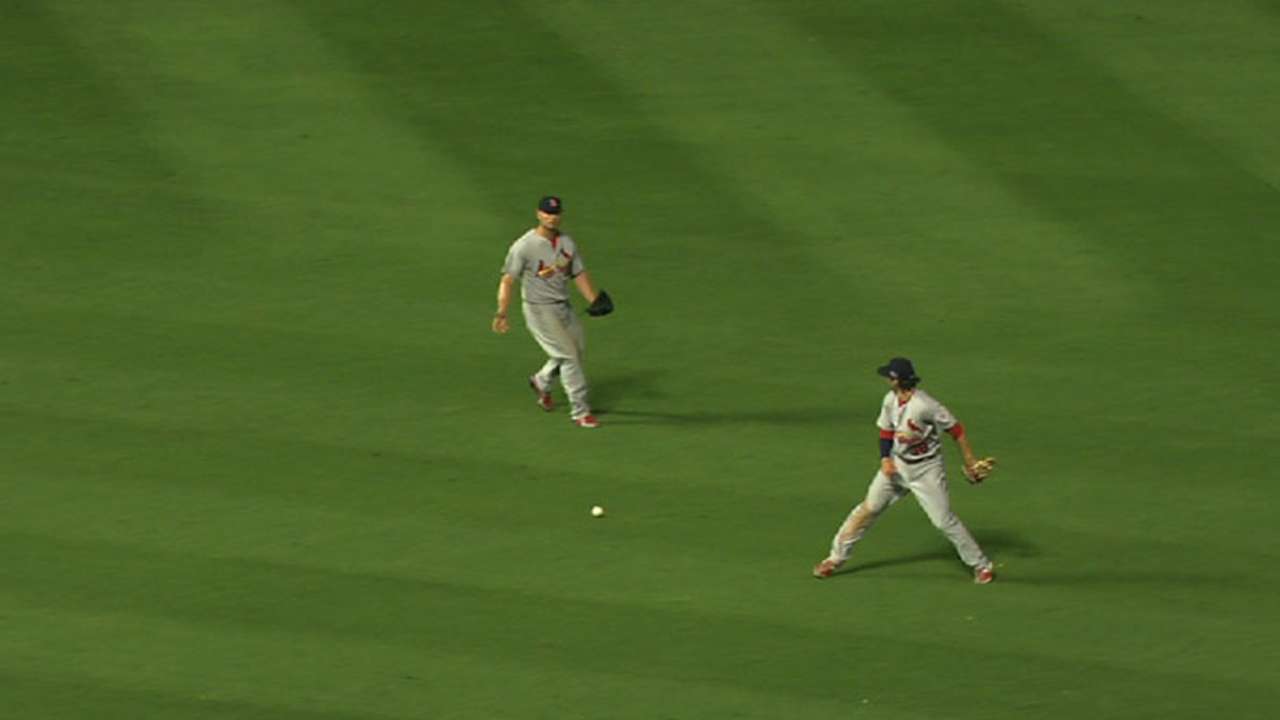 In 2013, seven teams were bunched together after Labor Day on the AL side, and the sixth team in that order, Cleveland, came from 3 1/2 games back on Sept. 2 to clinch the first Wild Card. Tampa Bay got the other Wild Card, Oakland took the West, and Texas fizzled. In the NL, Pittsburgh couldn't hold its one-game Central lead over St. Louis and went to the postseason as the first Wild Card, while Cincinnati took the other one, and the Cardinals won the division.
In 2014, as noted earlier, the Royals wound up with the first AL Wild Card, and Oakland took the other as Detroit clinched the Central. Seattle was 1 1/2 games back in the Wild Card standings after Labor Day, Cleveland was 4 back and Toronto 5 1/2, and those three all had a long offseason. San Francisco led the NL Wild Card standings after Labor Day, and wound up with the No. 2 Wild Card and an eventual title. Pittsburgh was in fourth place after Labor Day, but only two games back, and it snagged the first Wild Card before losing in the Wild Card Game.
The 2015 Pirates are in strong shape for at least another Wild Card berth, with the Cubs right behind them. There is still a month to go, but the Labor Day math favors that Wild Card matchup. And until proven otherwise, 3 1/2 games is the new tipping point in the extra-Wild Card format.
Labor Day kings
The 1998 Yankees recorded their 100th win on Labor Day, giving them a .709 winning percentage on the way to a 114-win season and an 11-1 march through the postseason. Those Yanks swept the Padres in the World Series and are now considered one of the five best teams of all-time, starting a three-peat.
But the 2001 Mariners were even better through Labor Day. They were 99-39 (.717), 18 games ahead of Oakland at that point. Seattle would keep cruising to a 116-46 record, but they were crushed by the Yankees in a five-game AL Championship Series a month after 9/11.
Whatever happened to Albert Belle?
Competitive balance is obvious in many ways, not the least of which is the gradual extinction of the runaway Labor Day lead. Of the 28 largest Labor Day leads during the Wild Card era, 20 were rung up in the first 10 years and only eight in the last 10 years.
Cleveland claimed the two largest leads in that category, and the only two of 20 or more games. That feels like a distant memory today, even with Kansas City now in control and the Labor Day six-game division lead stat already noted above. Here were the five biggest runaways:
Largest Wild Card-era division leads
| Year | Team | Lead |
| --- | --- | --- |
| 1999 | Indians | 23.5 |
| 1995 | Indians | 21 |
| 1998 | Yankees | 18.5 |
| 2001 | Mariners | 18 |
| 2002 | Braves | 18 |
What's new this Labor Day
Toronto is currently lined up in a postseason position for the first time in the Wild Card era. The Mets were hovering around the divisional lead tipping point, which has to feel good to a fan base that remembers what happened in 2007-08: a Labor Day lead eventually surpassed by Philly, closing out Shea Stadium's run on a sad note. And in the AL West, there is an intriguing and unprecedented order at this time of year: the Astros, Rangers and Angels.
Meanwhile, the Royals and the Cardinals remain on a potential path to a 30th-anniversary I-70 Series rematch, with each club posting its league's best record.
Only once in the Wild Card era have the top two Labor Day clubs met in that World Series: in 1995, when the Braves (76-44/.633 after Labor Day) beat the runaway Tribe (82-37/.689) in six games. Their combined division lead after that Labor Day was 36.5 games, which made for a long holiday until the playoffs.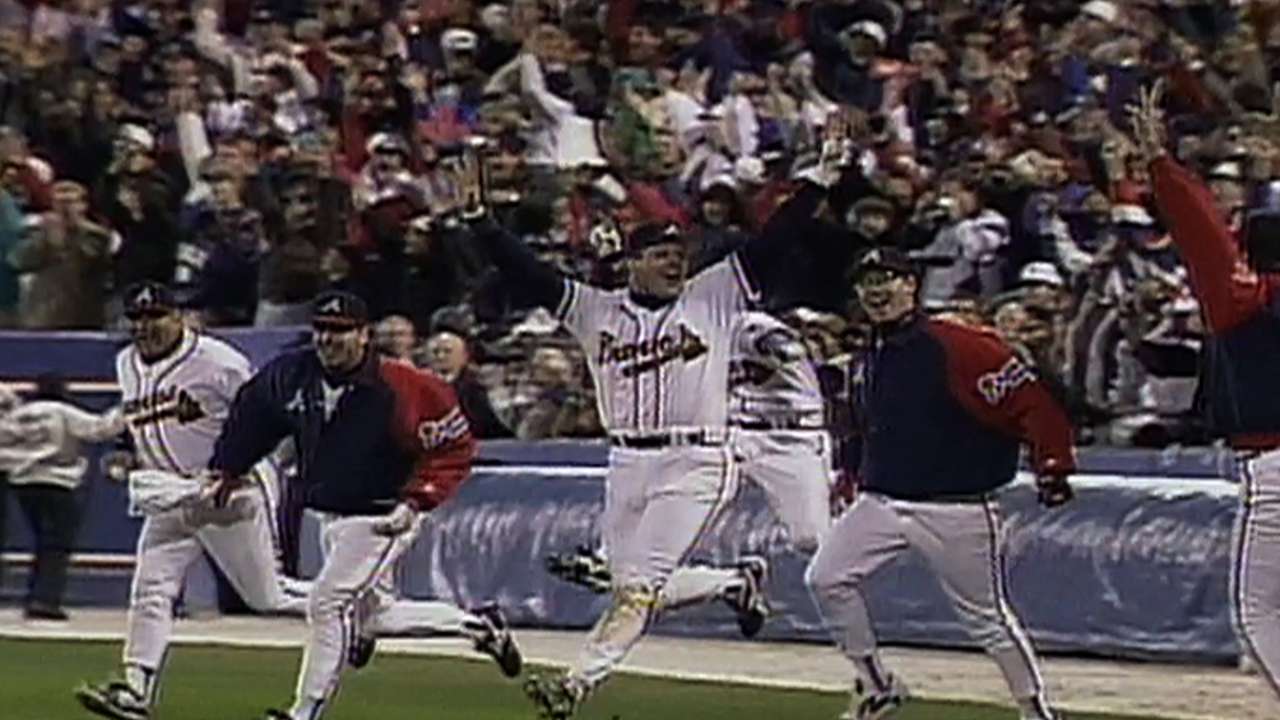 Mark Newman is enterprise editor of MLB.com. Read and join other baseball fans on his MLB.com community blog. This story was not subject to the approval of Major League Baseball or its clubs.