Nolin excited for debut after dealing with injuries
A's lefty acquired from Blue Jays in trade of Donaldson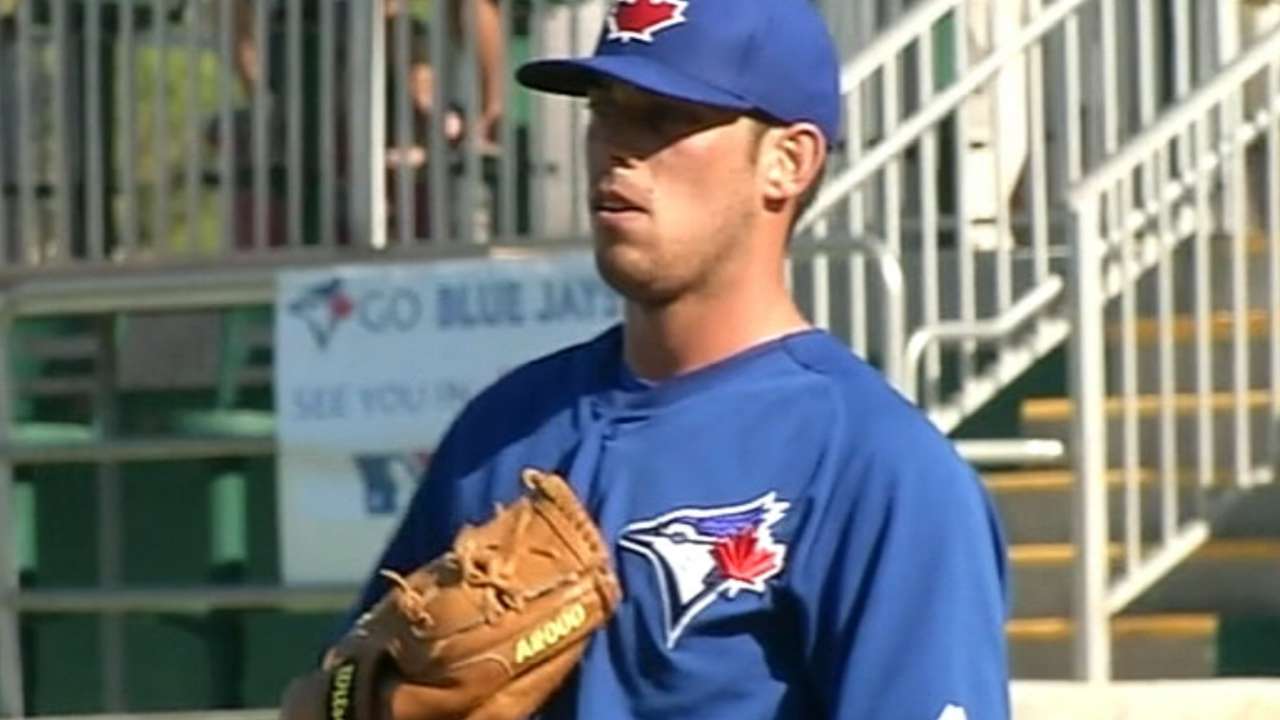 OAKLAND -- The A's are eager to get a look at another pitcher acquired in the Josh Donaldson trade, and Sean Nolin is eager to prove himself when he starts Sunday against the Mariners.
"I've been waiting for it all year," Nolin said Saturday. "I'm definitely excited just to get out there on the mound."
Nolin, one of four players the A's received from the Blue Jays in the Donaldson deal, will finally make his Oakland debut after spending much of the season on the disabled list, first while recovering from offseason sports hernia surgery that sidelined him through May 15. He also spent time on the Minor League DL from July 1 to Aug. 14 with a strained left shoulder.
"It's definitely been a long year, but I think just getting everything corrected and doing it right has finally paid off in the past month or so," Nolin said. "If I'm not 100 percent, I'm right there and feeling good."
The 25-year-old appeared in 14 games, including 12 starts, for Triple-A Nashville, compiling a 2.66 ERA in 47 1/3 innings while showcasing an improved curveball. Nolin said he changed his grip to give it a sharper break and, as a result, "it's average to plus now."
Veteran lefty Barry Zito, master of the curveball, served as a sounding board for Nolin during this time.
"That was a treat," Nolin said. "I got to talk to him in the stands when we were charting, plane rides, hotels. He's a really down-to-earth guy for his status, so it was awesome."
Nolin threw 76 pitches in his last start with the Sounds and will be limited to 90 on Sunday.
"We'll see," manager Bob Melvin said. "Depends on how he performs and the intensity of the pitches."
Worth noting
• A day after watching Sean Doolittle get up to 94 mph in a two-strikeout inning against the Mariners, Melvin said "the potential's there" for the lefty to be back in a closing role soon.
"Depends on when we need him," Melvin said. "We may need him in the eighth. … It's night to night, depending on who's available."
Right-hander Fernando Rodriguez and lefty Drew Pomeranz, who has mostly been closing of late, remain Melvin's top late-inning options alongside Doolittle.
• Outfielder Sam Fuld, who hasn't played since Sunday because of recurring back spasms, is expected to be available again during a three-game series against the Astros that begins Monday, Melvin said.
Jane Lee is a reporter for MLB.com. Read her blog, Major Lee-ague, and follow her on Twitter @JaneMLB. This story was not subject to the approval of Major League Baseball or its clubs.