Giants getting bitten by injury bug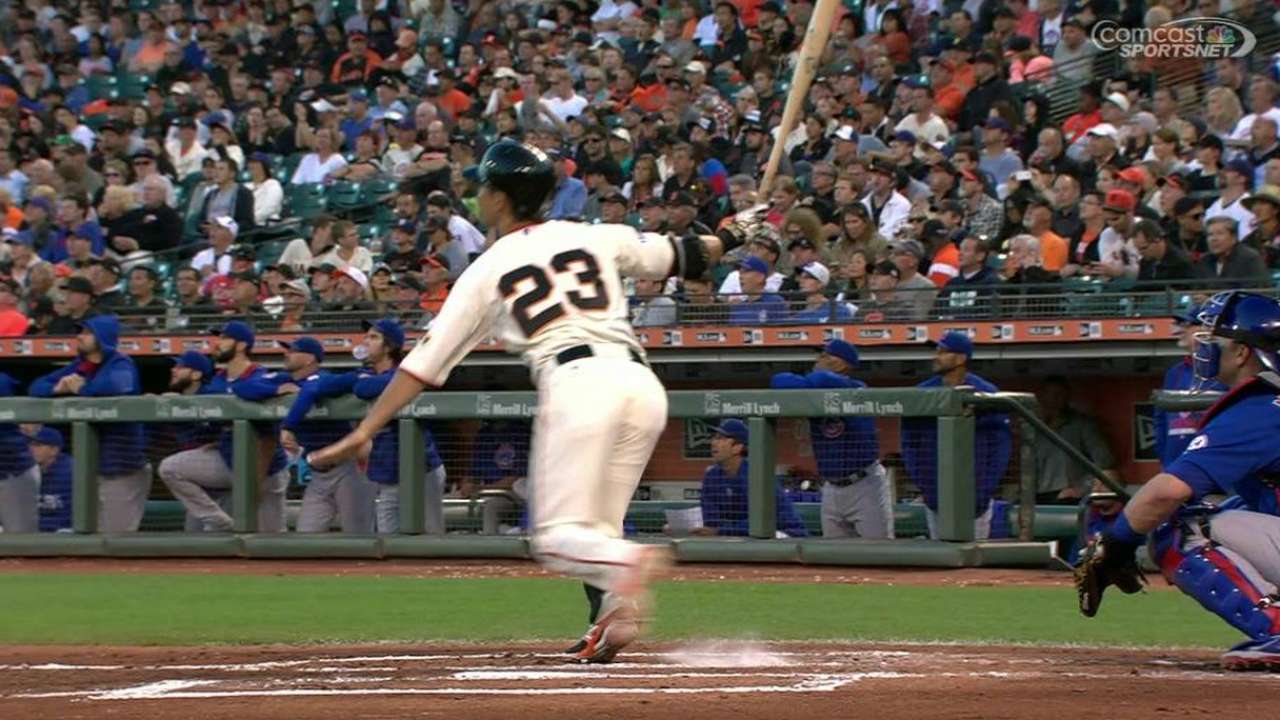 DENVER -- As if losing seven straight wasn't enough, the Giants keep getting bit by the injury bug. Two key members of the active roster received medical attention on Saturday, and three anchors of the middle of the lineup are banged up enough to need a day off, according to manager Bruce Bochy.
Nori Aoki had been scheduled to start in left field on Saturday after not playing since the Giants were in Los Angeles at the beginning of the week, but Alejandro De Aza was in the lineup in his place.
"This morning [Aoki] called [head athletic trainer] Dave Groeschner and reported post-concussion symptoms," Bochy said. "We need to get him evaluated again and see where he's at. We're a little concerned with Nori and the symptoms that he's showing."
Aoki's symptoms included feeling tired and light-headed. The Giants are concerned enough that were it not September, with expanded rosters, they would consider the possibility of another stint on the seven-day disabled list.
Backup catcher Andrew Susac has returned to San Francisco and is expected to be unavailable for at least a few days.
"Susac's getting a ligament in his right wrist checked out," Bochy said. "I guess [surgery] is possible, but we don't think so. It may be more of a situation of having him in a cast or a splint. We'll know more tomorrow."
Bochy expects to talk with Brian Sabean, executive vice president of baseball operations, and general manager Bobby Evans to determine if the Giants will need a third catcher on the roster. Buster Posey was out of Saturday's lineup after being hit by a pitch on Friday. He would have rested on Sunday as a matter of routine, so Bochy gave him Saturday off and expects him back in the lineup for the series finale.
"He's pretty beat up right now," Bochy said. "Getting back to the old diminishing returns. He just needs a day."
Hector Sanchez will start behind the dish on Saturday, and the newly re-acquired Nick Noonan will make his season debut for the Giants at first base with Brandon Belt ailing.
"[Belt's] got a stomach illness," Bochy said. "He's getting some IVs now. We'll see if he feels better before game time [on Saturday]."
Finally, right fielder Marlon Byrd is getting a day's rest, with Gregor Blanco earning the starting nod in his place.
"He's been grinding pretty hard, too," Bochy said. "It gives me a chance to get Blanco and De Aza in."
On the "good news" front, Matt Cain pitched two scoreless innings for Triple-A Sacramento on Friday, allowing one hit while striking out three and throwing 32 pitches, 23 for strikes.
"He threw well," Bochy said. "He really looked comfortable coming out of the 'pen. We're going to do the same thing with him on Monday. That'll be his last day with them."
Joe Panik played in the same game, going 1-for-3 and playing six innings.
"He's playing eight innings today," Bochy said. "He'll fly to Arizona tomorrow and be available Monday."
Worth noting
• Brian Lollis and Justin Maxwell had been designated for assignment earlier in the week when the Giants were in Los Angeles. Both have cleared waivers and have been outrighted to Triple-A. Lollis reported on Saturday, and Maxwell will join him on Tuesday.
Owen Perkins is a contributor to MLB.com. This story was not subject to the approval of Major League Baseball or its clubs.