Olt brings power bat to White Sox
Third baseman claimed off waivers from Cubs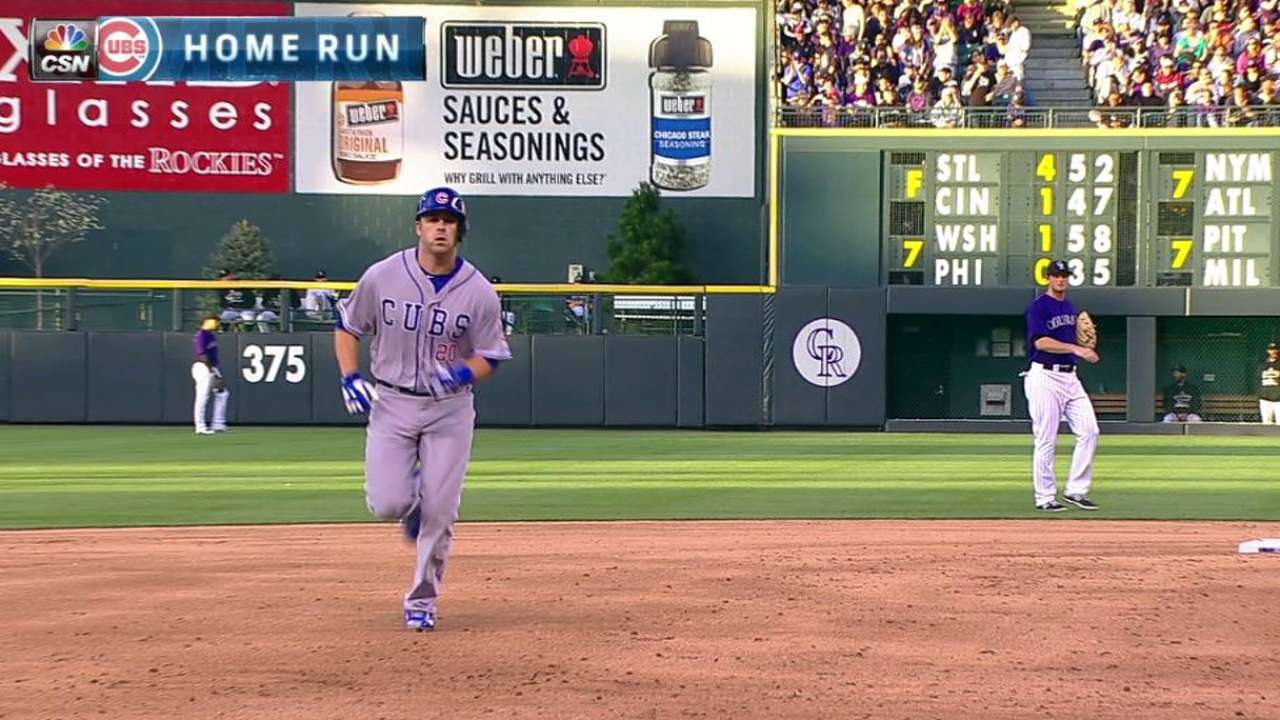 KANSAS CITY -- The White Sox added a third baseman with immense power potential but also the propensity for high strikeout totals to their active roster Saturday afternoon. And it was not Matt Davidson, their No. 21 prospect, according to MLB.com.
Mike Olt was claimed on waivers from the Cubs after the 27-year-old was designated for assignment on Monday. He is expected to join the White Sox Major League roster in the next few days.
"You know he's a third baseman, power bat," said White Sox manager Robin Ventura. "And I think we've been kind of searching for that and we are going to see how it goes. We are fairly intrigued by having him here and getting him going.
"We've played against him a little bit last year, and you see him in spring. It just looks like I think for them, he probably didn't fit anymore. For us, there was a fit there. It's something about getting him in here and seeing what can happen."
Olt made the Cubs' Opening Day roster this season but appeared in just six games because of a fracture in his right wrist. He was 2-for-15 with one home run and one RBI before being placed on the disabled list on April 17. He hit .273 with 16 doubles, nine home runs and 25 RBIs over 62 games between Double-A Tennessee and Triple-A Iowa in '15 but became expendable with the emergence of rookie Kris Bryant at third.
The career .158 hitter with 13 homers, 39 RBIs and 119 strikeouts over 273 at-bats could benefit from a change of venue, per Ventura.
"Oh, absolutely," Ventura said. "For him, starting with Texas and then going over to the Cubs, he got some playing time. But I think when another team doesn't have a spot for you, guys move around. It's not like he's the only guy who has moved teams during a season."
Davidson, 24, was acquired from the D-backs for closer Addison Reed and was thought to be the team's third baseman of the future. Since then, Davidson hit .199 and .205 for Triple-A Charlotte in back-to-back seasons, to go with a total of 351 strikeouts over 995 at-bats. Davidson has knocked out 43 home runs but did not receive a September callup in '14 and has yet to receive one this September.
Olt's arrival adds another young infielder with Carlos Sanchez, Micah Johnson and current incumbent third baseman Tyler Saladino. Ventura will mix and match this group, with Saladino possibly getting a few more starts at his natural shortstop position.
"It's kind of weird. I'm starting to feel natural at third," said a smiling Saladino. "Obviously, this is all new to me, so I don't fully understand how all of that will go.
"You know how I am. I just try to do the same thing every day, just get my work in, doing what I can to keep the same routine and work on the everyday things I've got."
Following the Olt claim, the White Sox have 30 players on the active roster and the 40-man roster moves to 39.
Scott Merkin is a reporter for MLB.com. Read his blog, Merk's Works, follow him on Twitter @scottmerkin and listen to his podcast. This story was not subject to the approval of Major League Baseball or its clubs.