Eaton entertains notion of hitting lower in order
Leadoff hitter enjoying second-half success
KANSAS CITY -- Adam Eaton is hitting .326 since the All-Star break and matched his career high with four hits in Friday night's White Sox 12-1 victory over the Royals. His 34 runs scored leave him tied for fourth in the American League during that period, and his .415 on-base percentage is among the best in the the league over that stretch.
Basically, Eaton has been one of the game's best leadoff hitters over the last 47 games. But the left-handed hitter also has shown off his power swing with a career-high 11 homers and 42 RBIs, going with his 23 doubles and eight triples. It gives pause for thought that Eaton could provide a different sort of contribution away from that No. 1 slot.
"To be honest with you, I don't think the leadoff spot is the most fun place to hit," Eaton said before going 1-for-5 with an RBI in Saturday night's 6-1 victory over the Royals. "You have to take pitches and you have to try to, you are usually not in a hitter's count in that position most times, especially our first at-bat of the game.
"So it's a little different philosophy. You see some different pitches, but I think, like I said, it would be more fun hitting in the three or four or five hole. You swing a little harder. Definitely a different philosophy."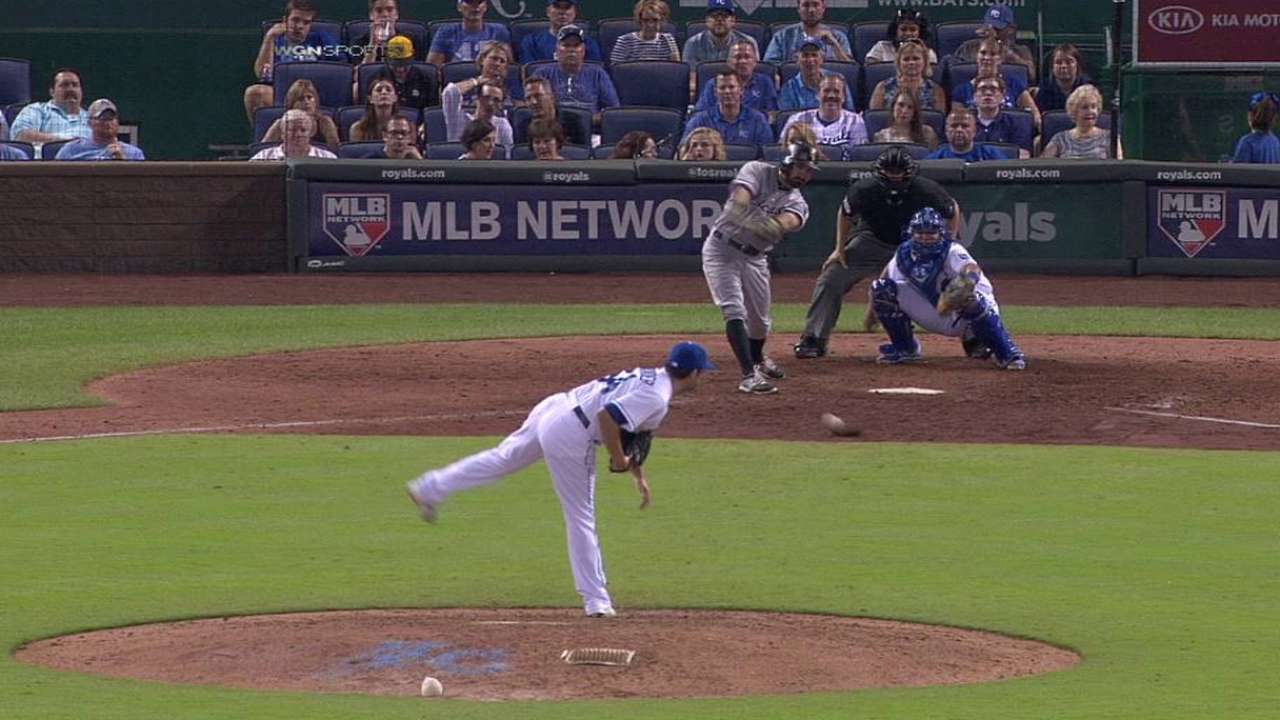 Eaton didn't start hitting leadoff until the Double-A level as part of the Arizona organization, but he understands his hard-nosed ability to ignite the offense is crucial to the White Sox. It also has helped him earn a five-year, $23.5 million extension, with team options for 2020 and '21, during Spring Training.
As White Sox manager Robin Ventura pointed out, moving Eaton would require finding someone else to capably fill that spot. Ultimately, Eaton seems to enjoy and thrive at playing the catalyst role.
"I like to try to start stuff and get on base for other people to drive me in," said Eaton, who is 10-for-19 with seven RBIs in September.
In reality, Eaton only is guaranteed to hit first at the start of the game and the leadoff spot does more than just get on base. Situations for RBIs arise as the order turns back around, as shown by five players who primarily hit leadoff having more than 50 RBIs. Eaton is hitting .230 with runners in scoring position and would like that number to improve.
"Hopefully, I can continue to try to have good success when guys are in scoring position. I definitely enjoy driving in runs," Eaton said. "The more the merrier. It's a different game now where your seven, eight and nine are setting up for the top of the order."
Scott Merkin is a reporter for MLB.com. Read his blog, Merk's Works, follow him on Twitter @scottmerkin and listen to his podcast. This story was not subject to the approval of Major League Baseball or its clubs.