Bogaerts fires up Fenway with wild 'slam'
Shortstop clears bases with double, scores on error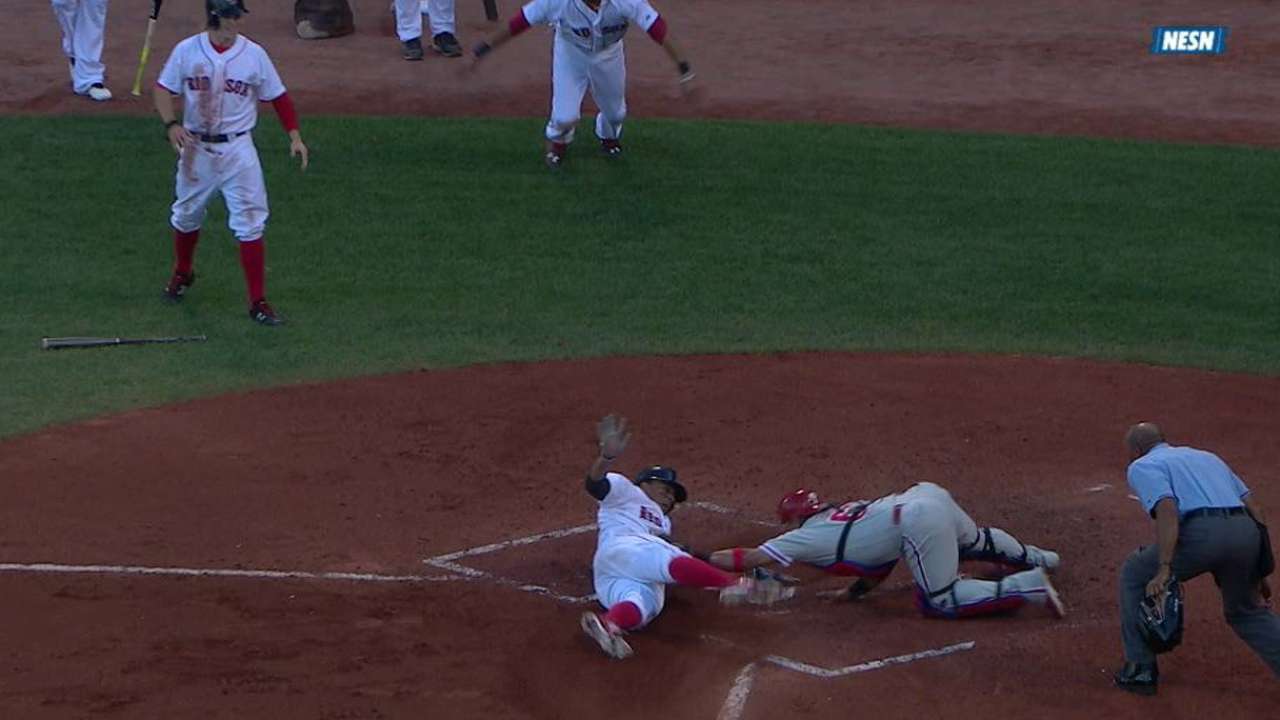 BOSTON -- You can see something different every time you go to the ballpark, and the zany and thrilling play that occurred in the bottom of the fourth inning on Saturday at Fenway Park likely won't be duplicated any time soon.
Call it a "Little League grand slam" from Red Sox shortstop Xander Bogaerts that ended with two runners going headfirst into home within seconds, and a roar that was probably the loudest heard at Fenway Park all season.
In actuality, it was a three-run double and an error, but it thrilled the crowd just as much as a real grand slam would have, as the Red Sox cruised to a 9-2 win over the Phillies.
"The one thing I remember about that play is the stadium got as loud as I've ever heard it when he was called safe," said Red Sox interim manager Torey Lovullo. "That got my attention."
Here is how it happened.
Bogaerts hit a looping liner into the corner in right field. Phillies second baseman Cesar Hernandez caught the relay from Aaron Altherr and fired home to try to get Brock Holt. The throw -- which was late anyway -- was also way off line, as Holt belly-flopped in to score.
While Bogaerts alertly moved to third as the throw came home, he then roared in himself after the ball rolled to the grass behind the home-plate area. Bogaerts also dived headfirst and got his hand in there just in time, in front of the tag by catcher Carlos Ruiz.
"I mean, I knew I was going headfirst, which made it interesting," Bogaerts said. "Because if you go feet first there's only one way you can go. If you go headfirst you can move to the side, stuff like that."
It took swift instincts and a perfectly executed slide by Bogaerts to complete the play.
"I was on third so I was going to score easily and I was just kind of waiting at home plate to see if I was going to have to tell any runners to get down or stay up," said right fielder Jackie Bradley Jr. "It was a [double], they kept sending him and the throw got past the catcher. It was kind of off to the races after that. Xander made a great slide. The ball actually beat him. He made a very acrobatic-type slide to get around the catcher."
The four-run play gave the Red Sox a 7-0 lead during an eight-run inning in which they sent 11 batters to the plate. David Ortiz capped the damage with a home run to right, No. 496 in his career and his 30th of the season.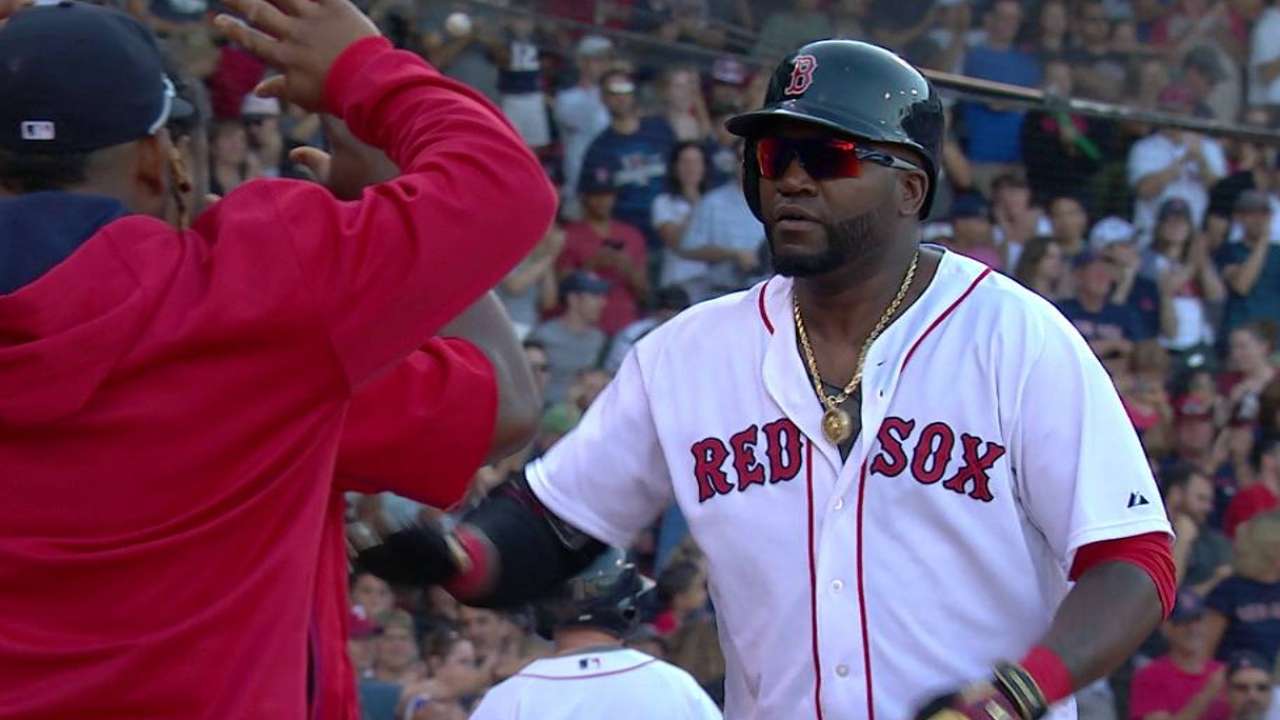 The inning also included the second balk of the game by Asher and a two-run double by the red-hot Bradley.
But the unlikely four-run play is the one that stood out the most.
"Xander turns, finds the ball and that's what we talked about, make a decision on your own," Lovullo said. "You can't rely on your base coach. You have to trust your instincts. He found the ball, did a great job. It was the key play that broke open the game. It was a heads-up play by Xander to make it more exciting."
Ian Browne is a reporter for MLB.com. Read his blog, Brownie Points, follow him on Twitter @IanMBrowne and listen to his podcast. This story was not subject to the approval of Major League Baseball or its clubs.