Harper's milestone night adds to MVP case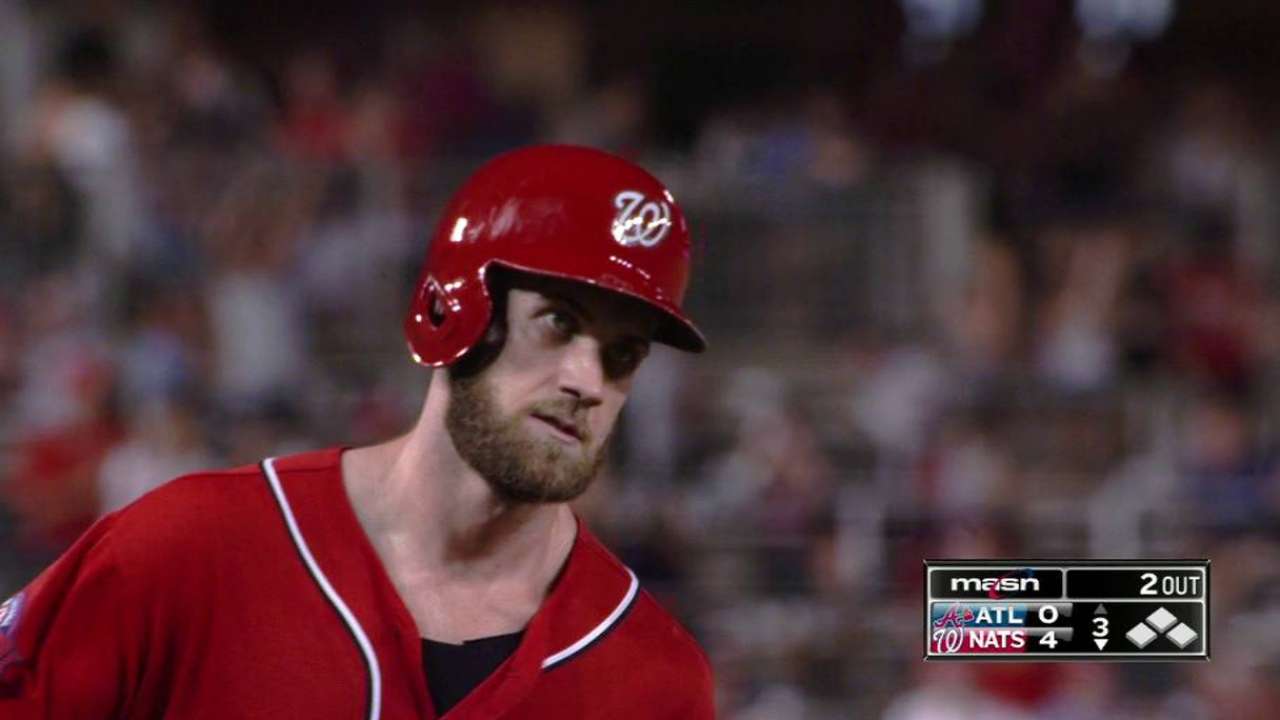 WASHINGTON -- In the first inning of Washington's 8-2 win on Saturday, Atlanta ace Shelby Miller beat Bryce Harper, painting a 96-mph fastball on the outside black to open the at-bat and later getting the three-hole hitter to chase up out of the zone on an elevated fastball.
"He's got the electrifying fastball," Harper said. "Paints up. Has that slider that he throws, the baby cutter that he throws, also. You just try to get him down in the zone, try to get some stuff over the plate and see what you can do."
As is so often the case for the 22-year-old outfielder with a keen eye and a thunderous swing, Harper made sure the first-inning defeat was a one-time occurrence.
In the third inning, with two Washington runs already in and Anthony Rendon on first base, Harper and Miller engaged in a 10-pitch standoff. Miller used his high-80s cutter and mid-90s fastball to get ahead early, but Harper worked the count full over the next seven pitches, content to spoil away until he saw something worth hitting.
"It's difficult to say what's going through his mind at that point, but it looks like he's just trying to hit a single," Nationals manager Matt Williams said. "That's what it looked like. It didn't look like he was trying to overswing. It didn't look like he was trying to pull the ball."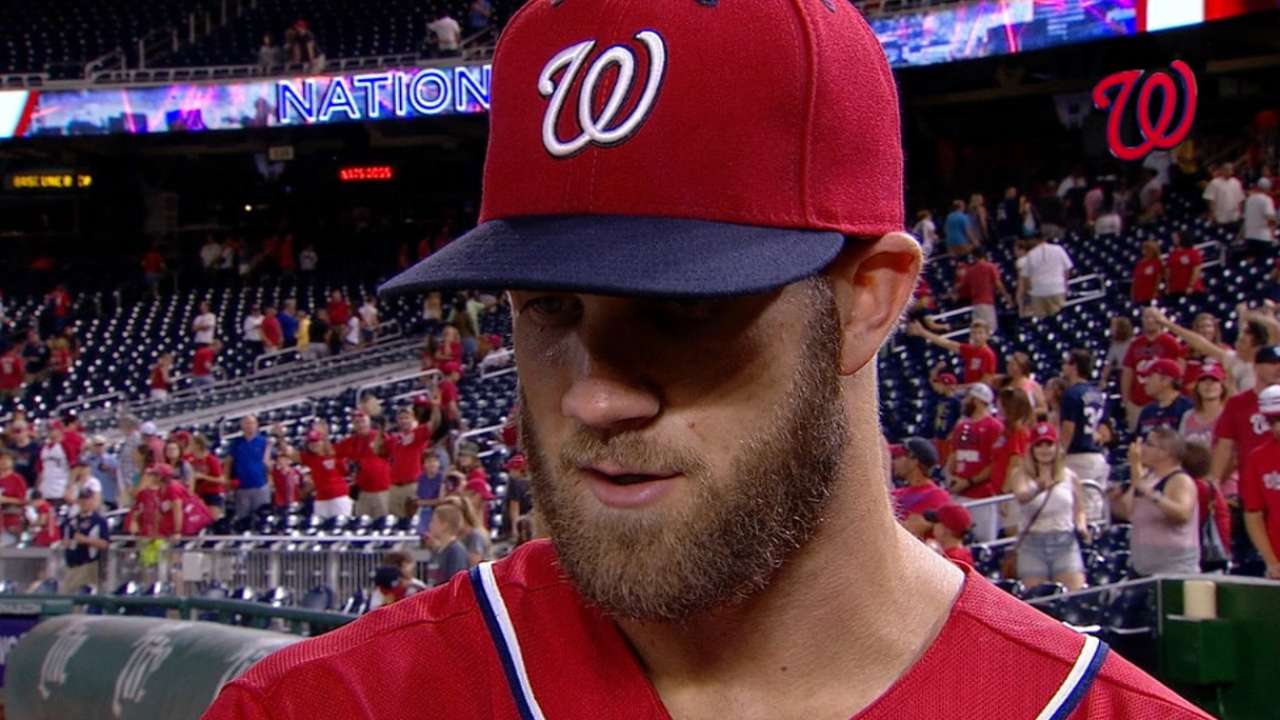 On the 10th pitch -- an 89-mph cutter low and away that most pitchers would be pleased with -- the battle was over. Harper connected and the ball exploded off his bat at 102 mph, according to Statcast™.
All that remained was to see if he hit it too high.
"I wasn't sure if it was out or not," Harper said. "[I] got enough backspin to where it got out of the yard."
The home run was the 33rd of the season for Harper and the 500th hit of his Major League career. He is the 30th Major Leaguer to reach that mark through his age-22 season, and only the third to do it since 2000, joining Starlin Castro and Mike Trout.
But Harper wasn't done. He added a pair of doubles and came around to score in the fifth inning -- his 100th run this season -- piling on to what had become another blowout against the Braves.
"If you're going in and getting on base," Harper said, "if you're doing the things you can to get on base for the guys behind you, having the faith that the guys behind you will get things done, that's what you're going to get."
In the last six games -- a microcosm of his MVP-worthy campaign -- Harper is 7-for-13 with two home runs, three doubles, 11 walks, five RBIs and 10 runs scored.
"It's incredible to see him go out there and play the game he plays," starter Gio Gonzalez said. "It's almost like he's got the cheat codes to a baseball game. He's that guy that's right on point with everything he's doing. It's fun to watch him play."
Jacob Emert is an associate reporter for MLB.com. This story was not subject to the approval of Major League Baseball or its clubs.