Rough sixth inning derails Lamb's shot at first win
Rookie gives up five runs on five hits against Brewers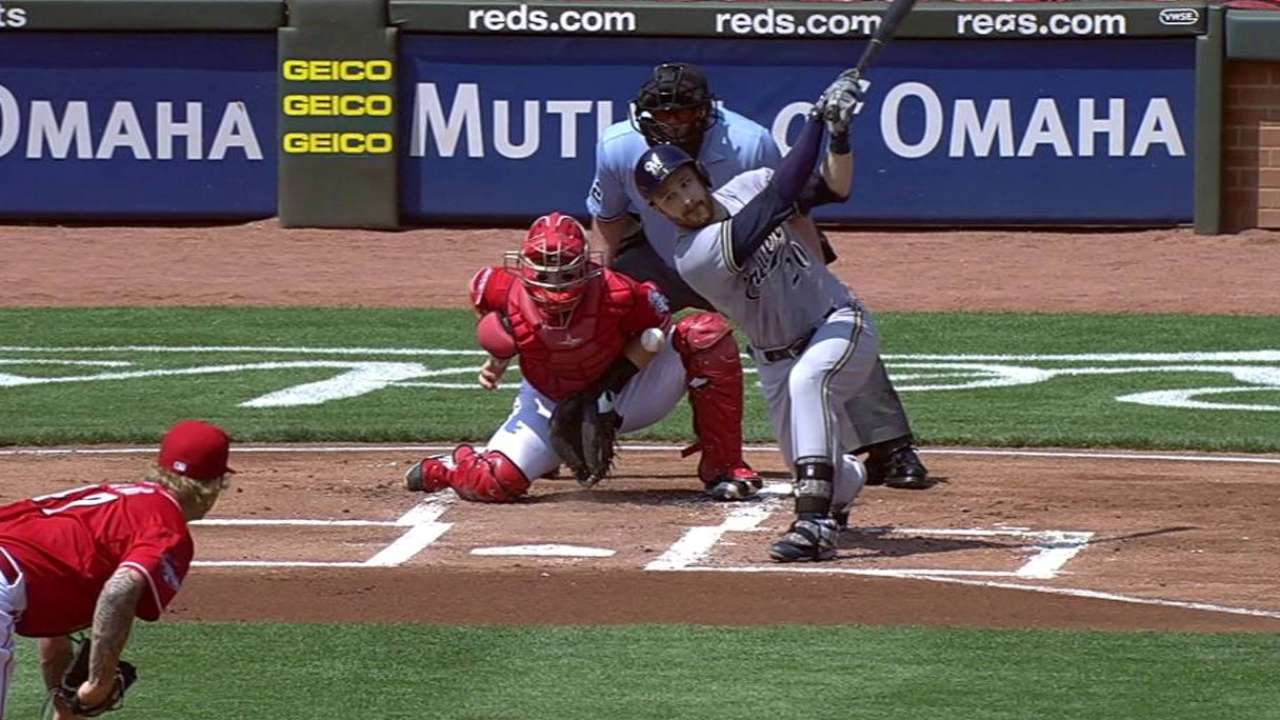 CINCINNATI -- The sixth inning of the Reds' 8-6 loss to the Brewers on Saturday afternoon couldn't have gone much worse for left-hander John Lamb. But hours after giving up five runs on five hits in that frame, Lamb couldn't find much that he did wrong.
Lamb had a clear shot at his first Major League win heading into the sixth, having mostly cruised through five innings on a hot afternoon at Great American Ball Park.
Instead, the Reds have now dropped all five of his starts this season.
"Unfortunately for Lamb today, he made good pitches, and he didn't get rewarded for them," Reds manager Bryan Price said.
It's not as if the Brewers beat the ball around the park, even in the sixth. They didn't make much hard contact off Lamb, and his defense offered little help.
With two on and one out, Hernan Perez singled on a soft line drive that landed in front of left fielder Skip Schumaker. Two batters later, with two outs and men on second and third, pinch-hitter Adam Lind smashed a fly ball toward the warning track in center field.
Center fielder Jason Bourgeois had a chance to get under the ball, but he twisted and turned on his way to the track and could only watch the game-tying double bounce off the wall.
That brought an end to Lamb's day. Reliever Sam LeCure gave up a single to the next batter, Brewers shortstop Jean Segura, driving in Lind.
"When I went back and looked at those video replays, there's not much that I felt I could have done different. I feel like I executed what I was trying to do," Lamb said. "Fortune's on their end, and unfortunate on our end. Just one of those days."
In the end, Lamb saw his ERA climb to 6.11. The rookie gave up six runs on nine hits and two walks while striking out four in 5 2/3 innings, but he pitched better than his line would indicate.
Over his first five innings, Lamb held the Brewers to a pair of doubles, two walks and two singles that led to only one run.
But he couldn't overcome the big sixth inning, so his first big league win will once again have to wait.
"It's just part of the game. Disappointed with the result, obviously," Lamb said. "I felt good about that going out there in the sixth, then the wheels fell off. It's not part of it, but it seemed to be part of it today for me and us as a unit. Disappointing."
Adam Berry is a reporter for MLB.com. Follow him on Twitter at @adamdberry. This story was not subject to the approval of Major League Baseball or its clubs.