Twins top Astros, keep pace in Wild Card race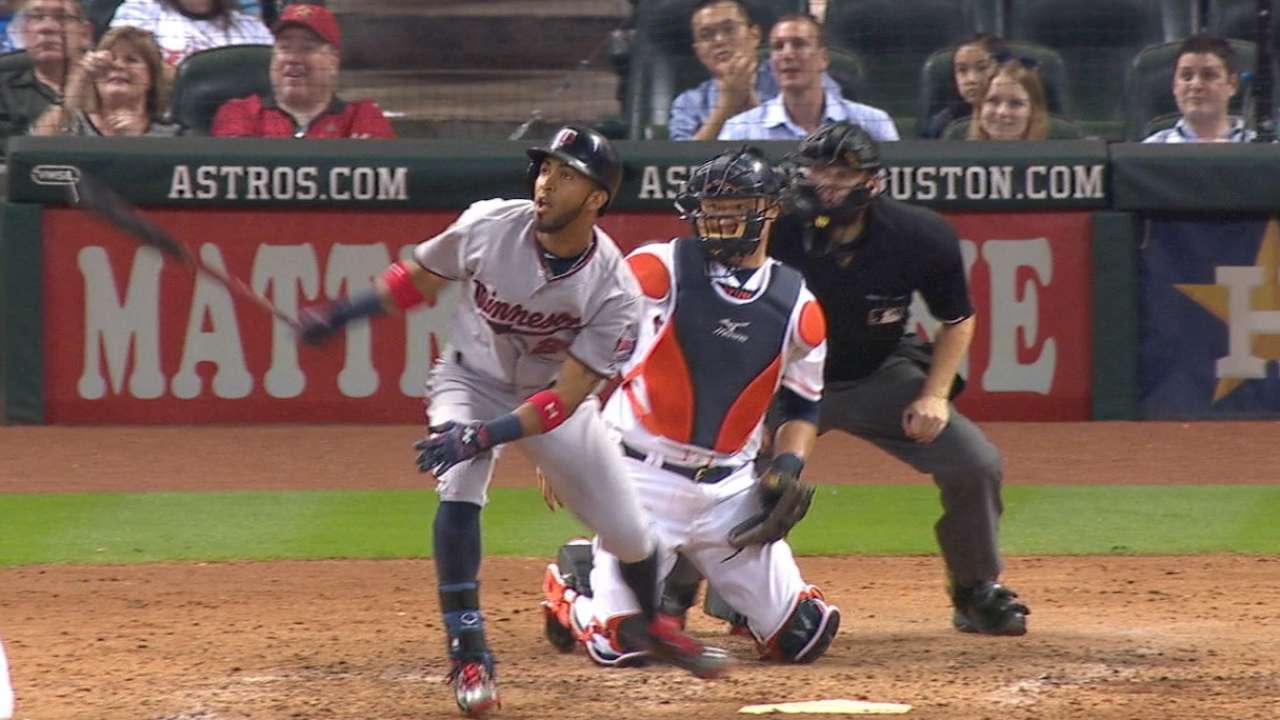 HOUSTON -- After fouling off three straight 0-2 pitches from Houston closer Luke Gregerson in the ninth inning, Eddie Rosario laced a two-out, two-RBI triple just out of a diving George Springer's reach to push the two go-ahead runs across and give the Twins a 3-2 victory against the Astros on Saturday at Minute Maid Park.
Twins closer Kevin Jepsen skirted major ninth inning trouble to preserve the win. After surrendering a leadoff homer to Jed Lowrie to cut the lead to 3-2, he loaded the bases for Jose Altuve, who rocketed the first pitch to center field, where center fielder Byron Buxton made a diving catch to end the game and strand the bases full.
"We thought we were going to make a run at it," said Astros manager A.J. Hinch. "Jepsen is a good closer, but I like our guys. I like our competitiveness. It doesn't surprise me one bit. We've been doing this for five or six months now. We had the right guys up there, and I think the quality plate appearances from start to finish was indicative of the type of no quit that we have in us."
The win kept the Twins 1 1/2 games behind the second American League Wild Card spot held by the Rangers, while the Astros' lead in the American League West shrunk to two games over Texas, which beat the Angels on Saturday night.
For a second time in six days, Twins starter Ervin Santana was brilliant against the Astros, following up his 10-strikeout performance of Aug. 30 with a career-high tying 11-strikeout gem where his only nemesis was Carlos Correa -- who notched the eighth three-hit game of his young career in a futile effort to provide run support for rookie starter Lance McCullers, Jr.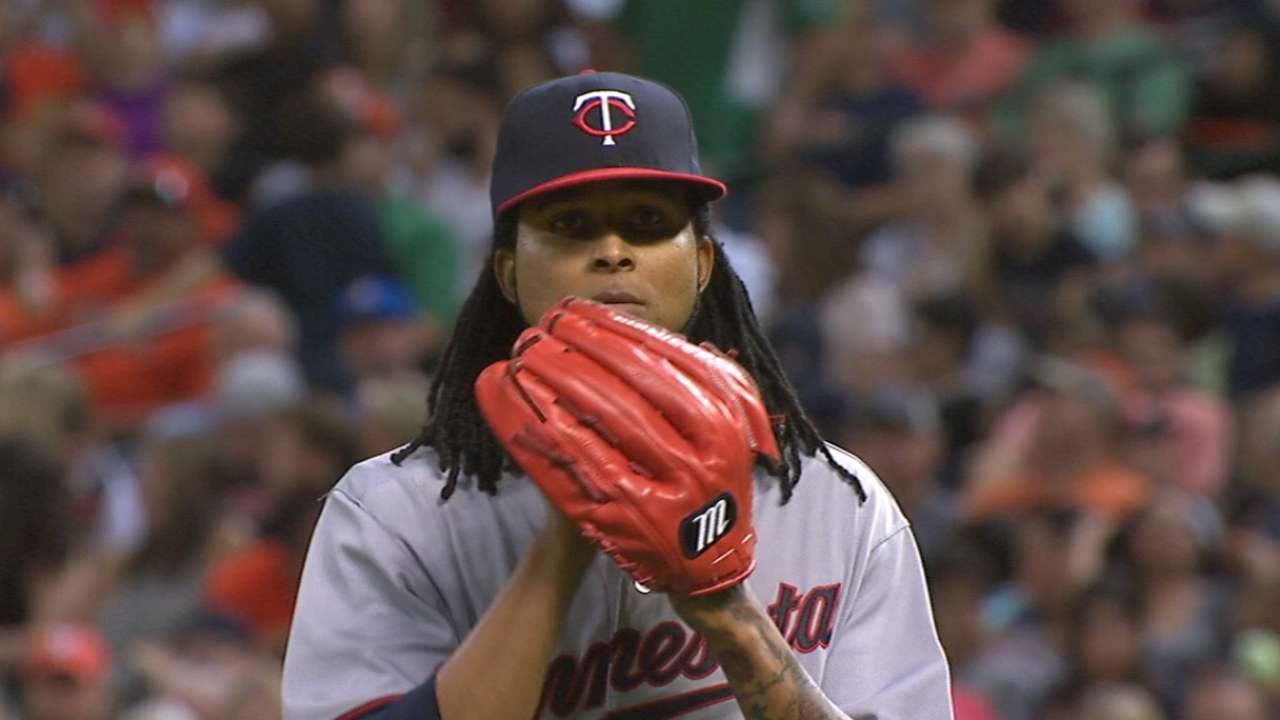 Santana and McCullers engaged in a pitchers' duel, with McCullers carrying a no-hitter into the sixth inning before Twins rookie Byron Buxton broke it up with a hustle double to left-center, scoring two batters later on Brian Dozier's 6-4-3 double play.
McCullers finished with just Buxton's run on his line over seven innings of three-hit ball.
"It was a good baseball game," Twins manager Paul Molitor said. "You get two starting pitchers out there toeing up against each other. Both were very stingy allowing baserunners and base hits with each team squeaking one across. We had some drama there at the end, but Ervin really picked us up."
MOMENTS THAT MATTERED
'A Play I Have to Make': Rosario's game-winning triple hit off Springer's glove as he nearly crashed into a wall along the right field line, but he insisted after the game three separate times that it's a "play I have to make." Gregerson said the pitch, a slider, was placed exactly where he wanted, but Rosario got the bat on it nicely.
"If he doesn't swing it hits right in front of the plate," Gregerson said. "He just found a way to find the ball and pop it out there. But 99.999 percent of the time Springer makes that catch and he knows it. We all know it. A little bit of a misplay, a little bit of good hitting and it just got away."
"Springer is a heck of an outfielder, but I think he got fooled with the speed and maybe didn't time his dive right, so we got a little bit of a break there," Twins manager Paul Molitor added. More >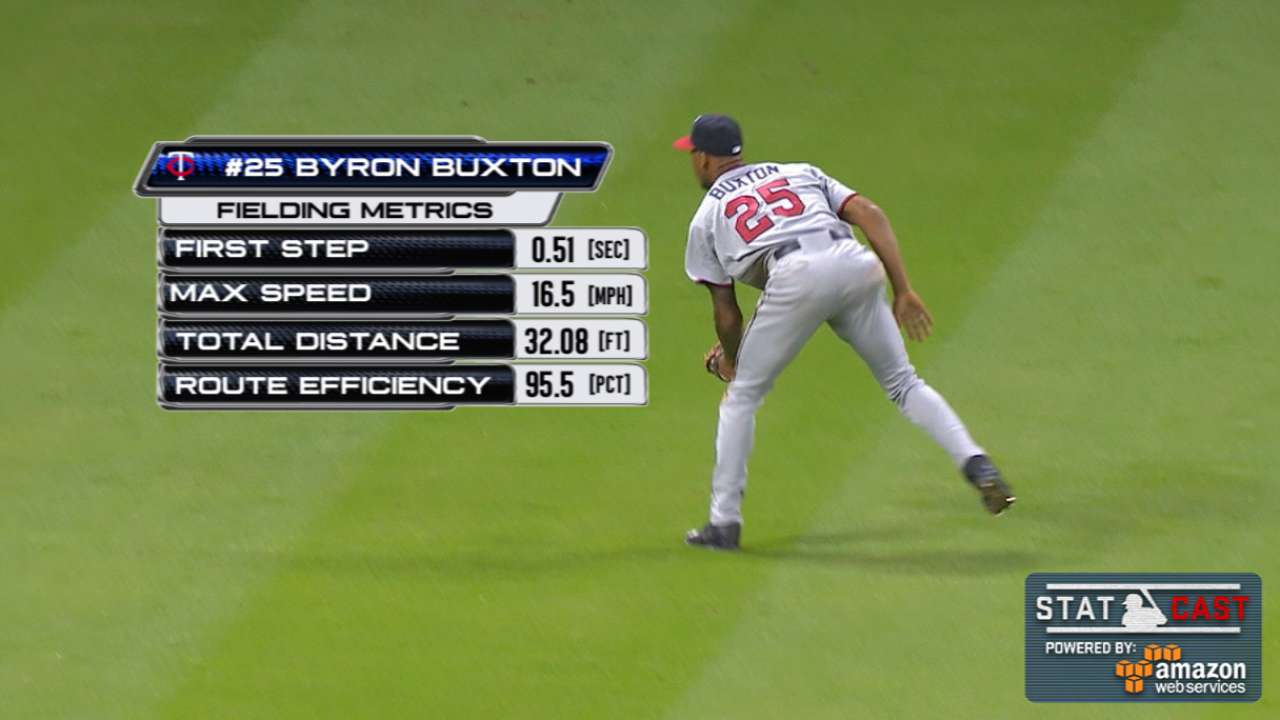 Outfield of the future comes up big: The Twins used an outfield of Rosario, Buxton and Aaron Hicks for the first time this year, and all three contributed. Buxton broke up McCullers' no-hit bid with a hustle double to left-center field to open the sixth. Hicks followed with a bunt single to put runners on the corners for the Twins. Dozier then grounded out into a double play to score Buxton and tie the game at 1-1. And Rosario had the go-ahead triple in the ninth. Hicks and Buxton also made impressive defensive plays in the ninth to preserve the win.
"It's fun for all of us to be out there together," Hicks said. "It's definitely something that's pretty sweet to have three young guys out there playing baseball and having fun. It's a fast outfield and it'll give us opportunities to throw guys out." More >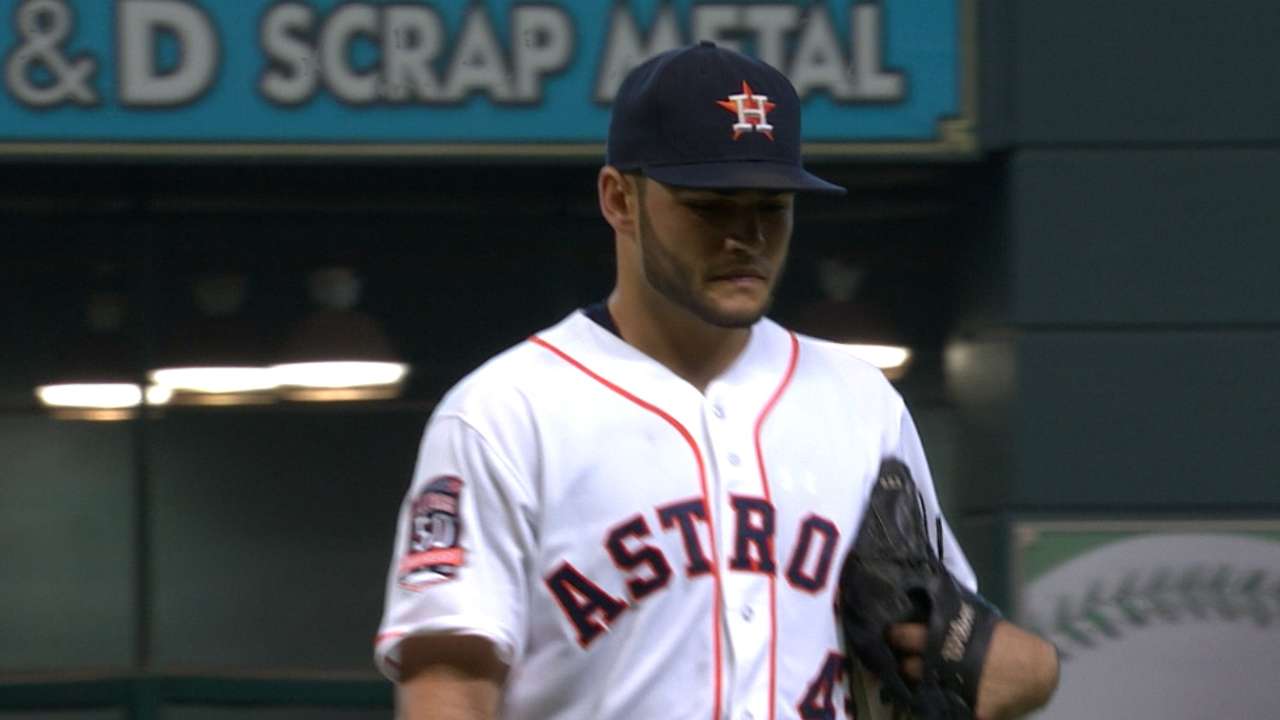 Lights Out Lance: McCullers dueled with Santana through seven innings, turning in his best effort since being recalled from Double-A Corpus Christi on Aug. 22. He carried a no-hitter into the sixth inning and had a feel for his hard curveball, which he used to fan Eduardo Escobar, stranding the go-ahead run at second base in a full count situation in the seventh.
"It's a 1-1 ballgame, you got to tip your cap, they were playing great baseball tonight," McCullers said. "I was down 2-0 and [catcher] Hank [Conger] and I kind of had a conversation and he said 'Give me everything you have left' and I thought it was pretty much my last batter right there, so to get that punchout and be able to finish it off for the guys, I was really happy about that."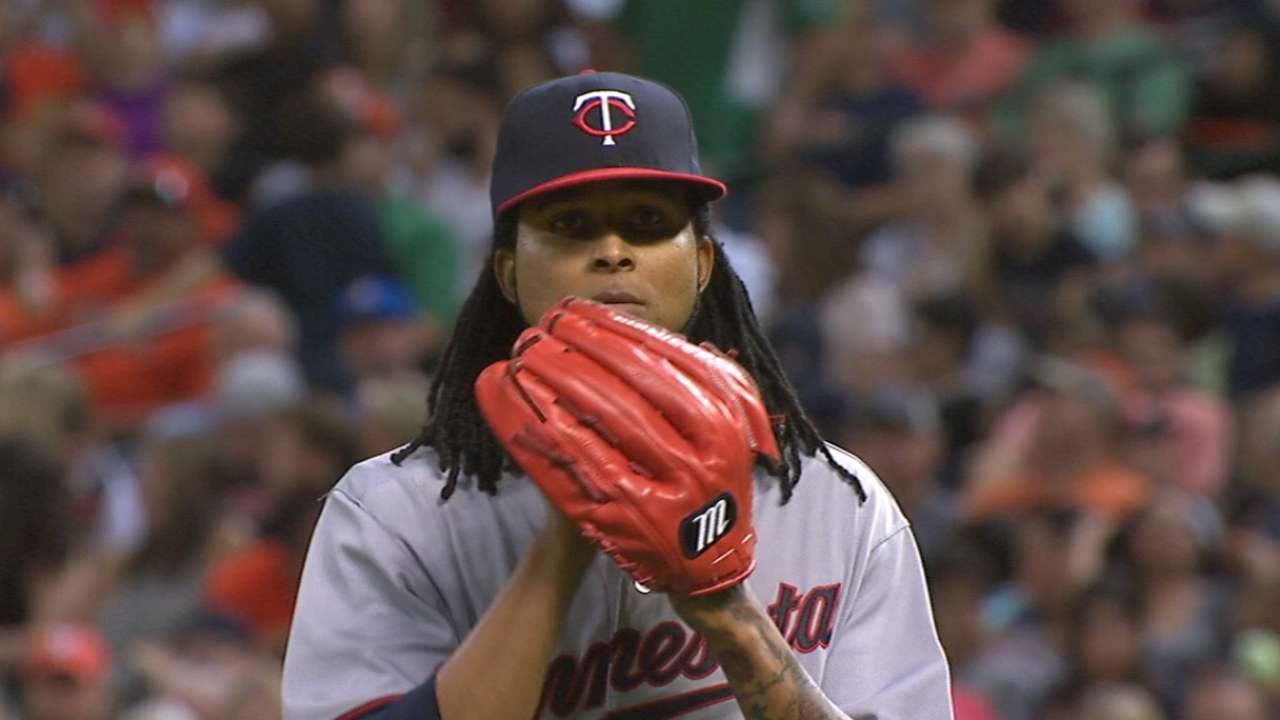 Santana keeps it rolling: After striking out 10 over seven scoreless innings against the Astros last time out, Santana tossed another gem against Houston. The right-hander set a season-high with 11 strikeouts, surrendering one run over eight innings. His 119 pitches were also a season high.
"It means a lot," Santana said. " I've been trying to get on track. That's the kind of performance we need. I'm going to try to keep working hard and finding the zone."
QUOTABLE
"Sometimes they go easy and sometimes they don't. But as long as you come up with the win, that's all that matters." -- Jepsen, on the wild ninth that saw him record his sixth save with the Twins in the absence of closer Glen Perkins
WHAT'S NEXT
Twins: Houston native Tyler Duffey will make his homecoming in a start against the Astros in the series finale on Sunday at 1:10 p.m. CT. Duffey has been solid recently, posting a 2.66 ERA with 21 strikeouts in 23 2/3 innings over his last four starts.
Astros: Carrying a 13-game home winning streak into the start, righty Dallas Keuchel gets the ball to cap the series at 1:10 p.m. CT in Minute Maid Park. Keuchel is 12-0 inside Minute Maid Park this season, coming off seven innings of one-run ball in his last start -- his 16th win of the season .
Watch every out-of-market regular season game live on MLB.TV.
Rhett Bollinger is a reporter for MLB.com and Chandler Rome is an associate reporter for MLB.com. This story was not subject to the approval of Major League Baseball or its clubs.