Cron's hot streak shows power of confidence
Angels DH delivers 3 hits, 5 RBIs in big win over Rangers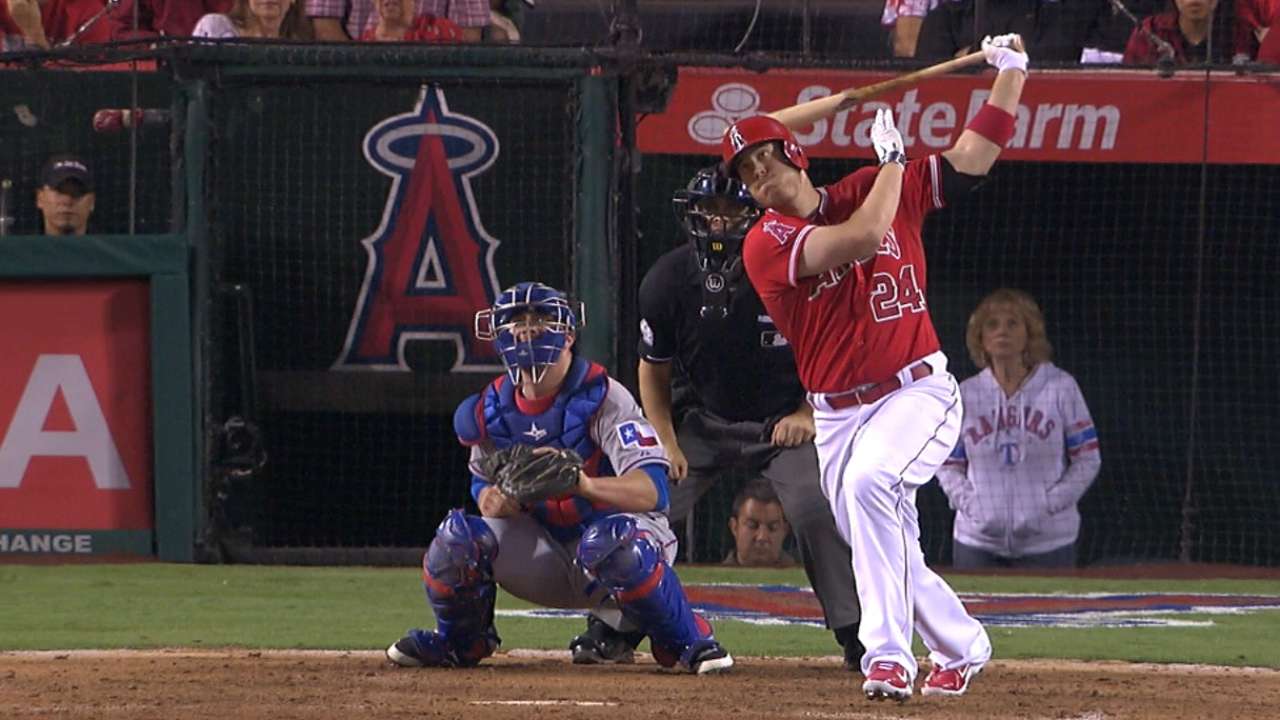 ANAHEIM -- Angels catching prospect Jett Bandy still vividly remembers the night of May 27, while standing in the on-deck circle for a Triple-A game in Salt Lake City, Utah. C.J. Cron had just been sent down to the Minor Leagues, his .204 batting average no longer suitable for everyday at-bats as the Angels' designated hitter, and now he was in the box against Minor League pitching.
"First pitch he saw, line-drive home run," Bandy said. "As soon as he put that swing on it I was like, 'Yeah, he wants to get out of here.'"
It took another month for Cron to get an opportunity, and then he began to put his fingerprints all over the Angels' offense. He got really hot in July, stayed that way throughout an otherwise brutal month of August, then turned in his signature game on Friday night -- three hits and five RBIs, all with two outs, in a 5-2 win against the division-rival Rangers.
"He's really talented, man," Angels starter Garrett Richards said after earning his 13th win, which put the Angels 2 1/2 back of the Rangers for the second Wild Card spot in the American League. "He's maturing as a ballplayer, and it's fun to watch."
Cron kept his hands in on an 0-1, inside-corner, 93-mph fastball from lefty Martin Perez and flared it into shallow center field for a two-run single in the third. In the fifth, he fouled off back-to-back, two-strike pitches, got an 84-mph changeup out over the plate and skied it to deep center field, off the fence and into no-man's land for his second career triple. In the seventh, against hard-throwing right-hander Luke Jackson, Cron got a two-strike, 97-mph fastball chest-high and drove it into the right-center-field gap for a two-run double.
In 12 games against the Rangers, Cron is batting .460 (23-for-50) with 17 RBIs.
"I wish I knew why, but I don't see any correlation," said Cron, who also drove in six runs against Texas on July 4. "I don't know."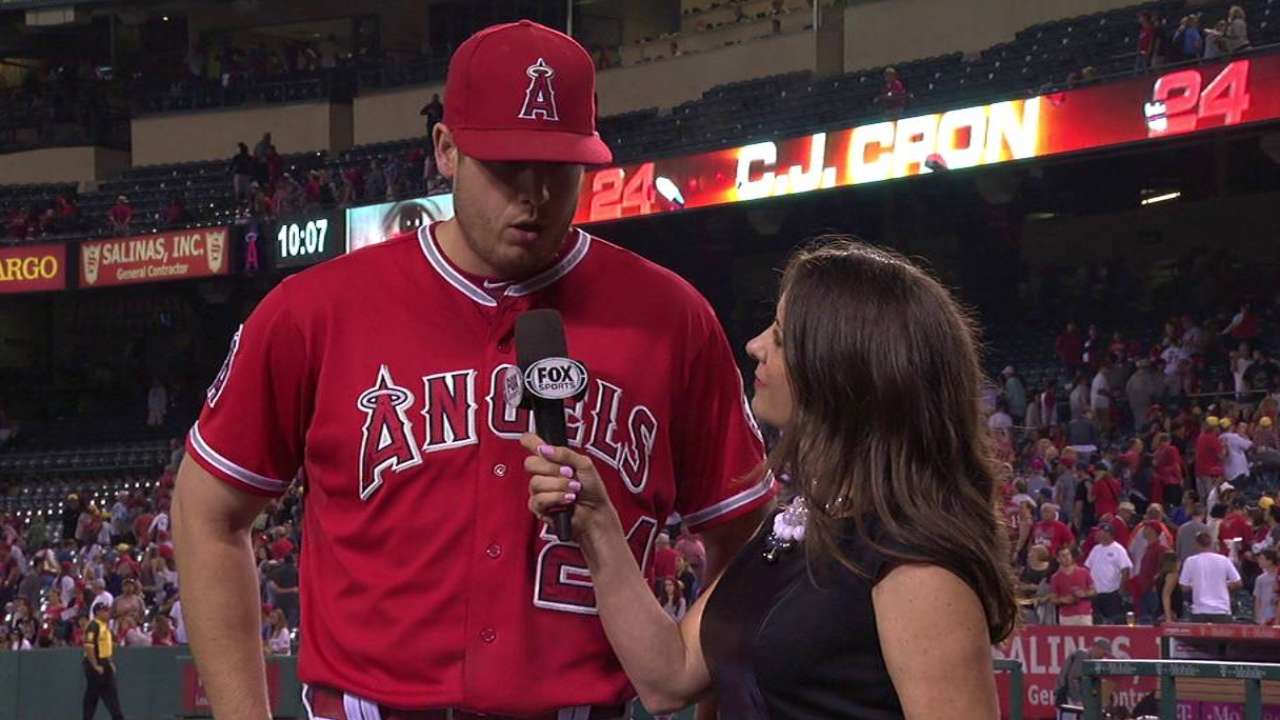 Just as impressive is what Cron has done since getting called back up a second time on June 29: .325 batting average, nine homers and 31 RBIs in 51 games. In the month of August -- a month the Angels finished last in the Majors in batting average, on-base percentage, slugging and runs per game -- the 25-year-old slugger batted .321.
The rest of the team hit .211.
"There's no doubt that there's a comfort level that he acquired down there in Triple-A," Angels manager Mike Scioscia said. "He's been attacking the baseball since he got back up here and using the whole field."
Cron batted .333 in a 10-game stretch at Triple-A from May 27 to June 5. He rejoined the Angels, but only got 10 at-bats and recorded two hits before getting sent back down. Then he hit .315 with four homers in a 13-game stretch from June 15-28.
"I took it as I had to get better," Cron said. "I had to get my at-bats so that when I got the call I could help the team."
He's doing that now, swinging like he did amid a scorching-hot Spring Training and showing everyone just how dangerous he can be when he's on.
"Confidence means a lot in this game, and when he's on, it's scary and it's fun," said Bandy, Cron's teammate at several stops in the Angels' Minor League system. "You can definitely tell now."
Alden Gonzalez is a reporter for MLB.com. Follow him on Twitter @Alden_Gonzalez and listen to his podcast. This story was not subject to the approval of Major League Baseball or its clubs.