Ruggiano opens floodgates in five-run frame
Dodgers' pinch-hitter homers to spark decisive sixth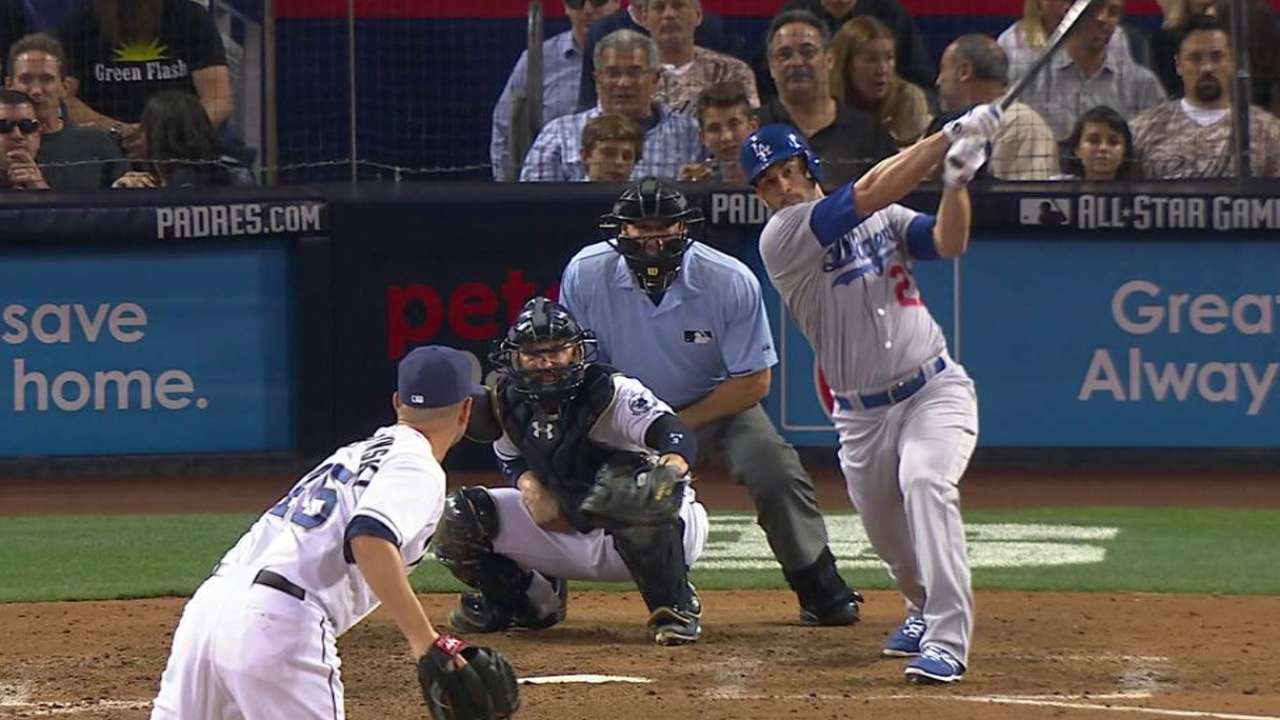 SAN DIEGO -- When Don Mattingly told Andre Ethier to grab a bat in the sixth inning Friday night, he was fully aware Ethier probably wouldn't get the chance to swing it.
Instead, Mattingly used Ethier as a pawn in his chess match against Padres interim skipper Pat Murphy. And the move paid off when Justin Ruggiano -- a pinch-hitter for the pinch-hitter -- homered, sparking the Dodgers to an 8-4 victory over the Padres at Petco Park.
With one on and one out in a tie game, Mattingly called upon Ethier, who had been left out of the starting lineup because of a bruised right knee. Naturally, the Padres countered with lefty specialist Marc Rzepczynski -- precisely the move Mattingly had anticipated.
That's when Mattingly dug even deeper into his September bench for Ruggiano -- owner of a career .502 slugging percentage against left-handers. Ruggiano had faced Rzepczynski only once -- the night before when he laced an RBI single to left-center.
Ruggiano crushed Rzepczynski's a 1-0 sinker over the center-field fence, giving the Dodgers a 5-3 lead, and sparking a five-run inning.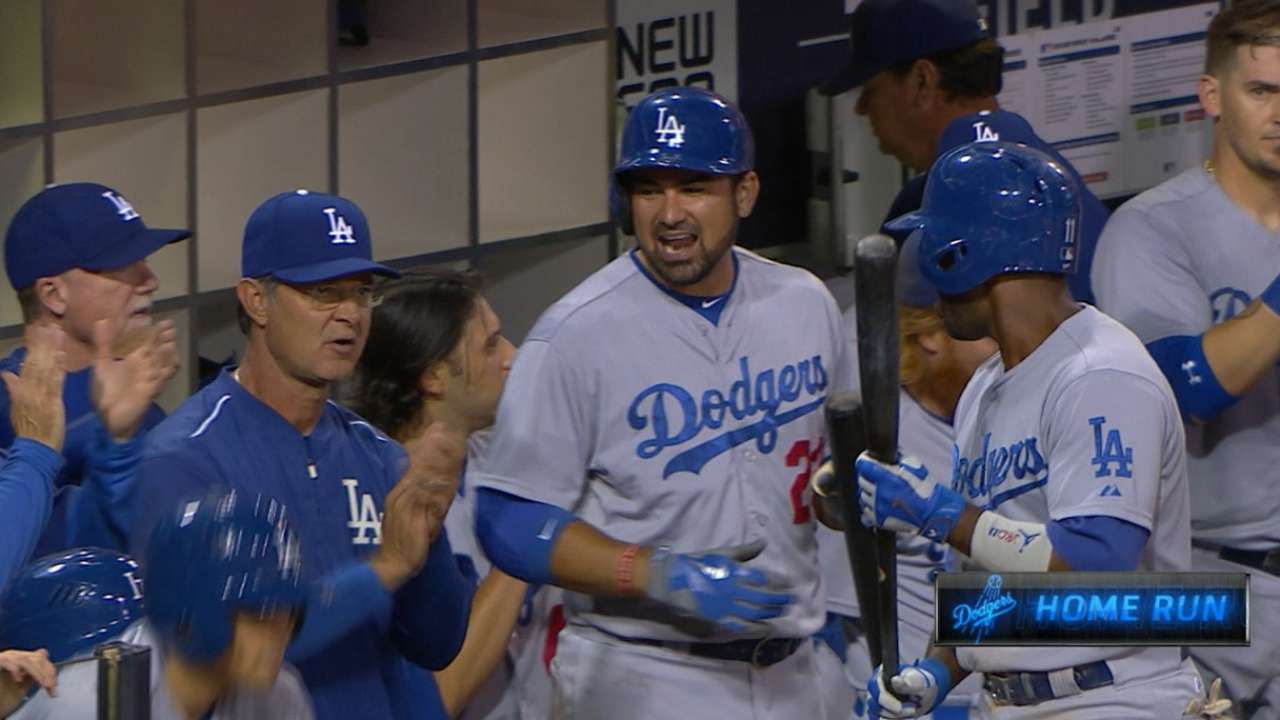 "It was the same guy [Ruggiano] got the hit off of last night," Mattingly said. "With 'Dre, we weren't going to use him in the outfield. So why not take the matchup right there?"
Mattingly was taking a bit of a calculated risk, knowing that if the Padres had stuck with right-hander Marcos Mateo, a hobbled Ethier would have been forced to come to the plate.
"[Ethier] would have been able to hit if they left the righty in there," Mattingly said. "I just thought it was going to be a lefty."
Mattingly was right, and he was promptly rewarded when Ruggiano came through with his second career pinch-hit home run. Three games into his stint with the Dodgers, Ruggiano has already proved quite useful in the absence of fellow right-handed-hitting outfielder Yasiel Puig.
The Dodgers acquired Ruggiano from the Seattle Mariners on Aug. 31 for a player to be named or cash. He had spent much of the season at Triple-A Tacoma, where he hit .296/.385/.514. Ruggiano really made his mark with the Marlins and Cubs, posting an OPS of .776 from 2012-14.
"He's a great callup," said Dodgers shortstop Jimmy Rollins, who has seen Ruggiano plenty from their time spent together in the NL East. "I've played against Rooge for a while, and every time we've thrown a lefty, he's absolutely beat us up. To see him get back to his old self in that regard, it was very good.
"Rosters aren't set going forward. If we make it to the playoffs, you have to fight for your spot, and hopefully that's what's going on."
The "if" Rollins mentioned is slowly turning into a "when" for the Dodgers, who increased their NL West lead to a season high 7 1/2 games with the win. If Puig returns in time for the postseason, it's hard to see there being much room for Ruggiano, but he's certainly proved himself capable as a role player who kills left-handed pitching.
Ruggiano's home run opened the floodgates. Los Angeles scored three more runs in the frame, coming on back-to-back homers by Adrian Gonzalez and Chase Utley.
With their five-home run night, the Dodgers now lead the National League with 162 long balls.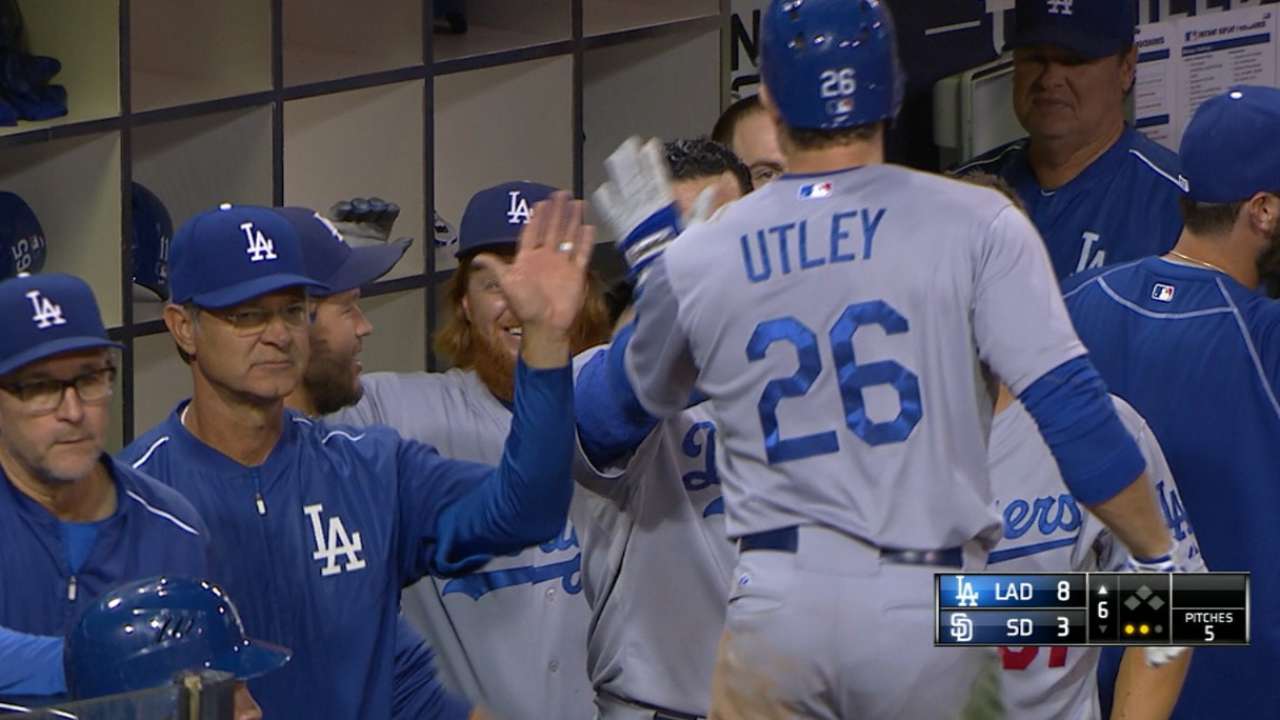 "We said all year long, we didn't really play as a home run-hitting club, but we kind of continue to hit them," Mattingly said. "... However you win a game, you win a game. Obviously I'm not going to complain about home runs."
AJ Cassavell is a reporter for MLB.com. Follow him on Twitter @ajcassavell. This story was not subject to the approval of Major League Baseball or its clubs.