Padres depleted 'pen can't keep it in the yard
With Kelley and Maurer sidelined, trio of relievers struggles vs. Dodgers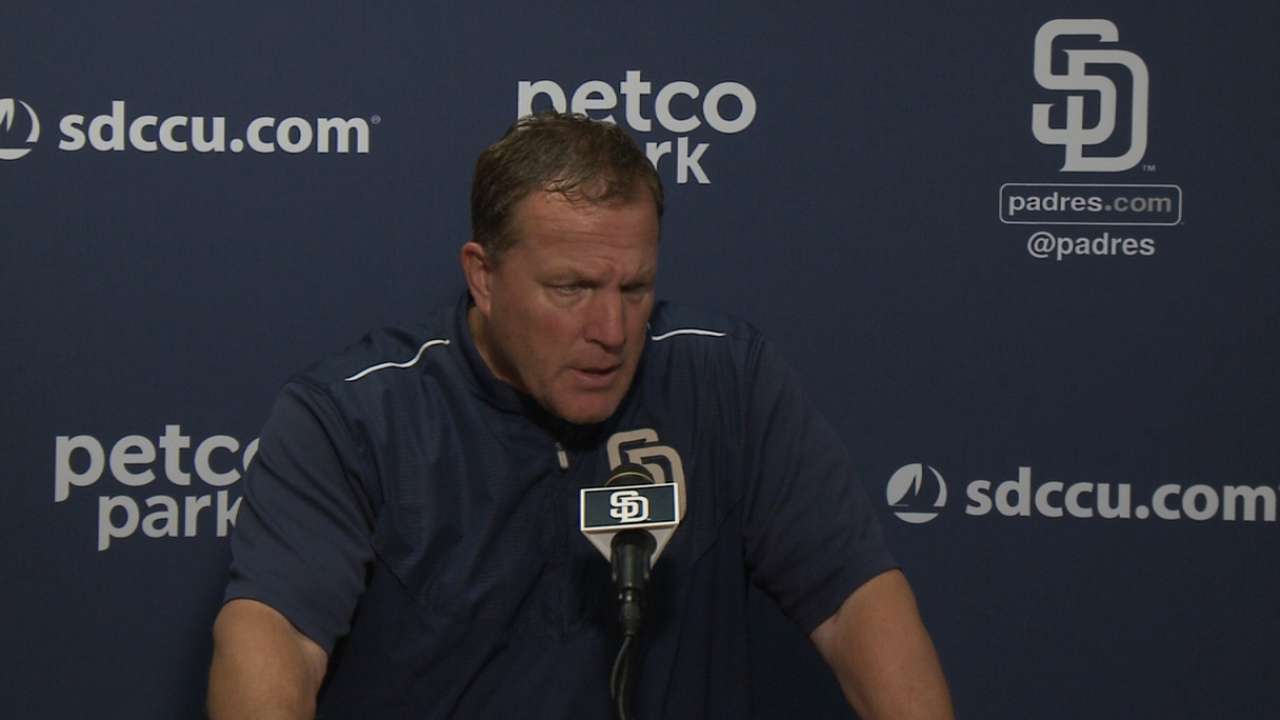 SAN DIEGO -- Padres relievers allowed five runs in the sixth inning for the second straight day, but this time the outcome would not go in their favor, as they fell, 8-4, to the Dodgers on Friday night.
San Diego pitchers allowed five home runs, the second most they have given up in a game this season. On May 12 against Seattle, the Padres allowed six. Friday marked the first time the Dodgers have ever homered five times at Petco.
With relievers Brandon Maurer and Shawn Kelley nursing injuries, the Padres have looked to other enforcements hoping to fill in the roles. As the bullpen continues to struggle, interim manager Pat Murphy admitted that the absence of Maurer and Kelley doesn't go unnoticed.
"It's easy to point to right now, when you have your sixth- and seventh-inning guy out. Both have been so effective," Murphy said. "It's hard to replace."
In the sixth inning, with the game tied at 3, Marcos Mateo replaced starter James Shields, who allowed three runs on three hits, recording a career high six walks. Shields surrendered two of the five Dodgers' home runs, throwing 107 pitches, 60 for strikes.
After the game, Shields admitted that getting himself behind on counts and walking batters was unusual for him.
"There's pitches I felt he could have called strikes, but when you get behind in the count, it's hard to come back from," Shields said.
"I don't think he was missing by much," Murphy said. "I think that he certainly made big pitches and gave us a chance, but we were hoping he wasn't that deep in his pitch count in the fifth. He had a lot of close pitches and it didn't go his way. I'm not complaining, just saying, he had a lot of close ones and it wasn't like his command was way off. He was just missing by a little."
Mateo, who came off the disabled list on Tuesday after a neck strain, struck out a batter before walking Joc Pederson.
With two outs, Murphy called in lefty Marc Rzepczynski to replace Mateo, which would backfire. Dodgers manager Don Mattingly called back Andre Ethier, who was set to pinch-hit, and sent Justin Ruggiano to the plate. Ruggiano promptly hit a two-run homer to left-center field on a 0-2 pitch.
"'Zep [Rzepczynski] has done a good job earlier in the season. When we first acquired him, he was getting people out," Murphy said. "Mateo, before his injury was getting people out. ... So we are going to have to piece it together."
Rzepczynski allowed a single to Jimmy Rollins and struck out Carl Crawford before giving up another two-run homer to Adrian Gonzalez.
The left-hander was replaced by Jon Edwards, who also gave up a home run, as Chase Utley gave the Dodgers their eighth run with a blast to right field.
"We are piecing it together the best we can," Murphy said. "And give credit to the Dodger guys. Hit three homers in the inning -- it's pretty unfortunate."
Beth Maiman is an associate reporter for MLB.com. This story was not subject to the approval of Major League Baseball or its clubs.