MLB.com Columnist
Lyle Spencer
Lengthy homestand gives Angels big opportunity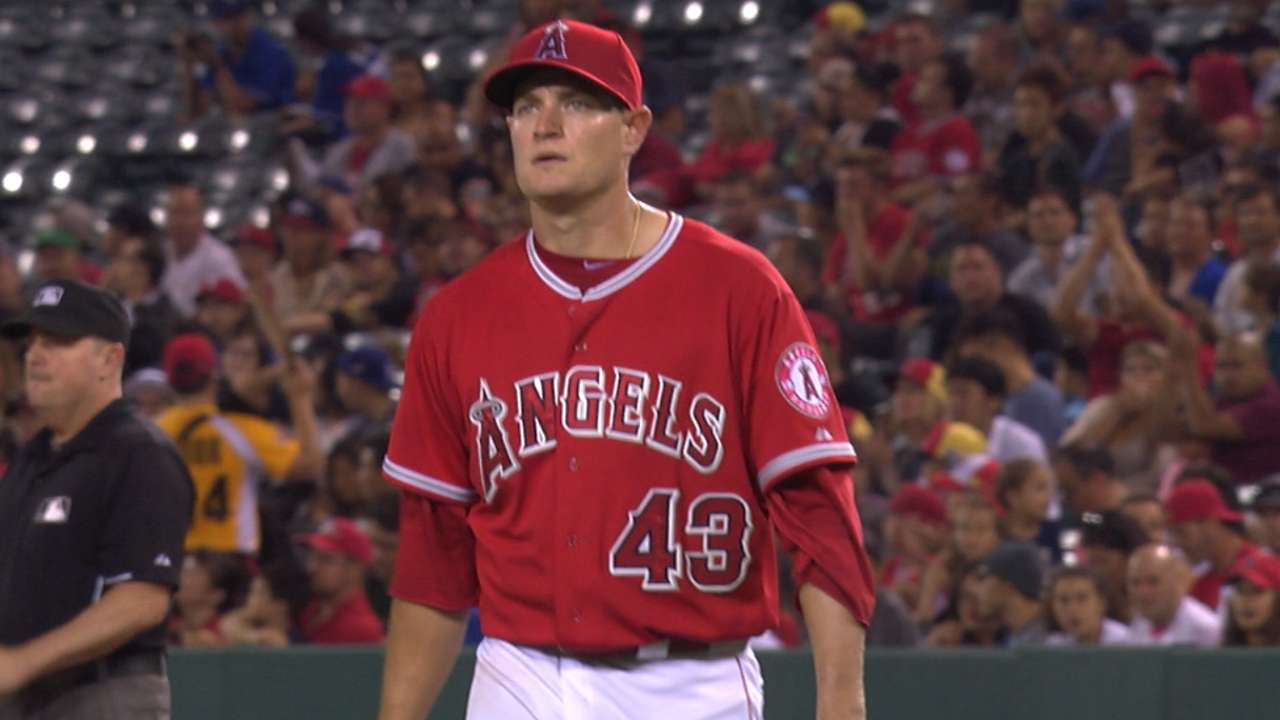 ANAHEIM -- The Rangers are in town this weekend, and the Dodgers and Astros are on their way next week. A time of reckoning has arrived for the Angels, who will give us a good idea in these three series whether they're in the postseason hunt or consigned to wait-until-next-year mode.
With C.J. Cron driving in all five runs and Garrett Richards steering his way through rough waters with an edge of mental toughness, the Angels turned away the Rangers, 5-2, on Friday night to cut a game off Texas' lead for the second American League Wild Card spot.
The third-place Angels trail the Rangers by 2 1/2 games and the front-running Astros by 5 1/2 in the AL West. A modest three-game winning streak has to feel exhilarating to the Angels and their fans after a distressing stretch of nine losses in 11 games in a month they'd like to forget.
"August is over," Richards said, moving to 13-10 on the season. "I feel like we have a pep in our step now. We've got a lot of games [28] left to play."
The Angels starters will need to match the kind of gritty effort that Richards delivered in concert with catcher Carlos Perez. The big right-hander denied the heavy-handed Rangers at every turn before they finally took advantage of his wildness -- two walks, a hit batsman and a sacrifice fly -- for a run in the sixth.
"Tonight it didn't seem like anything was easy," Richards said. "The guys played unbelievable defense, Carlos called a great game, and it was a great team win."
Veteran left fielder Shane Victorino was in the middle of just about everything -- the good, bad and scary.
The most thrilling play of the night was Victorino's full-tilt stab of Choo's drive in the left-center gap to close the fifth.
In the sixth, Victorino handled Rougned Odor's fly ball in foul territory and unleashed a throw that shortstop Erick Aybar cut off and whipped to Taylor Featherston at second. Prince Fielder reached home plate almost simultaneously with Featherston applying the tag on Mitch Moreland, who'd wandered too far off the bag.
"Garrett's last 12 to 15 pitches, he was struggling," Angels manager Mike Scioscia said. "It didn't look like his release point was there. Garrett usually maintains his stuff. It was one of the few games where he got out of sync. I don't think it was a physical issue."
In the seventh, Victorino crashed headlong into the wall trying to glove a Choo triple off reliever Trevor Gott that cashed in Joey Gallo, whose walk was the fifth and last by Richards.
"That's a great effort by Shane," Scioscia said. "Fortunately, he's OK."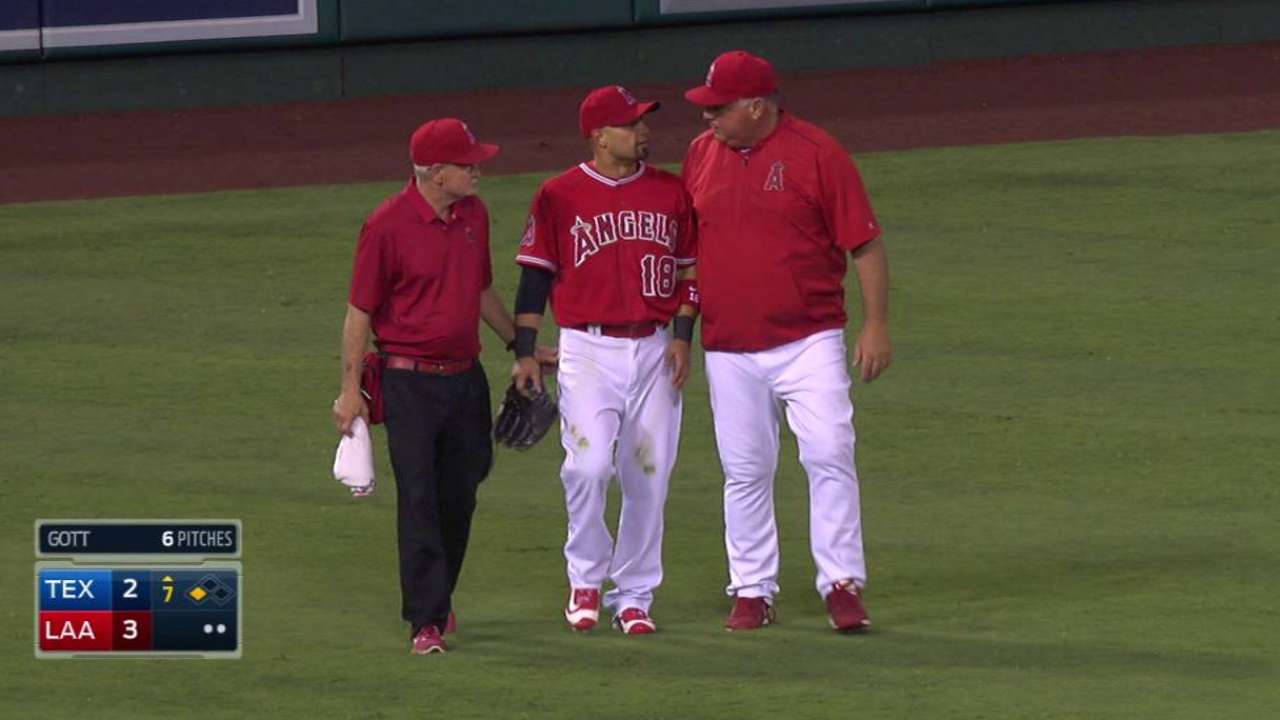 Scioscia values nothing more than the pitcher-catcher relationship and was quick to praise Perez for helping Richards limit damage.
"No doubt it could have gone the other way at points in the game," Scioscia said. "It went pitch to pitch . . . big outs all around. I think Carlos is continuing to grow as a catcher and had a great game tonight. Garrett's not an easy catch. He throws with great velocity and all his pitches move as well as anybody's."
Cron gave Richards a 2-0 lead in the third with a two-out, two-run single and a 3-0 cushion in the fifth with another two-out RBI, a triple that followed Albert Pujols' walk.
After Texas cut the deficit to 3-2 in the seventh, Cron bashed a two-out, two-run double to right center.
"You couldn't clutch up any more than that," Scioscia said of Cron, whose production can toughen the middle third of the lineup, along with Aybar and David Freese. "It's amazing what one guy does, like Freese coming back. It gives you a deeper look to your lineup.
"When you have a guy like C.J. feeling more comfortable in the box, it adds depth to what Mike [Trout], Kole [Calhoun] and Albert can do."
When cool Joe Smith and fiery Huston Street (save No. 32) provided the last six outs, the Angels had a louder, happier clubhouse than the Rangers for a change.
"It's fun to win," Scioscia said. "I think the guys in that clubhouse understand we're a better team than we showed in August [going 10-19].
"We're in this thing. We just need to pressure other teams on the offensive side, pitch and play good, clean baseball."
No time like the present.
Lyle Spencer is a national reporter and columnist for MLB.com. Follow him on Twitter @LyleMSpencer. This story was not subject to the approval of Major League Baseball or its clubs.