Rookie Heston doesn't waver after early HRs
DENVER -- Had the Giants found two more runs in Friday night's 2-1 loss -- a base hit, perhaps, when the bases were loaded in the sixth -- Chris Heston's pitching performance could have made a season highlight reel. Holding an explosive lineup to two runs in hitter-friendly Coors Field counts as a rare gem.
For the Giants, it was another one that got away, extending their losing streak to seven games. But there was no lack of respect for the rookie right-hander's bounce back after a rough outing Sunday against St. Louis.
"The kid did a great job after giving up two home runs in the first," manager Bruce Bochy said. "He got us deep in the game. Really bowed his neck. He pitched well. Two runs here in this park from your starter -- we'll take that."
Heston (11-9) lasted 5 2/3 innings, allowing two runs on seven hits and two walks while striking out four. He gave up only four hits in his remaining five innings after yielding back-to-back two-out solo homers to the National League home run leaders Carlos Gonzalez (36) and Nolan Arenado (35).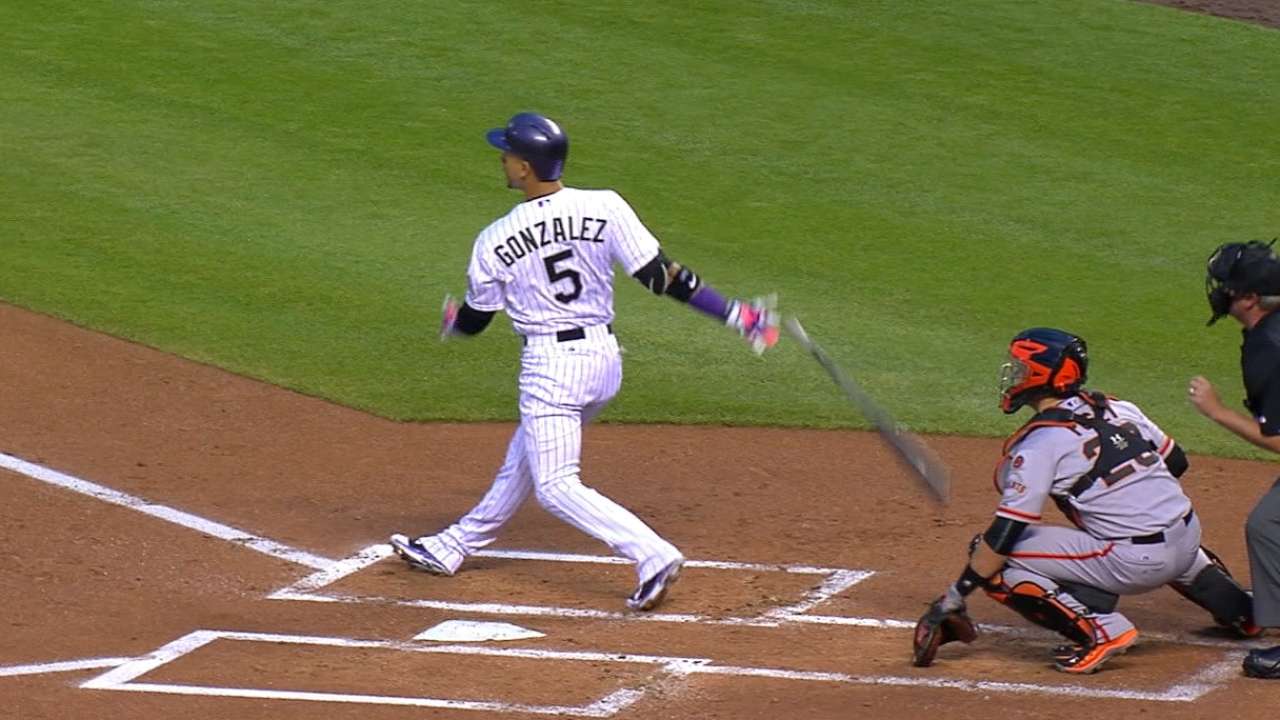 "It was about battling," Heston said. "I was just trying to go as long as I can and stay in the game. Try to help the bullpen out as long as I could and just try to keep us close, give us a chance."
Heston's pitch to Gonzalez was meant to be low and inside, but he didn't put it where he wanted, and Gonzalez bounced it high off the back of the Rockies' bullpen in right-center field.
"I didn't execute it," Heston said. "I left it over the plate. He's locked in right now, so you leave something over the plate and he's probably going to hammer it."
Even Arenado's follow-up shot to left didn't ruffle the rookie.
"I was trying to command the bottom of the zone, and that's something I haven't really been doing the past month or so," Heston said. "That's always the goal for me. After that first inning I was able to command the bottom of the zone and get through a few more."
The bounce-back performance for Heston could be pivotal in keeping him on track to contribute from the rotation. His 11 wins are tops for NL rookies, and the Giants are counting on him to help down the stretch.
"He's had a good year for us," Bochy said. "That should do a lot for his confidence. He could have gotten shaken in that first inning. But for him to regroup and give us that kind of effort, that was impressive."
Heston gave the Giants just what they needed on the mound, but for the seventh time this season, the team scored one or no runs for him, accounting for seven of his nine losses.
"He threw the ball great," Buster Posey said. "He gave us a chance to win the game. Unfortunately, we couldn't do it. It's tough to lose a 2-1 game here."
Owen Perkins is a contributor to MLB.com. This story was not subject to the approval of Major League Baseball or its clubs.