Vizcaino comes up short of two-inning save
'Best guy' gets through eighth, but unable to protect lead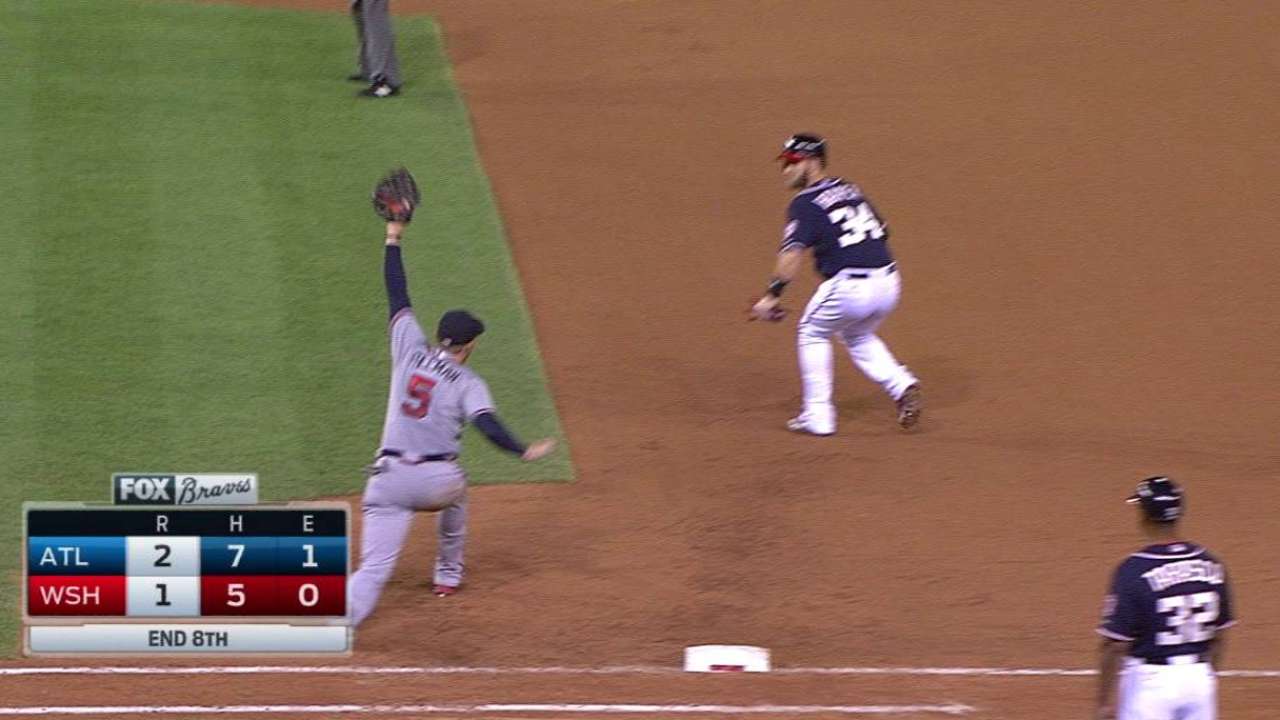 WASHINGTON -- Though the desired result was not achieved, Braves manager Fredi Gonzalez had no reason to second-guess his decision to give Arodys Vizcaino a chance to earn a two-inning save in Friday night's 5-2, 10-inning loss to the Nationals at Nationals Park.
Accounting for the lack of reliable depth in his bullpen, Gonzalez went against the book and made the decision to give Vizcaino the responsibility to protect a one-run lead while facing Bryce Harper, Ryan Zimmerman and Clint Robinson in the eighth inning.
"I didn't want anybody else facing that middle of the lineup in the eighth inning," Gonzalez said. "[Vizcaino] is our best guy. He was going to face Harper, Zimmerman and Robinson. At that point, we were still undecided. If he gives you a quick inning, you run him back out there. If he doesn't, you mix and match and see what you can do to get through the ninth."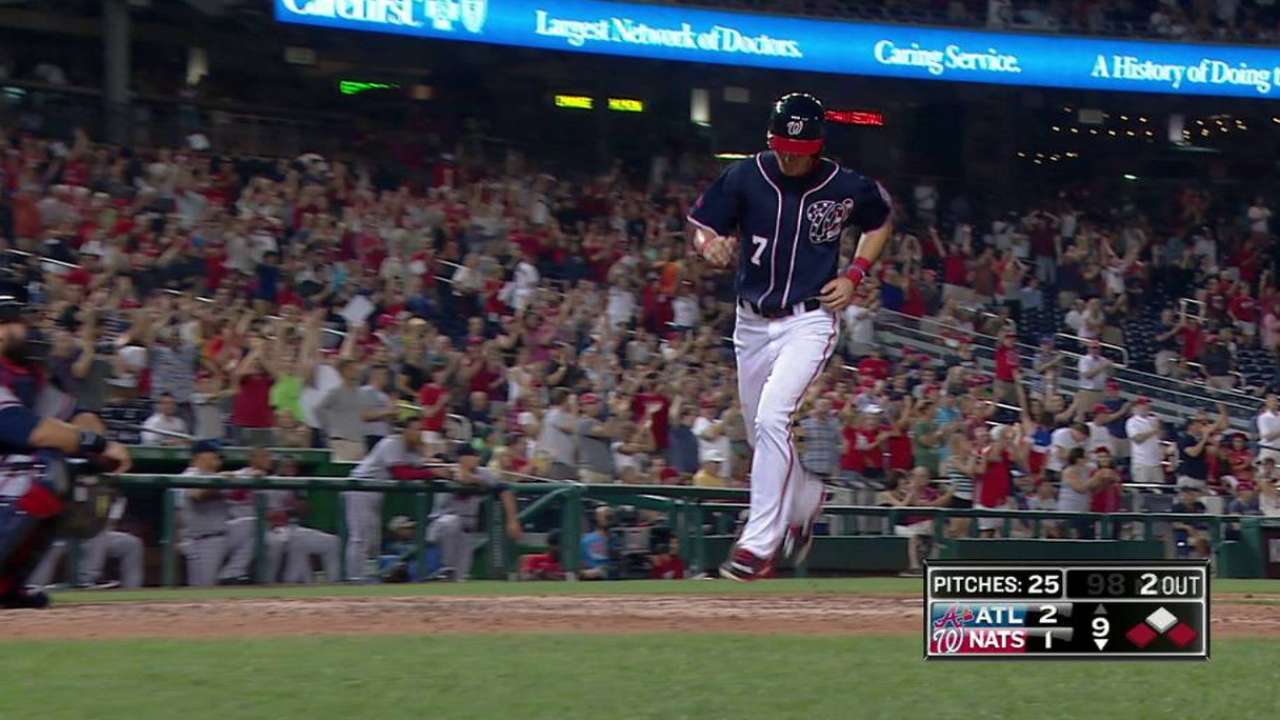 Vizcaino's inability to record the sixth and final out he was assigned led to the Braves enduring a 10th straight loss and 17th in their past 18 games. But this latest setback was also influenced by the fact that the Braves did not take advantage after putting the first two runners on in the ninth. The Atlanta offense has tallied two runs or fewer in four of the past five games.
"We've got to go out and score runs," Gonzalez said. "Two runs, one run or three runs doesn't alleviate any pressure for that bullpen. It doesn't provide any wiggle room."
When Matt Marksberry and Brandon Cunniff did not record an out while facing Harper, Zimmerman and Michael Taylor in the 10th inning, they provided a glimpse of what the eighth inning might have looked like had Gonzalez not given the ball to the dependable Vizcaino, who had successfully converted each of his previous four save opportunities and had surrendered just one run in his previous 21 2/3 innings.
"The bottom line is I was brought in to try to help the club win," Vizcaino said. "I feel good that he gave me the opportunity. It didn't work out the way we would have liked, but I was glad to get the opportunity."
Vizcaino needed just 14 pitches to complete a scoreless eighth inning, but his margin for error remained slim when the Braves were unable to score in the ninth. Yunel Escobar opened the bottom of the ninth with an opposite-field double, but he was still on third base when Vizcaino pumped a 101-mph past Wilson Ramos to record his fifth out of the night.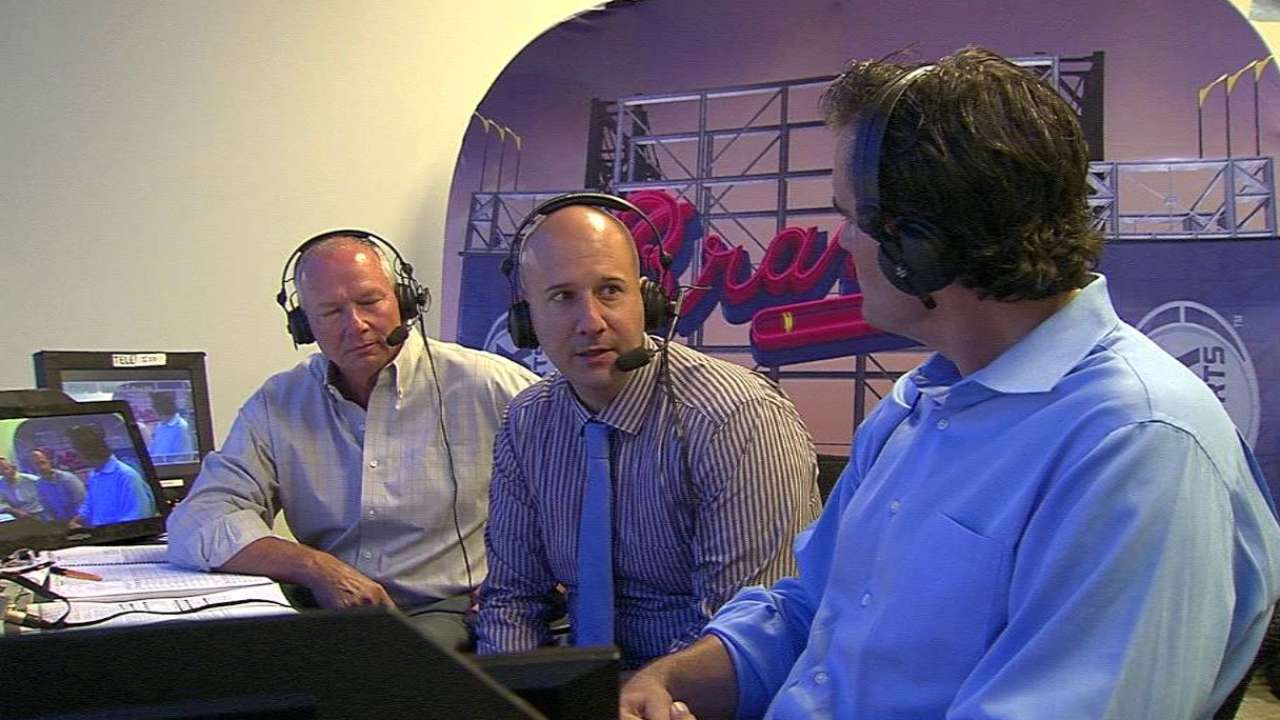 Unfortunately, that sixth out was never recorded as Vizcaino exited after Matt den Dekker followed with a two-out, game-tying single.
Though the result was unfavorable, Gonzalez certainly would have taken more heat had he tried to get through the middle of the Nationals lineup with Marksberry, Cunniff or one of the other members of his inexperienced bullpen with the hope of still having a lead for Vizcaino to preserve in the ninth.
"I liked everything about the ballgame, except the ending," Gonzalez said.
Mark Bowman is a reporter for MLB.com. This story was not subject to the approval of Major League Baseball or its clubs.