Herrera giving Phils fans plenty of thrills
Young CF goes 3-for-5 with 2-run HR, makes diving grab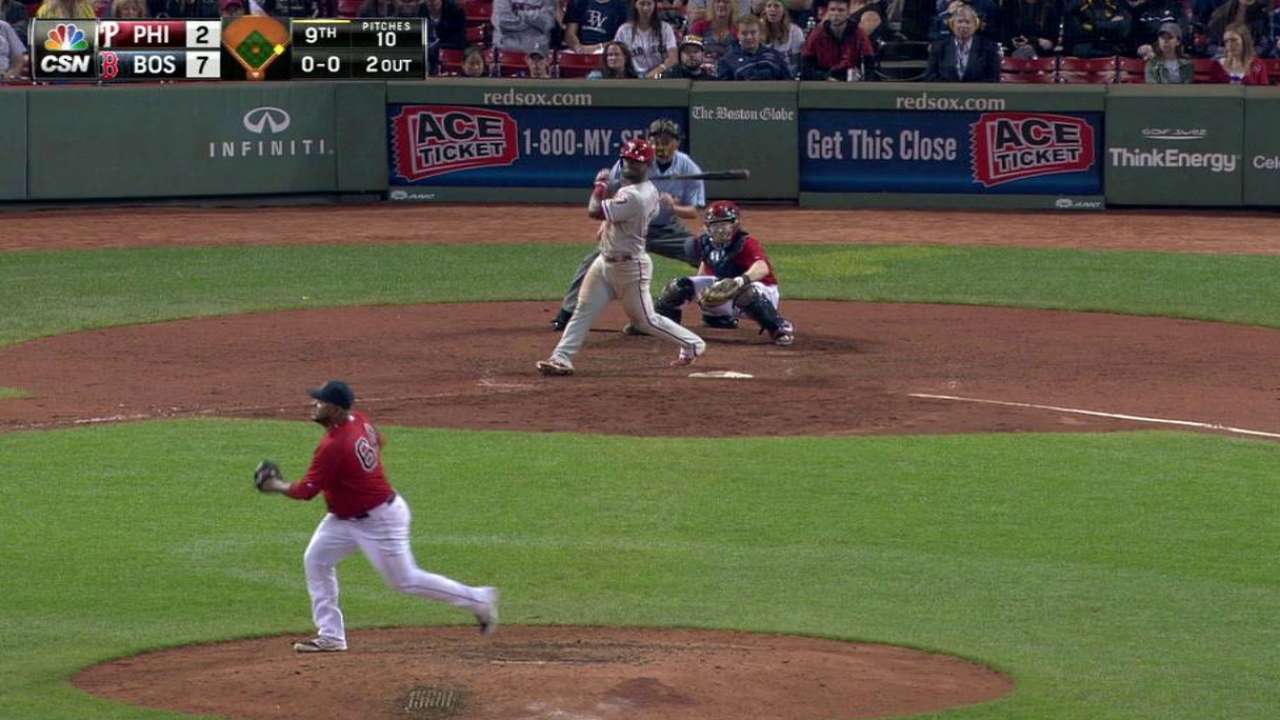 BOSTON -- While a late rally by the Phillies fell short in Friday night's 7-5 loss to the Red Sox, center fielder Odubel Herrera gave Philly fans another glimpse of the club's future with his electrifying presence atop the lineup.
Herrera went 3-for-5, including a towering home run off closer Jean Machi in the ninth inning at Fenway Park, and took a hit away in the third by sprawling on the outfield grass for a nifty diving catch. The 23-year-old notched his 11th three-hit performance and improved his batting average to .351 (52-for-148) since the All-Star break.
"I love the guy," Phillies interim manager Pete Mackanin said. "He can hit. Every time the ball's hit in the air, he wants to catch it. That's the kind of guy you want in center field."
Herrera's diving grab had him tracking a Brock Holt popup all the way into shallow left-center near shortstop Freddy Galvis, but the fleet-footed Herrera beat his teammate to the ball and dropped to his knees as he thrust his glove underneath it.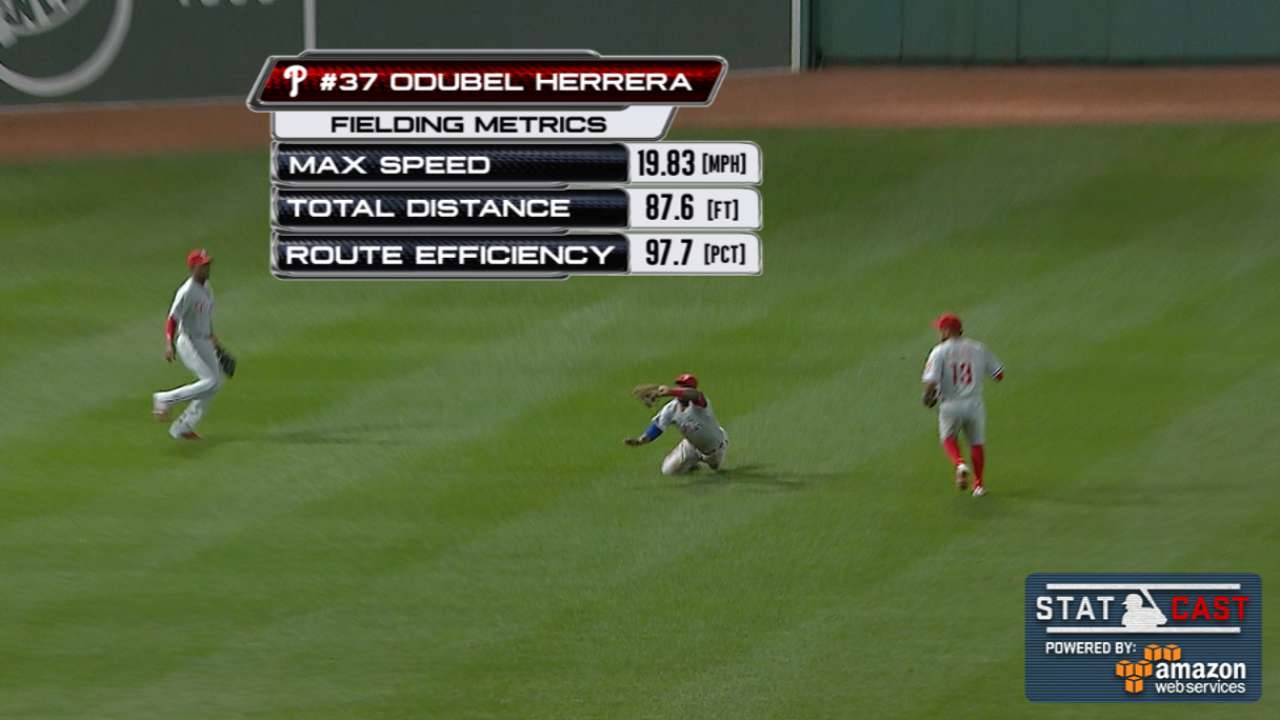 "The first time he saw the ball, the way he read it, [his] first move was fast," said infielder Andres Blanco, who acted as a translator for Herrera. "First two steps were fast. He knew that the ball wasn't hit that hard, and he just came at it quickly."
Six innings later, Herrera anticipated a first-pitch fastball from Machi, turned on the heater and sent it sailing into the Boston bullpen for his seventh home run. Statcast™ projected the ball to land 390 feet away from home plate at an exit speed of 108 mph.
"He was glad he got the pitch he was thinking," Blanco said.
Of course, Herrera's game is not without flaws. Mackanin noted that his young center fielder can still improve in certain situations, such as when he attempted to bunt for a hit in the third.
"I don't want him to do that," Mackanin said. "He's probably our best hitter right now. I want him to drive those runs in. Those things he's got to get in his head."
Herrera, whether he's hitting leadoff or cleanup next season, simply wants to keep those compliments coming.
"He says he feels blazing," Blanco said. "And hopefully the manager keeps praising him every time he goes to bat."
Alec Shirkey is an associate reporter for MLB.com. This story was not subject to the approval of Major League Baseball or its clubs.