Giants drop 7th straight, lose ground in race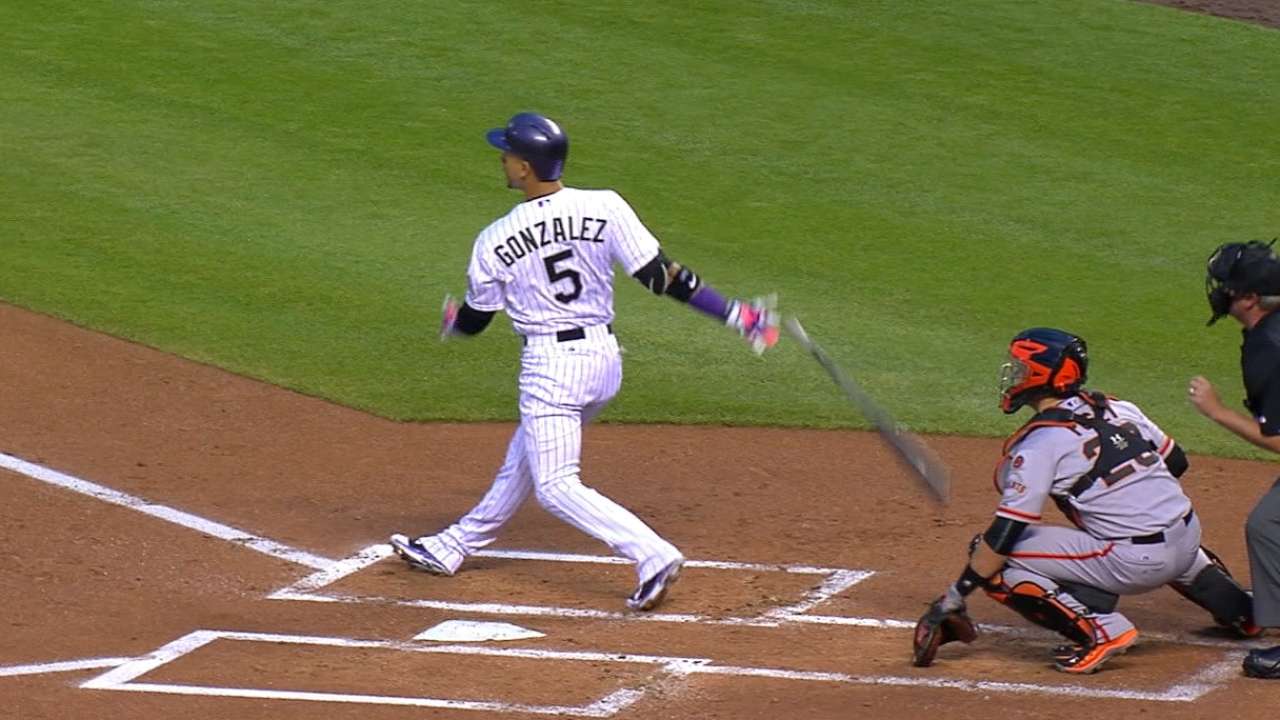 DENVER -- Carlos Gonzalez and Nolan Arenado went back-to-back in the first, and Rockies starter Jorge De La Rosa tossed seven strong innings, propelling Colorado to a 2-1 win over the Giants on Friday at Coors Field.
With the loss, their seventh straight, the Giants fell 8 games behind the Cubs -- who won earlier Friday -- for the second National League Wild Card spot. San Francisco also falls 7 1/2 games behind the Dodgers in the NL West.
On a 3-2 pitch from Giants starter Chris Heston, Gonzalez launched his National League best 36th homer, which ricocheted off the back wall of the Rockies' bullpen and was projected by Statcast™ to land 455 feet away. Arenado then went deep on the very next pitch for his fifth straight game with a long ball, tying a franchise record. The Rockies, though, didn't muster much else against Heston, who gave up two runs and seven hits over 5 2/3 innings.
"We were trying to get it down and in, and I left it over the plate," Heston said of the pitch to Gonzalez. "He's locked in right now, so you leave something over the plate and he's probably going to hammer it."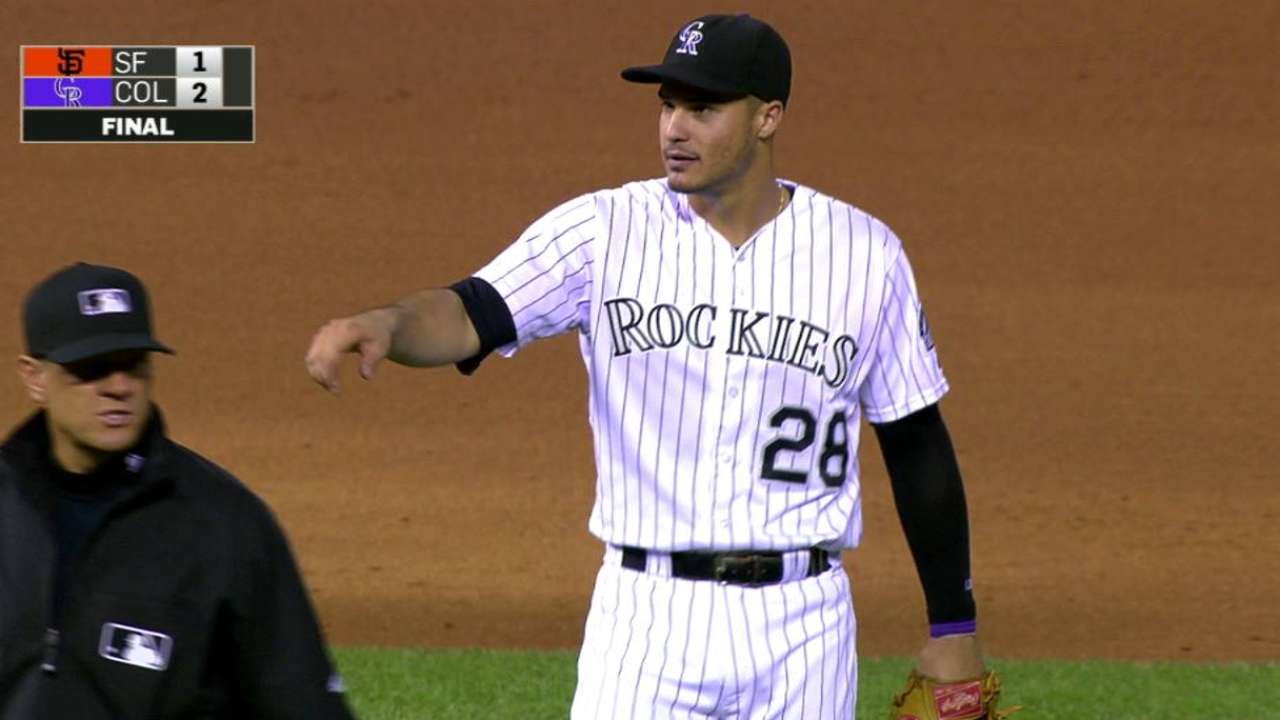 The two homers, however, were enough support for De La Rosa, who surrendered only six hits and one run with no walks and seven strikeouts. It was the seventh start this season where the left-hander has yielded one run or less. John Axford locked down his 19th save with a scoreless ninth.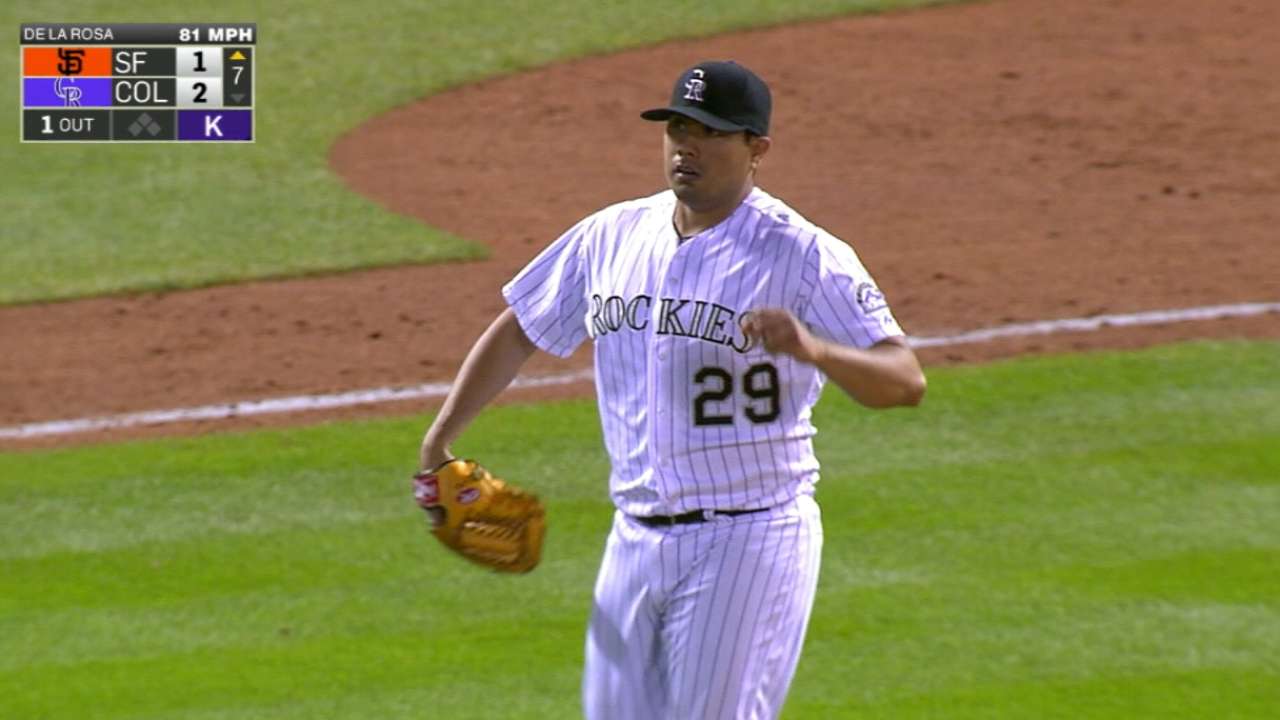 MOMENTS THAT MATTERED
Dynamic duo: Gonzalez and Arenado continued their incredible tears, going back-to-back for the first time this season. Over the last three games, the duo has eight homers and 17 RBIs combined and have continually been the offensive catalysts driving the Rockies in recent weeks. Since the humidor was installed at Coors Field in 2002, Jeromy Burnitz has the most home runs in season with 37 in 2004. Gonzalez (36) and Arenado (35) are both on pace to surpass that with 28 games to play.
"It's fun," Arenado said. "Obviously, we've been winning, playing better baseball, so it makes it a lot more fun. We're relaxed. We're tying to enjoy what we're doing, play hard, and let the chips fall where they may. "
Wake-up call: The Giants were hitless through the first three innings and had only two after five frames. Their slumbering lumber woke up in the sixth inning, with three singles, a sacrifice, and Buster Posey's hit-by-pitch to load the bases, but they managed only one run out of the rally on Angel Pagan's single up the middle. Marlon Byrd struck out with the bases loaded to end the inning.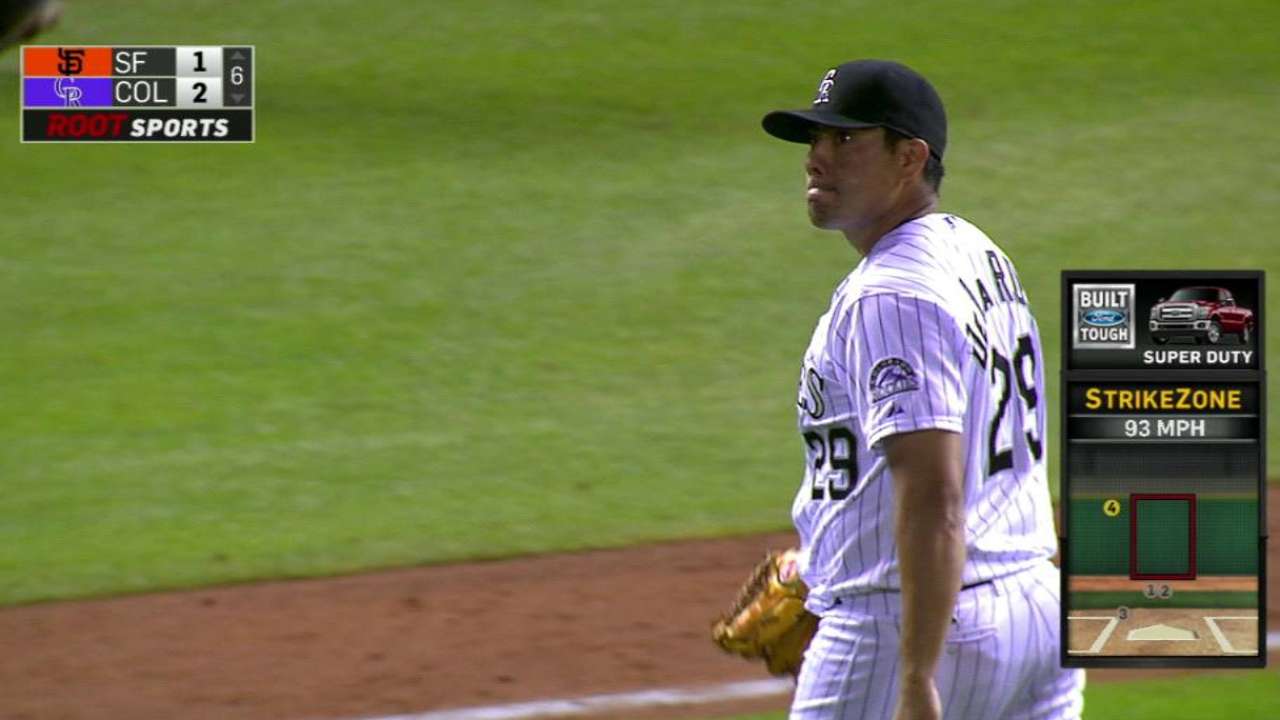 "We had a couple chances there," Giants manager Bruce Bochy said. "We hit some balls hard there, but you got to find the holes, too. They played well, pitched well, bullpen did a great job. We're just missing a hit there -- or a break. The times we do make hard contact, it's right at someone."
Squeezing out one more: Wilin Rosario was set to pinch-hit for De La Rosa in the sixth, but the third out was made with him on deck. In turn, the Rockies sent De La Rosa out for the seventh, and he rewarded them by recording three outs in three batters. The veteran left-hander went at least seven innings for the sixth time this season and has given up just one run over his last 13 frames. More >
One is a lonely number: Heston's two runs allowed both came on solo shots from the National League's home run leaders. He got one run of support while he was on the mound. It was the seventh time this season the Giants have scored one or no runs behind him, accounting for seven of his nine losses. More >
"We're not scoring a bunch of runs right now," Heston said. "We're trying to get them any way we can, and luckily we were able to get one [in the sixth]. We got the bunt down, and Angel came up with the big hit and got him in. But it wasn't enough."
QUOTABLE
"It's a tough stretch, no doubt about it. You'd be lying if you said it wasn't. We gotta find a way to turn it around, though. It's all you really can do. You can't feel sorry for yourself. You can't pout. You just gotta come ready to play and hope that tomorrow's the day that we get back on track. I think we've shown that we can put some winning streaks together, so we have to keep in mind that that's something that's possible." -- Posey
SOUND SMART WITH YOUR FRIENDS
It took Gonzalez 50 games to hit his first five homers this season. It took him 11 innings to hit his last five homers.
REPLAY REVIEW
Gonzalez nearly hit his first-inning homer one pitch earlier. On a 3-2 curveball, Gonzalez crushed one high down the right-field line that went above the foul pole. The Rockies challenged the foul call, but the ruling stood. Gonzalez then sent one into the Rockies' bullpen on the next pitch.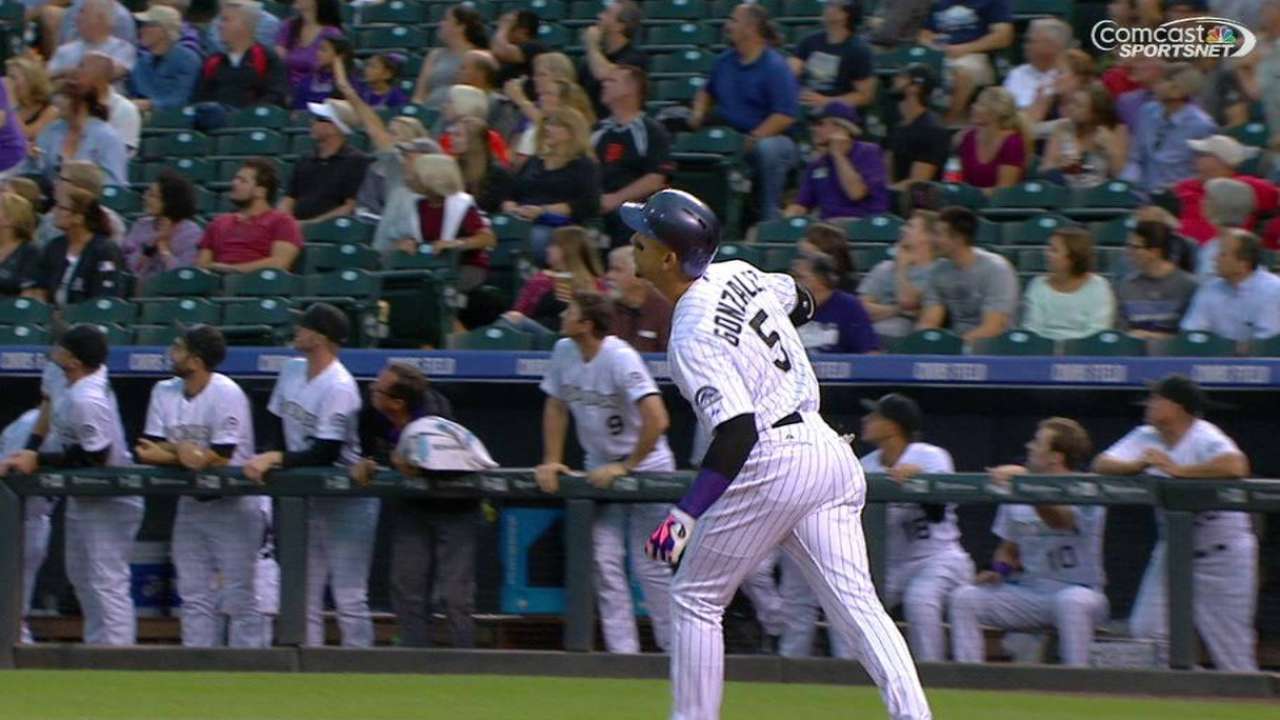 The Rockies' fourth-inning double play was confirmed after video evidence showed DJ LeMahieu's throw back to first beat the sliding Pagan.
Colorado, however, lost a ninth-inning challenge after replay confirmed Byrd beat out an infield single.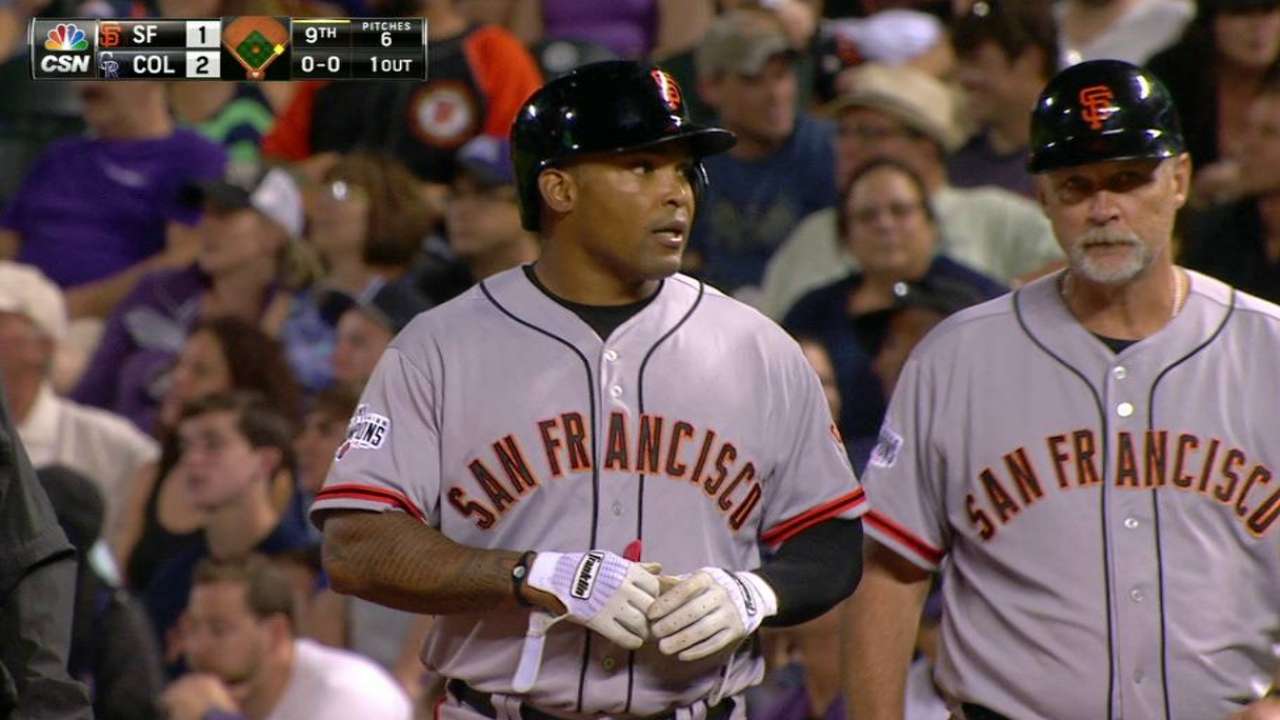 WHAT'S NEXT
Giants: The Giants send Jake Peavy to the mound on Saturday at 5:10 p.m. PT. He had a strong start going in L.A. on Monday when the Giants lost, 5-4, in 14 innings. Peavy entered the sixth ahead, 3-1, but left after yielding back-to-back homers to lose the lead.
Rockies: Right-hander Chad Bettis gets the ball for the Rockies on Saturday. In his last outing, he gave up 11 hits and four runs over six innings against Arizona on Monday. Bettis has taken the loss in just one of his last five starts. First pitch is at 6:10 p.m. MT.
Watch every out-of-market regular season game live on MLB.TV.
Owen Perkins is a contributor to MLB.com. Dargan Southard is an associate reporter for MLB.com. This story was not subject to the approval of Major League Baseball or its clubs.