Asche handles himself well in return to third
After stint in left, he returns to original position as Phils look to get him at-bats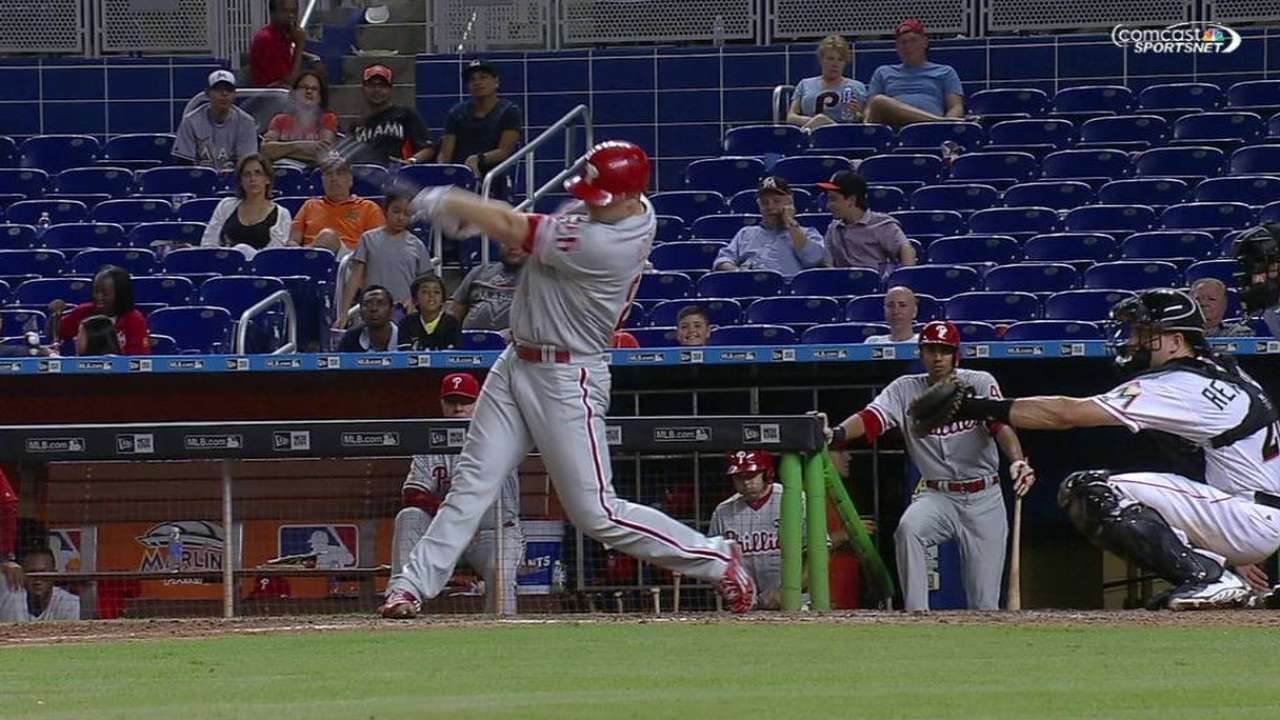 BOSTON -- For the first time since May 11, Cody Asche suited up as the Phillies' third baseman in Friday's 7-5 loss to the Red Sox at Fenway Park.
While his defensive showing lacked any highlights, the 25-year-old flashed exactly the sort of patience Philadelphia hopes to see on offense by drawing two walks and capping off an 11-pitch at-bat with a double.
"It's a way to get in the lineup for me," Asche said. "So that excites me, being in the lineup again. I'll give it my best."
Asche's return to the hot corner comes with the highly touted Maikel Franco still sidelined by a fractured left wrist. With Franco's status up in the air, the team has made it clear that they would like to give the 25-year-old Asche more at-bats down the stretch.
The opening at third, while perhaps not the ideal defensive configuration, gives Phillies interim manager Pete Mackanin a chance to do just that.
"He's going to be fine over there," Mackanin said after the game. "Once again, we need to get him at-bats. We're not playing for a division. We're playing for next year and beyond that. And all these things from my point of view, that's my job, to find out as much as we can about [Darin] Ruf and Asche ... and everybody. That's the point of this."
Through Friday, Asche owns a .251/.298/.383 slash line with seven home runs and 24 RBIs. Of late, he had played all of his games in left field, but the results have been mixed. Asche had played exclusively at third throughout his first two seasons with the Phillies.
"He played adequately and showed improvement," Mackanin said. "I would consider him an average left fielder at this point."
Despite the nearly four-month layoff from third, Asche did not anticipate feeling much rust in jumping back into a regular role at third.
"You never really know how those things are going to go until you go through it," Asche said. "It's something new for me in my career. It'll be a new experience. But I have confidence in myself that I can handle it and do it well."
Alec Shirkey is an associate reporter for MLB.com. This story was not subject to the approval of Major League Baseball or its clubs.