Roark activated for start against Braves
Fills in for Strasburg after pair of Minor League starts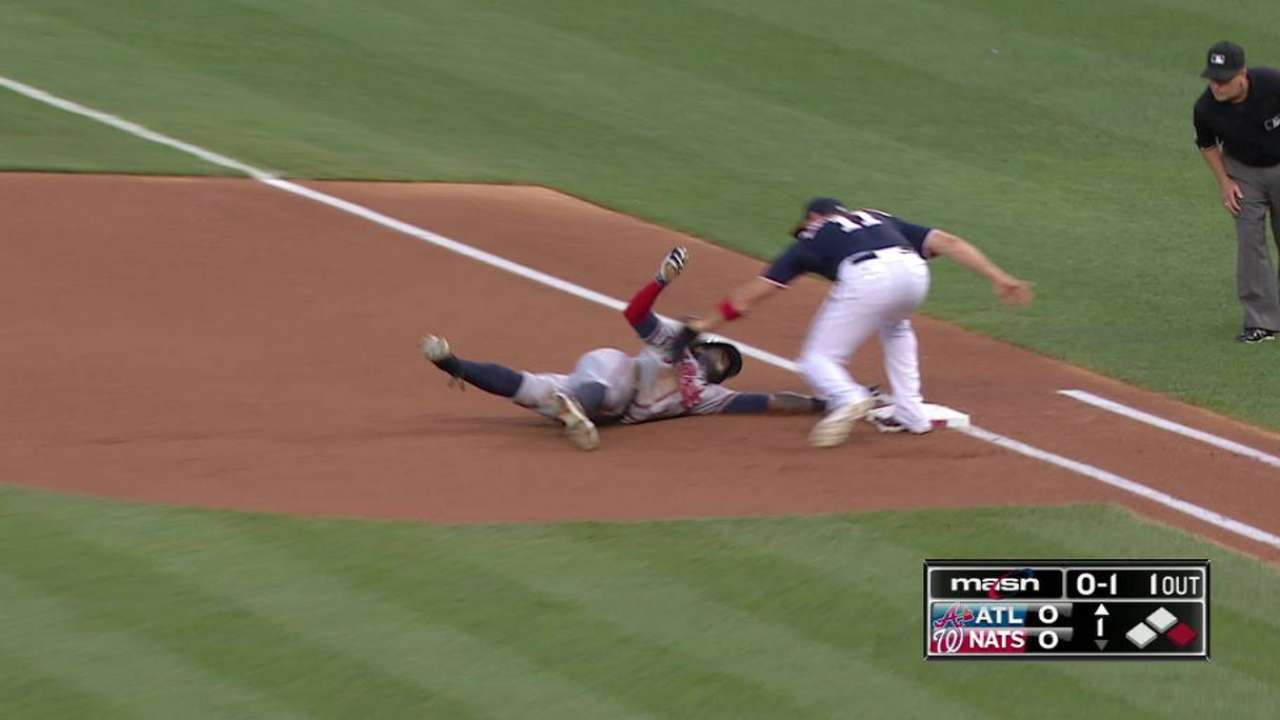 WASHINGTON -- The Nationals activated Tanner Roark on Friday afternoon, a few hours before his seventh start of the season against Atlanta.
Roark was optioned to Class A Potomac on Aug. 25 with plans for the right-hander to make two starts and stretch out to a starter's pitch count. Questions about Stephen Strasburg's health arose, however, and Roark's second start of the rehab stint on Aug. 31 was limited to two innings so he would be fresh to take Strasburg's spot on Friday.
As a result, Nationals manager Matt Williams said Roark was stretched out to around 85 pitches, and he hoped the 28-year-old could deliver five innings. After a 15-1 blowout win over Atlanta on Thursday, the Nationals have a loaded bullpen for the rest of the way.
Roark wound up working 4 1/3 innings Friday night in the Nationals' 5-2, 10-inning victory. He allowed one run on five hits, three walks (one intentional) and one strikeout, and left with the bases loaded and the game tied, 1-1. Matt Thornton retired two straight hitters to get out of the jam.
"I felt good," said Roark. "Felt like I was getting better as I went along. The time came where the bases were loaded, and we gotta win every single game. And we did a [good] job tonight."
"I think he used all of his pitches," Williams said. "I saw some good curveballs. He got in trouble in his last inning and we had to go to [Thornton]. I thought he was good. He didn't get to 80-85 [pitches], but nonetheless, he's prepared if for some reason he has to do it again."
Roark started 31 games for Washington in 2014 and won 15 games with a 2.85 ERA. This season, he started in the bullpen, but he's moved between the rotation and the 'pen several times.
Roark was back in the clubhouse when the Nationals tied the game with two outs in the ninth inning and Michael Taylor hit his walk-off blast in the 10th.
"It was chaos in the training room, obviously," Roark said. "It was awesome. I don't have words for it. It's very exciting, and it's exciting to be back and be a part of this."
Jacob Emert is an associate reporter for MLB.com. This story was not subject to the approval of Major League Baseball or its clubs.