Hamilton starting rehab assignment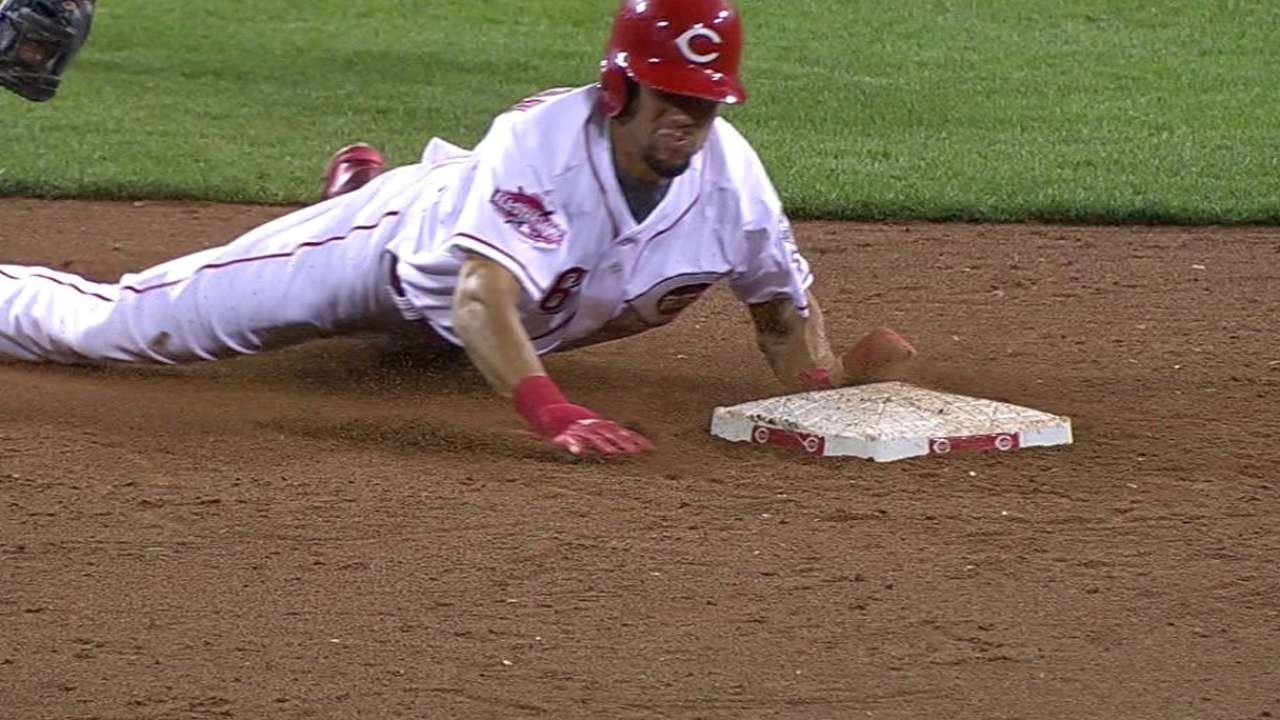 CINCINNATI -- The Reds' Minor League affiliates are wrapping up their respective seasons, but injured center fielder Billy Hamilton healed quickly enough to join one of them this weekend on his way back to Cincinnati.
Hamilton took batting practice before Friday night's game against the Brewers at Great American Ball Park, another step forward in his recovery from a sprained capsule in his right shoulder, and the Reds announced afterward that Hamilton will join Double-A Pensacola for a three-day rehab assignment starting on Saturday.
"Today's the first day I hit, and it feels really good," said Hamilton, who has been playing catch the last few days. "It was something that I thought wasn't going to be able to heal this quickly. I've been working hard to try to get back. That's my goal, is to get back and finish the season."
The Reds wanted to see Hamilton play a few Minor League games before rejoining the big league team, but nearly ran out of time to do so. Most of their affiliates' seasons end Monday
Fortunately for Hamilton, he progressed quickly from playing catch Wednesday to hitting on Friday to being ready for Minor League at-bats.
"Hopefully I can get a couple games in before just coming right back into it," Hamilton said. "But I feel good. Everything's been going well."
Hamilton was placed on the 15-day disabled list Aug. 19, a day after injuring his shoulder while attempting to make a diving catch against the Royals. He was hitting .226/.272/.290 with a Major League-leading 54 steals in 107 games before he went down.
"It would probably be an advantage for him and for us for him to play a game or two and see some live pitching before he's activated again," Reds manager Bryan Price said Friday afternoon. "He hasn't done much baseball activity other than play catch until [Friday]."
Hamilton had been rehabbing in Cincinnati over the last week while the Reds were on the road, one part of life on the DL he found particularly difficult.
"It's killing me. I was so happy to see these guys when they made it back," Hamilton said. "It's hard leaving for that many days and just watching. You want to be there with them.
"When these guys leave, man, it's tough on me to come in every day and not be around the guys. Now that they're back, it's even better. I'm ready to play. We'll see what happens."
• Hamilton won't be the only Reds outfielder starting a rehab assignment Saturday. Outfielder Brennan Boesch (bruised right ankle) is scheduled to join Triple-A Louisville. Boesch has gone 9-for-66 in 36 games for the Reds this season.
• The Reds reinstated left-hander Manny Parra (biceps tendinitis, left shoulder) from the 15-day disabled list on Friday and outrighted right-hander Dylan Axelrod to Louisville.
Adam Berry is a reporter for MLB.com. Follow him on Twitter at @adamdberry. This story was not subject to the approval of Major League Baseball or its clubs.