Injured Schwarber may miss up to five games
Right rib strain will sideline rookie at least through series vs. D-backs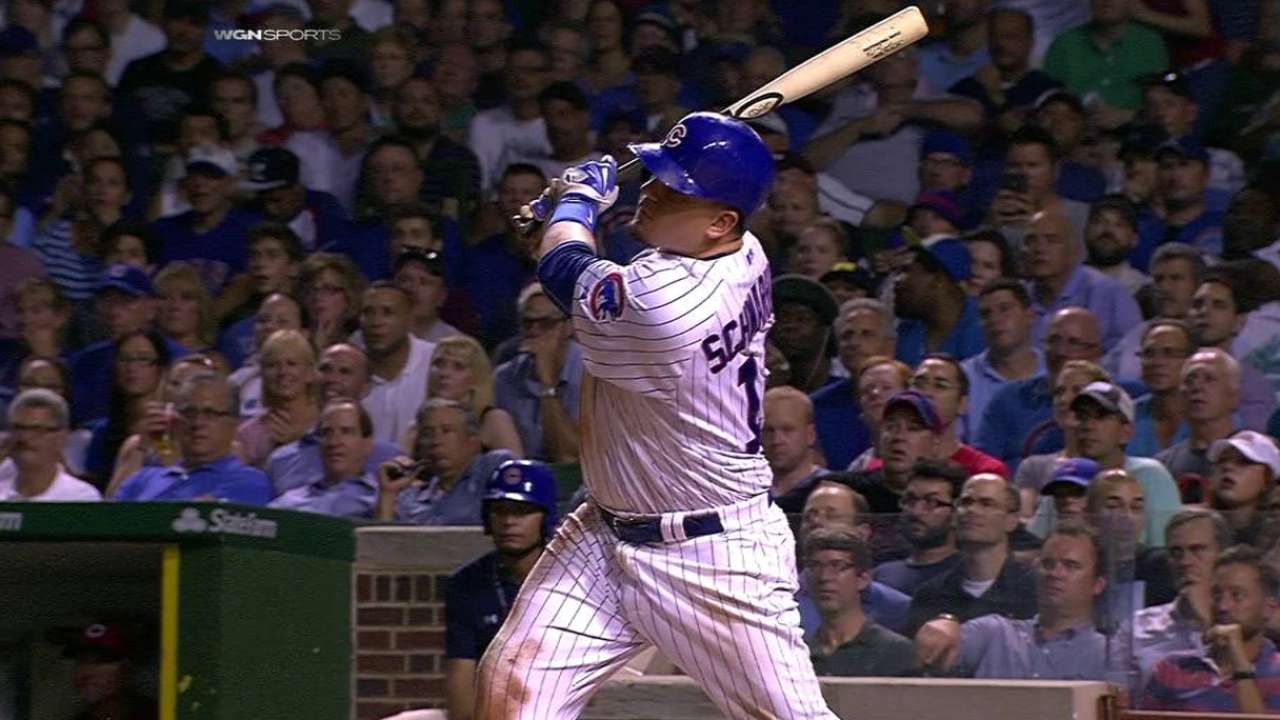 CHICAGO -- The Cubs will be without rookie Kyle Schwarber for three to five days while he is treated for a mild right rib strain he sustained prior to Wednesday's 14-5 win, the team announced. Recently acquired outfielder Austin Jackson took his spot in the order Friday against the D-backs as Chris Coghlan filled the void in left field.
Schwarber, who has seen time at catcher and in left field, will miss this weekend's series against Arizona before being re-evaluated for Chicago's next series in St. Louis, where he could have a chance to play. Manager Joe Maddon said he didn't "feel like it's very severe," but also wasn't willing to take any chances with a month left in the season.
"You really don't know [the severity]," Maddon said. "You have to permit it to calm down. Once it calms down, you get a batter read and then you take it from there.
"The big thing is that Schwarbs shut it down immediately when he felt something, and that was a good thing. He didn't continue to test it or try to do more, so we're hoping it's going to be fine."
Schwarber said he was in the batting cage when he felt something "grab" on a check swing. He was able to swing the bat freely and he does not feel limited, but after he tried to check his swing again, he stopped and sought treatment.
Over 48 games with the Cubs this season, Schwarber is batting .270 with a .365 on-base percentage, adding 13 home runs and 38 RBIs. The 22-year old is working to be patient, noting he could have played two days ago and he could play if the postseason began today.
"It doesn't even hurt when I swing," Schwarber said. "Nothing to rush. There's been some nagging injuries with some of our players, but I don't want to hurt the team in any way possible if I get reinjured. I don't want to hurt myself by any means, but I want to get back there as soon as I can."
The Cubs are already without outfielder Jorge Soler and reliever Jason Motte, both of whom remain on the disabled list, while the club entered Friday seven games ahead of San Francisco for the National League's second Wild Card spot. Maddon said Chicago is looking into bringing another catcher for the time being, but it does not have one listed on the 40-man roster.
For now, Schwarber is relegated to stretching and resting, a change of pace from being tossed into the middle of the postseason race.
"You want to go out there and help this team win," Schwarber said. "It is a little bit frustrating. It's going to be antsy, but I'm going to be a good teammate. I got to be. I'm going to cheer these guys on."
Greg Garno is an associate reporter for MLB.com. This story was not subject to the approval of Major League Baseball or its clubs.