MLB.com Columnist
Dan O'Dowd
5 surprising breakout seasons to believe in
Baseball is an untimed game, but in at least one way, it operates like clockwork. Every season, without fail, new stars are born before our eyes. For various reasons -- some forced by the emerging stars themselves and others by circumstance -- the game manages to develop fresh talent on a regular basis. And again this year, unsurprisingly, fans have enjoyed the unforeseen ascents of several youngsters.
The following five burgeoning Major Leaguers have broken out in a big way, exceeding their preseason prognostications by Labor Day. And given their skill sets, all have the tools to sustain their success.
Matt Duffy, 3B, Giants
An 18th-round Draft pick out of Long Beach State in 2012, Duffy had a productive but nondescript Minor League career before entering the mix for a big league bench job this past spring.
When Pablo Sandoval left San Francisco for Boston during the offseason, the defending World Series champions acquired Casey McGehee to man the hot corner. That move did not make Duffy's push for playing time any easier, but he performed well whenever a chance presented itself.
But as we know, McGehee struggled and Duffy was given a shot at the everyday job. The rest, as they say, is history. And with a strong .299/.338/.437 slash line, Duffy has entered a crowded National League Rookie of the Year conversation.
With his short swing, solid bat-to-ball skills, strong plate discipline and above-average defensive abilities, Duffy is a long-term third-base candidate for the Giants. And as a cost-controlled player who won't hit free agency until after the 2020 season, the 24-year-old will be incredibly cheap in relation to the pricey options available on the open market.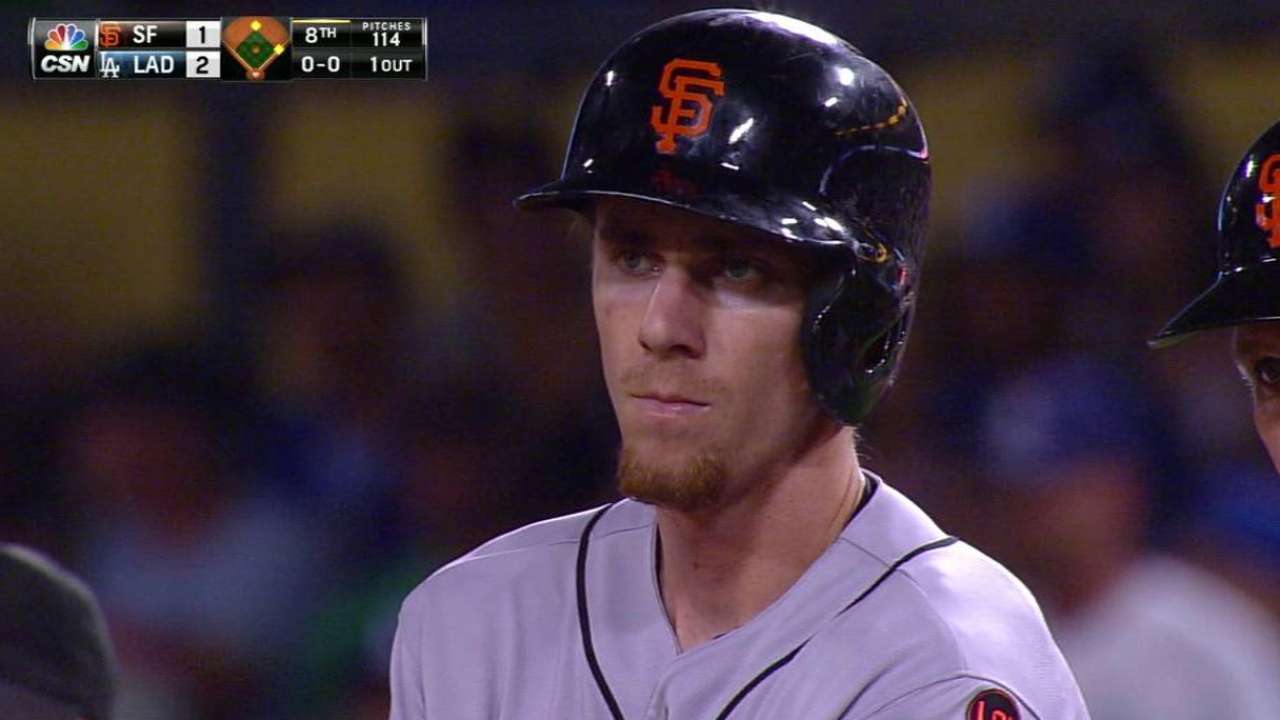 Joe Ross, RHP, Nationals
This pick comes as less of a surprise than the preceding one, as Ross was a first-round Draft pick by the Padres in 2011. The Nats acquired him last offseason in a trade that also netted them star shortstop prospect Trea Turner.
In an organization projected to have one of baseball's deepest rotations, Ross was supposed to spend 2015 in Minor League development mode. But given the injuries to Doug Fister and Stephen Strasburg and his success on the farm, Ross was afforded a chance to make a big league contribution sooner than anticipated.
The 22-year-old has certainly run with his chance, posting a 3.50 ERA with four strikeouts for every walk across 69 1/3 frames. Like his brother -- the Padres' Tyson Ross -- Joe looks the part of a No. 2 or No. 3 rotation cog.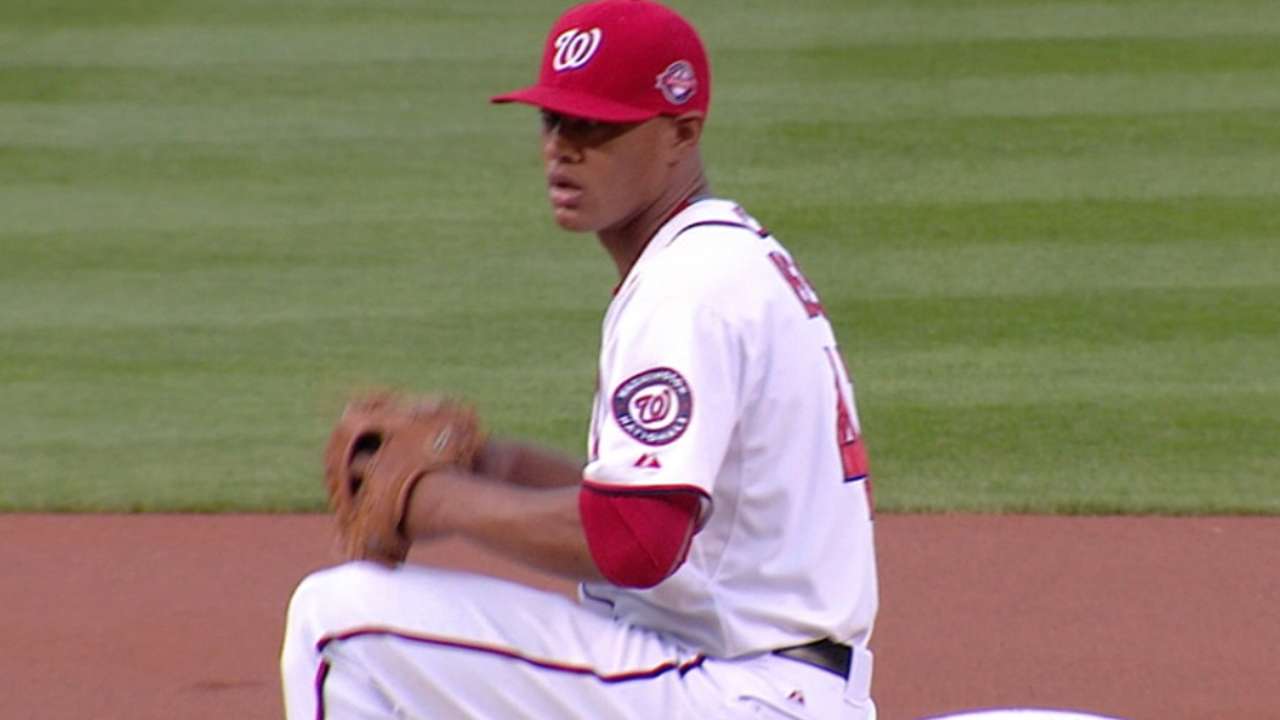 Randal Grichuk, OF, Cardinals
For a while, this 24-year-old was best known as the man taken one selection ahead of Mike Trout in the 2009 Draft.
Grichuk has become much more than the answer to a trivia-night question, though, showing enough pop to earn playing time in an outfield that was supposed to be occupied by Matt Holliday, Jon Jay, Peter Bourjos and Jason Heyward.
Let's avoid any equivocation on one point: Grichuk hits the ball hard. Among those with at least 50 balls in play (including homers), his average hit velocity of 94.5 mph ranks seventh, according to Statcast™. Given this fact, the youngster's .284/.333/.561 slash line appears to be sustainable.
Being sidelined by a right elbow injury for the past few weeks has hurt Grichuk's Rookie of the Year Award case, but he should return in time for the postseason. He is athletic, fearless and in possession of stellar bat speed.
Grichuk is not Trout. But that doesn't mean he isn't a future All-Star.
Kevin Kiermaier, OF, Rays
Did you know that Kiermaier was a 31st-round pick in the 2010 Draft?
Congratulations if you did. Frankly, I'd be impressed if you could name multiple big leaguers taken in that round. Rarely do they blossom like Kiermaier, an emerging offensive talent and arguably baseball's best fielder -- at any position.
Just look at Kiermaier's extra-base-hits columns: The once-thought defensive specialist leads the Majors with 12 triples and he has 21 doubles to go along with seven home runs. And as you'd expect from someone who has battled for a chance at the big leagues, Kiermaier possesses an incredible desire to succeed. He is, without question, the type of player around whom organizations love to build.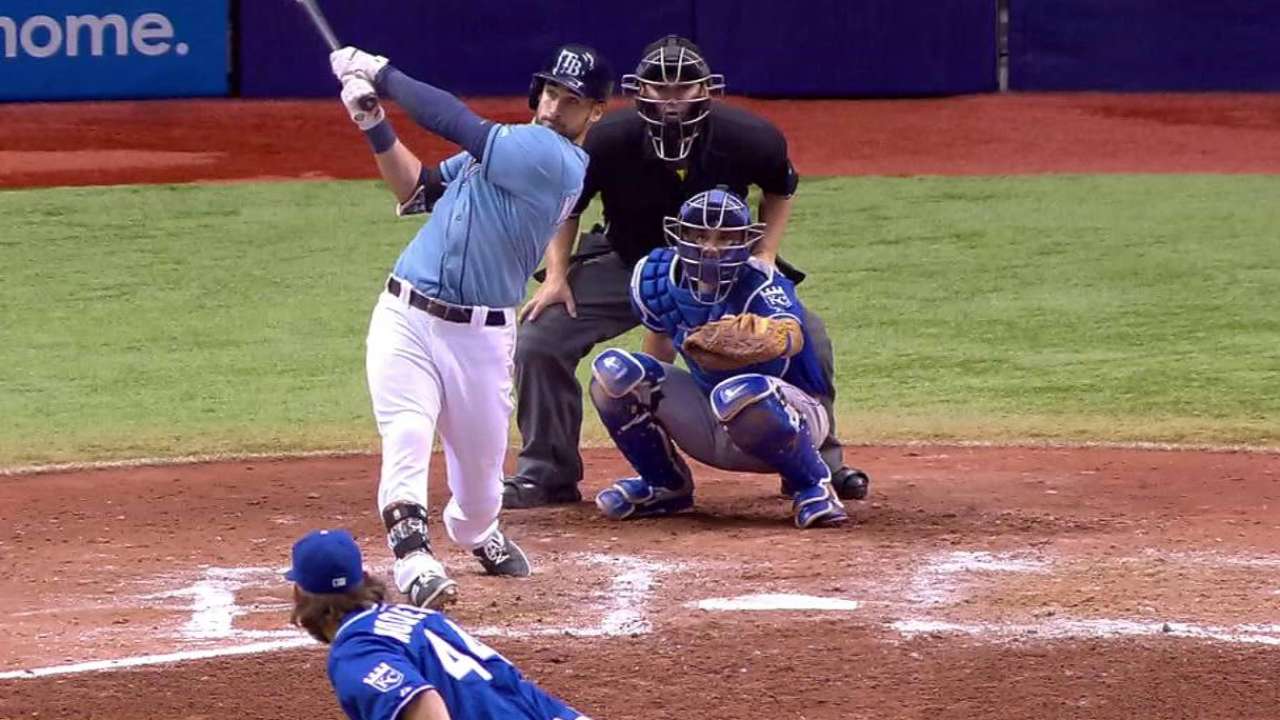 Eddie Rosario, OF, Twins
Minnesota has had one of baseball's best farm systems for years, given the quality of its position-player prospects. In fact, two of its Minor League graduates -- rookie outfielder Byron Buxton and first-year designated hitter/third baseman Miguel Sano -- could be among the game's brightest names for the next decade-plus. But as I acknowledge the pair's immense potential, I must also admit my excitement for the lesser-heralded Rosario.
Set to turn 24 this month, the native Puerto Rican has always been able to hit. I saw Rosario in the 2014 Arizona Fall League, where he batted .330. At that point, I thought he was Major League-ready.
Rosario opened 2015 in Triple-A, but he was called up in May and wasted no time in making a strong first impression, homering on the first big league pitch he ever saw.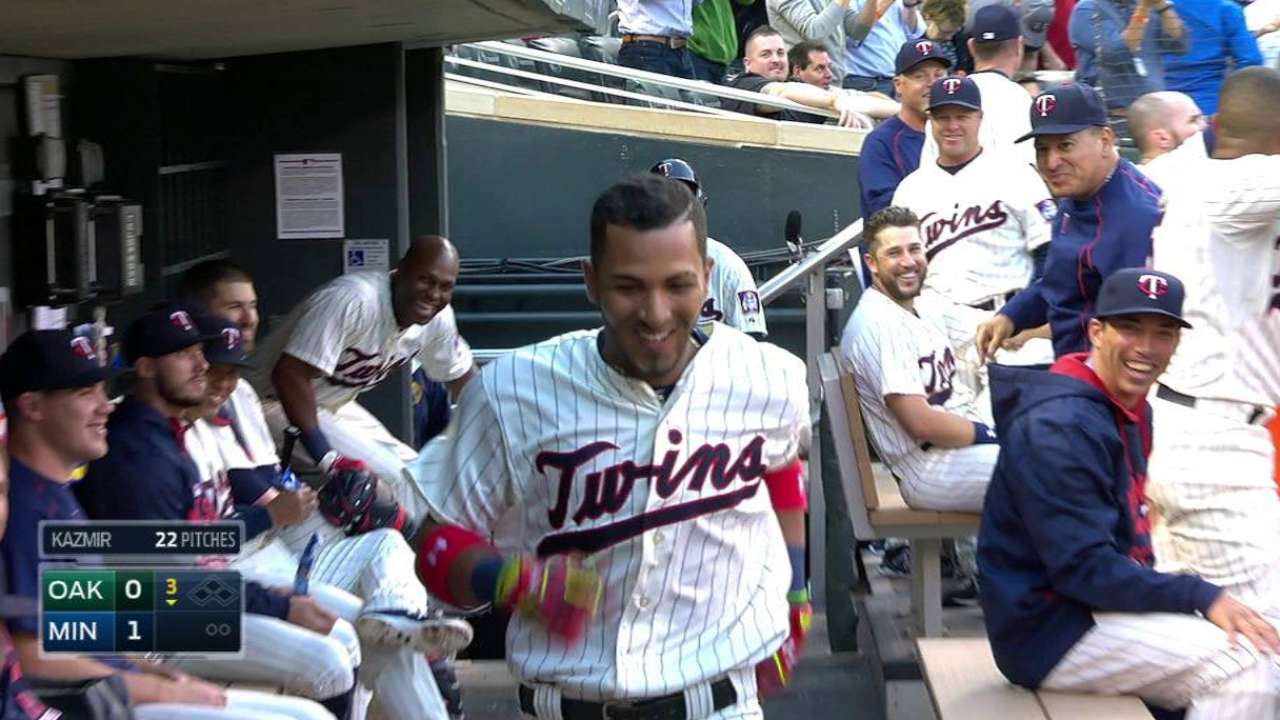 Though Rosario possesses the talent to be a regular, he has a few areas in which to improve. Plate discipline would be weak spot No. 1, as the masher has walked just 11 times in 366 plate appearances.
But said shortcoming aside, Rosario's power is real. Need proof? Just look at his .446 slugging percentage or the grand slam he smashed into the second deck on Thursday afternoon.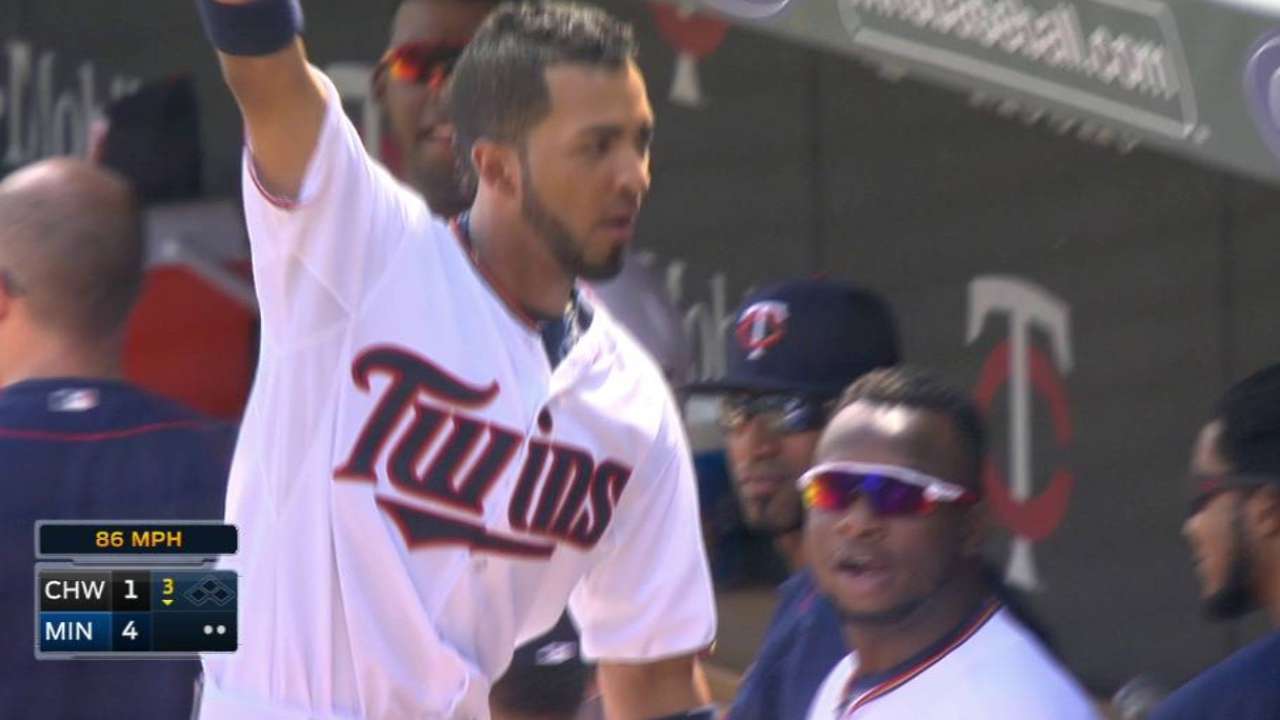 Dan O'Dowd is an MLB Network analyst and MLB.com columnist who served as general manager of the Rockies for 15 years, building a National League pennant winner in 2007. Prior to his time with Colorado, he worked in the front offices of the Orioles and Indians. This story was not subject to the approval of Major League Baseball or its clubs.