Statcast: Shortstops shine with cannons, quickness
Segura, Colon range into hole and put arms on display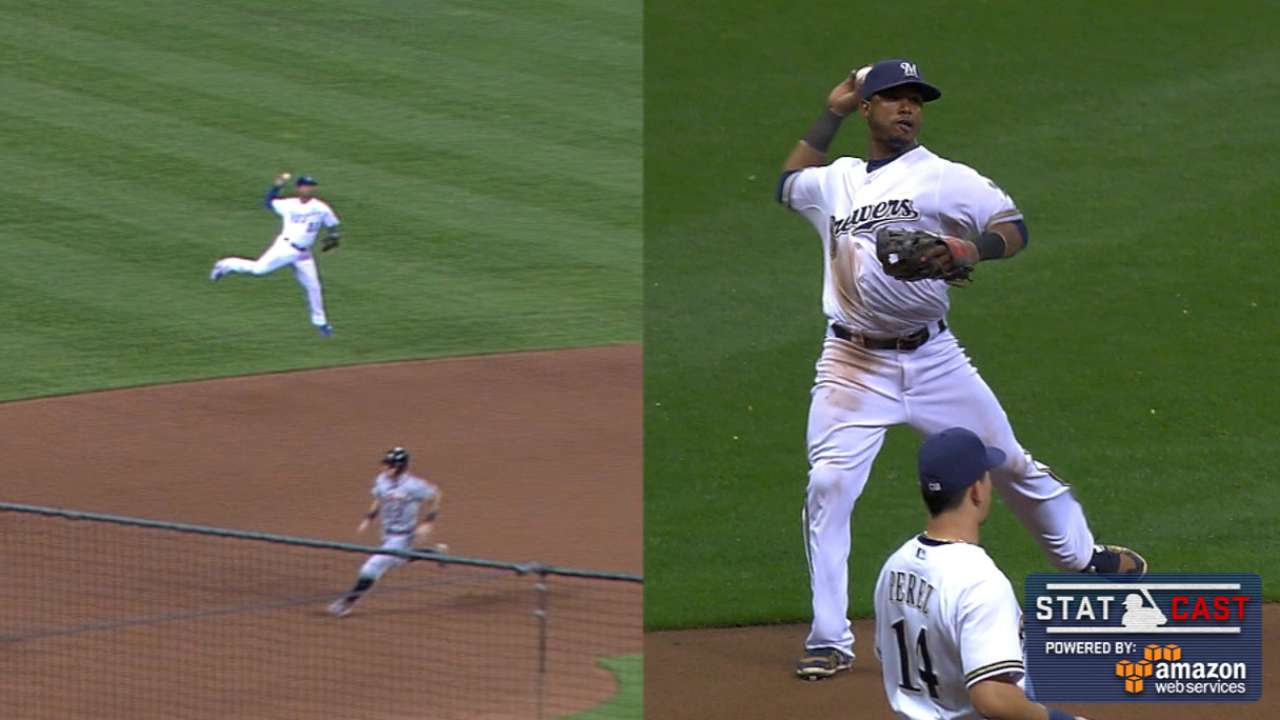 Both shortstops had to extend to their right and launch quick throws that spanned nearly the whole way across the infield. They had to do so in a hurry, with runners sprinting toward first base. And they had to do so accurately, as an off-line throw would have been worse than no throw at all.
As Statcast™ showed, the Brewers' Jean Segura and the Royals' Christian Colon were up to the task. Segura stayed on both feet and beat the runner by a full step, while Colon leapt and forced a replay review. But they made similar highlight-reel throws from deep in the hole Thursday night.
The day also saw some speedy baserunning by Bryce Harper, a barehanded gem, a shoestring catch and a mile-high slam. Here's an in-depth look at each of those plays, courtesy of Statcast™.
Segura's strong throw
With one out and nobody on in the eighth inning at Miller Park, Pirates catcher Francisco Cervelli knocked a hard grounder between Segura and third baseman Hernan Perez. Segura closed the gap in a hurry, covering 18.6 feet to get to the ball. Cervelli hustled toward first base, reaching a top speed of 18.6 mph.
But Segura made a one-second exchange and unleashed a 72.4-mph, 122.8-foot throw right on the money to first baseman Jason Rogers, easily beating Cervelli.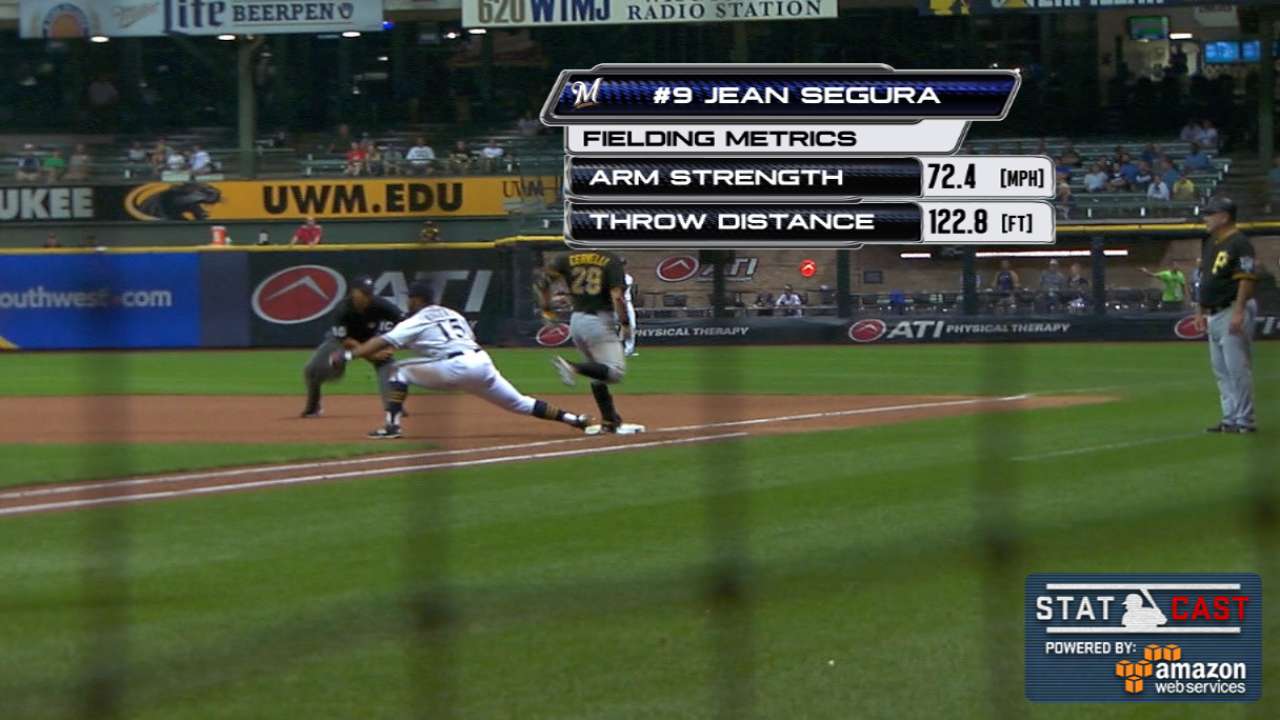 Colon's close call
Colon may have had a higher degree of difficult on his play. He had to get to the ball quicker, as J.D. Martinez's grounder came off his bat at 87.9 mph. And Martinez busted it down the line with a top speed of 19.8 mph. Plus, Colon had to contend with a runner in front of him, as Ian Kinsler dashed from second to third with two outs.
Colon made the play regardless, taking a quick first step toward the ball, leaving his feet and sending a 65-mph, 121.1-foot throw toward Eric Hosmer. The umpire ruled Martinez out, and the call stood after a Tigers challenge and the Royals went on to win, 15-7.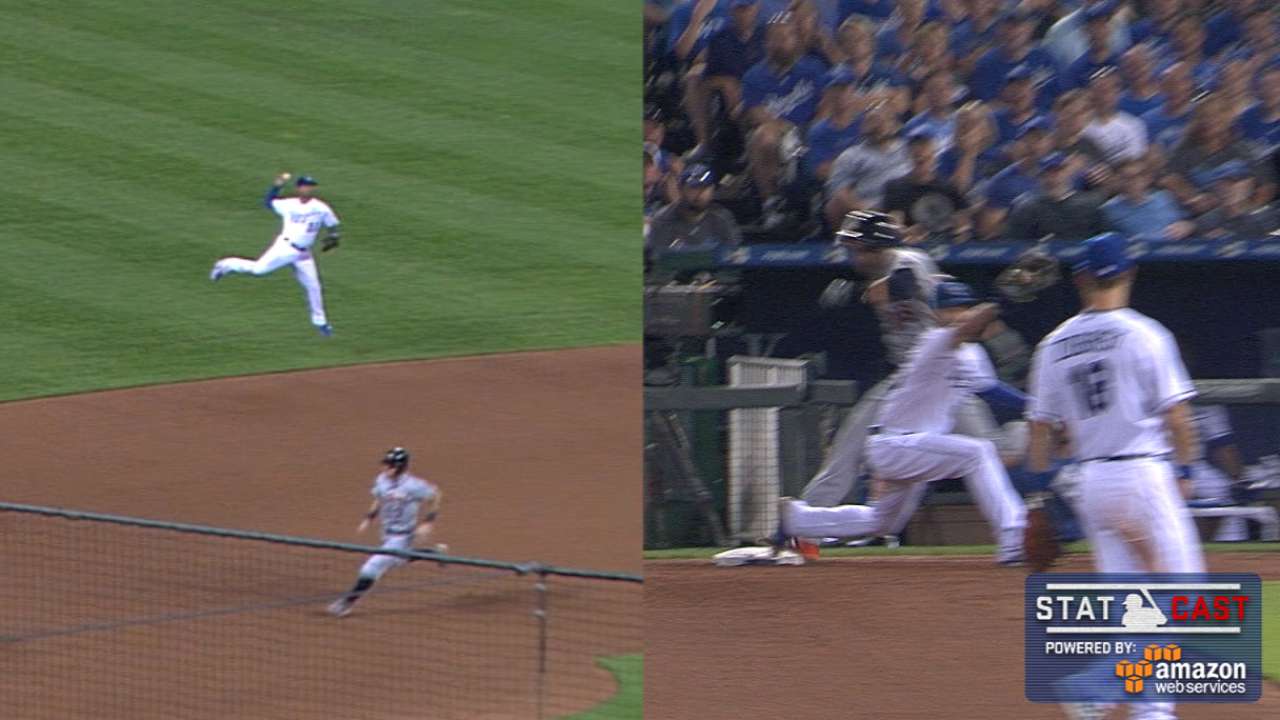 Harper gets on his horse
Harper spent most of the night either standing in the batter's box with the bat on his shoulder or walking from home plate to first base. But Harper was ready to run when the situation called for it, specifically in the fifth inning of the Nationals' 15-1 win over the Braves.
After drawing his fourth and final walk of the night, Harper had an 11.1-foot lead before Ryan Zimmerman doubled to left field. Harper sprinted from first base to home plate in just less than 11 seconds, scoring his fourth run and completing an historically unusual night at the plate and on the bases.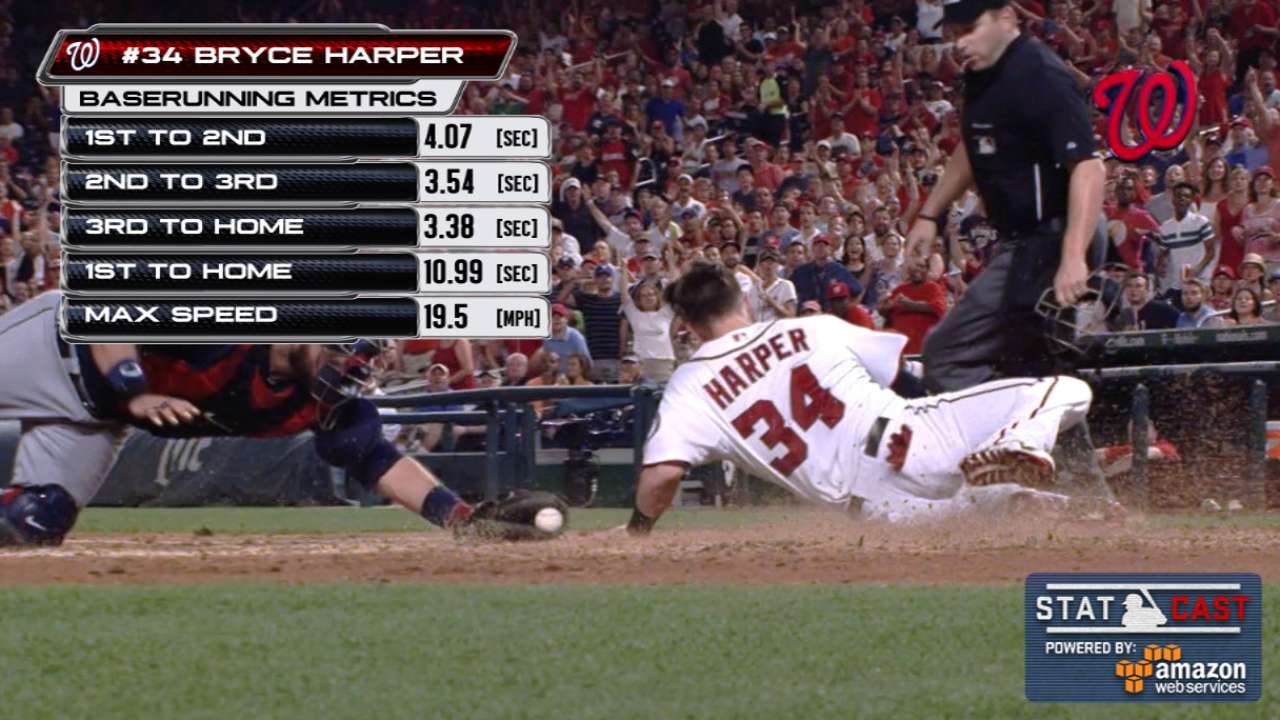 Desmond scoops and strikes
Nationals shortstop Ian Desmond got a little help from Jordan Zimmermann, but still made an impressive barehanded scoop-and-throw to force out Cameron Maybin at first base during the first inning.
Zimmermann's kick slowed down Maybin's hard comebacker, but Maybin still had a shot to get on base safely as he reached a top speed of 20.6 mph down the line. Instead, Desmond quickly got to the ball, scooped it up with his right hand and fired a 75.6-mph laser a little more than 46.5 feet to get the out at first.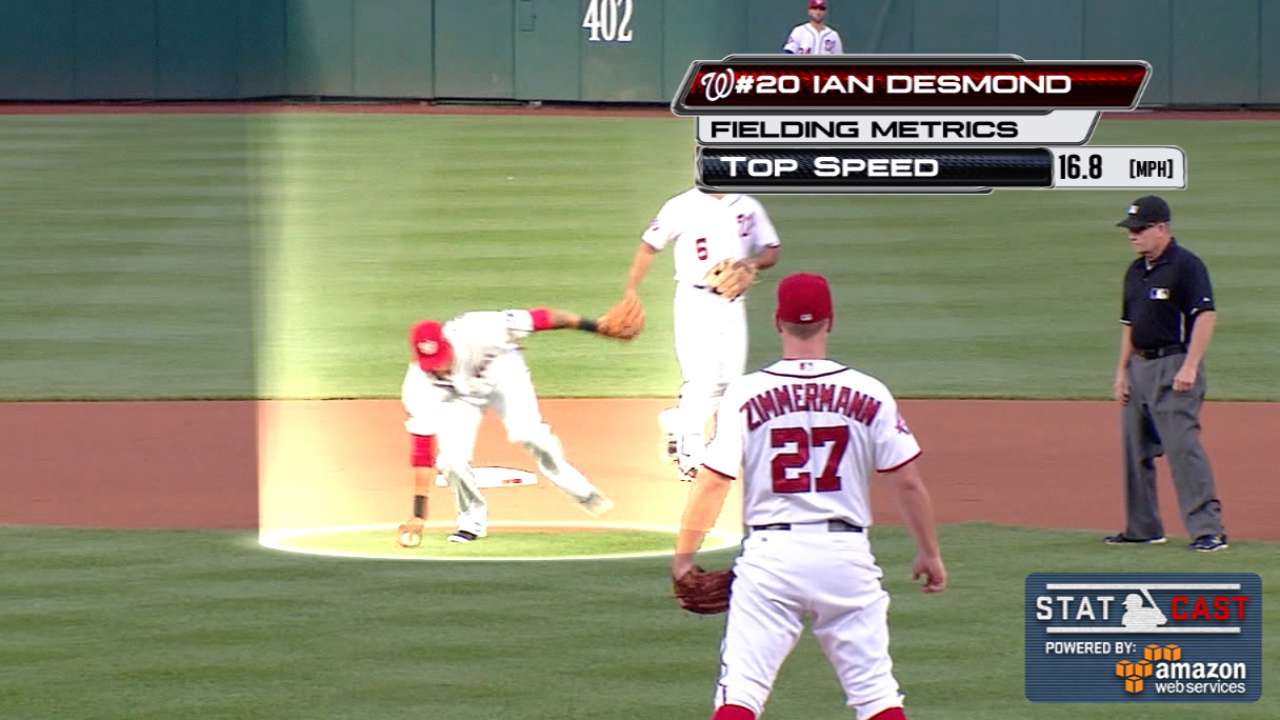 Cain steals one on a shoestring
With two outs in the fourth inning, Tigers slugger Miguel Cabrera smoked a line drive to center field. But Lorenzo Cain kept the 104.9-mph drive from finding grass, making his first step toward the ball in 0.4 seconds and covering 53.6 feet in a hurry to turn the liner into an out.
Cain reached a maximum speed of 18.3 mph and ran a 93.9 percent efficient route, robbing Cabrera of a hit.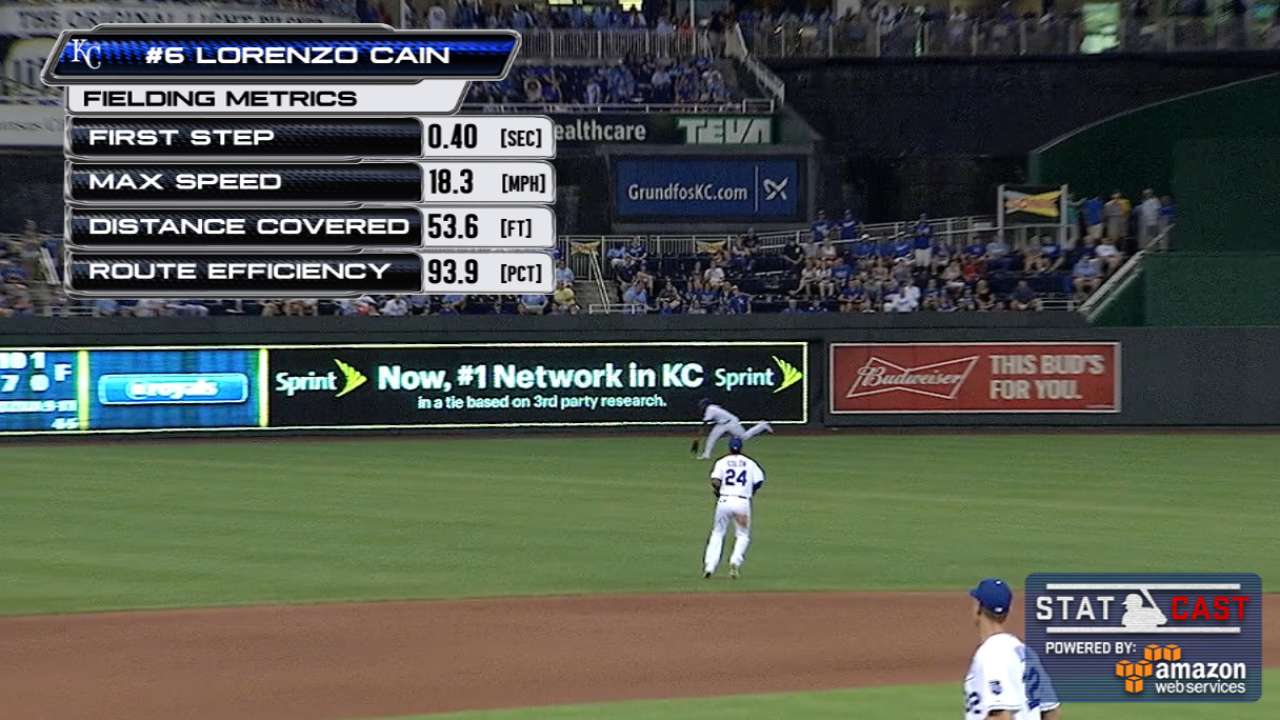 Rosario slams one out
With two outs and the bases loaded in the third inning Thursday, Twins rookie Eddie Rosario reached rare territory against White Sox right-hander Jeff Samardzija. The right fielder unloaded on a 93 mph fastball and sent it into the second-deck seats in right-center field. The ball came off Rosario's feet at 104.2 mph and traveled 433.4 feet.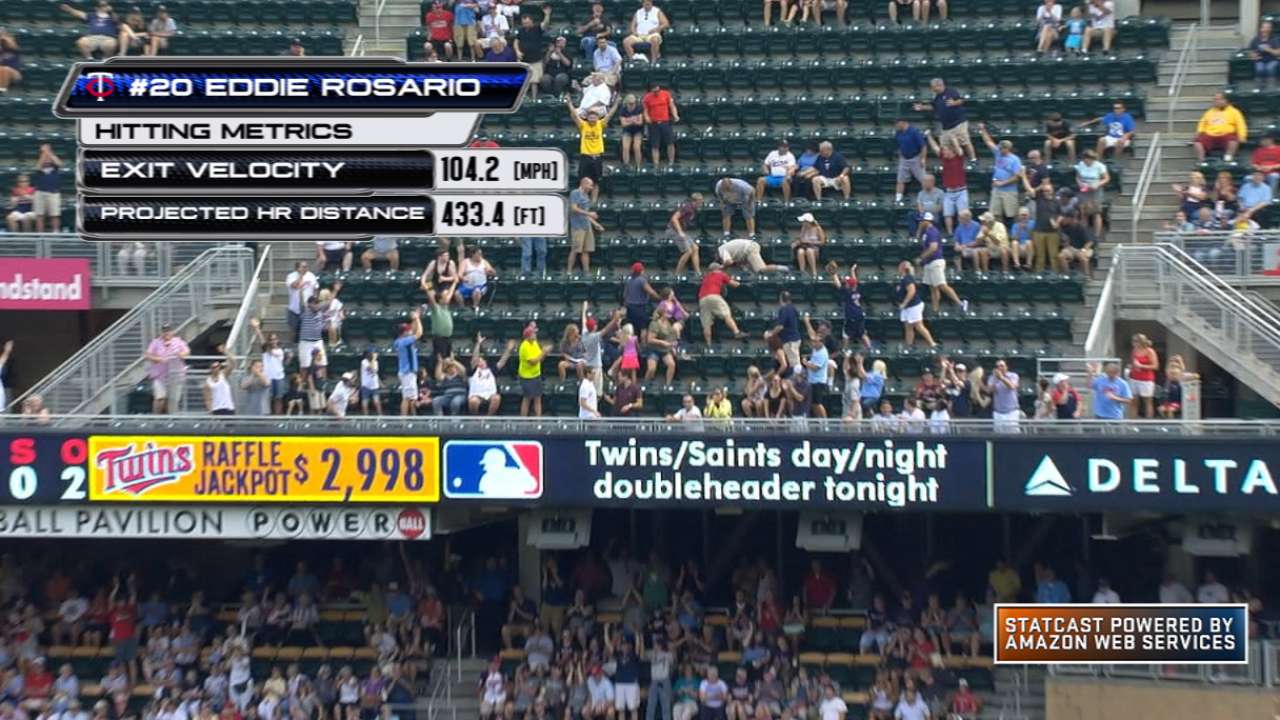 Adam Berry is a reporter for MLB.com. Follow him on Twitter at @adamdberry. This story was not subject to the approval of Major League Baseball or its clubs.