Anibal won't risk setback to return this season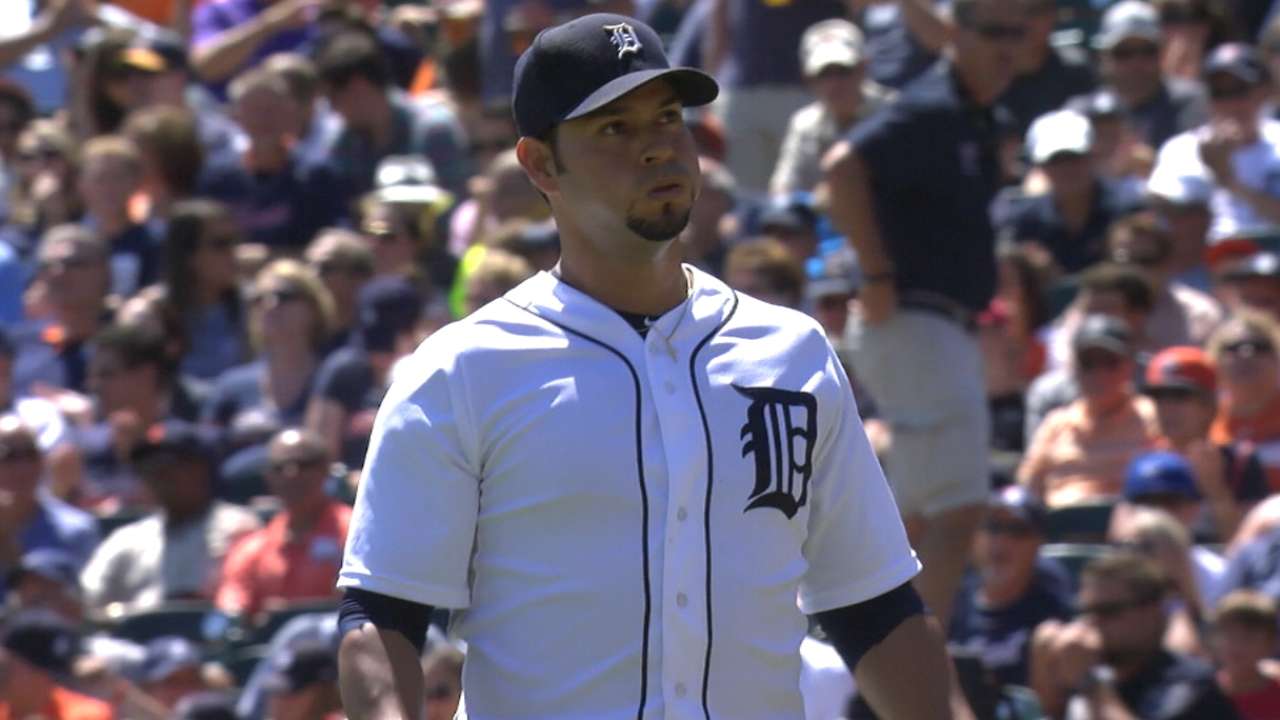 KANSAS CITY -- Baby steps, Tigers right-hander Anibal Sanchez says. When they're steps in recovery from a rotator cuff strain, taken by a pitcher who has had shoulder surgery in his career, they're still pretty big.
Though it remains iffy whether Sanchez will pitch again this season, he said he has been throwing pain free this week while he has been playing catch. Sanchez threw out to 90 feet on Thursday at Kauffman Stadium, part of a slow progression designed to cautiously stretch him toward being ready to pitch, whether or not he pitches again before season's end.
"Nothing crazy," Sanchez said, "just going slow and building strength in my arm."
When Sanchez went on the 15-day disabled list on Aug. 19, he originally held out some hope of being ready to pitch again within two or three weeks. However, he wasn't going to be cleared to play catch again until he was pain free, and not for at least 10 days. He ended up being shut down from throwing for close to two weeks before playing some light catch on Tuesday.
Even then, Sanchez's throws have not been at regular intensity, but slow, deliberate deliveries.
"Just enough for the extension," Sanchez said, "enough to make the throw and to make the throw without pain. I don't want to force it. I'm not strong yet, muscle-wise. Every day is different. Just step by step -- baby steps."
Asked how important it is for him to pitch again this season, Sanchez said it would mean a lot at the end of a frustrating campaign going into the offseason. But it's not important enough for him to risk further injury or a setback. If he goes into the winter healthy enough for his regular offseason workouts but not pitching at the end, he can live with that.
"The goal is to be healthy," Sanchez said. "Right now, we do everything to be back before the season is over. But, both sides, we are on the same page and we are going slow. The idea is to be healthy."
On the flip side, reliever Al Alburquerque returned to action on Thursday night after throwing a 10-pitch mound session without soreness in his right hip. It was the first time he had thrown in over a week.
"It feels a little weird when you don't throw for seven days," Alburquerque said, "but I put my mind in [a frame] like I'm in a game."
An MRI taken on the hip showed no structural damage.
Jason Beck is a reporter for MLB.com. Read Beck's Blog, follow him on Twitter @beckjason and listen to his podcast. This story was not subject to the approval of Major League Baseball or its clubs.