Shark clamps down following slam to earn win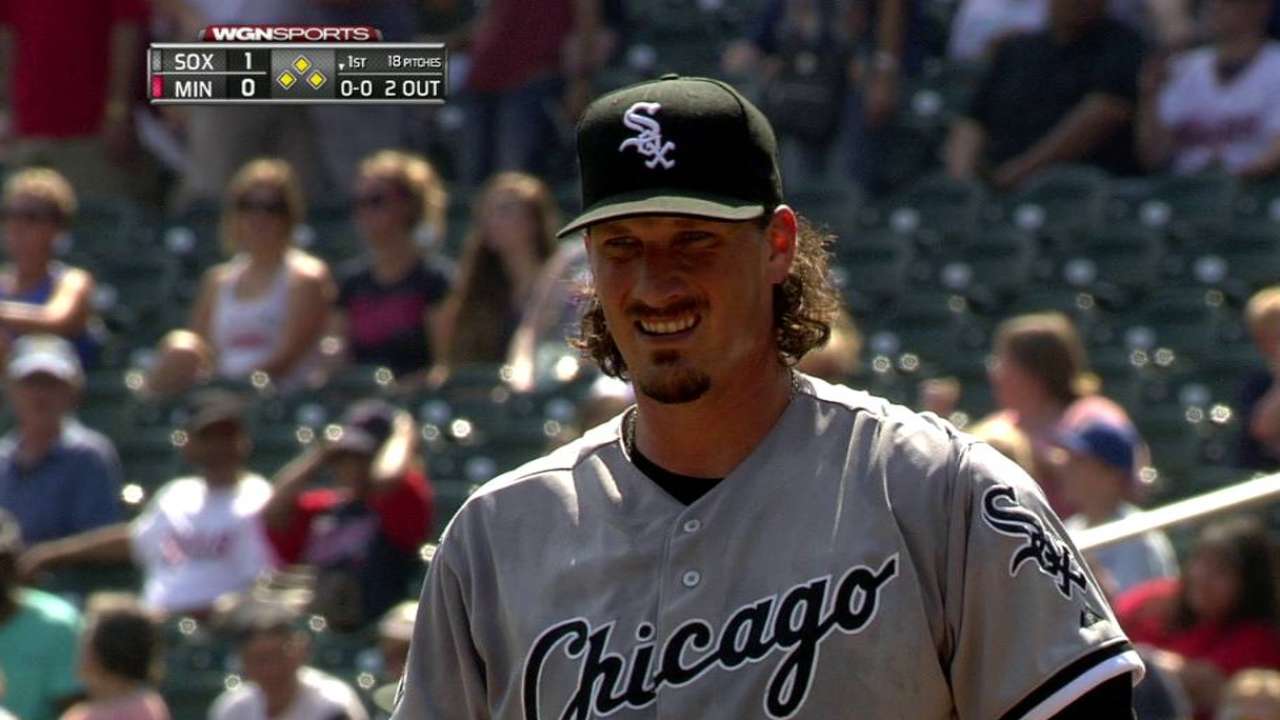 MINNEAPOLIS -- Give Jeff Samardzija credit for never losing confidence.
That belief in himself wasn't shaken by a rough 0-6 August or by having an overall ERA near 5.00 going into free agency -- or even by giving up Eddie Rosario's third-inning grand slam on Thursday afternoon at Target Field. Samardzija knew he was better than what had been produced recently on the mound, and he proved that by holding the Twins scoreless following the Rosario blast and giving the White Sox a chance to claim a 6-4 victory.
The right-hander now can focus on being 1-0 in September, instead of constantly hearing about the losses and subpar performances that piled up last month.
"It's not what you want and what you want to have next to your name, but the best thing to do is move forward and not worry about it," said Samardzija after throwing 102 pitches before giving way to the bullpen. "You approach every game like a new game and let the chips fall where they may. You keep pitching, and good things happen."
An uncharacteristic wild streak put Samardzija in trouble Thursday, as he walked two in the third to load the bases with two outs for Rosario. That same situation played out in the first, only for Rosario to swing at the first pitch following two walks and fly out to left.
Rosario didn't miss on this 1-0 offering. But Samardzija retired 11 of the next 12 hitters until Eduardo Escobar's one-out single in the seventh ended his afternoon.
"Just got into my groove," Samardzija said. "I've been changing so much all year, it was nice these last handful of starts to feel good out there and really feel like I've just been a pitch or two off, and not a whole game of battling because nothing was working. This last week or so has been nice to go out and repeat your delivery and worry about the pitch location and pitch selection rather than how you're getting it there.
"Usually when you're in the situation I've been in here the last month, that next turning point doesn't come easy. Very rarely do you come out and go eight innings and get the win, 10-0. Usually you've got to kick that by going out and working hard and trusting your stuff and battling, and something like that will happen that can turn the tides."
Many have speculated that Samardzija's 2015 struggles potentially have cost him money as a free agent. Samardzija just smiles at the idea, knowing that his career body of solid work stands up, with five or six starts still remaining in the season.
"I've got enough out there to show what I can do, so I'm not worried about that," Samardzija said. "For me, it's more about not letting things get away from you because you're pressing too hard. I like to grit my teeth and go a little harder when there's a little adversity, and sometimes that's not the best thing.
"When you've got a lot of stuff riding on your shoulders and you continue to push harder and harder, sometimes you need to pull back a little bit. You need to have a little fun and really enjoy the process instead of fighting it."
Scott Merkin is a reporter for MLB.com. Read his blog, Merk's Works, follow him on Twitter @scottmerkin and listen to his podcast. This story was not subject to the approval of Major League Baseball or its clubs.