Bogaerts finding stride in big way this season
Shortstop has shown improvement in nearly every aspect of his game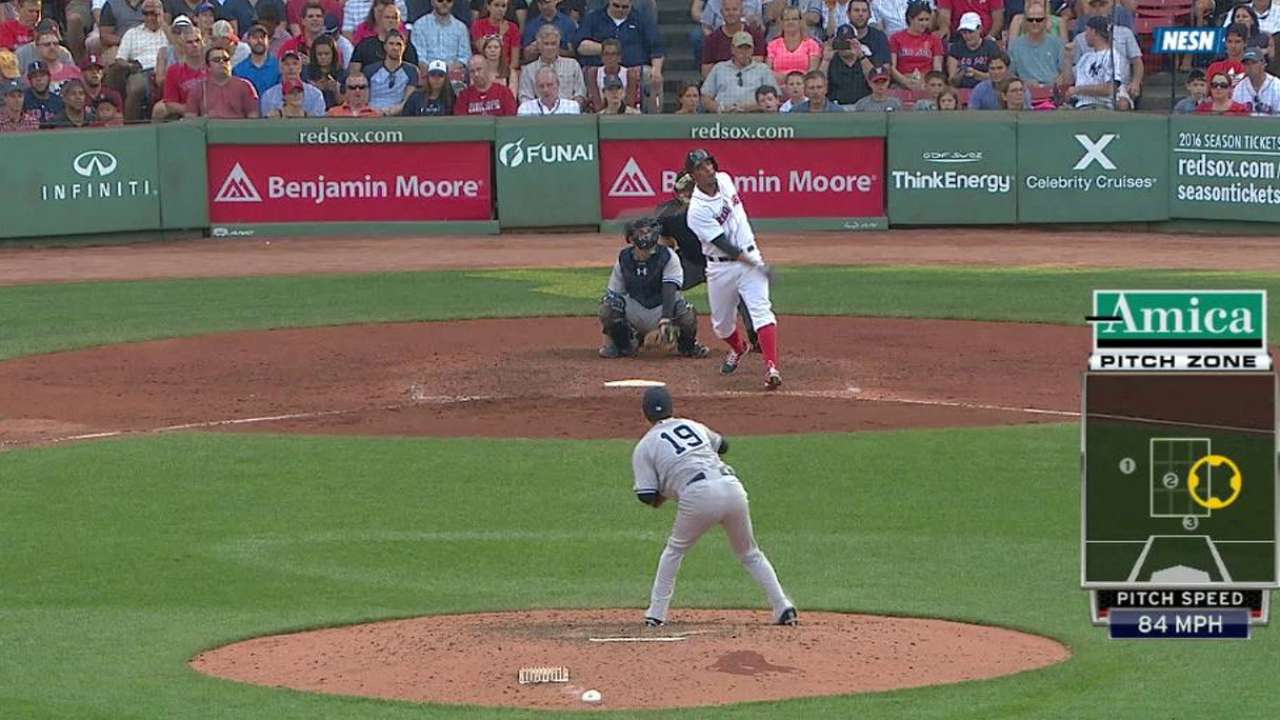 BOSTON -- As Red Sox third-base coach Brian Butterfield stood at the clubhouse entrance, he attempted to answer a question that sounded simple enough on the surface: What parts of shortstop Xander Bogaerts' game have improved the most?
As it turned out, highlighting just one or two areas proved impossible for Butterfield. The 22-year-old Bogaerts has taken giant steps forward in almost every aspect of his play this season, and the transformation had his infield instructor offering lavish praise.
"You want me to keep going?" Butterfield asked at one point. "Because everything that everybody in the organization has strived to have him elevate, he has."
To say that Bogaerts has been better in 2015 would be a vast understatement. His .319 batting average, which ranks third among qualified American League hitters, is a 79-point increase from last year's .240 mark. Bogaerts' strikeout percentage has fallen from 23.2 to 14.8.
Looking lost at times last season, the Aruba native has since established himself as Boston's No. 3 hitter and solidified the shortstop position, arguably as the club's most consistent player through its 133 games.
"Coming up in the Minors, I know I've always had good [offensive] numbers," Bogaerts said. "Last year, I kind of got away from my whole approach that I always had coming up. Some stuff went on last year that we all know. But this is a new year, fresh."
This season, Bogaerts made an adjustment to his swing, resulting in far better contact at the plate. He is hitting more pitches thrown outside the strike zone (up 8.3 percent, according to Fangraphs) and has enjoyed a 14.3 percent jump in his number of opposite-field hits, leading to a more even distribution in hits to left, center and right.
On Wednesday, Bogaerts exemplified his all-fields hitting approach by slapping a run-scoring single to right, punching another base hit up the middle and then pummelling a home run into the Green Monster seats in left. It was his team-leading 45th multihit performance.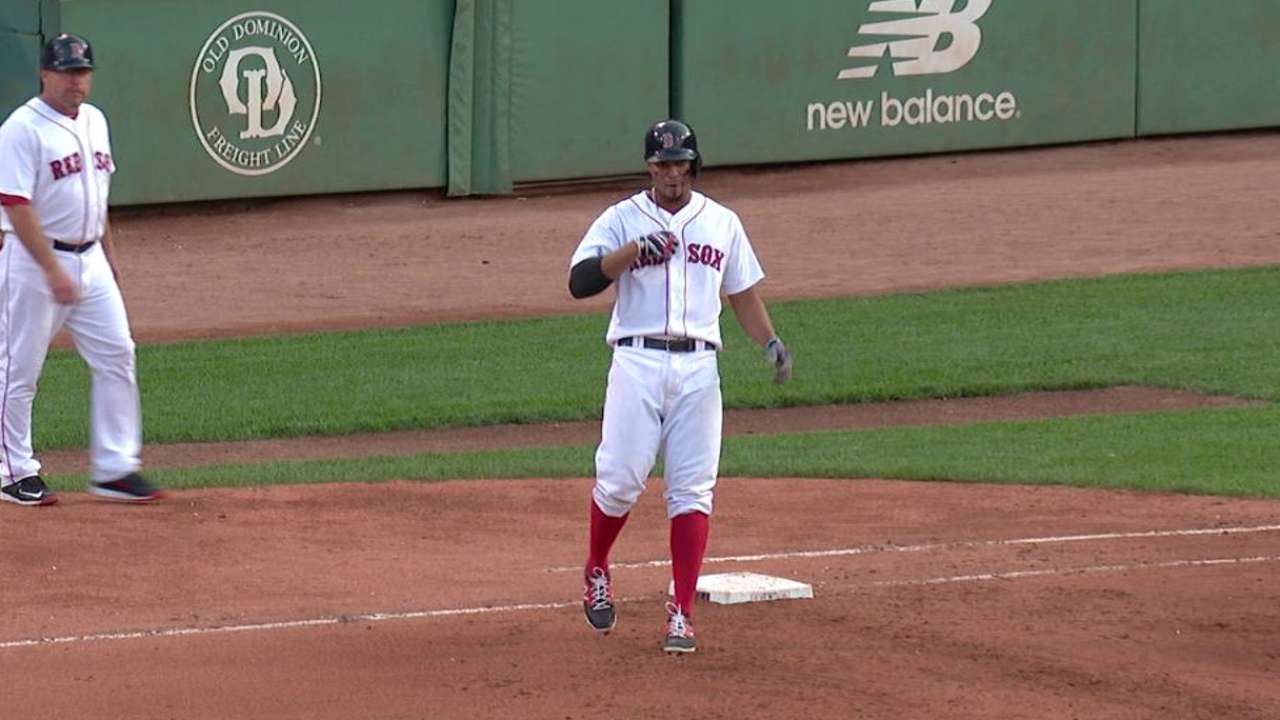 "I've seen him play in the Minor Leagues doing that all year long," catcher Blake Swihart said. "He's real comfortable up here right now. He's showing what he can do and how special he is."
The power has dipped slightly -- Bogaerts hit 12 homers in 2014 compared to five this year -- but for now, he is more than content tending to the foundations of his game. As he gains more experience, that power may reappear.
"If it comes, it comes," Bogaerts said. "I'm just focused on keep doing what I'm doing right now and trying to continue it."
Beyond the bat, Bogaerts' upturn on defense has many just as surprised -- including himself. At one point pushed to third base by the arrival of Stephen Drew last season, he entered last offseason with a renewed determination to stick as a Major League shortstop.
"I knew I always had good hands," Bogaerts said. "I really had good hands. But control was always an issue."
So Bogaerts decided to refine his glovework at the IMG Academy in Bradenton, Fla., participating in a program tailored toward improving his lateral agility and his movement toward a play. That work, combined with Butterfield's drilling, gave the naturally talented Bogaerts a major boost.
"It's really shown his foot speed and his acceleration to the ball," Butterfield said. "And part of that is due to his rehearsal. He's created body muscle memory, just because he does it correctly every day and he does it with explosion. He's reaped the benefits of that program and his own hard work."
The 10,000-hour rule, popularized in the book "Outliers" by Malcolm Gladwell, posits that any person can attain mastery with enough practice. Classic examples include the likes of The Beatles, Bill Gates and Michael Jordan, all of whom logged countless laborious minutes as they chased excellence.
Perhaps when all is said and done, Bogaerts will join the ranks of that list.
"He's extremely intelligent, and I think that he feels good about his place on this club," Butterfield said. "He's very well-liked by everybody. Young guys, old guys. He's very well-respected. So I think that he's taken a little bit more prominent role [in the clubhouse]. And that will keep getting better as it goes.
"All he needs is more time."
Alec Shirkey is an associate reporter for MLB.com. This story was not subject to the approval of Major League Baseball or its clubs.