Arrieta settles back into routine after no-no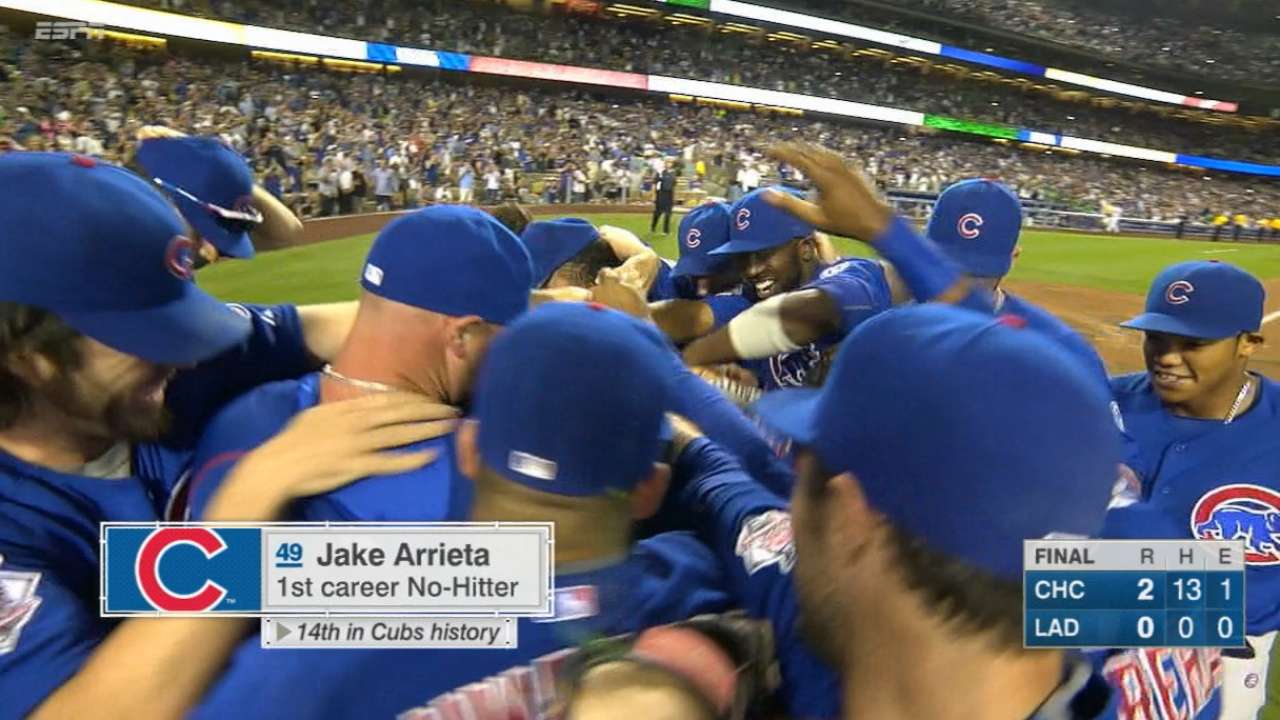 CHICAGO -- Jake Arrieta planned to take part in a "spoxing" charity event at Wrigley Field on Thursday, then do his regular workout and maybe go for a bike ride along the lakefront with his wife, Brittany, and their two children. It's back to routine for the Cubs right-hander after the best pitching performance of his career.
Arrieta capped a stellar August with a no-hitter Sunday night against the Dodgers, striking out 12 to help the Cubs post a 2-0 win. He finished the month 6-0 with an 0.43 ERA in six starts, giving up two earned runs over 42 1/3 innings. Arrieta struck out 43, walked 10 and held batters to a .130 average. On Thursday, he was named the National League Pitcher of the Month for August.
According to Elias, Arrieta is the first pitcher to go 6-0 in six starts with an ERA below 0.75 in a month since the White Sox's Jim Kaat was 6-0 with a 0.35 ERA in September 1974. The Red Sox's Joe Kelly matched Arrieta in wins for the month, and the Mets' Matt Harvey had a better ERA (0.33), but he only made four starts.
Arrieta's only loss in his past 14 games -- all quality starts -- was to the Phillies on July 25 when Cole Hamels threw a no-hitter at Wrigley Field. According to Elias, in the past 65 years, two other pitchers have thrown no-hitters and been the losing pitcher on the other side of one in the same season: Tim Lincecum in 2013 and Juan Marichal in 1963.
The Cubs presented Arrieta with his game jersey framed, plus a montage of photos from the game and a watch. The Baseball Hall of Fame is still collecting items from the game (they asked for my scorecard). The Dodgers sent the pitching rubber, some of the dirt from the mound, authenticated baseballs and ticket stubs from the game. Arrieta said he was touched by their efforts.
The right-hander has come close to throwing a no-no before. Seven times in Arrieta's final 18 starts in 2014, he took a no-hitter into the fifth, but it wasn't until Sunday that he finished the job. When will it all sink in? Brittany told her husband it will probably be sometime in the offseason when it hits him.
"I agree with her, because right now, I'm just focused on Arizona and pitching against them [on Saturday], and then trying to win as many games as we can leading into the postseason to try to put ourselves in a good position," Arrieta said Wednesday before throwing a side session at Wrigley Field.
"I think that first offseason get together with all of our friends, sitting by the fire, we'll really start to appreciate that and really relish the experience even more so than we're able to now. Not that it's not enjoyable or easy to enjoy, but I think it's harder with everything we have going on right now and all we're trying to accomplish.
"Once the season winds down, and hopefuly after the World Series, we'll have some time to reminisce and rehash all that happened."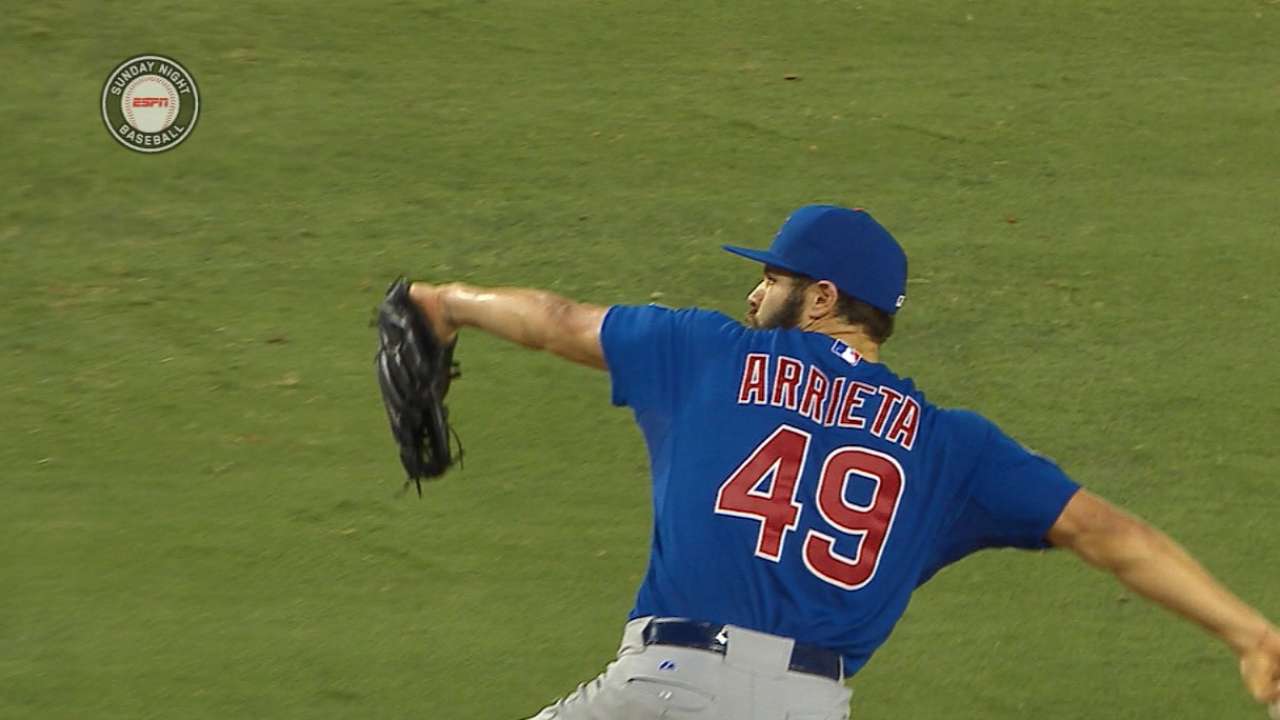 Arrieta, 29, has emerged as the ace of the Cubs' pitching staff as the team tries to clinch a postseason berth for the first time since 2008. Chicago is second in the NL Wild Card standings. He could be the starter in the NL Wild Card Game presented by Budweiser on Oct. 7.
On the flight from Los Angeles to Chicago after Sunday's game, the Cubs had the chance to watch a replay of the no-hitter.
"She watched it start to finish," Arrieta said of Brittany. "She was extremely emotional, in a good way.
"She said she was an emotional wreck from the sixth inning on, as I knew she would be. I've put her in those situations before. This time, I was able to close it out."
It was Arrieta's first career no-hitter in the Major Leagues, but not the first he's thrown. He recalled a no-no in a Little League regional tournament in St. Petersburg, Fla., when he also hit a home run. That was a long time ago.
"Throwing one in the big leagues really tops any other moment in your career," Arrieta said.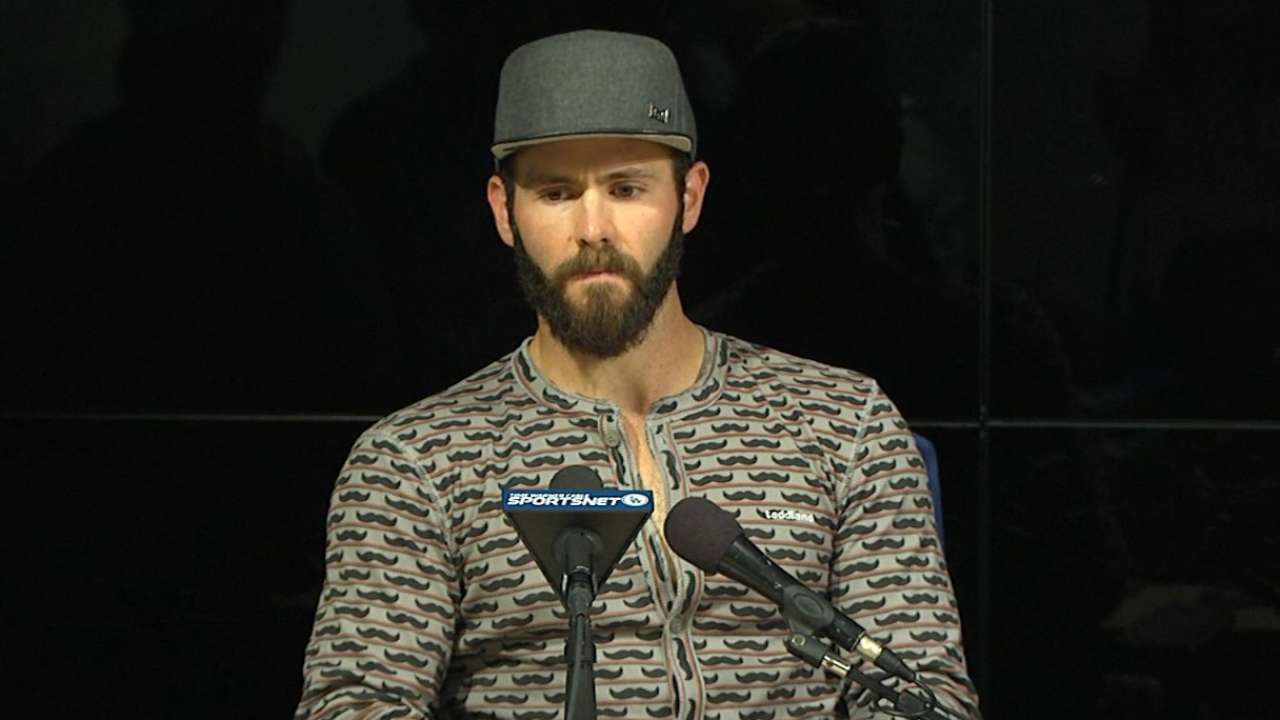 Now that Arrieta has had time to think about it, does he have any regrets about wearing the onesie with the mustache pattern for his postgame news conference at Dodger Stadium?
"It was fitting," Arrieta said of the outfit, which he'd purchased years ago and needed his brother-in-law to send from his home in Austin, Texas. "It was a perfect ending to that trip."
In case you missed it, the pajama party was part of manager Joe Maddon's "onesie" dress code for the overnight flight from Los Angeles to Chicago.
"I don't take myself very seriously, other than when I'm out on the mound," Arrieta said. "I like to have fun and keep it light. [The onesie] got a pretty good rise out of some people. It was all in fun. It was a very memorable experience from start to finish. We'll continue to rehash all the events over the next several months."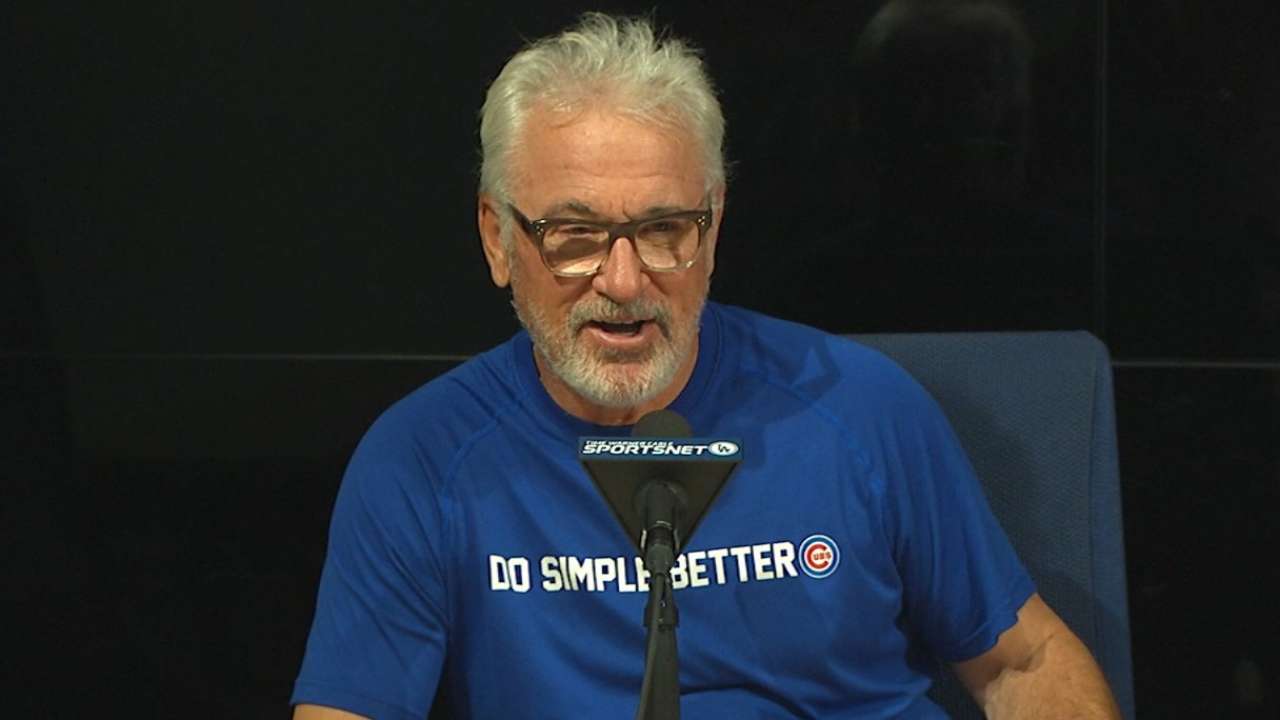 "That no-hitter stands out, because I think anyone who has followed Jake's development would say that no-hitter was earned," Cubs president of baseball operations Theo Epstein said. "It almost seemed inevitable. He worked his way toward it, he earned it, it was so well deserved. It's opposite of the fluke no-hitter."
Epstein recalls watching Bud Smith's no-hitter on Sept. 3, 2001, and how it "came out of nowhere." Not Arrieta's.
"Jake's, it seemed it was so well-earned, and he handled it with such class," Epstein said. "He understands how much hard work there is and lies ahead for him. He's put the team's interest above his own. That was reflected in how he handled the no-hitter, thanking his teammates and talking about how great it was to contribute something meaningful for the organization. You appreciate a special person, a special talent and a special accomplishment, and you're really, really happy for him."
What's next? On Saturday, Arrieta will go for his 18th win when he faces the D-backs at Wrigley Field. He should get a nice ovation.
"Everything in Chicago is going great," Arrieta said.
Carrie Muskat is a reporter for MLB.com. She writes a blog, Muskat Ramblings. You can follow her on Twitter @CarrieMuskat and listen to her podcast. This story was not subject to the approval of Major League Baseball or its clubs.