Holland focused on Rangers' playoff push
Quirky southpaw has returned strong after injury-riddled year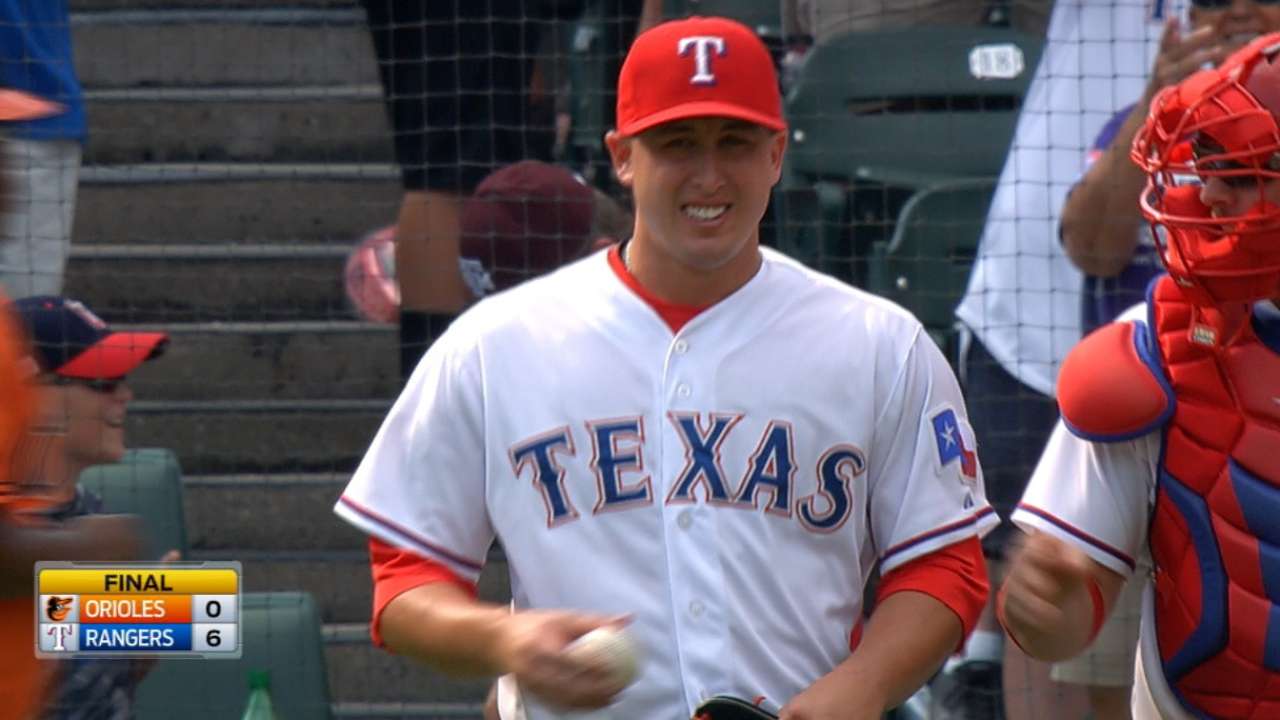 SAN DIEGO -- Rangers pitcher Derek Holland can be a goofball, with his wild hairdos, Harry Caray impressions for national television and the Jobu statue from the movie "Major League" sitting in his locker.
Holland is also a devoted philanthropist involved in multiple charities and community events. He formed his own 60 Feet 6 Foundation to raise awareness in the fight against leukemia.
But when he is on the pitcher's mound, Holland morphs into a fierce warrior who has delivered some of the biggest wins in Rangers history.
The Rangers have badly missed that for much of the past two years, but Holland is back and apparently as good as ever. In his fourth start since returning from a four-month layoff, he pitched a three-hit shutout on Sunday in a 6-0 win over the Orioles.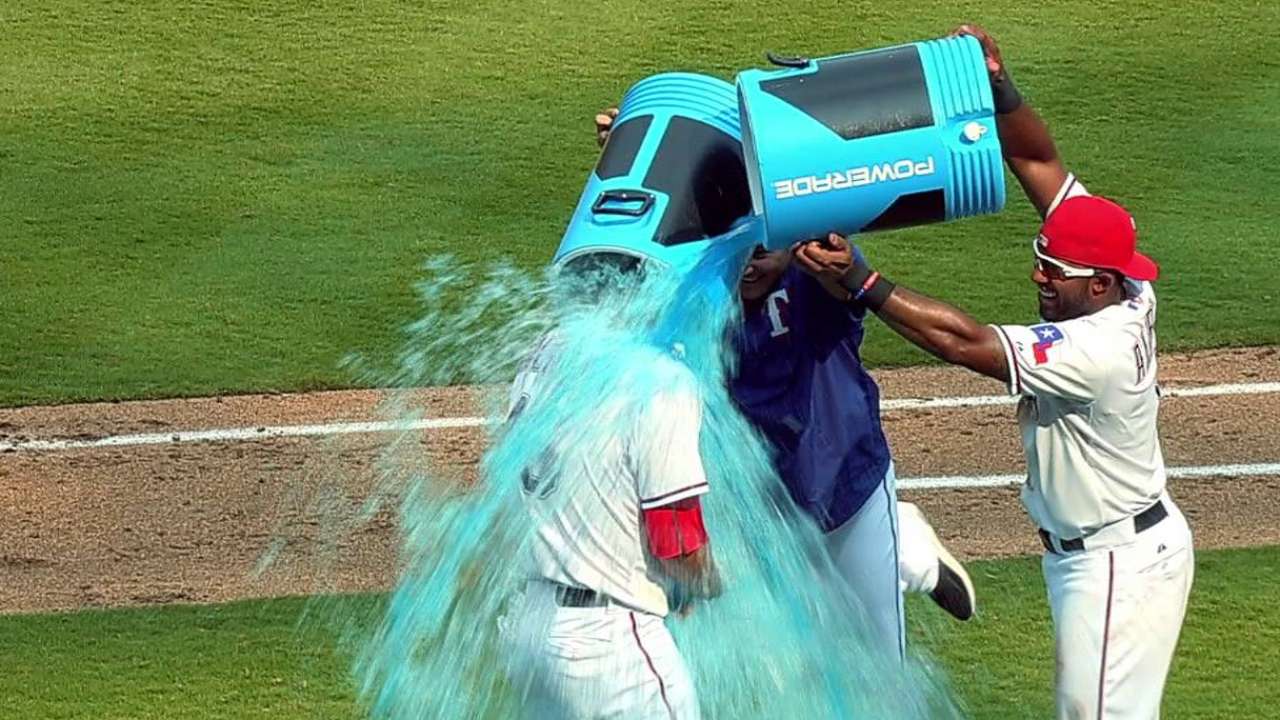 Holland doesn't mess around when there is a playoff spot on the line, and the southpaw pitches again on Saturday in a big three-game series against the Angels.
"I love to go out there and go after these guys," Holland said. "There is a whole other animal that comes out in me. People worry so much about how I act on the field, goofing off. They don't realize how much work I put in, watching video, studying hitters.
"When I get out there, once I toe the rubber, you've got to beat me today. That's my attitude. I have a boxer's mentality."
This is the second straight year Holland has missed significant time because of an injury. He lost five months of last season because of torn cartilage in his left knee before going 2-0 with a 1.46 ERA in September.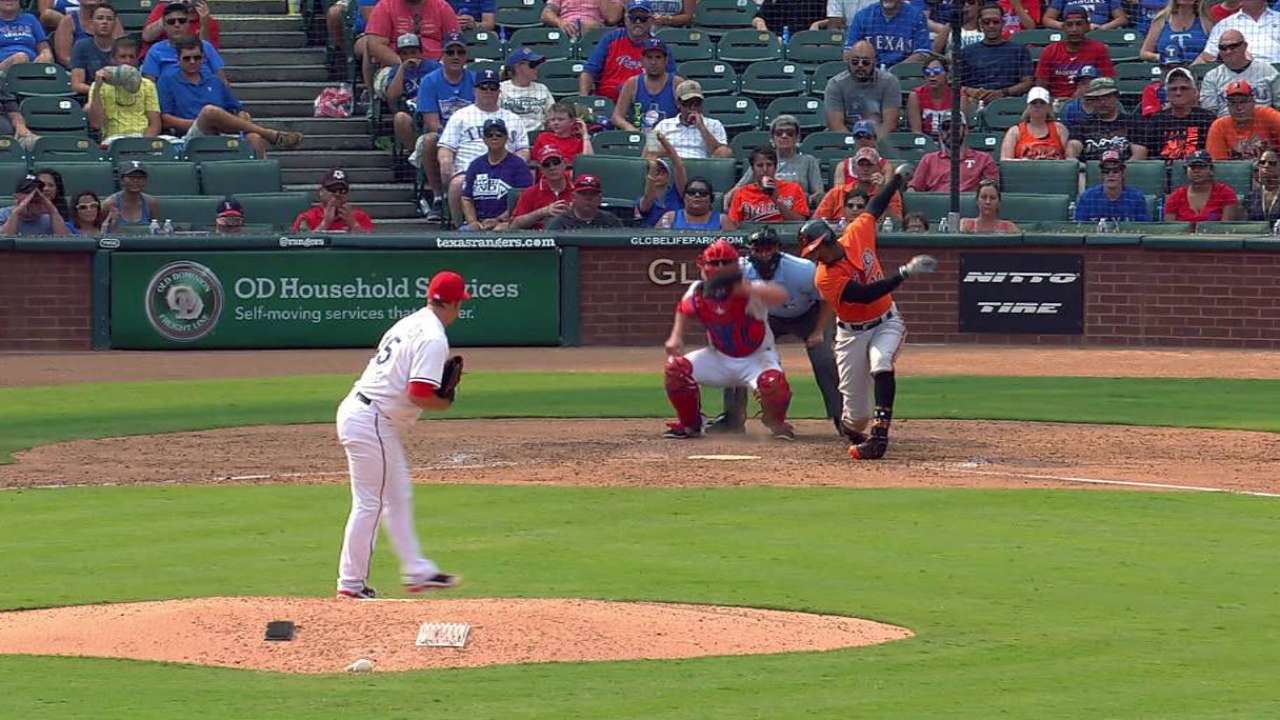 Flushed with that success, Holland came into Spring Training determined to have his best season ever. That plan crashed when he tore a muscle in his left shoulder while pitching the home opener. Suddenly, Holland was facing another tortuous rehab program.
"It has been rough," Holland said. "I'm just trying to keep my head on my shoulders and not get too caught up in what's happened and let that affect me. This year, after going through what I went through last year, to come back and get hurt on Opening Day at home just took a huge toll on me.
"The last thing I wanted was to be known as a guy who is injury prone or to have anything like that happen and not being with these guys. We're contending, and not being with them was the lowest of the low moments."
Holland got through those moments with the help of Don Kalkstein, the Rangers' sports psychology consultant.
"DK was always doing drills to keep my mental side of it going," Holland said. "Talking everything out, getting whatever negativity was on my mind out of there. We would do memory things … memory games that keep you locked in and focused."
That's hard to do when your team is battling for a playoff spot. That's the biggest difference from 2014, when Texas lost 95 games.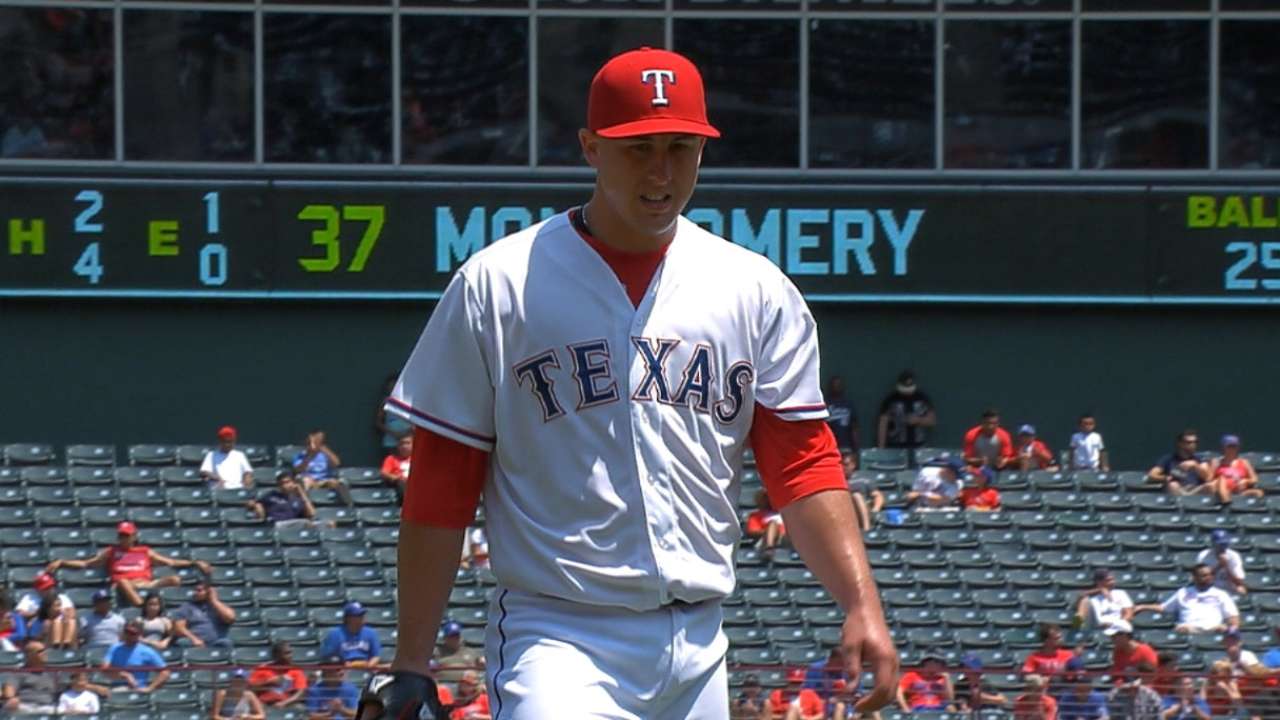 "This year I felt I rushed a little bit more than I did last year," Holland said. "I wanted to be here after my first game. I didn't change my attitude, there was just a little more urgency, because we were playing for something rather than playing for not having the first pick in the Draft.
"There is a little more on the line now. It was still fun, don't get me wrong, I wanted to play. My philosophy is: If we are going down with the team, I'm going with you. If we are going to win it, I am going with you. It will be fun either way, but I would say definitely we have a little more to play for this year."
The goal is to pitch in a World Series. The last time Holland started in the postseason was Game 4 of the 2011 World Series, when he held the Cardinals scoreless on two hits over 8 2/3 innings in a 4-0 victory.
"I would give anything to get back there," Holland said. "I would trade in my Game 4 just to go back there and win it. We were so close twice, and it hits hard all the time. I see videos and stuff and get the constant reminders. I would much rather have a ring on my finger than that one good game."
Having Holland back increases the Rangers' chances.
T.R. Sullivan is a reporter for MLB.com. Read his blog, Postcards from Elysian Fields, follow him on Twitter @Sullivan_Ranger and listen to his podcast. This story was not subject to the approval of Major League Baseball or its clubs.