MLB.com Columnist
Fred Zinkie
Panik, Adams could bring value from waiver wire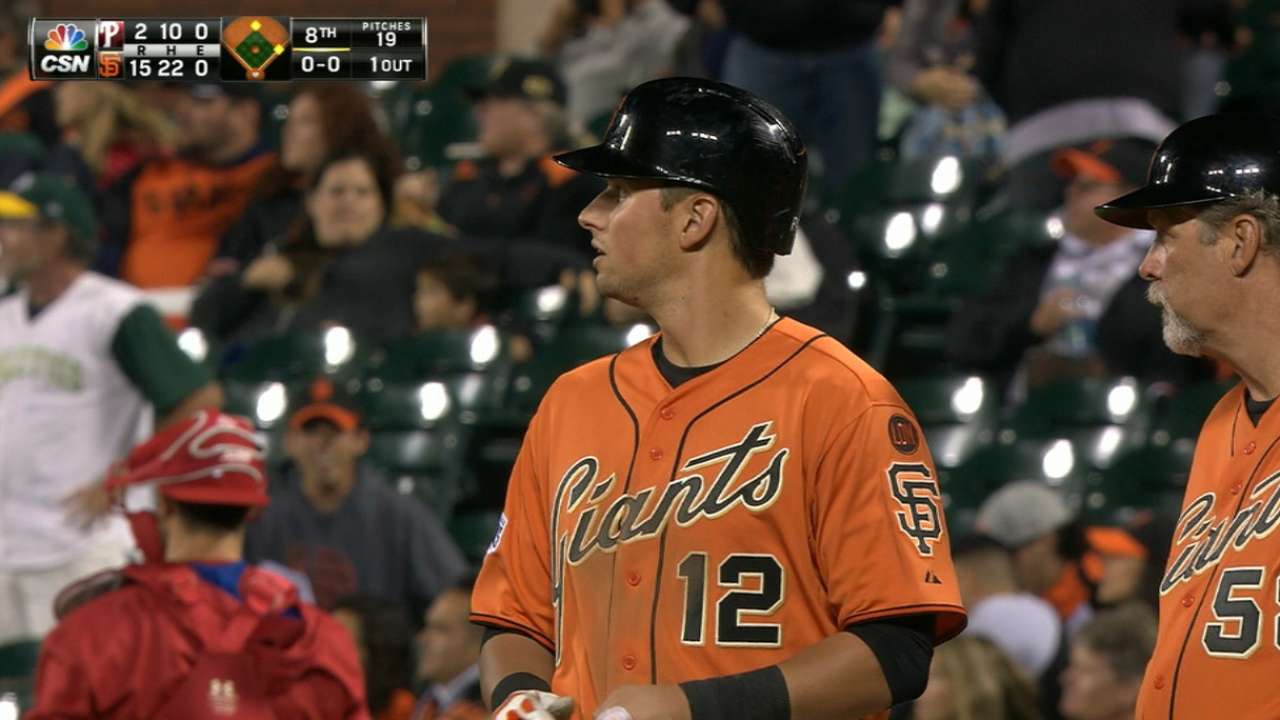 Fantasy baseball season is a grind, and owners who keep their eye on the ball during September are often rewarded by accumulating valuable points in the final standings. There are several talented players who will return from the disabled list in the coming days, and the two-start options for next week are also appealing.
Joe Panik, second baseman, Giants
After hitting .309 with seven homers in 375 at-bats this season, the second baseman has been out of the lineup due to a back injury since Aug. 2. On the comeback trail, Panik should begin a rehab assignment in the coming days and rejoin a surging Giants squad early next week. If he returns to his usual spot batting second in San Francisco's lineup, Panik could be a high-average hitter who scores plenty of runs down the stretch.
Consider In: 12-team mixed
Matt Adams, first baseman, Cardinals
Many fantasy owners have forgotten about Adams, who has been out since May 27 with a right quad injury. The 27-year-old should soon return to a productive Cards lineup, and he is expected to resume his duties as the regular first baseman and middle-of-the-order bat against righties. Sitting on waivers in many mixed formats, Adams may be a valuable source of homers and RBIs in the final weeks of the season.
Consider In: 10-team mixed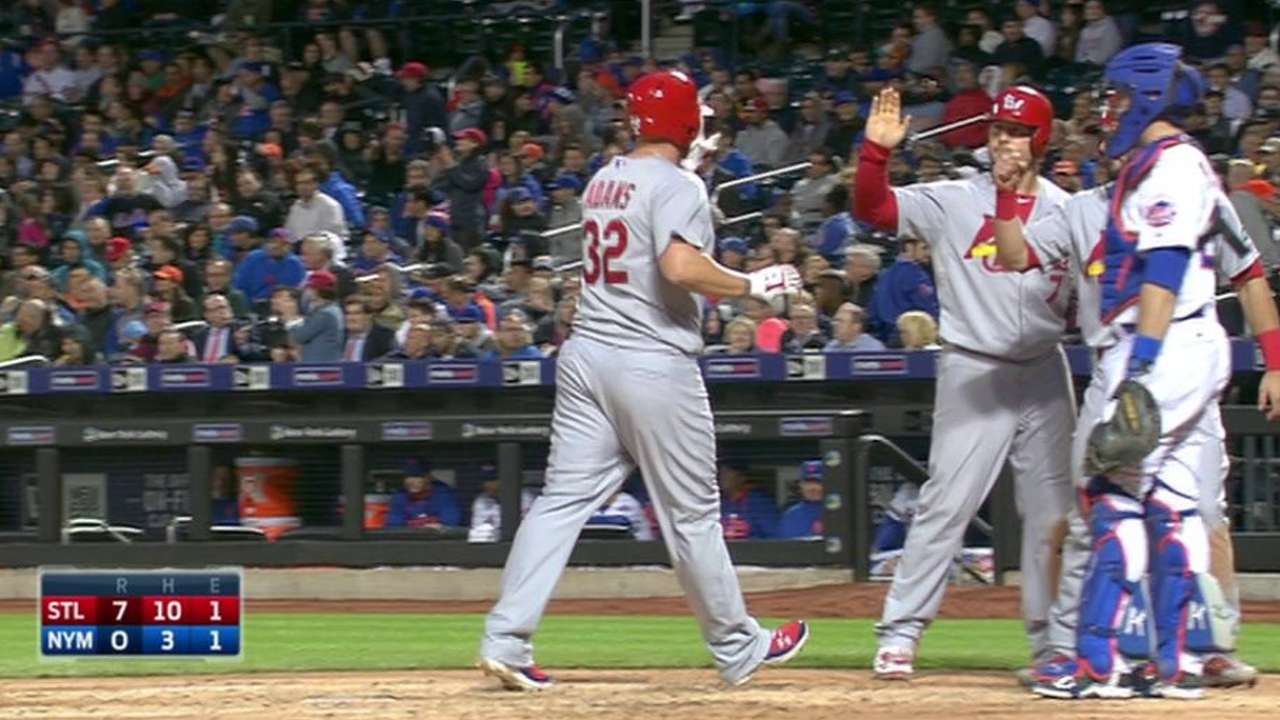 Michael Cuddyer, outfielder, Mets
Since returning to the Mets' lineup on Aug. 11, Cuddyer has hit .327 in 55 at-bats. Even more recently, the 36-year-old has posted a trio of three-hit games since Aug. 24. New York's lineup has improved greatly in recent weeks due to the resurgence of Cuddyer, the acquisition of Yoenis Cespedes and the return of David Wright. The club's offense may be even better in September, when injured first baseman Lucas Duda returns to the fold. Those who add Cuddyer now may receive the benefits of owning a hot hitter in a surging lineup.
Consider In: 12-team mixed
Aramis Ramirez, third baseman, Pirates
Those in need of RBIs in deep leagues may wish to pick up Ramirez for what will likely be the final regular-season weeks of a productive career. The 37-year-old has been drawing work in the cleanup spot, which has allowed him to accumulate 25 RBIs in 121 at-bats since joining the Bucs. And since Aug. 15, Ramirez has hit .293 with four homers and 17 RBIs in 58 at-bats.
Consider In: 15-team mixed
Hector Olivera, third baseman, Braves
Expected to be a long-term cog in Atlanta's lineup, Olivera made his Major League debut on Tuesday. At age 30, the native Cuban has the necessary age and experience to avoid the usual rookie pitfalls. Many fantasy squads in deep leagues are searching for a productive middle infielder for the stretch run, and Olivera's notable upside makes him an attractive target.
Consider In: 15-team mixed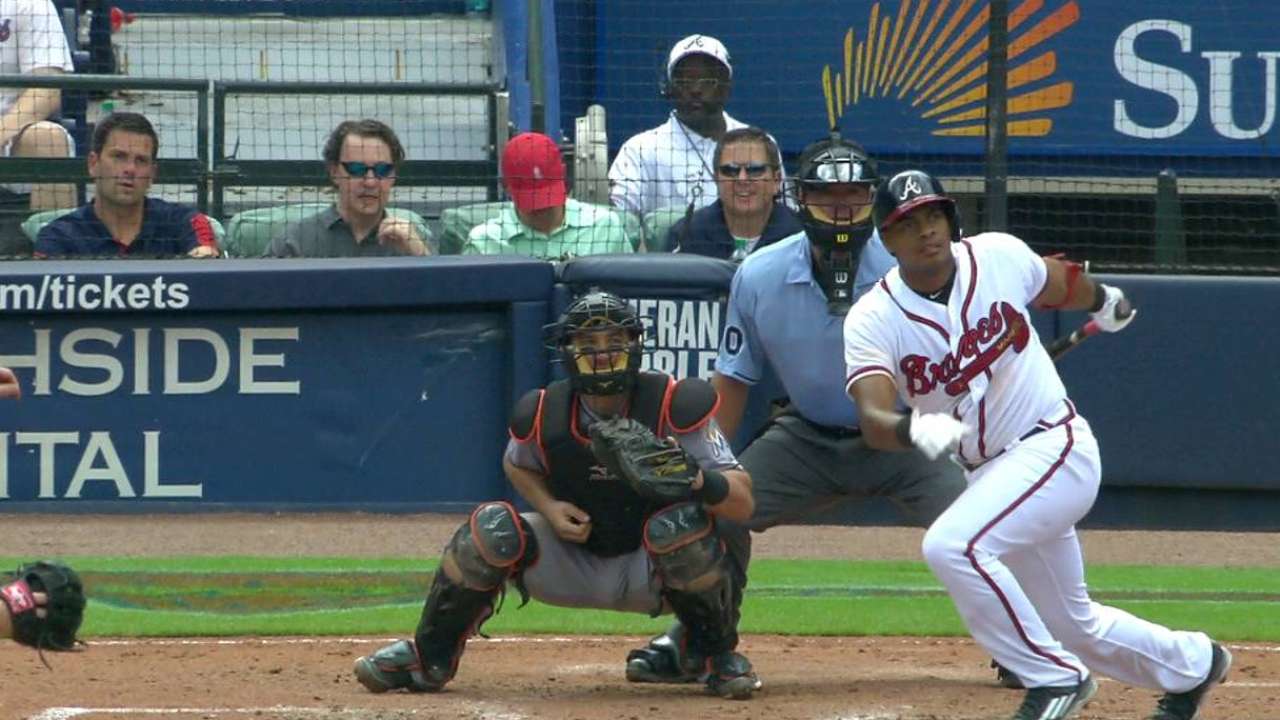 Matt Shoemaker, starter, Angels
Few starters have more boom-or-bust potential than Shoemaker, who has allowed zero runs in four of his past seven starts but has also been tagged for six or more runs in two of those outings. Those who have a comfortable margin in the ratio categories or those who need to take a chance in order to make up ground in short order may wish to roster the right-hander for a pair of scheduled home outings next week.
Consider In: 12-team mixed
Justin Nicolino, starter, Marlins
The left-hander has logged a respectable 3.07 ERA in his first seven Major League starts, but a 15-to-13 strikeout-to-walk ratio has kept him glued to waivers in most leagues. Nicolino did not post a high strikeout rate in the Minors, so a dramatic turnaround in that area down the stretch should not be expected. However, he could compile several strikeouts and quality frames simply due to volume when he makes a pair of starts at his pitcher-friendly home park next week.
Consider In: 15-team mixed
Aaron Nola, starter, Phillies
The touted prospect didn't allow more than four runs in any of his first eight Major League starts, before giving up six earned runs to the Mets on Wednesday. Nola could get back on track next week, when he faces a light-hitting Braves lineup before going against a Cubs squad that leads the Majors in strikeouts.
Consider In: 10-team mixed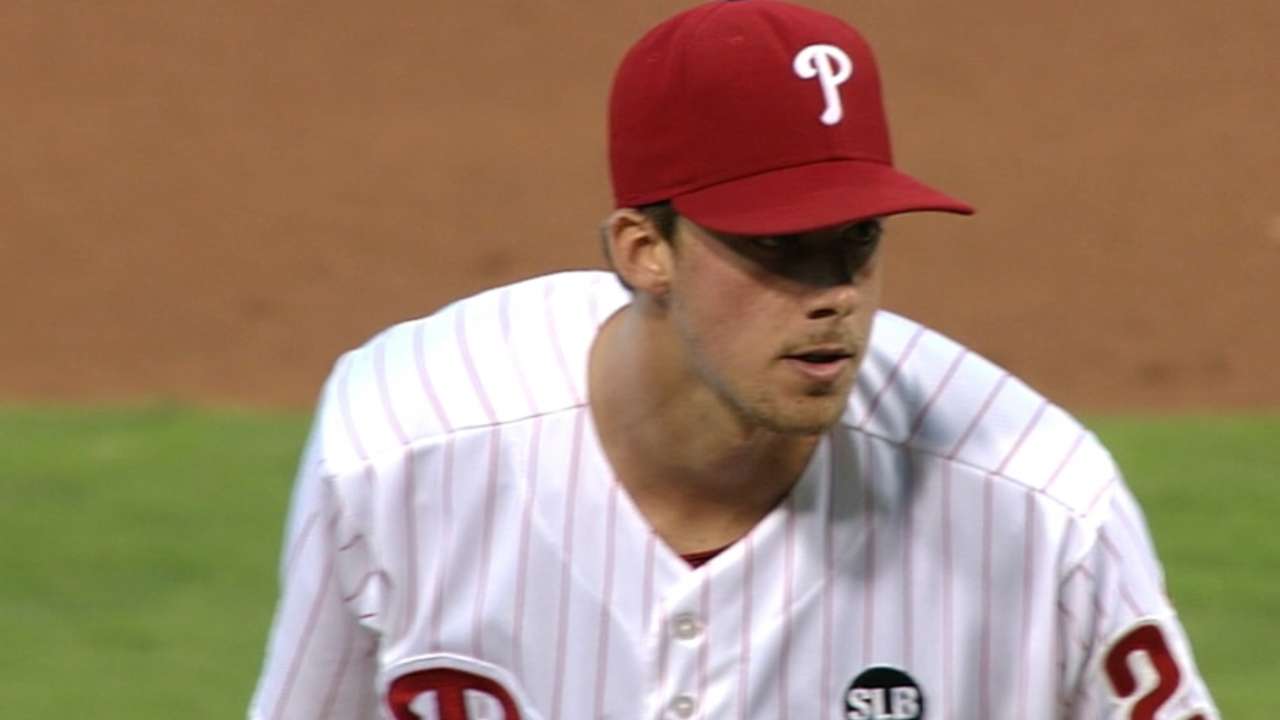 Bartolo Colon, starter, Mets
The 42-year-old has been inconsistent this season, but Colon may have found his stride by tossing 16 shutout innings with a 19-to-3 strikeout-to-walk ratio since Aug. 26. Colon is expected to spend most of September working within his division against lineups that have struggled against righties this season, which makes him an excellent addition in most mixed leagues.
Consider In: 10-team mixed
Steven Matz, starter, Mets
This season, it has not mattered whether Matz was working in the Minors or in the Majors. In both arenas, he has dominated the competition. Matz's outstanding effectiveness has been on display of late, when he dazzled opposing batters during an injury rehab assignment. Expected to rejoin the Mets' rotation this weekend, the left-hander could be one of the most effective starters in the Senior Circuit down the stretch. Like Colon, Matz could benefit from a favorable schedule. But the 24-year-old has the raw talent to thrive against any lineup.
Consider In: 10-team mixed
Fred Zinkie is the lead fantasy baseball writer for MLB.com. Follow him on Twitter at @FredZinkieMLB. This story was not subject to the approval of Major League Baseball or its clubs.