CarGo has monster night, matches Arenado in HRs
Colorado sluggers tied for NL lead with 33 homers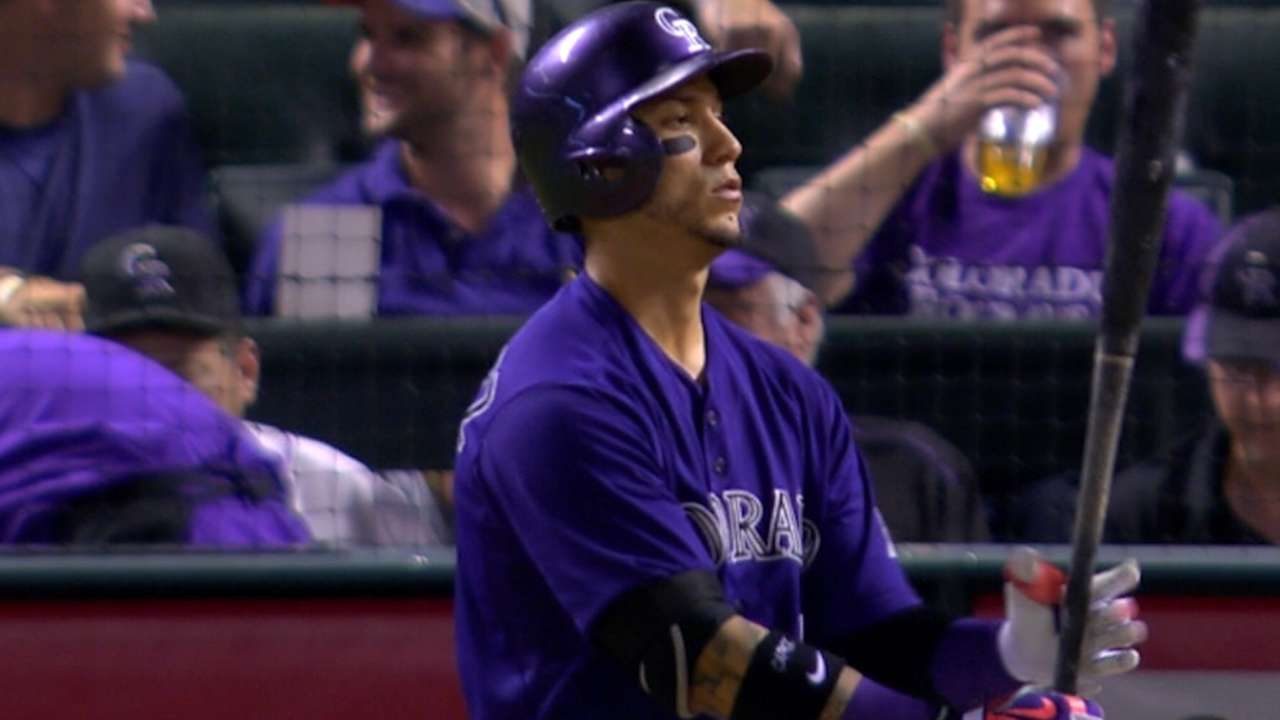 DENVER -- Carlos Gonzalez had never faced D-backs rookie reliever Keith Hessler before. He had some paperwork that said Hessler threw an upper-90s fastball with a slider, but the resources were still limited.
The Arizona left-hander chose to come with three straight sliders -- the last of which proved costly. Gonzalez went down and got the third breaking ball, crushing it off the second-deck façade in right field for a seventh-inning, go-ahead grand slam. Gonzalez tacked on a second homer in the eighth for good measure, helping propel the Rockies to a 9-4 win on Wednesday at Coors Field.
"In that situation, I didn't want to get jammed," Gonzalez said. "I wanted to get the barrel out, and he decided to go with all sliders. I can't even say that it was down the middle. It was a good pitch, but I was able to throw my hands and put it in the seats."
Wednesday was another chapter in Gonzalez's essentially three-month tear: He tied a career-high with seven RBIs and churned out his fifth multi-homer game this season.
Since June 1, Gonzalez has 28 homers and 68 RBIs -- a long way from his early season struggles that had his batting average hovering around the .200 mark well into the year.
"He was in a place where a lot of people were not thinking about CarGo doing any damage," said Nolan Arenado, whose first-inning homer gave him 100 RBIs on the season. "And now, he's had one of the best second halves I've ever seen."
After Wednesday, Gonzalez and Arenado were tied for the National League homer lead at 33. Arenado acknowledged that Gonzalez hits more no-doubters between the two, citing the grand slam as a perfect example.
The blast, which was projected by Statcast™ to land 458 feet away, cracked Gonzalez's top-5 longest homers this season.
"He's one of the freaks in the league who can do something to wow you on any given night," Rockies manager Walt Weiss said. "He certainly did tonight."
Dargan Southard is an associate reporter for MLB.com. This story was not subject to the approval of Major League Baseball or its clubs.