Mathias among 10 top prospect performers Wednesday
Indians No. 21 prospect goes 4-for-5 with a career-high 6 RBIs for Mahoning Valley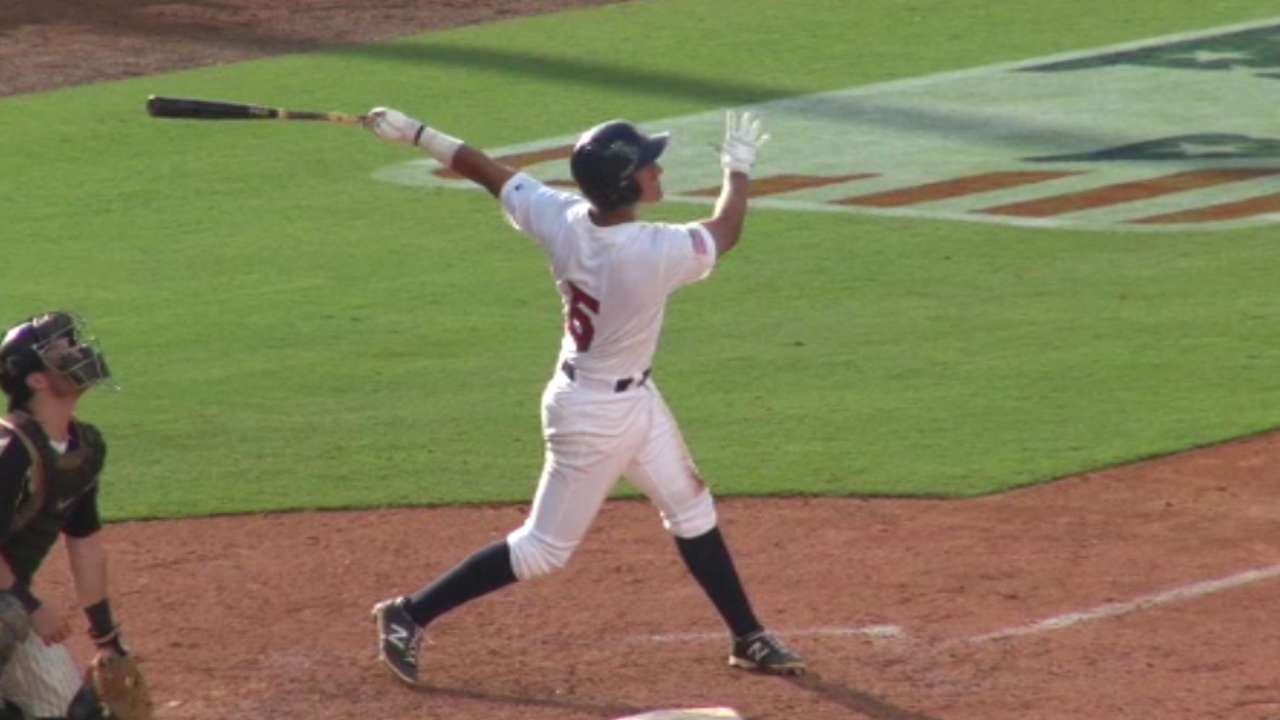 Mark Mathias' career is just beginning, but he may never have as good of a game as he did Wednesday.
The Indians' No. 21 prospect homered and tripled as part of a 4-for-5 performance, while his career-high six RBIs proved to be the difference in Class A Short Season Mahoning Valley's 11-5 victory over Auburn.
After hitting a single in his first at-bat, the 21-year-old second baseman cleared the bases with a triple in the top of the second to give the Scrappers an early 5-0 lead.
Mathias collected his second single of the game in the sixth inning and then connected on a two-run homer, his second of the season, in the eighth to increase Mahoning Valley's lead to 11-1.
"[Luis Torres] threw me a changeup low and inside and they'd pounded me in all day, so I kind of geared up," Mathias, who had not homered since July 20, told MiLB.com of his blast. "My approach was kind of middle, and if they threw me in, I was going to react in and try to punch my hands inside the ball. He threw me a slider low and in, and I got a little bit under it and barreled it and hit it out."
Drafted in the third round this past June out of Cal Poly San Luis Obispo, Mathias has put together a solid professional debut this summer in the New York-Penn League, batting .282/.382/.405 with 34 runs, 21 extra-base hits and an even 32/32 strikeout-to-walk ratio in 62 games.
Mathias has been hot down the stretch, too, posting a .362/.474/.574 batting line with seven extra-base hits and 12 RBIs in his last 14 contests.
The rest of the 10 best performances from top Minor Leaguers
• Astros No. 7 prospect Francis Martes dominated in his second Double-A start on Wednesday, striking out nine batters in six scoreless innings as Corpus Christi defeated Frisco, 5-0. He scattered five hits and three walks in the outing, throwing 57 of 99 pitches going for strikes. With his most recent outing, Martes has fanned at least nine batters in a single game at three different levels. On the season, Martes is 8-3 with a 1.94 ERA, 1.06 WHIP and 94/27 strikeout-to-walk ratio in 97 2/3 innings between Class A Quad Cities, Class A Advanced Lancaster and Corpus Christi.
• Blue Jays No. 7 prospect Richard Urena went 2-for-5 and hit his 14th home run of the season (15th overall) for Class A Lansing. The 19-year-old shortstop's two-hit performance also extended his hitting streak to five games, during which he's batting a robust .478 (11-for-23) with two home runs, two doubles and seven runs scored. Urena's batting average (.266) and on-base percentage (.286) have taken a hit this year in his full-season debut as a result of his 108/14 strikeout-to-walk ratio, but the fact that he's hit a career-best 15 home runs -- after hitting just three in 520 at-bats during his first two seasons -- is a very good sign.
• Diamondbacks No. 2 prospect (No. 42 overall) Archie Bradley moved closer to returning to the Major Leagues, allowing two earned runs in seven innings in his third rehab start for Triple-A Reno. The 23-year-old right-hander scattered seven hits, fanned seven and, more importantly, did not issue a walk in the outing, with 68 of 95 pitches going for strikes. Bradley worked just four and 4 1/3 innings in his previous outings, respectively, but his improved feel for the strike zone enabled him to complete a season-high seven innings. Before landing on the disabled list in early June with right shoulder tendinitis, Bradley was 2-3 with a 5.80 ERA and 1.63 WHIP in 35 2/3 innings (eight starts) for the Diamondbacks.
• Dodgers No. 7 prospect Alex Verdugo went 3-for-3 with a career-best three doubles and three runs scored for Class A Advanced Rancho Cucamonga, also plating two runs and coaxing a walk. The 19-year-old center fielder has been a hitting machine since moving up to the California League, batting .338/.368/.592 with two home runs, 12 extra-base hits, 15 runs and 13 RBIz in 18 games for the Quakes. Overall, Verdugo has produced a .301/.331/.423 batting line to go along with seven home runs, 31 doubles, four triples and 14 steals in 119 games this season between Class A Great Lakes and Rancho Cucamonga.
• Giants No. 8 prospect Christopher Shaw's power surge continued Wednesday with a game-tying solo home run for Class A Short Season Salem-Kaizer, giving him four roundtrippers in his last six games. The 21-year-old first baseman has impressed this summer in his professional debut, batting .284/.361/.537 with 11 home runs, eight doubles and 28 RBIs in 42 games for the Volcanoes. The 2015 first-rounder (No. 31 overall) has hit 22 home runs in 82 games this year between his junior campaign at Boston College and Salem-Kaizer.
• Orioles No. 24 prospect Joe Gunkel turned in his best start of the season, striking out six batters in seven shutout innings as Double-A Bowie dropped Altoona, 4-0. The 23-year-old righty yielded three hits and a walk in the outing, and he found the strike zone with 66 of 95 pitches. Gunkel was used mostly as a reliever during the first half before coming over from the Red Sox in early June as part of the Alejandro De Aza trade. However, the 6-foot-5, 225-pounder has thrived as a starter at Bowie, going 8-4 with a 2.59 ERA, 0.96 WHIP and 69/15 strikeout-to-walk ratio in 104 1/3 innings (17 starts).
• White Sox No. 4 prospect Spencer Adams pitched seven innings of one-run ball in a no-decision for Class A Advanced Winston-Salem, who had already clinched a spot in the Carolina League playoffs. The 19-year-old right-hander surrendered five hits and three walks while striking out five in arguably his best outing in four turns as a member of the Intimidators. Adams has really turned it on in the last two-plus months after an up-and-down first half of the season (4.06 ERA in 57 2/3 IP), as he's pitched to an 8-1 record with a 2.33 ERA, 1.14 WHIP and 52/8 strikeout-to-walk ratio over his last 65 2/3 innings spanning 11 starts.
• White Sox No. 21 prospect Matt Davidson had his second multi-homer game of the season for Triple-A Charlotte, going 2-for-4 with a pair of solo home runs. The 24-year-old third baseman has 22 home runs on the season -- his fifth consecutive season with at least 20 dingers -- but is batting just .204/.296/.377 with an International League-worst 186 strikeouts in 136 games for the Knights. Davidson is looking to return to the Major Leagues for the first time since 2013, when he posted a .768 OPS with three home runs and six doubles in 31 games for the D-backs.
• Yankees No. 29 prospect Domingo Acevedo added to his already impressive 2015 campaign Wednesday with six scoreless innings in Class A Short Season Staten Island's win over Tri-City. The 6-foot-7, 190-pound right-hander allowed a pair of hits and walks in the outing, while his electric fastball, which was clocked as high as 99 mph, generated eight strikeouts. Acevedo, 21, has been one of top pitchers in the New York-Penn League this summer, posting a 1.69 ERA, 1.08 WHIP and 53/15 strikeout-to-walk ratio in 48 innings (11 starts) for Staten Island. He's 3-0 with a 0.77 ERA and 29 strikeouts in 23 1/3 innings over his last four starts.
Mike Rosenbaum is a reporter for MLB.com. This story was not subject to the approval of Major League Baseball or its clubs.