Kennedy's solid start spoiled in extras
Padres starter struck out 12, but Norris gave up game-winner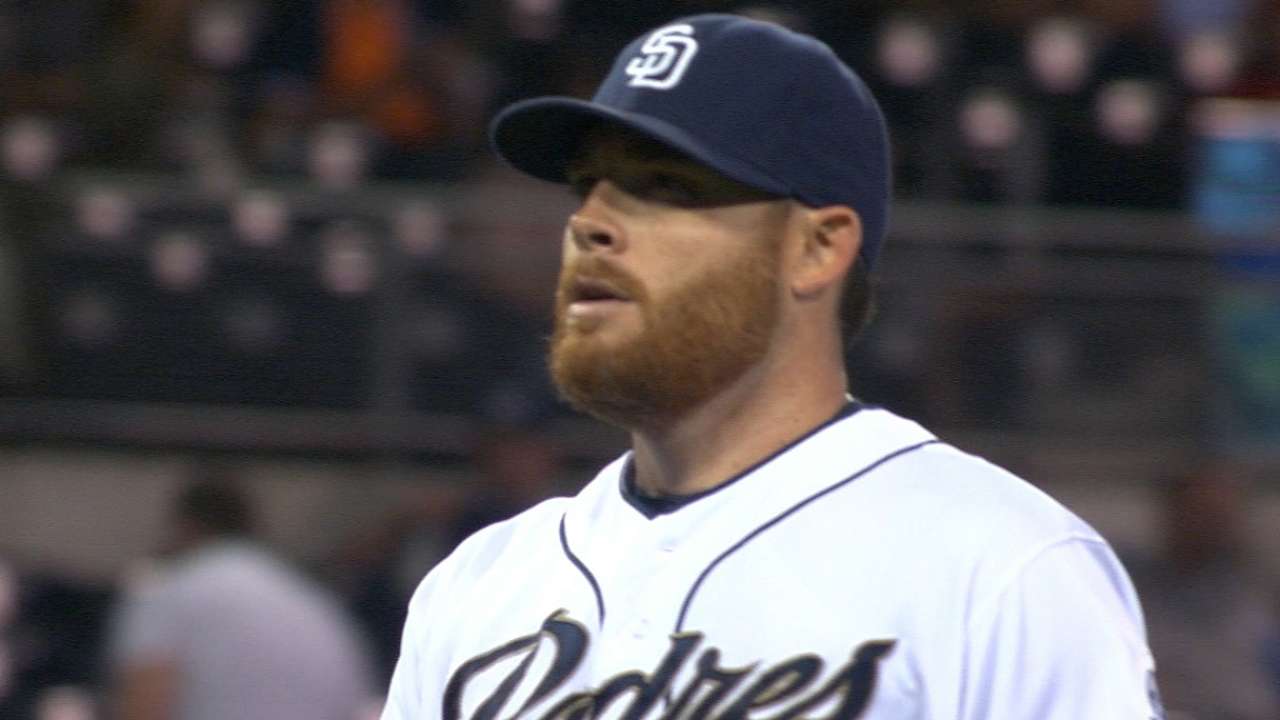 SAN DIEGO -- Ian Kennedy's solid start was spoiled Wednesday night, when the Padres dropped the series finale against the Rangers, losing, 4-3, in 10 innings.
"It goes unnoticed how great [Kennedy] was," interim manager Pat Murphy said. "I thought it was a great performance, battling their No. 1. He made great pitches, he pitched out of trouble when he needed to, whether he created it or not. I really thought that was as good as a starting pitching performance as you could see."
Kennedy matched his career high in strikeouts with 12. The last time he did that was on May 8, 2014, against Miami. Kennedy allowed only two runs in seven innings. The right-handed veteran has been strong since the All-Star break, posting a 2.35 ERA.
Kennedy credited his fastball command and communication with rookie catcher Austin Hedges for his success vs. the Rangers.
The Padres faltered in the 10th inning, as reliever Bud Norris allowed a single to Elvis Andrus. The next batter up, Mitch Moreland, doubled to right field to score Andrus with the go-ahead run.
The Padres' bullpen also surrendered a run in the eighth inning, when Joaquin Benoit walked Shin-Soo Choo and allowed a single to Prince Fielder, before Adrian Beltre hit a sacrifice fly to score Choo and tie the game at 3.
Benoit had not allowed an earned run since June 9. Benoit threw a season-high 31 pitches. He ended the inning by striking out Moreland with runners on second and third.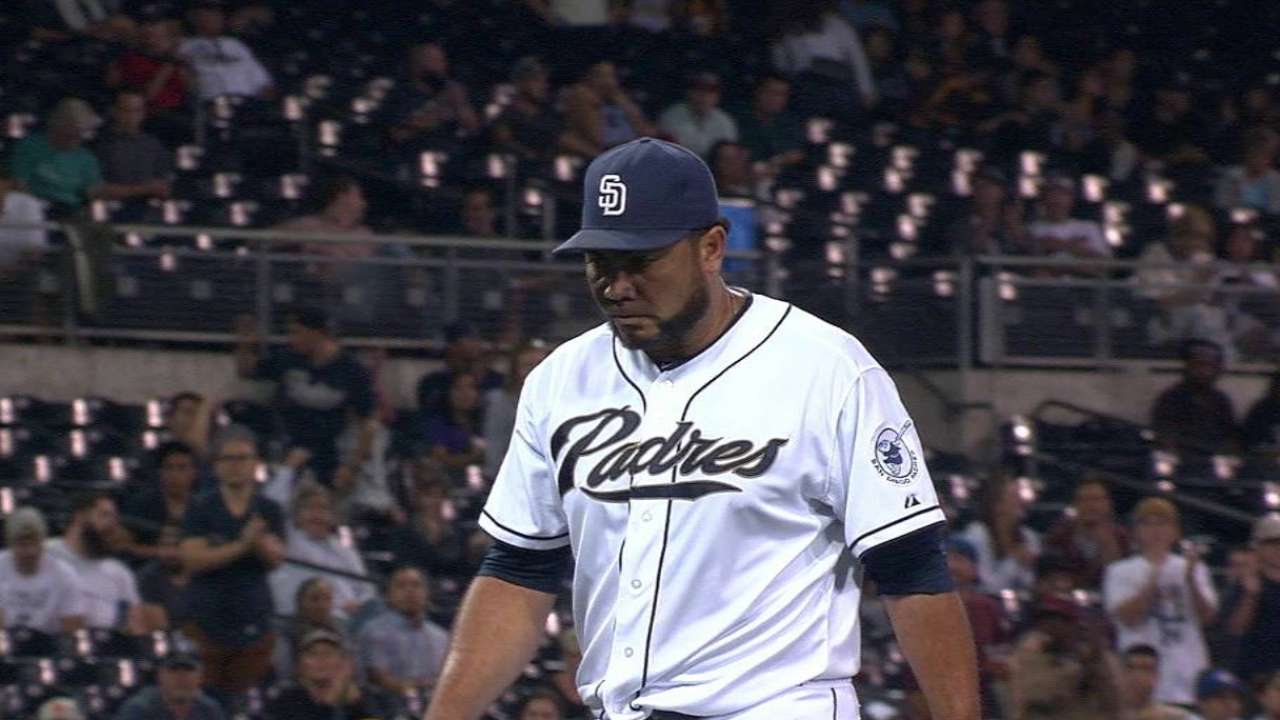 Craig Kimbrel didn't make the ninth his normal quick inning, as he faced six batters, throwing a season-high 37 pitches. Kimbrel's previous highest pitch count this season was 33, also against the Rangers, on July 12.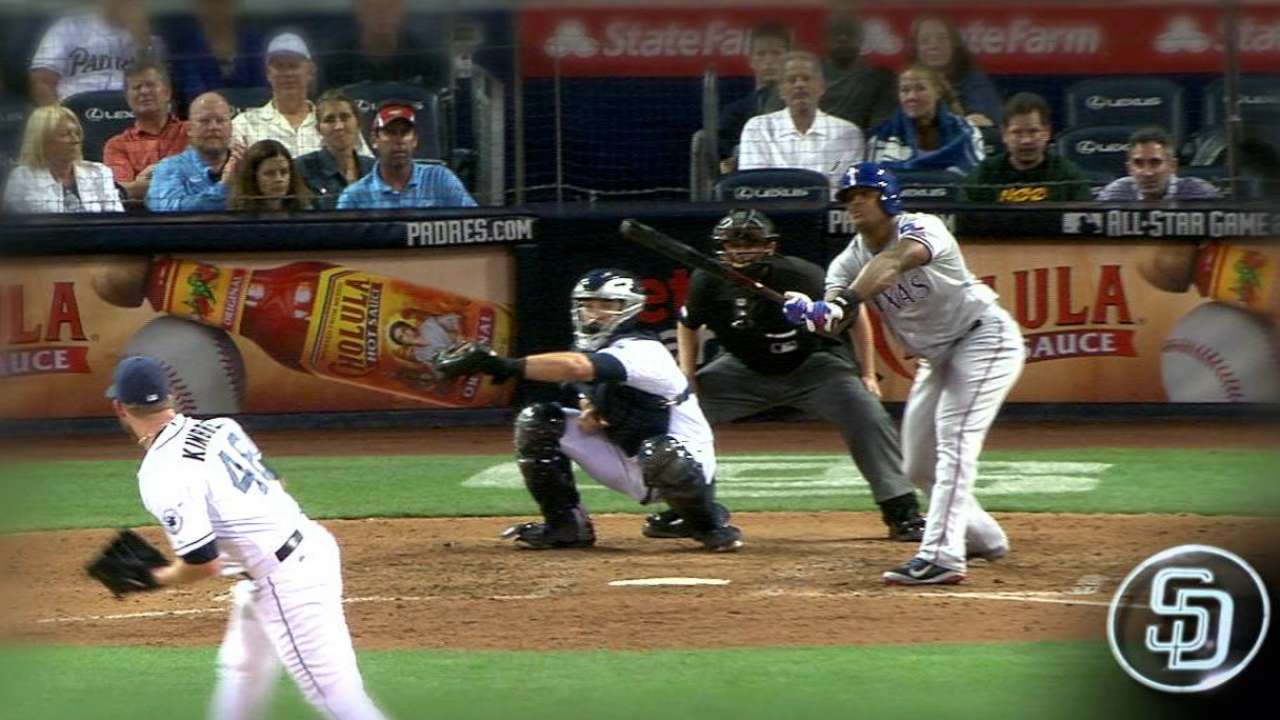 "That [is a] team who is hot, that has played good and their stud [Cole Hamels] is on the mound, who is really good," Murphy said.
Kennedy said that in facing the talented Rangers' lineup it was important to execute no matter what pitch he was throwing.
"They are a great hitting team and you try to navigate through that lineup." Kennedy said. "I doubted myself one time thinking, 'There is no break in this lineup, even thinking Cole. Cole is a great hitter himself. You can't treat him lightly either."
Beth Maiman is an associate reporter for MLB.com. This story was not subject to the approval of Major League Baseball or its clubs.