Statcast: O's stand out in all facets
Davis homers twice; Jones displays rocket arm with run-saving throw to plate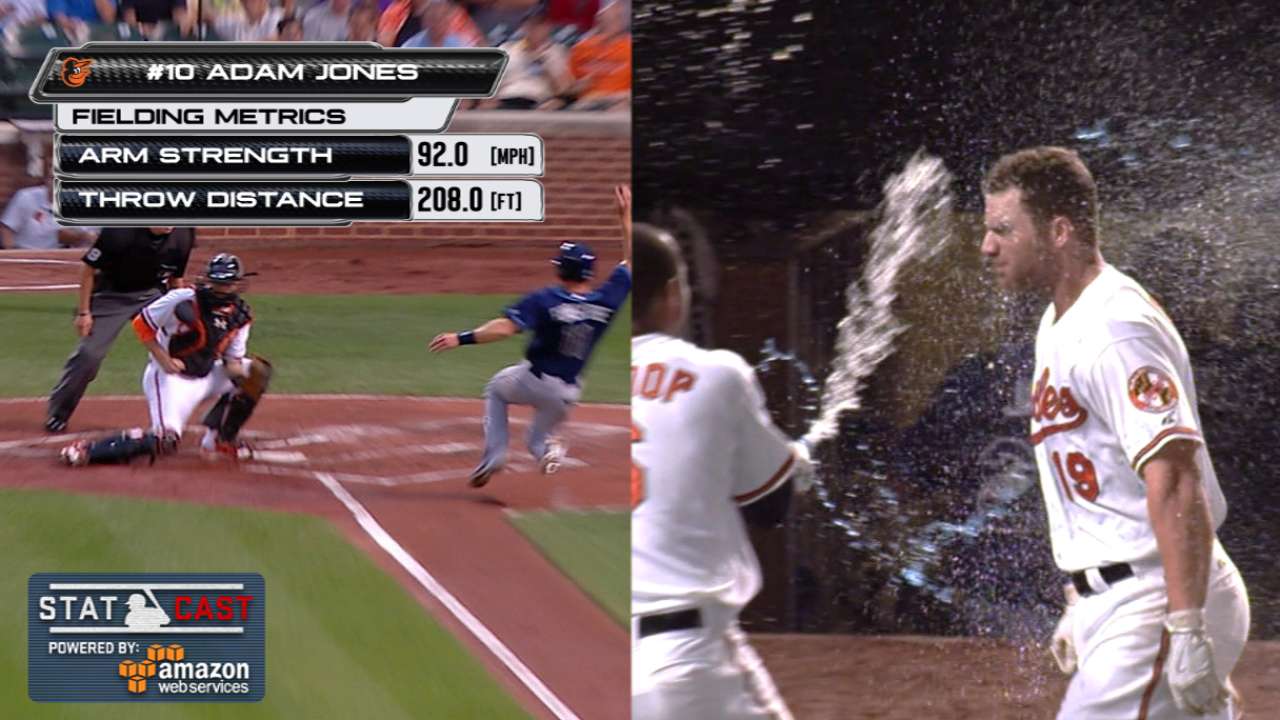 The Orioles snapped a six-game losing streak in style on Wednesday night. They hit a few home runs, robbed one at the wall and watched their star center fielder cut down another run at the plate.
Adam Jones' assist from center field leads off Wednesday's highlights, which also include a defensive robbery by Steve Pearce, a pair of Chris Davis homers, an inside-the-park round-tripper in New York and a pair of prodigious homers in Missouri.
Here's an in-depth look at each of those plays, courtesy of Statcast™.
Jones throws a strike
The Rays had a chance to take an early lead over the Orioles, as Kevin Kiermaier pushed a single up the middle off right-hander Kevin Gausman in the second inning. Logan Forsythe dashed home, reaching a top speed of 19.6 mph. But Jones had other plans.
Jones scooped up Kiermaier's grounder in shallow center and fired a 92-mph one-hop laser that traveled 208 feet and perfectly set up catcher Matt Wieters' run-saving tag on Forsythe.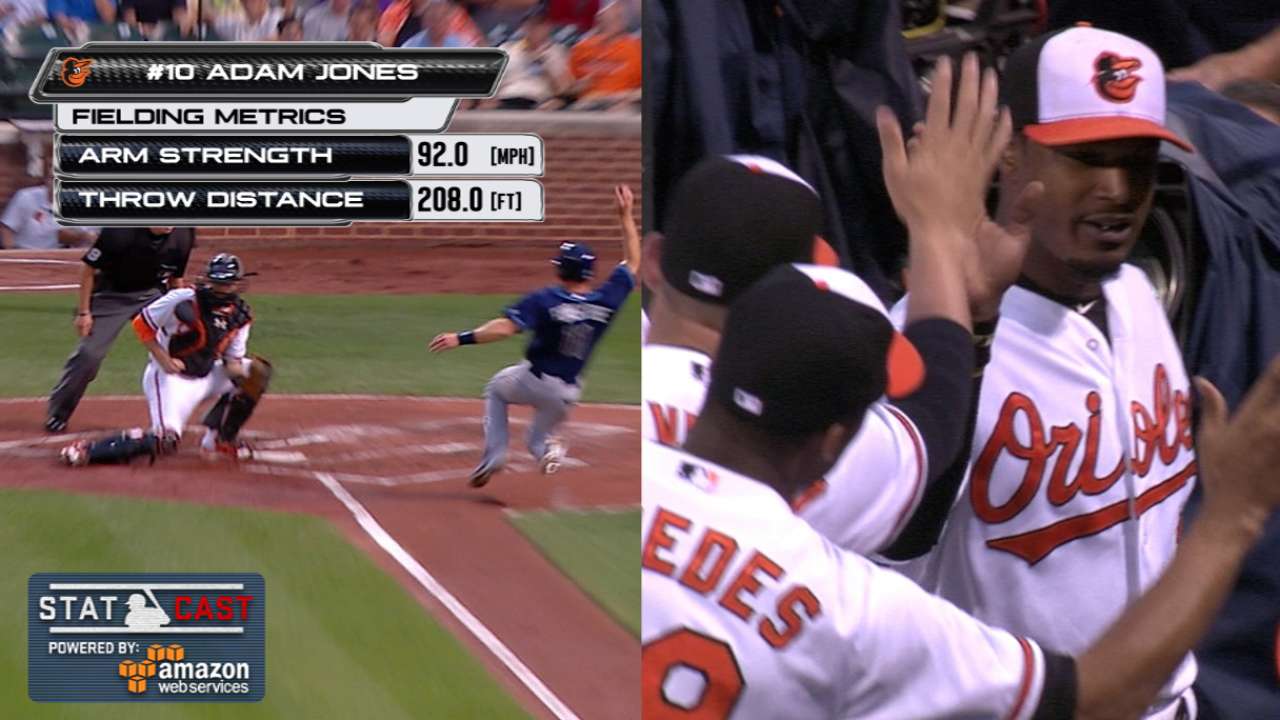 Pearce ranges right to rob Rays
Two batters into the same game, Rays outfielder Brandon Guyer knocked what would have been a solo home run to left field. But Pearce dashed to his right and back to the wall before leaving his feet for a perfectly timed jump that allowed him to rob Guyer of a homer. Pearce covered 106.1 feet with a 96.1 percent route efficiency during the ball's 6.3 seconds of projected hang time.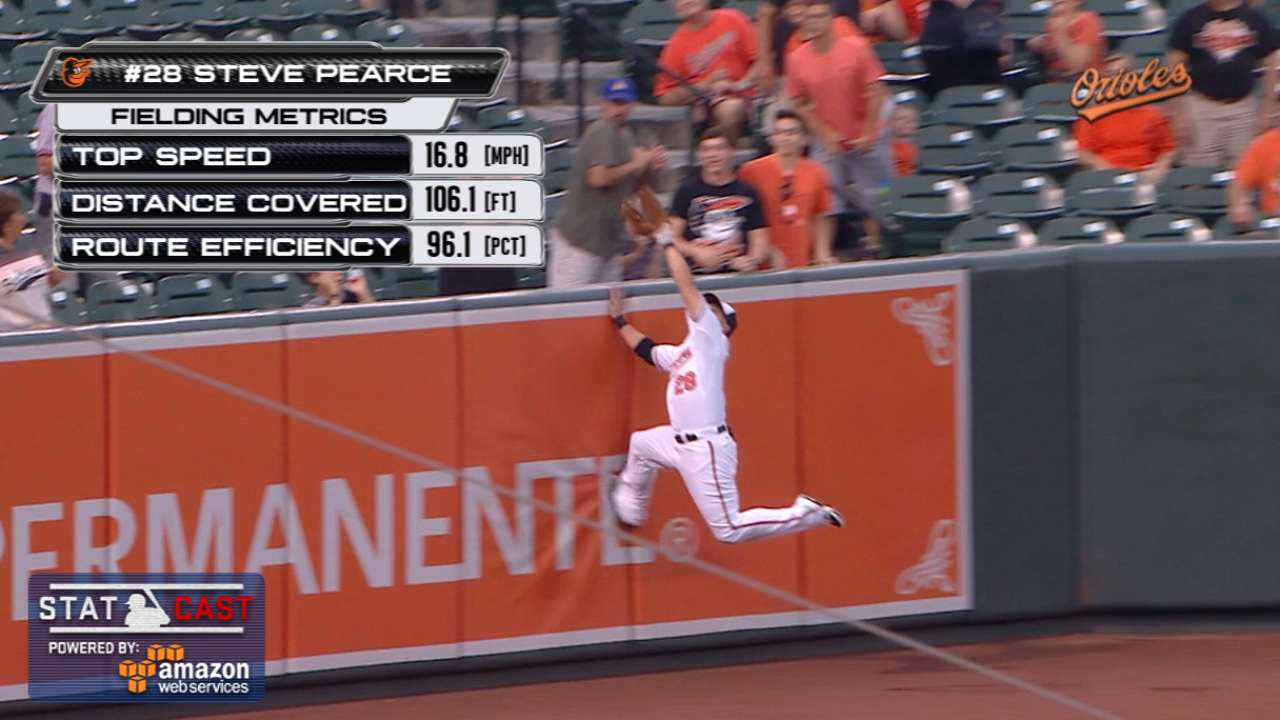 Davis crushes two, walks it off
Davis did some serious damage against the Rays' pitching staff on Wednesday night, unloading on two home runs in the Orioles' 7-6 win. His first came in the third inning off Erasmo Ramirez, a two-run shot that screamed off his bat at 110 mph and was projected to land 437.8 feet away in center field.
Davis saved his best for last, though. His 11th-inning walk-off solo shot off Matt Andriese came with an exit velocity of 113.2 mph and a projected distance of 458.4 feet from the plate to center field. It was the hardest Davis has hit a homer all year and his longest of the season.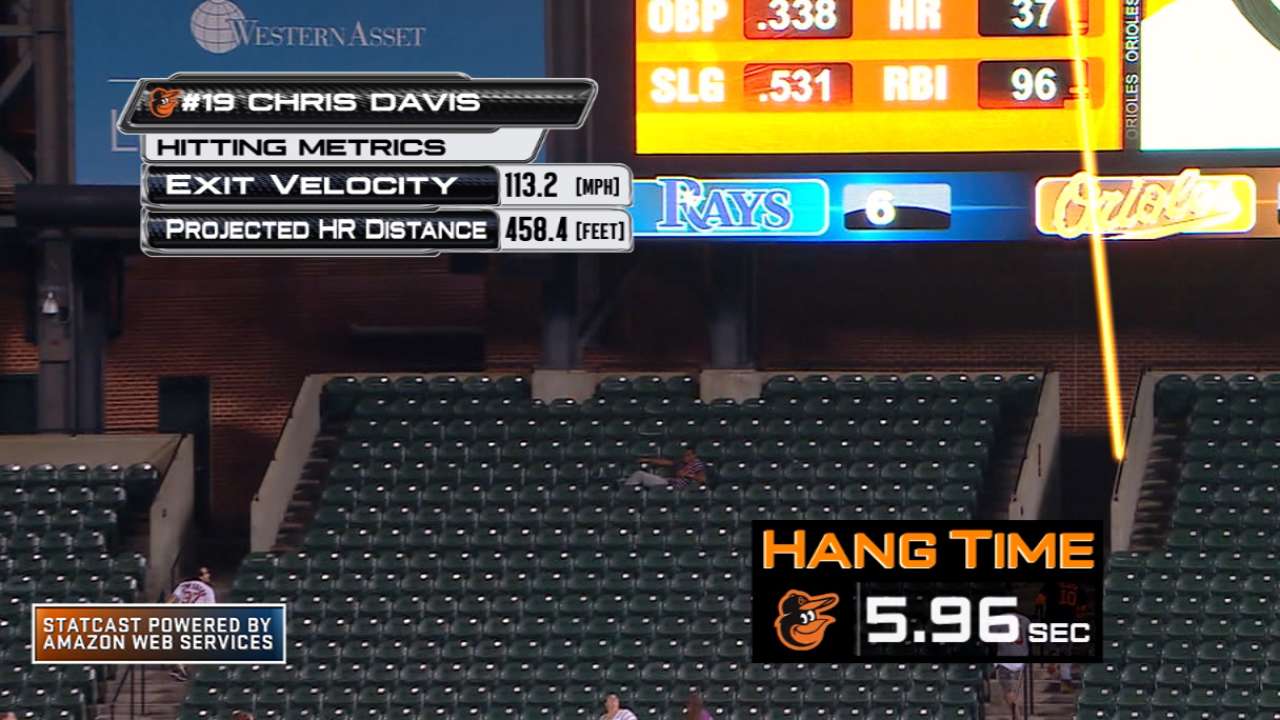 Tejada touches them all
While Davis' homers were all about power and distance, Mets shortstop Ruben Tejada took a more unusual trip around the bases in the second inning of a 9-4 win over the Phillies. Tejada knocked a fly ball to right field, and Philadelphia's Domonic Brown couldn't reel it in, running past the ball and tumbling dangerously over the short wall at Citi Field.
By the time Phillies second baseman Cesar Hernandez got to the ball, Tejada had wheeled around the bases in 16.5 seconds and scored on a two-run inside-the-park homer. The ball came off Tejada's bat at 74.5 mph, the lowest exit velocity of any homer hit in the Majors this year.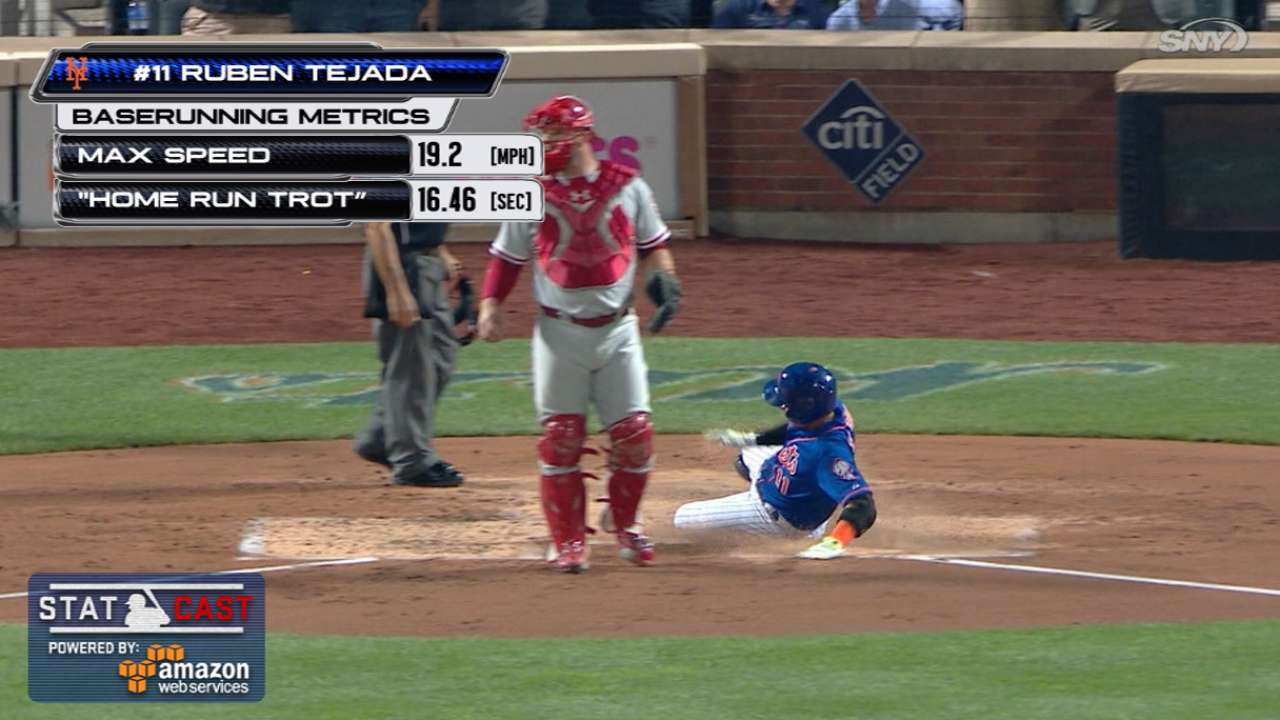 Moss reaches rare ground
Cardinals first baseman Brandon Moss' recent power surge reached a new level on Wednesday night in St. Louis' 4-3 loss to the Nationals. One night after hitting a walk-off homer, he crushed a 96.5-mph pitch from Max Scherzer into the right-center-field seats -- a drive projected to land 454.1 feet from the plate -- with an exit velocity of 111.7 mph.
It was Moss' fourth homer in the last seven days, the longest one hit by a left-handed hitter at Busch Stadium III and the fifth-longest homer in the ballpark's history.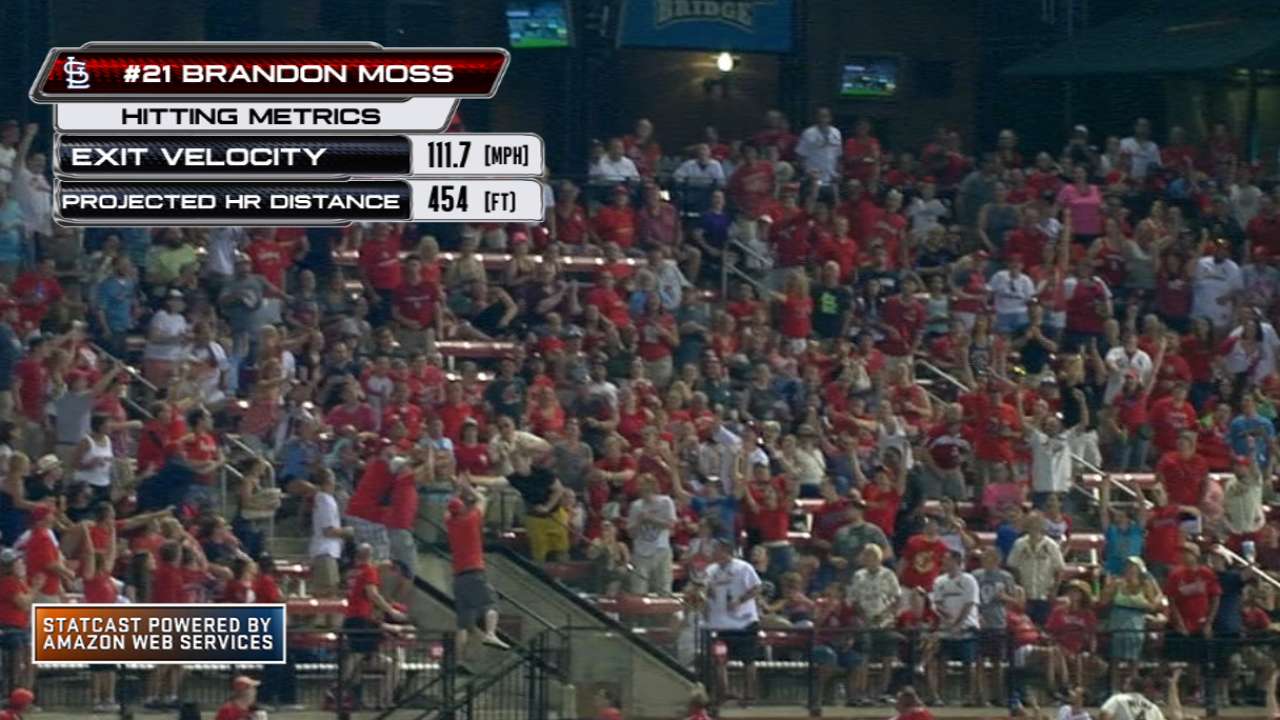 Cain crushes one way out
Royals center fielder Lorenzo Cain went even deeper into the seats at Kauffman Stadium during the third inning of the Royals' 12-1 romp over the Tigers. Cain let loose with a ferocious swing on an 88.6-mph pitch from Randy Wolf, blasting it 106 mph off his bat and watching it land a projected 457.6 feet away in left field. The solo shot was Cain's longest of the season by more than 7 feet.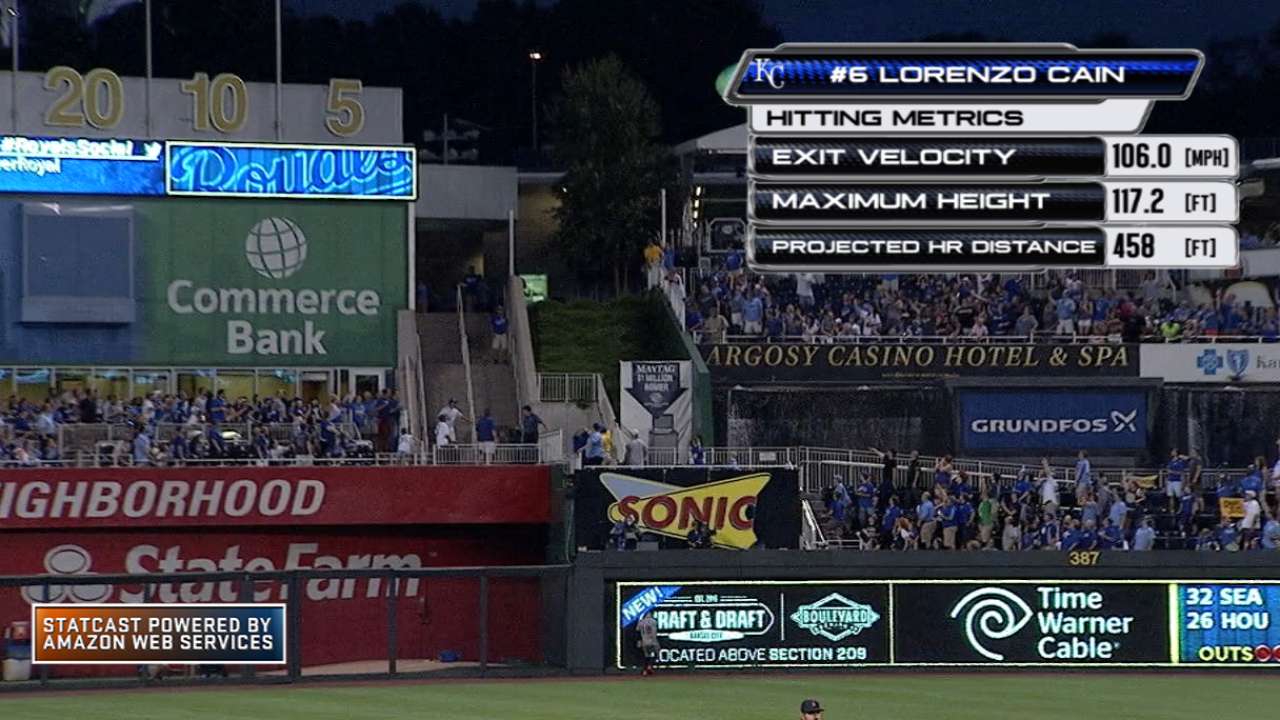 Adam Berry is a reporter for MLB.com. Follow him on Twitter at @adamdberry. This story was not subject to the approval of Major League Baseball or its clubs.