MLB.com Columnist
Jim Callis
Six prospects we'd like to see called up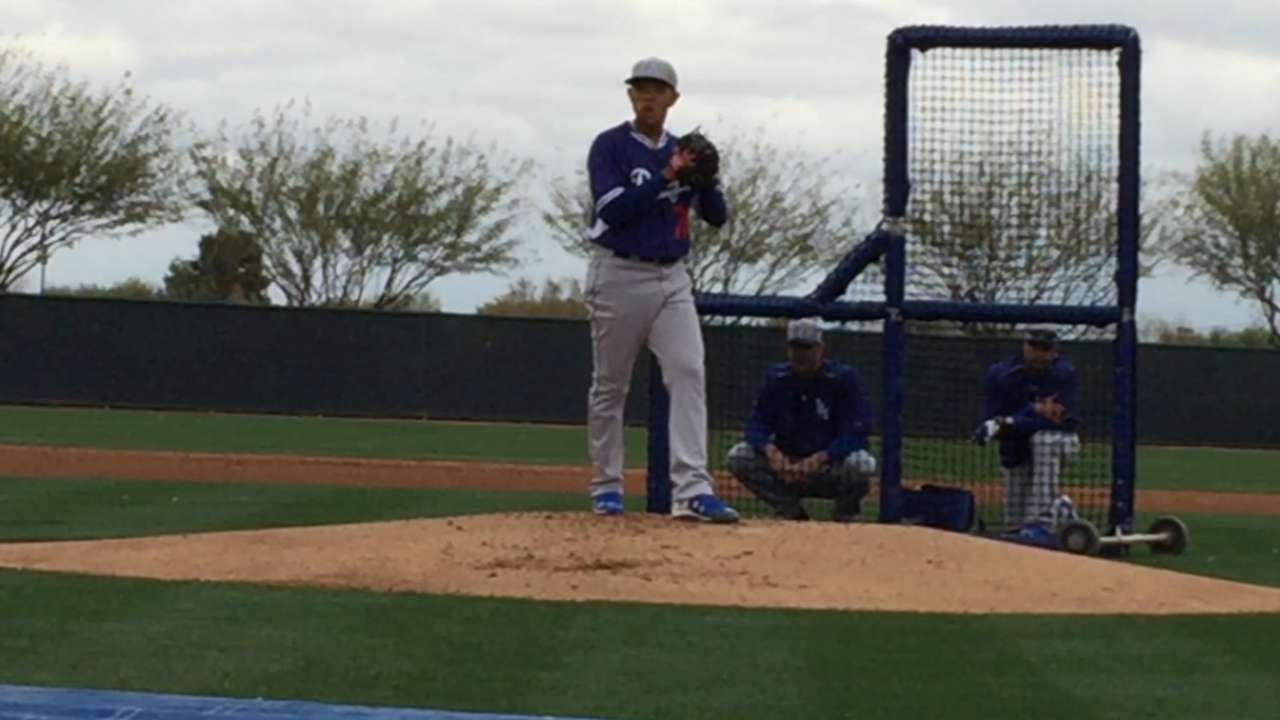 Last week, we previewed the 10 best prospects likely to get September callups, three of whom (Rangers third baseman/outfielder Joey Gallo, Blue Jays outfielder Dalton Pompey, White Sox right-hander Frankie Montas) were summoned immediately when active rosters expanded from 25 to 40 on Tuesday. We've updated those and all other prominent prospect promotions here as well.
Now it's time to look at a half-dozen prospects we'd like to see get a big league opportunity this month -- but who probably won't, despite being ready for prime time.
Julio Urias, LHP, Dodgers (No. 4 on MLBPipeline.com's Top 100 Prospects list)
Urias could have helped a beleaguered Los Angeles bullpen last fall, but he didn't get the chance, because he was barely 18. The Dodgers have tried not to rush the Minors' most precocious -- and some scouts would say the best -- pitching prospect, but he made his Triple-A debut Monday, less than three weeks after turning 19.
Los Angeles has avoiding piling up innings on Urias' arm this year, limiting him to 77, in part by supporting his decision to have elective surgery on his left eye in May. Using him in relief for the next month and the playoffs won't overtax him, and he could be spectacularly effective in short stints with his lively 91-96 mph fastball, sharp curveball and deceptive changeup. Urias doesn't have to be protected on the 40-man roster until after the 2016 season, but that should be a secondary concern, considering what he could bring to the Dodgers now.
Tyler Glasnow, RHP, Pirates (No. 7)
Glasnow has one of the most unhittable fastballs in the Minors, a mid-90s heater with movement and downhill plane. He was carving up Triple-A hitters with a 0.86 ERA through his first six starts before giving up six runs and five walks, while recording just one out on Tuesday night.
That outing obviously didn't help Glasnow's cause, and it reinforced that he still needs to refine his control and command. Nevertheless, his swing-and-miss heater could be an asset out of the Bucs' bullpen down the stretch, and his arm is fresh because he has pitched just 102 innings, thanks to an ankle injury that sidelined him for a month at midseason.
Orlando Arcia, SS, Brewers (No. 12)
One of the few things that has gone right in Milwaukee's organization this year, Arcia has blossomed into one of the game's top shortstop prospects. Now that his bat has caught up to his slick glove, he's clearly in the Brewers' future at the position -- perhaps as early as the first half of 2016. But it looks like we'll have to wait until next year to see Arcia at Miller Park.
Jose Berrios, RHP, Twins (No. 23)
Minnesota starters posted a 5.47 ERA in August while Berrios dominated in Triple-A, yet he won't be asked to help in the American League Wild Card race, Twins general manager Terry Ryan said on Wednesday. With three solid-or-better pitches, he has better stuff than anyone in the Twins' rotation, and he has advanced command for a 21-year-old. However, the Minor League strikeout leader (170) has worked a career-high 161 1/3 innings already and won't be Rule 5 Draft-eligible until after the 2016 season.
Jose De Leon, RHP, Dodgers (No. 26)
He bears many similarities to Urias as a Los Angeles mound propsect, with multiple swing-and-miss pitches, and he could be a short-term bullpen weapon, but he doesn't require roster protection until after next season. While the Dodgers need lefty relievers more than righties, it's hard to ignore the fact that De Leon leads the Minors with 12.4 strikeouts per nine innings in his first year of full-season ball. A pair of minor injuries have held him to 109 2/3 innings, so there should be no fears of overworking him.
A.J. Reed, 1B, Astros (No. 98)
The 2014 second-rounder has recorded the best numbers in the Minors in his first full pro season, batting .346/.449/.638 and leading all comers in several categories, including slugging, OPS (1.087), home runs (34) and RBIs (121). Reed's left-handed power and on-base skills are legitimate, and he plays a position at which Houston has gotten disappointing production. He might get overmatched by quality big league southpaws, but he could help as a platoon option.
Jim Callis is a reporter for MLB.com and writes a blog, Callis' Corner. Follow @jimcallisMLB on Twitter. This story was not subject to the approval of Major League Baseball or its clubs.