Randolph's move to pro ball impressing Phils
Philadelphia's first-round pick in 2015 hitting well, making smooth transition to outfield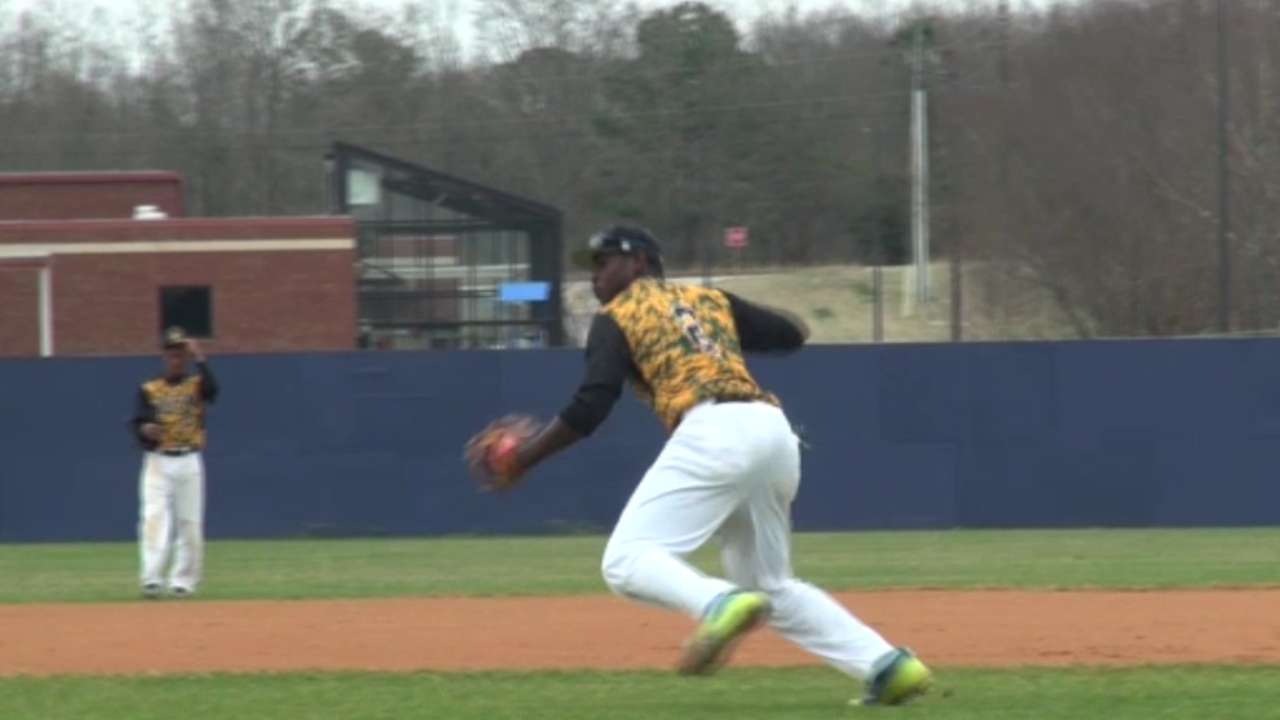 CLEARWATER, Fla. -- The Gulf Coast League Tigers had runners on first and second in the bottom of the second when second baseman Junnell Ledezma lined a single to left. With two outs, Mario Sanjur was off on contact. But Cornelius Randolph of the GCL Phillies fielded the ball cleanly and threw him out at the plate.
The world little notes nor long remembers the details of Rookie-level games in the Minor Leagues. It's the lowest rung of the professional baseball ladder this side of Venezuela or the Dominican Republic. Still, what happened on that sultry August afternoon at Joker Marchant Stadium in Lakeland, Fla., resonated all the way back to Philadelphia.
Randolph was the Phillies' first-round pick, 10th overall, in June. Many believe he was the best high school bat in the country after he hit .526 with 11 doubles and seven homers in 17 games for Griffin (Ga.) High School.
So it's expected that Randolph will hit. In the National League, though, he'll need a position. For the Bears, Randolph was a shortstop. The Phils immediately converted him to left, which is why his first outfield assist was so noteworthy.
"It felt great," Randolph said with a grin recently at the Carpenter Complex. "When I came up and threw it, I was like, 'He's dead. I have him.'"
GCL Phillies manager Roly de Armas, who has spent more than four decades in the game, has been impressed with what he's seen from a player who just turned 18 and is ranked by MLBPipeline.com as the organization's No. 6 prospect.
"So many good things about the kid," de Armas said. "Moving runners over, playing the game hard, stealing bases. Just the little things in the game. He has adjusted to the outfield very well. He's very comfortable, and he's just going to get better and better.
"And he can swing the bat. Boy, can he hit. Lefties, righties, I don't care. He's just a good ballplayer."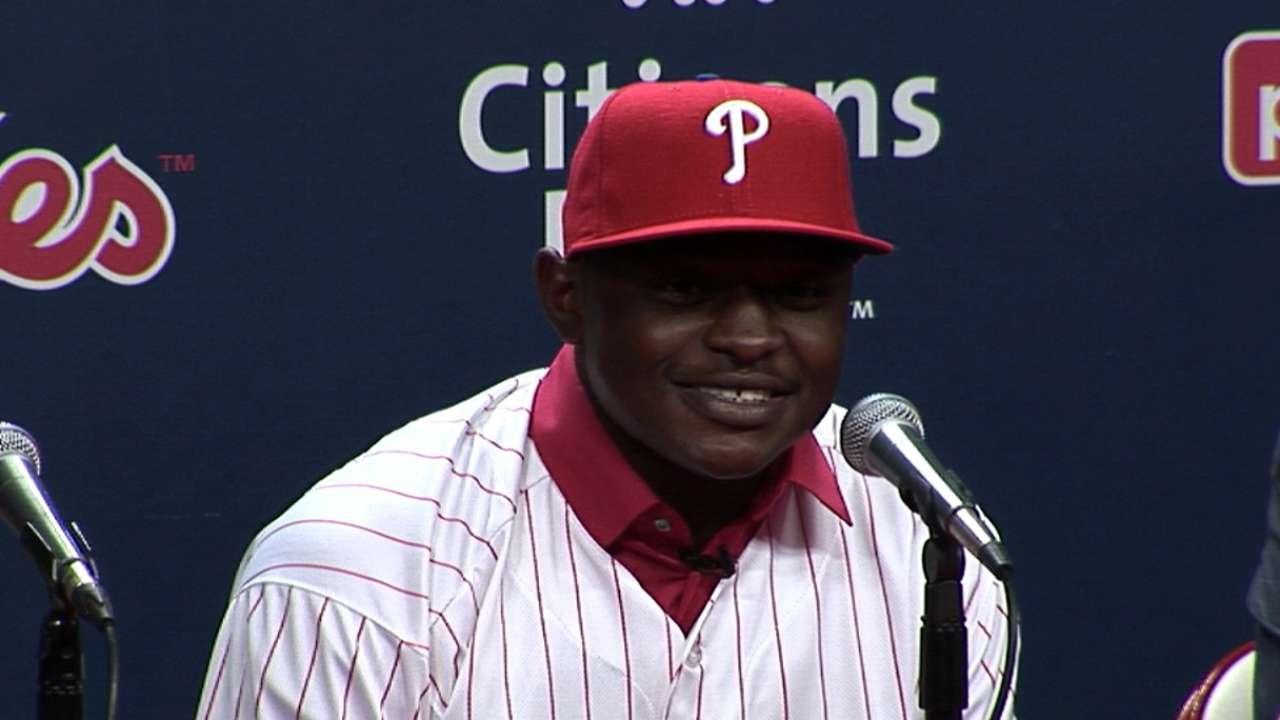 It's not just Randolph, either. There are a few other hitters on the roster who have opened some eyes, significant at a time when offense is down across the big leagues and all organizations are trying to add bats.
First baseman Luis Encarnacion is listed at 6-foot-2, 185 pounds. He's batting .271 and leads the league with 36 RBIs in his second GCL season. Encarnacion just turned 18 last month.
"Offensively, he's really come on," de Armas said. "He's having a solid year. The best part is that a couple weeks ago, he slumped off a little bit and you wonder, 'Well, is he going to adjust?' He made the adjustment that was necessary and took off again."
Third baseman Lucas Williams, 19, was the Phils' third-round Draft pick in June. He's batting .288 with a .400 on-base percentage.
"He's another ballplayer. Just a ballplayer," de Armas said. "This guy comes ready to play every day. He's very mature for his age."
Catcher Edgar Cabral was the Phillies' 11th-round Draft pick this year. He's hitting .281.
"I think this kid is very impressive," de Armas said. "I think he's going to hit even more. Catching-wise, he has improved a lot -- calling the game, solid blocker, good kid."
Still, most of the focus is on Randolph, who is hitting .302 with 15 doubles, 24 RBIs and a .425 on-base percentage in 53 games. From all indications, he's made a pretty seamless transition, both in the field and at the plate.
"The biggest thing was getting my timing down," Randolph said. "Everybody is throwing very hard, so getting my timing down and barreling up balls. Mainly just trying to adapt to playing every day. I think I've adjusted pretty well.
"I expected it to be hard. I expected the pitchers to be hitting their spots, which they are. I expected what is actually happening. I knew I wasn't going to come in here just barreling everything up, dominating. I feel like I'm doing what I thought I would do."
And, yes, Randolph has been working on his defense.
"Shortstop is obviously a quick motion," he said. "Outfield is a longer motion, so I'm trying to lengthen it out -- doing a little long toss. They have me on a program and I can definitely tell it's working. The ball has more carry on it. I'm throwing harder."
Lumber and leather. Randolph's ticket to the big leagues is his bat. But it won't hurt if he can hold his own with the glove, either. Which is why throwing his first runner out meant so much to Randolph.
Paul Hagen is a reporter for MLB.com. This story was not subject to the approval of Major League Baseball or its clubs.